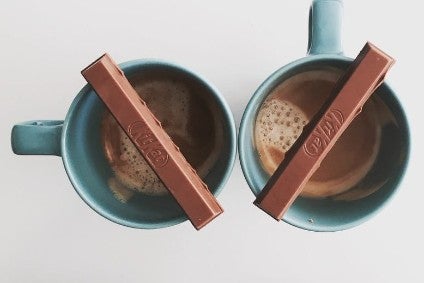 How consumers shop for food has changed in some very noticeable ways over the last three months or so – and the online channel is one area to have grown in importance, says GlobalData.
In case consumers needed a more convenient way to snack while watching Netflix , in the UK this week Nestlé has provided the ultimate solution: confectionery delivered straight to your door, thanks to a partnership with Essentials by Deliveroo.
According to GlobalData's Coronavirus (Covid-19) Tracker Consumer Survey, almost one-fifth (19%) of consumers in the UK say they are buying more savoury snacks than before the pandemic, while one quarter (26%) said they were eating more chocolate and confectionery.
Understanding the increased demand, Nestle is offering chocolates, sweets and snacks, as well as instant coffee, through the service. As consumers are limiting their time outdoors or shielding inside indefinitely, home delivery of their favourite treats can provide a sense of comfort and normalcy.
As Covid-19 has massively altered the shopping experience, it makes sense that more snacking companies want to meet consumers directly in their homes through delivery or subscription platforms.
Essentials by Deliveroo was launched at the end of March in the UK and offers products outside of their normal food service delivery such as milk, yogurt, cheese, soft drinks, toilet rolls and, now, Nestlé treats.
Other brands are launching similar services. Today, it emerged Unilever has teamed up with Grocemania, a London-based grocery delivery service, to supply ice cream direct to consumers as they grapple with obtaining food stuffs in the midst of the coronavirus pandemic.
The activity is not limited to the UK. This week, US-based confectionery maker Hershey said it had partnered with delivery app firms Swiggy and Dunzo in India to launch an online store.
In the US, PepsiCo has launched two direct-to-consumer platforms in the US to respond to quarantined consumers. Snack.com and Pantry.com offer everything from Cheetos and pancake mix to energy drinks and granola bars.
While at one time, it might have been considered a luxury, at-home delivery is more common than ever due to the circumstances. While retailers such as Tesco , ASDA and even Aldi have upped their game in terms of delivery options to respond to demand, direct-to-consumer is bypassing traditional touchpoints, and it leaves retailers out of the picture.
From a consumer perspective, ordering directly from the brand means that they can have direct access to all of the brand's offerings from the comfort of their own homes. From the brand's perspective, it can have a direct relationship with the consumer, which in itself is key for market research and innovation. Brands can get to know consumer trends more quickly and, possibly, lower prices since there is no retailer in between.
For retailers, manufacturers' interest in direct-to-consumer should be worrying. As brands strike out more on their own (and not just Big Food; smaller brands are also launching their own services) consumers can be reached without the retail gatekeepers. Regardless of what the "new normal" will be once lockdown ends, consumer behavior has shifted for the long term.