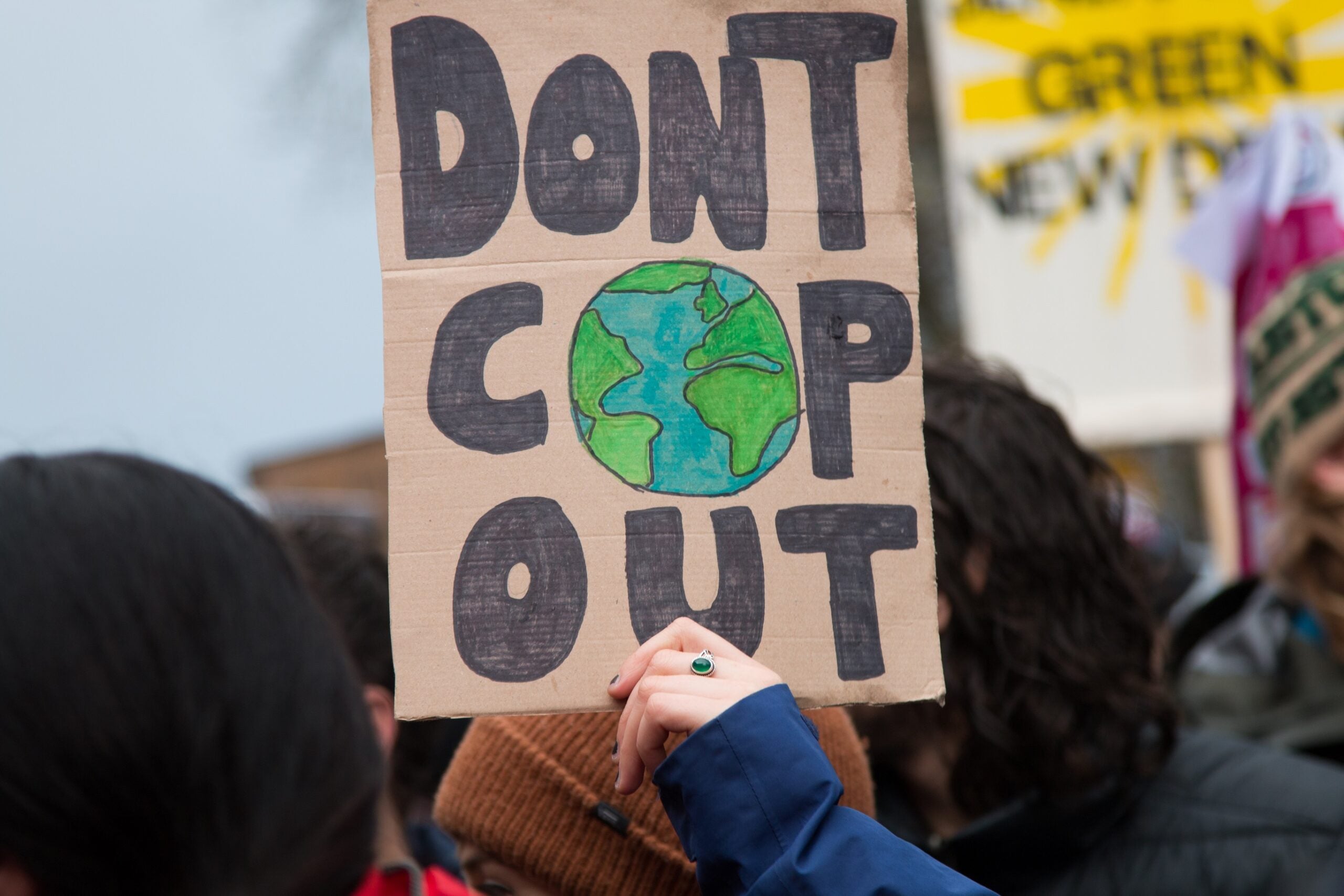 "The science is clear," noted Francesca Carnibella in a blog for the UK-based Food Research Collaboration (FRC) this week. "We can't limit global temperature rises to 1.5-2 degrees without urgent action to reduce emissions from the food sector."
And yet food was conspicuous only by its absence at this month's crunch COP26 climate summit in Glasgow. Images of world leaders trying Scotland's 'other' national drink – a fizzy pop with over 30 secret ingredients – overshadowed new research by the Food and Agriculture Organization showing that, in 2019, 31% of all anthropogenic greenhouse gas emissions came from agri-food systems. That's 16.5 billion tonnes – and a 17% increase since 1990.
Other than a fudged declaration on deforestation and a commitment to cut methane (largely from fossil fuels rather than agriculture, another big emitter of the gas) there was little at COP26 to get excited about when it came to food. Fossil fuels hogged the limelight as world leaders drank Irn-Bru and scrabbled to pledge something while promising to do very little. The world, as it stands, will get hotter.
Perhaps the chief executives of major food manufacturers breathed a collective sigh of relief? They dodged a regulatory bullet or two and can continue to bask in the warm (green) glow of their new net-zero pledges. After all, deadlines for that are well into the long grass of 2040 or 2050.
The CEOs may still be sweating. Ending this year thinking net-zero by 2050 makes you a hero could result in a long hangover in 2022 and many years after. Campaigners have already started work to ensure there is a greater emphasis on food at COP27 in Egypt next year. And, while politicians dither to address food emissions deemed 'too difficult' to tackle, the onus is on the private sector to fill the policy vacuum. Are they up to it?
COP out
There were 75 representatives from 32 food and drink companies or trade associations at COP26, according to an analysis by the FRC, a body that's an initiative of the Centre for Food Policy at City, University of London. Sponsors included Sainsbury's and Unilever. Mars CEO Grant Reid was there, so too PepsiCo chairman and CEO Ramon Laguarta; plus a director at Danone and representatives from Nestlé, Walmart, agri-food giant Cargill, Brazilian meat group Marfrig and the Russian National Dairy Producers Union.
Were they there to get discussions about food emissions on the table, or to keep them under it? Listen to the interviews and it's the former. Listen to campaigners and it's the latter.
Talking with The Scotsman newspaper, Reid referred to COP26 as a "tipping point" for the world and his company. "This is really about transforming our supply chain and, really in many ways, about transforming how Mars does business," he said. Reid's company, like others, was apparently spooked by August's Intergovernmental Panel on Climate Change (IPCC) report, which laid bare the future in a warming world.
Indeed, agriculture is already a victim of climate change – production is under pressure from droughts, frosts and fast-spreading diseases and pests. Under "a vigorous warming scenario" global crop yields could fall by up to 12% by 2050 and 25% by 2100, according to a September paper in the Journal of Environment Economics and Management. New varieties could be bred, prices could rise and farmers may switch to different crops. However, none of that should obscure the fact that the fundamental impact of global heating "is to substantially reduce the supply of crops from all major sources", the authors from the US and Italy warned.
So food manufacturers, more than most, need carbon to come down. Nestlé, PepsiCo and Unilever were among the signatories on a letter from the Alliance of CEO Climate Leaders calling for carbon-pricing mechanisms and reduced tariffs on 'climate-friendly goods', plus more investment in climate adaptation and the end of fossil fuel subsidies. In all the years he has been attending such summits, Carter Roberts, president and CEO of WWF in the US, had apparently never before seen such activism by leaders in the private sector.
Hard to swallow
That may well be true. But all the letters, interviews, warnings, tweets (and in some cases threats) failed. The reality is the big issues relating to food systems were ignored in Glasgow. You know the ones: consumption of livestock products and subsidy systems that promote regenerative, nature-positive and welfare-friendly farming systems. It will be "impossible" to reach 1.5 degrees – and difficult event to reach 2 degrees – without addressing these, said Compassion in World Farming.
Politicians shy away from such policies. In the run-up to COP26, meat industry associations were reportedly lobbying for the UN to support increased meat consumption worldwide, arguing that 'advances in intensive livestock systems' would 'contribute to the preservation of planetary resources', according to Greenpeace Unearthed, an NGO.
"Ignoring food at a summit to on climate change is like ignoring traffic lights when you're driving – it'll only end in disaster."
The Good Food Institute claimed one event addressing the contribution of animal agriculture to methane emissions was "cancelled because the subject was 'too controversial'".
None of the UK, the US, Germany nor France address emissions from livestock in their NDCs – the nationally determined contributions, or self-defined mitigation goals that countries set – says the Global Alliance for the Future of Food.
Ignoring food in a summit to tackle climate change is a bit like ignoring traffic lights when you are driving – it will only end in disaster. And yet politicians blindly carry on. The UK boasted of its leadership on climate change throughout the fortnight of COP26 (and for many weeks leading up to it). The country has a new net-zero strategy as evidence of its efforts. However, the plan ignores the 20% reduction in meat and dairy consumption its own expert advisors say are necessary by 2030 and instead talks up "improved and innovative farming practices".
Farming systems have to change and there is growing recognition of this among the world's biggest food companies. Many have peppered their net-zero plans with talk of regenerative farming. Hundreds of demonstration farms have been set up to prove the approaches work. PepsiCo has just held a sustainability summit with its suppliers to start the process of them aligning with net-zero. Others have been engaging with key suppliers already.
Progress would undoubtedly be faster with the help of net-zero-aligned subsidies and sector plans. At COP26, 45 governments pledged urgent action and investment to "protect nature and shift to more sustainable ways of farming". What this means in practice is anyone's guess. It's therefore up to food companies to "prove" – in the words of PepsiCo VP of global water and environmental stewardship Roberta Barbieri – the new production practices are a "win-win".
Who will pay for this shift in production systems remains unclear. Emitting carbon will become more costly but the inclusion of agriculture and food in emissions trading, or the introduction of global carbon taxes, is some way off. Some companies are offering incentives, however: UK dairy cooperative First Milk is offering a 0.5 pence per litre 'regenerative farming bonus' for its suppliers from 2022.
Volunteers fill policy void
PepsiCo's focus is not just its own farmers but "trying to help the broader system change". Many of its competitors are making similar noises. Could companies collaborate in the way countries cannot? Past experience suggests not. A series of industry-led, voluntary commitments and targets have arrived, been missed, and promises made again. This time, 'we will do better' will not be good enough.
Consider a recent and high-profile example. After three years of working to reduce plastic packaging, recycle more of it and adopt reusable models under The Ellen MacArthur Foundation's global commitment there is little cause for celebration. Across the food companies signed up, only 26% of the packaging is recyclable, compostable or reusable, while the use of recycled content (which offers considerable carbon savings) reached 2.6% on average. Targets for 2025 are way out of reach based on current performance.
Why should net-zero commitments be any different? Some will point to investor and consumer pressure. There are promising signs. In an interview with Time magazine this month, Emmanuel Faber, the former CEO of Danone, pointed to the announcement by the IFRS – the body responsible for international accounting standards is working on baseline sustainability disclosure standards so that information can be compared across industries and financial markets. "It's huge news," he said. "Suddenly […] you start having a situation where the capital allocation can be based not only on profit but also on carbon."
What happened to Faber is still fresh in the mind of many chief executives striving to both protect the planet and please shareholders. Something has to give but it didn't happen in Glasgow. "It's not like we're going to change COP overnight to all of a sudden recognise food systems as a priority," Patty Fong from the Global Alliance for the Future of Food told UK website Carbon Brief. "It's going to be a step-by-step process and this is the first step."
Fong, like others, will already be looking towards COP27 in Egypt next year. They spy an opportunity to push on food as they have done previously on fossil fuels. "Why [the] silence on food systems and diet change [at COP26]?" tweeted Tim Lang, professor emeritus of food policy at City University of London. "Egypt COP27 in 2022 will be judged on this. Engage the people through food."
Consumers are undoubtedly more concerned than ever about climate change and they want to act. More than one in four (27%) are buying more sustainable food, 22% are eating less meat and 12% are consuming fewer dairy products, according to a recent YouGov poll of over 23,000 people in 29 countries. Many are also prepared to pay more for sustainable products.
The public has started to join the dots between food consumption and environmental impact. They will be looking to brands to do this because politicians won't. Corporates used Glasgow as a platform to promote their promises to protect the earth and their shareholders. "You have to achieve both growth and net-zero," said Reid. But trying to please everyone may simply end in disappointment all round. Just ask Faber.