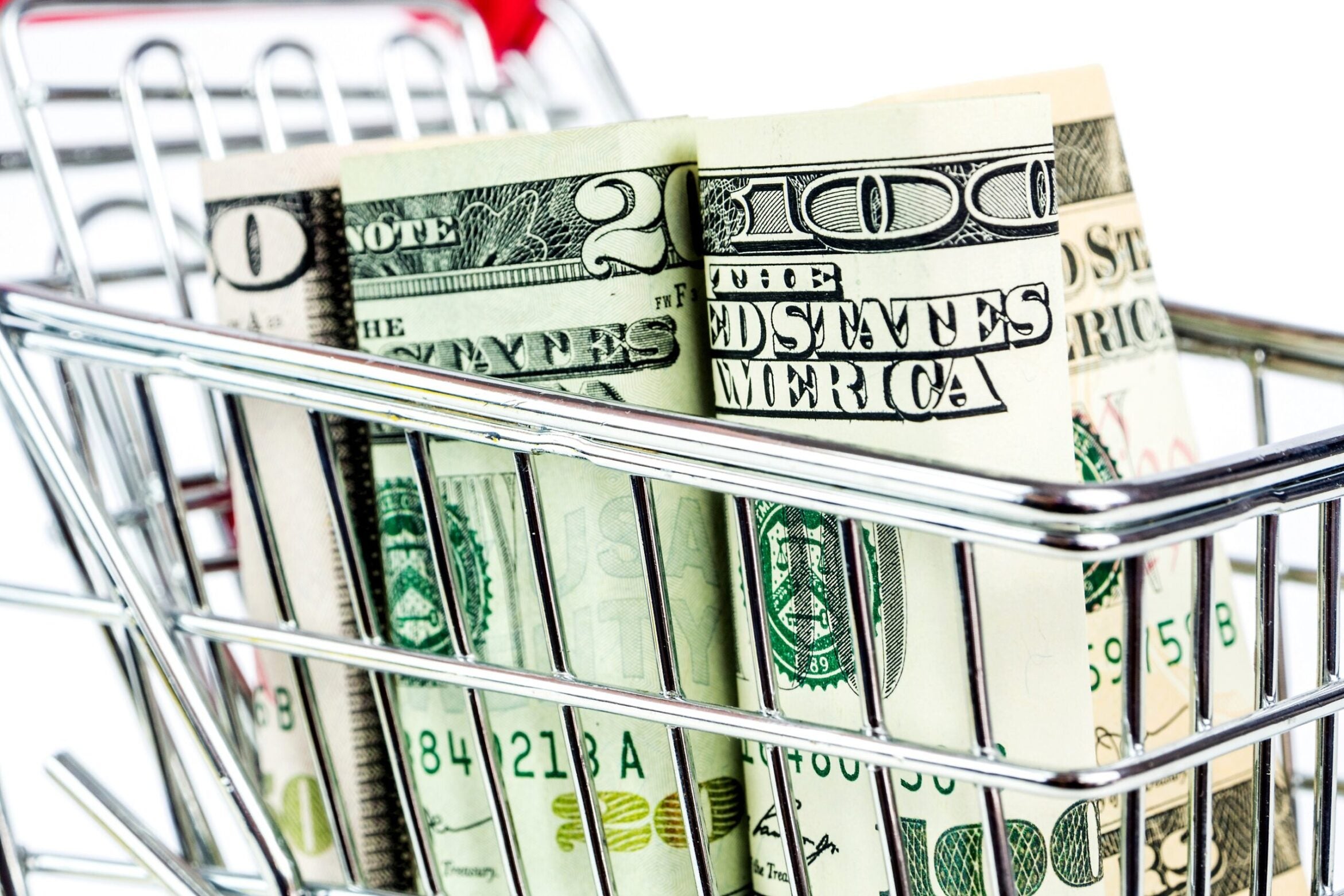 Food inflation remains scorching hot in the US, even though the core inflation rate went unchanged in July after rising to a 41-year high in June, according to the latest Consumer Price Index (CPI) report released yesterday (10 August), by the US Labor Department.
Overall food prices, from groceries to dining out, rose 1.1% in July from June 2022, according to the report. It's the seventh consecutive month of food price increases.
More important for the consumer packaged foods industry, food-at-home (purchased at grocery stores and other channels for at-home preparation) increased by an even greater percentage, rising 1.3% in July, compared to a 1.0% increase in June. Food-at-home has gone up a whopping 13.1% for the one-year July 2022-July 2021 period, which is the highest year-over-year increase in 43 years.
Food-away-from-home (restaurants and other foodservice) had a smaller increase, rising 0.7%. June's percentage increase was slightly higher at 0.9%, according to the report.
There appears to be no immediate end in sight for food-at-home price inflation. For example, July's 1.3% increase is the third-highest percentage increase over the last seven months. March saw the highest increase at 1.5%, followed by 1.4% respectively for February and May. January, April and June all saw the lowest percentage increases at 1.0%.
Food-at-home prices were up in all six key grocery categories the US Labor Department tracks.
According to the CPI report, breakfast cereal was up 2% in July from June and 16.4% from July 2021. Chicken costs increased 1.4% in July over June. It's up 16.4% year-over-year. Butter and margarine increased by less than half percent in July, largely because June's increase was 5%. Its year-over-year increase though is a whopping 22%. The retail price of flour soared by 3.2% in July, up by 23% since July 2021.
The only price decreases in July were for some beef and pork products.
Hot dogs led the pack, down 6.1% in July over June's 4.5% increase. Beef and veal prices had no increase in July, following a 2.3% decrease in June. Beef steaks dropped 1.1% in July and ham prices decreased 1.6% after a 1.1% increase in June.
Food inflation isn't going away anytime soon, as I predicted in my April column in just-food.
Information Resources Inc. (IRI) agrees with my April 2022 assessment in a new report released this week.
In the report it says, "food and beverage inflation continues to persist on a sequential and year-over-year basis, despite recent price decreases in other areas of the economy (such as gasoline)."
The July CPI showed a 7.7% decline in the price of gas, which the Labor Department said will help offset the increase in food prices.
IRI said its July data, which comes directly from retailers at the point-of-sale, shows food-at-home prices remain elevated across all categories.
Its data shows a 1.2% increase for food-at-home prices in July, which is in line with the Labor Department's 1.3% increase. IRI's year-over-year percentage increase, 14.4% for the one-year July 2022-June 2021 period, is higher than the Labor Department's 13.1%, however, which could be because it looks at more categories than the CPI does, along with the fact its data is based on retail point-of-sale.
A new report from the US Department of Agriculture (USDA) concurs that food price inflation isn't going to end soon. In its July Food Prices Outlook For 2022 report, USDA predicts a 10%-11% rise in food-at-home prices for the year and a 6.5%-7.5% increase in food-away-from-home prices.
Consumer packaged foods companies, particularly the majors, have been doing well overall despite the highest food-away-from-home food inflation the US has had since the late 1970s.
Consumer spending steady
Key to this has been that consumer spending on groceries has held steady despite the fact many consumers are struggling with price and cost increases across the board, from rent and household utility bills to gasoline and food.
The lever enabling consumers to do this is the robust employment market in the US, which continues to perform strongly. The economy added a huge 528,000 jobs in July and unemployment dropped to 3.5% from 3.6% in June. The US has now recovered all the jobs lost during the pandemic. The tight labour market is also resulting in wage growth for workers, although the percentage isn't keeping up with the inflation rate.
Price increase elasticity has been surprisingly strong this year too for consumer packaged goods companies.
Although there's been some pushback from large retail chains, most brands, particularly those owned by big food-makers, have issued multiple price increases since January, which in the majority of cases haven't hurt sales and profits. In fact, a number of major companies have benefited from food inflation, with price increases leading to higher profits. Smaller, emerging brand CPG companies have had more of a struggle in this regard.
I expect to see another round of price increases from CPG companies to retailers as the third quarter draws to a close, based on the fact that food-away-from-home food inflation didn't slow in July.
My analysis is that food inflation should now be fully baked into the marketing and sales strategies of all CPG companies. This includes raising prices to distributors and retailers if needed in order to protect gross margin.
Costs continue to increase
Although the supply chain bottleneck appears to be improving – it's mostly been about too much consumer demand and not enough supply, which is part-and-parcel of inflation – costs continue to increase for food manufacturers and there's little choice but to raise prices because eating margin is a dangerous game.
My 'big three' takeaways for brands for the rest of the year:
● Raise prices to wholesalers and retailers if not doing so means a reduction in gross margin. Now, before the end of the third quarter, is the best time to do it because retailers tend to dislike price increases in the busy fourth quarter holiday season.
● Don't cut your brand marketing budget. In difficult economic times, whether inflationary or recessionary, CPG companies have a tendency to reduce their marketing budgets and activity. This is a mistake.
● Increase the frequency of promotional activity for the rest of the year but at the same discount level you're currently using. Consumers are increasingly trading down to store brands and more affordable manufacturer brands in various categories right now due to continued food price inflation. More frequent promotional activity at average discounts, combined with a continuation of current levels of spend on brand marketing, will help brands retain customer loyalty and sales levels. Just make sure the increased frequency of the promotions doesn't significantly reduce margin. One way of doing this is to run shorter – say one or two week instead of 30 day – promotions but more frequently. Consumers are seeking value and even though your brand might not be the cheapest in the category, doing shorter, more frequent promotions can be a way to get shoppers, particularly those who prefer your brand, to choose it. Value is more than price alone.
Unlike with other types of consumer goods, which consumers can postpone buying, they still have to buy groceries. It's also still much less expensive to cook and eat at home than it is to dine out. Both of these realities put consumer packaged foods in a better position in the current inflationary climate than is the case with other types of consumer products.
Consumers don't have to buy your brand and product though, which means the basic principles and practices of marketing and sales remain as important – or maybe even more important – right now as they do in the absence of food price inflation.
Food inflation has a beginning and an end. But the life of a CPG brand is, hopefully, eternal. Therefore, what brands do or don't do today in this inflationary environment, matters tomorrow, once food inflation is over. Brands that plan and act accordingly will be the winners.
Just Food columnist Victor Martino is a California-based strategic marketing and business development consultant, analyst, entrepreneur and writer, specialising in the food and grocery industry. He is available for consultation at: victorrmartino415@gmail.com and https://twitter.com/VictorMartino01.