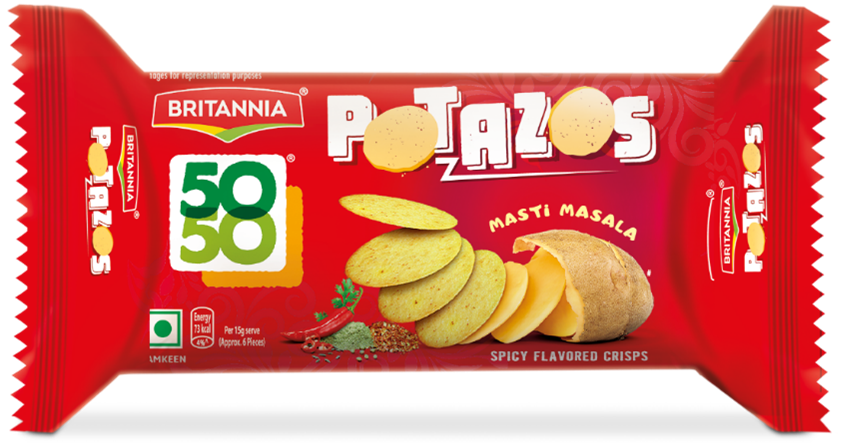 A clutch of India's major names in snacks are looking to give the country's biscuit lovers a novel snacking experience – and are placing their bets on a new hybrid type of product.
Britannia Industries, ITC and Pran Foods have all launched a product that lies somewhere in between biscuits and potato chips.
Pran Food's potato-biscuit brand Potata, originally from Bangladesh, was the first-of-its-kind in the Indian market, taking the eastern and north-eastern markets in the country by storm with its spicy flavour and massive social media presence.
ITC, one of India's largest consumer-goods groups, then rolled out a potato-based biscuit under its Sunfeast brand – a sign of intent given Sunfeast was the FMCG giant's second-largest food brand by sales in its last financial year. Sunfeast's new product, called the All Rounder Chatpata Masala is, ITC claims, one of the thinnest biscuits manufactured in India.
And now Britannia Industries is joining the fray. Britannia has unveiled 50-50 Potazos, another snack taking elements of potato chips and biscuits. The new snack combines the popular 'chatpata' (savory) flavour of potato chips, with the crunchy texture of biscuit in a wafer-thin form. The product has initially been launched in north-eastern India and will be made available across the rest of the country shortly.
Britannia claims the product delivers a 'masaledar' (spicy) taste for snack lovers, along with the "filling biscuit experience" to quickly satiate hunger pangs between meals.
Snacks brands can gain success in the Indian market with such fusion foods. A consumer survey by GlobalData for the second quarter of 2021 showed 65% of Indian respondents say they find food and drinks with complex or multiple flavour combinations appealing.
Moreover, through sales patterns of its Bingo! chips and Yippee! noodles brands, ITC says it has identified that Indian consumers are largely drawn towards tangy and masala flavours for snack options.
The findings tie in with comments from Vinay Subramanyam, vice president for marketing at Britannia. "For almost 30 years, Britannia 50-50 has been the brand that has given consumers the best of two experiences in one delectable product. Whether it is our classic Sweet & Salt biscuits or Maska Chaska, Britannia 50-50 knows best that it takes 'two to tango'," he said when the new product was unveiled. "Britannia 50-50 Potazos is a terrific addition to the 50-50 brand and we believe this product can source from both the biscuits and the salted snacks markets, which are the largest two categories in food in the country."
Other snacks businesses operating in India will be closely monitoring the tug-of-war between Pran Food, ITC and now Britannia to gauge whether the new biscuits are merely a fad or a lasting trend.