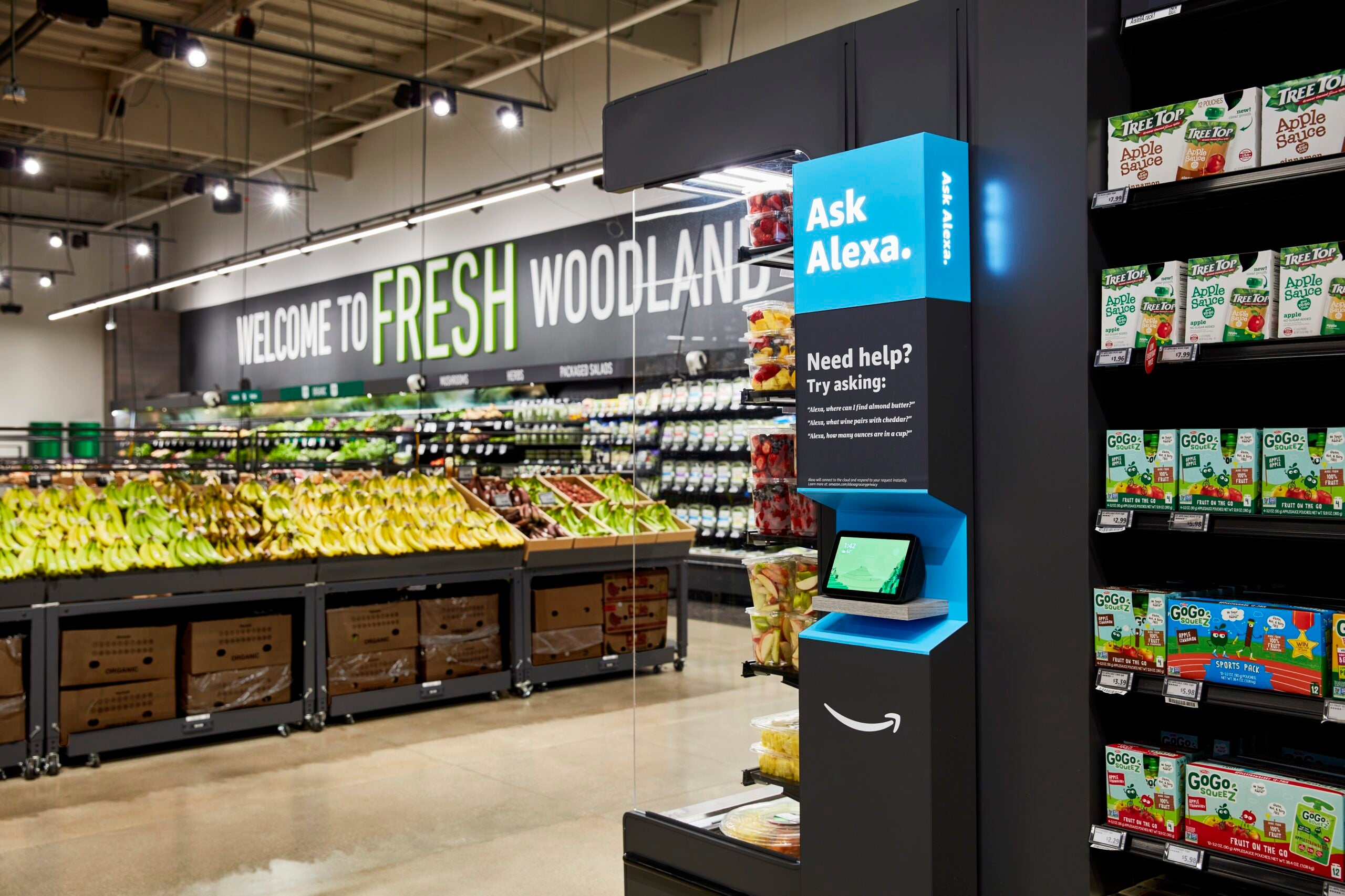 Amazon wants to be a major player in the branded consumer packaged foods business as part of founder Jeff Bezos' long-term strategy of positioning the company as a dominant force in nearly every segment of the food and grocery industries.
Bezos stepped down as CEO of Amazon this month, passing the baton to Andy Jassy, who was previously CEO of the company's Amazon Web Services unit. But Bezos, now executive chairman of the board, isn't going away, except perhaps for the occasional trip to outer space (through the company's Blue Origin aerospace endeavour), which he did for the first time on Tuesday.
In a teleconference in February, Brian Olsavsky, Amazon's chief financial officer, said one of Bezos' main areas of focus as executive chairman of the board will be on the company's grocery strategy, which includes its grocery brands.
Grocery has been much more difficult for Amazon than the other consumer products businesses (books, consumer electronics, etc.) it's entered and in many cases has come to dominate.
Amazon has been consistently growing its consumer packaged goods, including consumables, brand portfolio since it acquired the Whole Foods Market retail chain in June 2017.
The Whole Foods deal demonstrated Amazon's seriousness about becoming a major player in the food and grocery industry because it was an admission that, in order to do so, the company had to get into brick-and-mortar grocery retailing. That accounts for 90% total grocery sales in the US, with online grocery accounting for no more than 10% of total sales, even with the huge increase as a result of the Covid-19 pandemic.
The Whole Foods acquisition brought Amazon one of the strongest retailer-owned packaged goods brands in the business, '365 by Whole Foods Market', which Amazon has been expanding, along with a couple of other secondary brands.
Since 2017, Amazon has steadily grown and built a strong consumer packaged goods brand portfolio and has slowly been grabbing market share in a number of categories.
To date, those brands include: Happy Belly (dairy, eggs, beverages, cooking and baking products, deli items, produce, snack foods and jams, jellies and spreads), Solimo (food, beverages, household, personal/beauty care, pet care), Wag (pet food), Sugarly Sweet (sweeteners), Santa Ninfa (pasta, oil, vinegar), Wickedly Prime (food, grocery), Simply Sweet (cookies) and Aplenty.
Amazon's newest brand, Aplenty launched early this year and its range includes premium products like twice-baked parmesan, garlic and herb pita chips; slow-baked cornbread crackers; salted caramel chip mini cookies; and honey Dijon mustard, made with stoneground mustard seed and real honey.
The importance of bricks-and-mortar
Amazon's packaged goods brand strategy fits in with its overall strategy in grocery, which is to maintain its status as the leading online food and grocery retailer, while growing the store count and geographical reach of its Whole Foods Market grocery chain, and opening as many of its new mainstream Amazon Fresh grocery stores annually as is feasible.
There are 14 Amazon Fresh Stores across the country, with at least 100 units in the immediate pipeline. There have been reports, which Amazon has not disputed, that the company plans to have around 2,000 brick-and-mortar grocery stores in the US. About 750 of those units would be Whole Foods Market stores and the remaining 1,200-plus units would be Amazon Fresh. These numbers make sense because, in order to be a serious player in grocery retailing and branded consumer packaged goods, Amazon needs at least 2,000 physical grocery stores, along with its online grocery operations, to achieve a scale on par with leaders Walmart, Kroger, Albertsons, Costco and Target, the top 5 grocery retailers in the US.
Grocery has become a major, if not the major, strategic priority at Amazon. As such, it's no coincidence that Bezos plans to devote a considerable amount of time personally to it in his new role as executive chairman of the board.
The company's packaged goods brands are part of this strategy, as has been the case in many of the other categories it's involved in, such as apparel, household goods and more. Amazon.com, Whole Foods Market and Amazon Fresh are in large part the venues to focus on, showcase and convince consumers to buy these brands instead of the national brands it sells online and in its stores. This strategy should concern not only grocery retailers but consumer packaged foods manufacturers and marketers as well. Amazon has shown in other categories that not only can it be a disruptive retailer but that it can also create and sell its own brands, using it's digital and logistics power to do so.
Amazon's packaged goods brands already get favoured treatment and placement on Amazon.com and in its Whole Foods and Amazon Fresh stores. As it grows its already impressive existing brand portfolio (and physical store count), this emphasis will only continue to grow. In my view, Amazon wants to be more of an own-brand retailer like Aldi, Lidl and Trader Joe's than it does an every-brand grocery retailer like Walmart, although it will always carry manufacturer packaged goods brands online and in its physical stores.
Bezos is at heart a disruptor of not only industries but also brands and his "think big" philosophy doesn't exclude the idea Amazon's many and growing packaged goods brands can't disrupt big brands in a variety of categories. This is something consumer packaged goods companies should not discount.
Amazon has a long way to go before it becomes a major player in grocery retailing and an even longer way to go before its packaged goods brands garner significant market share.
But the company has the advantage in online retailing, which despite representing only 8% or so of total US grocery sales today is growing fast. And although the jury is still out on whether or not the Amazon Fresh store format has consumer acceptance, the company has the ability to learn fast and pivot fast, along with the cash to not only finance thousands of stores but also to make a major acquisition if it desires to. Most analysts were stunned when Amazon bought Whole Foods Market. Today few would be as stunned if it acquired an Albertsons, although I don't think that's in the cards.
Amazon also has a lot to learn about being a consumer packaged goods marketer – but it's learning fast. Key to the success of this part of the business is scale; continuing to grow its online business and growing its physical stores, which it also uses to fulfill online orders, towards at least that 2,000-store mark.
The Covid-19 pandemic is showing consumer behavior can be altered rapidly by major external events. When the shutdown came in March 2020, many consumers who've never ordered groceries online started doing so, and the majority of these consumers turned to Amazon, which despite having an overloaded supply chain, did a good job of handling the huge increase in business.
Amazon also appears to be comfortable with and committed to owning a physical grocery chain, Whole Foods, and growing it significantly. Whole Foods recently announced a number of new store openings and has opened a new "next-generation" store in Tampa Florida. The store is more "traditional Whole Foods" than it is "Amazon," which indicates the company plans to operate distinct retail formats, Whole Foods and Amazon Fresh, with some minor blending like fulfilling online orders in store.
Amazon is new to the branded consumer packaged goods business but is fully committed to being a major player. Its brands, like its newest one, Aplenty, look just like a manufacturer brand, which is by design because Bezos and company don't really believe there's any difference between a manufacturer brand and a store or private brand. A brand is a brand is a brand. They also believe major packaged goods brands, like major retailers, exist to be disrupted.
just-food columnist Victor Martino is a California-based strategic marketing and business development consultant, analyst, entrepreneur and writer, specialising in the food and grocery industry. He is available for consultation at: victormartino415@gmail.com and https://twitter.com/VictorMartino01.