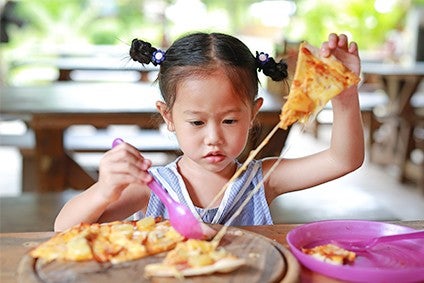 just-food's China columnist Peter Peverelli looks at the expanding market for cheese in China and sets out areas for manufacturers to exploit.
Still a small category compared to liquid milk, soy milk and drinkable yogurts, the market for cheese in China continues to grow, demonstrating its potential.
China-based researchers Intelligent Research Group forecast in September that the country's cheese market was set to grow by 10% in value terms in 2019 and they are forecasting continued expansion in the first half of this decade.
In 2025, the organisation predicts China's cheese market will be worth more than CNY12bn (US$1.7bn) in 2025.
According to Intelligent Research Group, Milkana – a brand owned by French cheese giant Savencia Fromage & Dairy – accounts for 23% of the market, followed by Bel Group's La Vache Qui Rit at 8% and Fonterra's Anchor at 6%.
Hotels have been the major market segment (representing more than 60% of sales, according to Intelligent Research Group) for years but cheese sales through the retail channels have jumped amid the Covid-19 pandemic. An item on changing consumption habits during the first quarter of 2020 on the site Tangjiu Kuaixun (a site linked to major Chinese food exhibition Tangjiuhui), reported a 32% increase in cheese consumption, compared to the same period in 2019.
Pizza, already a major driver for cheese consumption at home, has been a factor in that recent spike in sales, with a combination of lots of time indoors and better-equipped kitchens leading more Chinese to bake their own pizzas.
A search with the keyword nailao (cheese) in Weibo, a Chinese social network combining the functions of Twitter and Facebook, results in a long list of foods, and approximately a third of the posts are concerned with preparing food at home using cheese as an ingredient.
Pizza is one of the more common products promoted but a more unusual recipe is one for cheese popsicles, made from milk, sugar, cheese and gelatine. The result is a semi-soft rubbery block with a sweet creamy taste and salty touch from the cheese. The cheese used is processed, which is available in virtually all Chinese supermarkets. About 85% of the cheese consumed in China is still processed, according to Intelligent Research Group.
Adding cheese to a traditional product is getting popular in China, in particular in street food. Visiting Changsha in China's central Hunan province in early January, I saw crowds of young people queuing up for local snacks – skewers of meat, seafood or vegetables – and I was surprised to see vendors also offering skewers including chunks made from cheese and a substance like sticky rice to mask the strong cheesy flavour.
A traditional food with a western (which in China can be seen as 'modern') touch. This is not an insignificant slice of the market. International suppliers can capitalise on this segment by introducing Western recipes of combinations of cheese, meat, fruit and vegetables suiting the Chinese palate. How about a miniature cordon bleu, or ham-wrapped cheese?
Cheese as an ingredient is also attracting the interest of local food manufacturers, which are discovering how cheese powder can be used to create what Chinese consumers experience as a novel flavour, again keeping it subtle. Yummy House's Meiweizhan onion-flavoured crackers contain 2% cheese powder. The ad for the product on Chinese online retailer Jingdong shows two happy toddlers eating the crackers.
The role of children is another notable aspect of current cheese consumption in China. Children are perceived as an important market segment by Chinese cheese suppliers. Calcium deficiency is still common in China, which has inspired Chinese food technologists to design a number of calcium-enriched foods for children, who have a high need for calcium to grow bones and teeth.
These products have to be attractive to young children, like biscuits or candy. However, product claims such as 'with added calcium' are becoming less popular in China, now the notion of 'clean label' has landed in the country. Milk is a natural source of calcium and therefore preferred over fortified foods – the only problem is the creamy taste of milk has a harder time getting accepted in China than a concept like 'clean label'.
Cheese then becomes an attractive alternative. Pure cheese has to conquer the perception of a 'bad odour', but that can be helped by adding additional flavours. Milkana has recently launched a range of cheese sticks with various flavours: natural, fruit chunks, mixed fruit, banana and chocolate. For the attentive reader wondering how those flavours fit into the growing appreciation of 'clean label' in China, Milkana stresses only natural ingredients are used.
In case parents are hesitant about how and when to give their toddlers a cheese stick, Milkana offers a helping hand with some marketing advice: 'a stick before a meal will not kill the appetite, a stick to complete breakfast's nutrition, a stick right after exercise, a stick when the little ones get together to play'.
Chinese dairy giants Bright Food, Mengniu and Yili also produce their own cheese sticks. Bright and Milkana, meanwhile, also produce cheese cups, all for children. To emphasise the importance of this demographic for cheese makers doing business in China, in Savencia's 2020 annual report, the French group claims its Milkana cheese Lollipop is "the number one cheese for children in China" (although it doesn't cite its source). Moreover, in what Savencia described as the "highly dynamic market" for cheese in China, the company told investors it was named 'Cheese Category Captain' for the Singles Day event on Alibaba's website on 11 November last year.
Analysis from Intelligent Research Group published in May forecasts the value of China's food market for infants in 2024 will reach CNY43.62bn. Currently, dairy products make up 15% of that market. This area provides a good example of how international suppliers should adapt their products and marketing campaigns to suit the Chinese market.
There are plenty of directions in which international manufacturers can follow this lead, while still creating their own niche. Milkana's cheese for children is heavy on the sweet side. More savoury varieties – for example, flavoured with ham, mustard seeds, cumin seeds, pepper, and so on – will be appreciated by Chinese consumers, and not only the younger ones.
China's consumers, meanwhile, like to have a stash of finger food ready when they go out for a day in an amusement park or have a long train ride. Finger-sized sausages are a long-time favourite for that en-route craving, but cheese-based foods of approximately the same size, with various savoury flavours would be a viable alternative, marketed as healthier than sausages containing a range of additives.
Cheese, then, may not be as a big market as other parts of the dairy cabinet in China but it is in growth and there are opportunities in the country for the savvy supplier and marketeer.