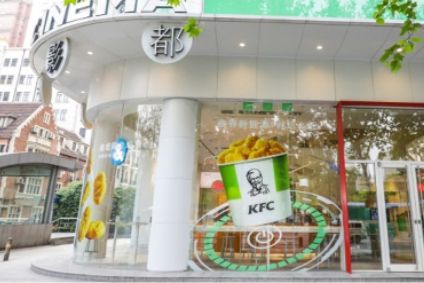 just-food's China market columnist Peter Peverelli weighs up the growing activity in the country's market for plant-based meat alternatives – and has an important message for those eyeing the sector.
Among the trends to watch in 2020 I selected on these pages in November included meat alternatives. And, although the first quarter of 2020 is only just behind us, that decision has already been justified.
Interest in plant-based meat in China is growing. My confidence for the category in November was based on the decrease of pork production in China, due to African swine fever. The Covid-19 pandemic has added a new dimension, fuelling more interest in meat alternatives, in part for reasons of health, or, at the very least, due to growing interest in the food system as a whole.
Overall, China's plant-based meat industry, in comparison to its counterparts in markets in North America and Europe, is a nascent one. Activity is picking up but, in the main, there is not yet the kind of category in China's grocery retail channel as in markets such as the US, the UK and the Netherlands. And, on the whole, plant-based meat (and plant-based protein more broadly) as yet to penetrate the consciousness of more mainstream Chinese consumers.
For all that, interest is growing – and companies within and outwith China are responding.
International players start to make waves
Last month, fast-food giant KFC test-launched its vegetable chicken nuggets, which are made by US agri-food behemoth Cargill. The pilot only lasted for two days and interested customers had to purchase a pre-sale coupon for one serving of five pieces to ensure that a maximum number of people savouring the new snack.
Cargill is reportedly planning to launch a range of plant-based products in China at the end of June for both the foodservice channel and in retail through a brand called PlantEver. It will be sold online and in stores.
Only a few days earlier, Starbucks added new plant-based options to its menu at Chinese outlets. It partnered with Oatly, Beyond Meat, and Omnipork to offer oat milk-based lattes, Beyond Beef-filled vegetarian pasta dishes, and salads topped with Omnipork. The dishes included a Beyond Beef Pesto Pasta and a Omnipork Vietnamese Style Noodle Salad
The local competition
A group of domestic producers is emerging. The leader is Starfield Food Science, set up only last year. Starfield recently completed a round of financing worth tens of millions of yuan. Financial backers include investment firms Dao Foods and New Crop Capital.
Dao Foods was set up two years ago to launch "innovative and climate-friendly protein products, primarily plant-based and clean meat" in China. New Crop Capital is a regular investor in plant-based protein and has backed companies including Beyond Meat, dairy-free business Miyoko's Kitchen and cell-cultured seafood start-up BlueNalu. Last month, eyeing rising demand for plant-based food in China, Dao Foods and New Crop Capital set up an incubator to develop start-ups in the country.
At present, Starfield is focused on foodservice and has recently secured listings with around half a dozen national restaurant chains, including Papa John's.
In October, Jinzi (King's) Ham, a producer of regular ham, started online pre-sales of plant-based meat in cooperation with DuPont, according to Chinese business publication Yicai Global.
The founder of Sulian Food, producing traditional Chinese mock meat products, used to regard vegetable-based meat as 'an old product type'. He was therefore surprised when he was contacted by investors a few years ago, wishing to get involved in what they regarded as a new market by giving Sulian a financial injection, local Chinese industry publication Foodaily reported last month.
Catching the authorities' attention
The Chinese authorities have also been quick in establishing the China Plant Based Food Alliance. The existing China National Dietary Guidelines already encouraged Chinese consumers to move toward a plant-based diet. Beijing plans to cut back on meat consumption in half by 2030, not just for health and the environment, but also due to concerns for animal welfare, risks to workers, and antibiotic resistance.
The new alliance will promote alternatives to animal ingredients and products to meet consumer interest and demand. Combined with the rising demands of conscious consumers, the Plant Based Foods Alliance will help shift public policy towards a better, more sustainable food system.
The group was formed as a joint effort of the State Food and Nutrition Consultant Committee (SFNCC) and the Advisory Committee on Nutrition Guidance (ACNG). A list of members is not available, but the Alliance's site mentions a workshop held in September 2019, which was attended by a mix of manufacturers, consultants and suppliers of equipment.
It's not just about the adoption of the Western lifestyle
To translate all this optimism into real opportunities, a few critical remarks are needed to put it in a proper perspective.
First of all, artificial meat is not a new product category in China. Based on the tradition that started in Buddhist monasteries, Chinese food technologists have designed numerous finished and semi-finished plant-based meat products from the mid-20th century onwards.
This was largely unknown in the West and most of the few Westerners who did know about these products did not take them seriously, coming from a culture where a juicy steak had been the pinnacle of a proper meal.
The stir that is now being created about the introduction of products like those of Beyond Meat in China should be judged in the context of the adoption of a modern (Western) life style by a group of more affluent Chinese.
This started with clothing, interior decoration, travelling to exotic destinations, and has more recently moved on to healthier diets, including Western-style vegetarian food.
However, the reason Western food was embraced less eagerly by Chinese seeking a more Western lifestyle was, and still is, that they don't always appreciate Western flavours. Most Chinese also do not care for the 'mouthful of meat' experience, which the likes of Impossible Burger has been designed to imitate.
I therefore do not expect that plant-based hamburgers, or other mock Western meats, will 'conquer' China. I do believe that the consumption of plant-based meat will increase in China, but suppliers who would like to get a serious piece of that pie need to adapt to the Chinese palate and Chinese eating and cooking habits.
So what are the opportunities?
The bulk of Chinese products currently available through retail are snacks, individually-packed pieces mock beef, pork, chicken, duck, etc., packed in larger bags, offered in the convenience food sections of supermarkets.
This is a already a mature market, but there could be a niche for ready-to-eat Western-style products like vegetarian sausages to complement the traditional Chinese products. The most attractive presentation would be pocket-size sausages that people can eat in the train, during an outing in a park, or as a snack between meals.
What is still lacking is plant-based raw meat suitable for Chinese cuisine. An occasional Chinese consumer may buy a pack of vegetarian burgers for fun, but what they would like to buy regularly is pieces of any type of vegetarian meat they can use in their stir-fried dishes, preferably without the need to change the recipes.
Cooking demonstrations could be organised in supermarkets as part of a marketing campaign. These products should come in various presentations fitting Chinese cooking, like cubes, slices or shreds. These products would be typically sold in the meat departments of supermarkets.
Wholesale packaging of the same would be also welcomed by Chinese restaurants. I know of no such product currently available and the first entrant in that niche would be able to create a market with a well set-up marketing campaign to stimulate restaurants to offer the same dish in meat and vegetarian versions.
It is hard to put an exact price tag on this market. Analysis from UK-based data and analytics company GlobalData forecasts the value of China's meat market will grow to CNY1.59trn (US$223.78bn) in 2023.
Given the national target of replacing half of this with plant-based meat, that could give us a rough idea of what the size of the meat-alternatives business could one day be.