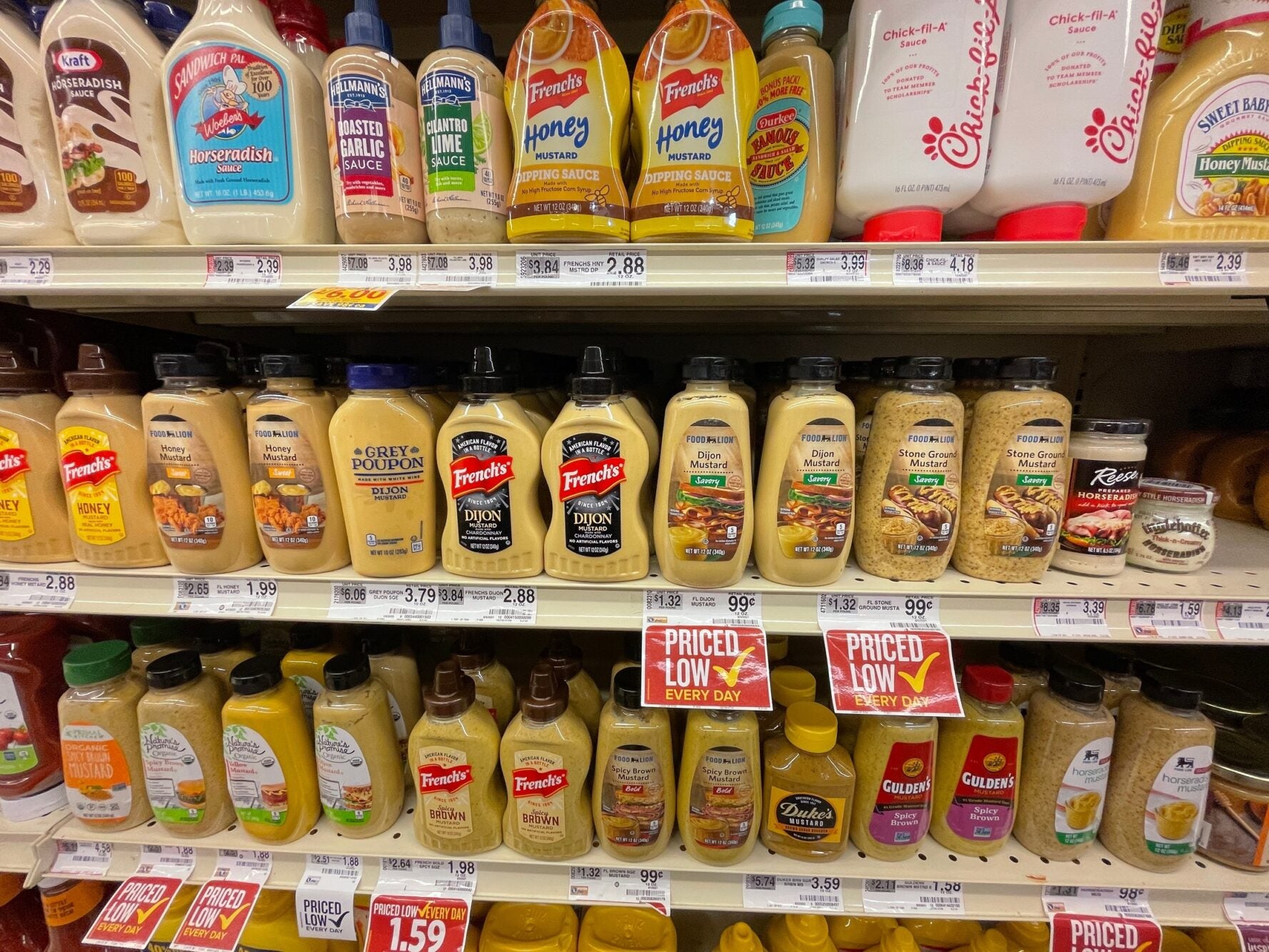 In the world of reinvigorated centre-store grocery in the US, the condiments, marinades and dressings category is creating excitement and sales growth.
Covid-19 gave a shot in the arm to the centre of the store and consumers are continuing to eat at home more often for another reason – inflation.
The kitchen pantry is back in US households and consumers are looking to fill it with not only traditional condiments, marinades and dressings, but also with new and different products. They're looking for flavours that help elevate food preparation and provide tastes similar to those at their favourite restaurants.
The mature category of US shelf-stable condiments, dressings, and marinades has been reinvigorated, enjoying above-normal sales growth. Why?
The return of the pantry
Prior to the pandemic, there was a clear long-term trend toward US consumers eating out more. Foodservice accounted for over 50% of all meal occasions in 2019. Additionally, when it comes to retail, consumers have for three decades been progressively focusing more on perimetre departments like meat, produce and prepared foods, rather than the centre of the store.
Grocery retailers and food manufacturers have been trying to come up with ways to reinvigorate centre-store grocery since the 1990s without much success. In recent years (pre-pandemic), frozen foods and the snacks category helped in this regard. However, right up to early 2020, one of the major focuses in the industry was the development of ideas and programmes designed to recover lost sales in center-store, where the majority of brands and products are shelf-stable.
Ironically, the early 2020 shutdown, which resulted in the closure of restaurants for nearly a year, did more to reinvigorate centre-store than all the ideas and efforts brands and grocers were able to come up with and implement. Consumers were forced to cook at home and much of that behaviour has stuck. Despite high grocery inflation, cooking and eating at home is still considerably less expensive than eating out. That has added to the stickiness of the recovery of centre-store.
Global flavours and dining out at home
Related to the return of the pantry is a major trend among US consumers to want to travel the world with their taste buds while cooking and eating at home. Ingredients giant Kerry Group and condiments major McCormick & Co. are among those to have identified global flavours and cuisine as one the leading food desires among US consumers. Numerous retailer category managers, including those responsible for the condiments, marinades and dressing category, have told me the same thing in discussions.
The emerging brands creating the most excitement in the condiments, marinades and dressings category (including Yellowbird condiments, Bachan's Japanese Barbeque Sauce, Brooklyn Deli Curry Ketchup, Tia Lupita Foods and numerous others) all have a global flavour twist to them. Global cuisine, particularly Asian and Latin American, is very hot in the US. Shelf-stable condiments, marinades and sauces offer an easy and convenient way for consumers to create global cuisine at home. Stock the pantry, find a recipe, and cook.
These new-wave brands and products also allow people to recreate – or at least make a reasonable facsimile of – their favourite ethnic restaurant dishes at home for half the cost of dining out.
Convenience with flavour
When it comes to US consumers, the concept of convenience can't be over-stressed. Even amid the renewed interest in cooking at home, Americans aren't going back to the period encompassing the 1960s and 1980s, when cooking at home was the norm and eating out was the exception. Food-at-home gained considerable ground during the pandemic shutdown, surpassing food-away-from-home for the first time in two decades, but since the reopening in mid-2021 eating out has gained a bit, making the two now nearly even.
Condiments, marinades and dressings tap in perfectly to the consumer desire – you could even say need – for convenience. Coupled with the overall interest in exploring flavours, this is another driver that's propelling the category into new popularity, as well as helping to drive sales growth.
There have been moves to elevate the flavours of traditional condiments. McCormick has introduced a new line of fancy mustards, including Honey Chipotle and Sweet Applewood flavors, under its French's brand. French's is traditionally known for its popular traditional yellow mustard.
When it comes to ketchup, a segment still dominated by Kraft Heinz, a number of new branded products have recently been hitting store shelves. Among the most interesting include Brooklyn Delhi Curry Ketchup, Judge Casey's Famously Thick Ketchup, Primal Kitchen Unsweetened Organic Ketchup and Acid League California Ketchup with Saffron (this one will be a very niche item but is a good example of elevated flavours).
Condiments, particularly ketchup and mustard, is a very mature segment and, historically, retailers devote little shelf space to early-stage brands. The fact many grocers are bringing in these small brands demonstrates the premise the condiments, marinades and dressings category is on the move.
Retailer leadership
The packaged food business doesn't exist in isolation, although sometimes it feels like it does. Its two key stakeholders and partners are consumers and retailers. Food brands and grocery retailers have a symbiotic relationship. Both industries need each other and both are close to the end of the supply chain, which starts with farmers.
Because of the huge influx of grocery shoppers, both in physical stores and online, during the pandemic shutdown, retailers have been able to gather considerable data on consumer shopping behaviour, enabling them to analyse categories that have experienced significant sales gains. Based on this analysis, they've been expanding shelf space in many of these categories and adding brands and products based on consumer demand and customer requests. Global and elevated flavours and convenience with taste are both in this category.
In the case of condiments, marinades and dressings, retailers also have been giving the category increased permanent secondary placement – the meat department being a key area – outside of the basic centre-store shelf sets. Products have also been getting more promotional display space throughout the store than was the case pre-pandemic. This secondary placement has been a major contributor to the category's sales gains over the last couple of years.
We're in the key season, summer, for condiments, marinades and dressings, and I expect to see more off-shelf activity for items in the category than we've seen in the last three decades. For brands to capitalise on this, in addition to getting that coveted in-store secondary display space, they will need to drive sales from a marketing standpoint with pull marketing, particularly recipe development, public relations efforts and digital marketing. Brands featuring global flavours have the leg-up in this regard.
What lies ahead for US condiments, marinades and dressings?
I see continued healthy sales growth for the condiments, marinades and dressings category over the next few years. A critical factor, though, will be if cooking at home continues at roughly its current rate. Continued product innovation by legacy brand companies and early-stage and emerging brands is key.
Small brands are primarily responsible for reinvigorating the category, along with consumer demand for new and different products and the leadership from retailers in giving more attention to expanding the category at retail.
Direct-to-consumer and online grocery retail also are important contributors in this regard because new brands can get their products out to consumers and start to build a following before launching into physical stores, where over 90% of all CPG sales in the US still occur.
Big companies are jumping head first into the category, adding speciality lines (like McCormick has done with its French's brands), along with creating new brands of their own.
I also predict we'll start seeing some acquisitions of the most popular small brands in the category by major companies, which, in terms of dollar sales, still dominate the category.
Early-stage and emerging brands are disrupting the category from an innovation standpoint but they won't disrupt it from a brand sales ranking standpoint because, as is most often the case (think Unilever's acquisition of Sir Kensington's a few years ago when it started to become a serious brand in the category), most emerging brand founders and their investors eventually want an exit – and the primary exit is to be acquired by a major CPG company.
Just Food columnist Victor Martino is a California-based strategic marketing and business development consultant, analyst, entrepreneur and writer, specialising in the food and grocery industry. He is available for consultation at: victorrmartino415@gmail.com and https://twitter.com/VictorMartino01.