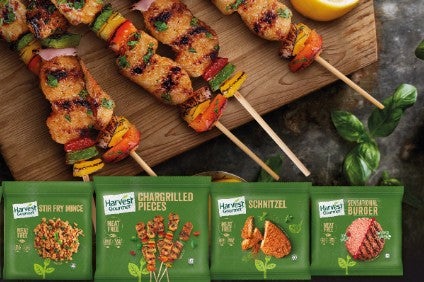 A clutch of announcements this week underline the optimism among makers of plant-based meat alternatives about the opportunity in Asia, writes Dean Best.
In the last 18 months or so, the markets for plant-based meat in Asia have seen the launch of scores of brands, significant investment in start-ups and growing interest from companies in Europe and North America.
However, to support the long-term development of any market needs investment in production, either owned or through co-manufacturers, and, this week, came two announcements in the region that caught the eye.
On Wednesday, Nestlé unveiled its new manufacturing facility in Malaysia, which is making plant-based protein products for Asian markets under the company's Harvest Gourmet brand. The facility joins another the world's largest food maker has for plant-based products in the northern Chinese city of Tianjin.
Elsewhere, yesterday, Beyond Meat officially opened its planned manufacturing site near Shanghai, a project first announced in September.
Local manufacturing should support both businesses' ambitions in Asia for a number of reasons but two will be among the most important – price and innovation. Manufacturing closer to market provides companies better opportunities to achieve economies of scale, critical in an emerging category like plant-based meat where the price differential with conventional products can be a significant barrier – not least in emerging economies in Asia.
Secondly, local production can mean companies are better able to tailor products to local consumers' meal occasions, habits and tastes, which is, again, very important in Asia's nascent plant-based meat market, when manufacturers should focus less on the burger and more providing alternatives to long-standing local dishes.
"The opening of the new Jiaxing plant is expected to enable us to quicken the pace of innovation and roll out our products at the speed and scale needed to remain highly competitive within the region," Candy Chan, the general manager of Beyond Meat's business in China, said.
Investment in manufacturing is just one piece in building a sustainable market for plant-based meat products in Asia. Supply chain and distribution is critical, too, as well as product and pricing. But if plant-based manufacturers are serious about building a lucrative market in Asia there needs to be money put behind production.
International companies like Nestlé and Beyond Meat aren't alone. Green Monday Group, the Hong Kong firm that's the owner of one of the flagship meat-alternative brands from Asia, OmniPork, told us this week it is set to start up production at a greenfield production site in China, its first in the country, later this year. The facility will be its second and a third could be on the way, as Green Monday looks to open up more markets in the region.
There is still a very long way to go before plant-based meat companies can call with certainty that Asia will become a major market for their products but the capex coming on-stream will be crucial to any success and is also a sign of the optimism some hold in the region's prospects.