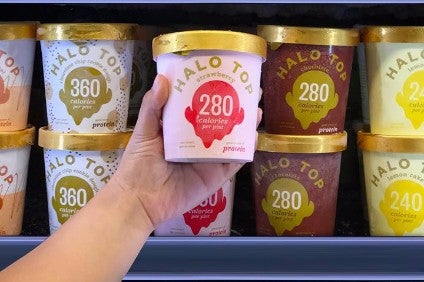 just-food's US columnist Victor Martino kicks off 2018 with a message all food majors in the US should heed – as, for that matter, should those operating further afield.
2017 marked a key turning point in the US packaged foods industry, in which Challenger brands became serious players in a business dominated by large consumer packaged goods companies, which own the products that, for the most part, still control the top position in nearly every grocery product category.
A challenger brand and the company behind the brand is not the category leader. Instead, these brands realistically and strategically play from a position behind the leaders.
Think Annie's in macaroni-and-cheese boxed meals versus Kraft, for example. Kraft is the dominant brand in the category. Annie's is the challenger brand.
Annie's has done very well in that position. So much so General Mills acquired the northern California-based company in 2014 for US$820m.
Outside of packaged foods, Apple Computer is a classic example of a challenger brand. Apple took on mighty IBM in the personal computer business in the 1980s and 1990s – and won. IBM eventually exited the PC market.
What is most significant about being a challenger brand (and most dangerous to brand leaders in a category) is the essence of being a challenger is product differentiation – organic for Annie's versus conventional Kraft, for example – and marketing.
Also troubling for category leaders is what is the challenger brand mindset, which can be best described as David versus Goliath-like, combined with a marketing-as-warfare strategic vision and approach.
Challenger brands today are using differentiation and creative experiential marketing to disrupt traditional categories in ways not seen before.
For example, UK-based beverage start-up Ugly Drinks, which is launching in the US this year, is a classic challenger brand with its no-sugar-added flavoured carbonated water canned drinks.
Ugly Drinks is using a variety of guerilla and social media marketing methods to go straight at carbonated beverage category leaders Coca-Cola and Pepsi, rather than taking the easier route of challenging only those brands in the flavoured carbonated water segment, which it is also doing.
Halo Top ice cream is another good example. It did such a good job challenging super-premium segment brand leaders Ben and Jerry's and Häagen-Dazs that, in late 2017, it became the leading brand in the super-premium segment.
No longer a challenger brand, Halo Top is now itself challenged with pivoting to being the category leader while still keeping the marketing mojo that got it to the top. It is a test for marketeers.
Big food companies with category-leading brands are taking the challenger brand challenge very seriously and reacting by making record acquisitions of those brands. When the challenge becomes great, buy the challenger brand.
Additionally, nearly every major packaged foods company has set up a venture-capital arm, the express purpose of which is to invest in start-up and early-stage challenger brands, in most cases leading to eventual acquisition.
Danone, Unilever, General Mills, Campbell Soup Co. and numerous others are using these arms to actively invest in challenger brands. This practice will only accelerate this year and beyond.
Looking ahead, there are five key developments to keep our sights on when it comes to the challenge and opportunity of challenger brands in 2018 and beyond.
1. Challenger brands will continue to take shelf-space away from big brands in most categories.
The big companies' category-leader brand (Heinz ketchup, Hellmann's mayo) will remain but secondary and tertiary brands controlled by the category leader are in play and in most cases will continue to be replaced by innovative challenger brands.
2. Companies with category-leading brands will continue to acquire challenger brand companies at an even faster pace than in 2017.
For example, look for a major food company (perhaps General Mills, Campbell, Kellogg or Hormel) to acquire Hain Celestial, which is basically a food company comprised of numerous acquired challenger brands this year.
3. The challenger mindset is beginning to penetrate the executive suites of the giant CPG companies that own the category-leading brands.
As such, look for new innovation efforts from many leading packaged foods companies starting this year. Three to watch closely in this regard are Nestle, Unilever and Danone. Others like Campbell aren't far behind. Also keep your eyes on agribusiness/food giant Cargill, which is diversifying and innovating with a near-challenger mindset.
4. More and different partnering.
Major food companies will increasingly use their corporate venture-capital arms as innovation and R&D investment hubs. In other words – and we saw the beginnings of this in 2017 – category-leader food companies will use challenger brand start-ups and early-stage challenger brand companies as essentially their in-house R&D and innovation departments. Invest, assist, test and eventually acquire, if it makes good business sense.
5. The promise of artificial intelligence.
In my observation and analysis, nothing offers a more promising near and future-term innovative opportunity for packaged foods companies than does AI.
Two experts in the field agree with my assessment.
Prem Balwani, who's founded a number of AI-focused companies in the consumer products and healthcare fields and currently founder and CEO of www.igrab.it, a digital grocery, CPG and e-commerce platform and app, says a CPG company's most important attributes and assets include brand equity and that consumers keep replenishing their pantries with the company's branded products.
How frequently shoppers do so is also key, he says. By "utilising AI, CPG brands can increase customer stickiness based on buying patterns, whether it's price, or product availability, or promotional activities, such as sampling and coupons", Balwani points out.
He adds CPG companies can gain valuable insights into consumers and regional buying patterns using AI, which offers a competitive advantage over brands not using it.
Don Gordon, the consumer products leader in the Philadelphia office of global enterprise software firm SAP, offers an interesting example of how a better-for-you snack food brand could use AI to gain a competitive advantage in the snack foods category.
"An app using AI could provide a real-time ranking of snack foods, based on ingredients like sugar, fats and artificial flavours," he suggests.
The competitive advantage of this AI-based innovation for both challenger and category-leader brands could be enormous. It certainly would be appreciated by health-conscious consumers, as well as by parents navigating the snack food aisle in-search of healthier options for their children.
The residual effect is it would help build brand loyalty, along with providing a real service to shoppers.
Cui bono? Who benefits from AI, challenger brands or category leader brands?
The simple answer is both.
However, the AI opportunity does at present favour big packaged foods companies, at least from a financial resources perspective. They would be smart to jump in with both feet.
But from a need-to-differentiate perspective, favour goes to the start-up and early-stage challenger brand companies because AI fits perfectly with that challenger brand mindset.
The Halo Top ice cream example demonstrates a challenger brand that is only a few years old can become a category leader in no time flat, even going up against industry giants with massive resources.
The rise of small challenger brands is disrupting the packaged foods industry status quo in an unprecedented way.
No longer does big alone equal dominance. The challenger brand challenge has just begun. Mindset, differentiation, technology adaptation, understanding the consumer and creative marketing have never been more important than they are now.
just-food columnist Victor Martino is a California-based strategic marketing and business development consultant, analyst, entrepreneur and writer, specialising in the food and grocery industry. victormartino415@gmail.com and www.twitter.com/nsfoodsmemo.