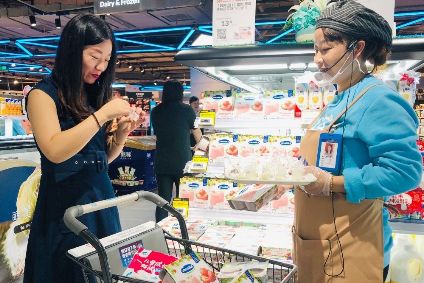 What consumer trends and product categories could be the ones to watch in China in 2021? just-food's Peter Peverelli offers us a flavour of what to keep an eye on next year.
That time of the year has arrived in which we start pondering about the trends we can expect for the coming year. That is never an easy endeavour in China, but even more so this year in which a pandemic may have changed many aspects of people's lives forever.
Before I move on to food, my final column of the year should start with a few lines on China's unique position in the global economy at the end of the extraordinary year.
The International Monetary Fund has recently predicted the Chinese economy will grow by 1.9% this year, making it the only G20 economy to register positive growth in 2020. Moreover, China and 14 countries on the East Asian continent and Australia and New Zealand last month signed a free trade agreement called Regional Comprehensive Economic Partnership (RCEP). This diverse mix of nations in terms of size, economic system and culture is set to give a significant boost to the intra-zone food trade, with China as the core importer.
2020 derived its extraordinary status from the Covid-19 crisis. Some, though not all, of the current trends are related to this epidemic. Chinese consumers were already growing more conscious about the influence of what they eat on their general health, when the coronavirus crudely pointed out to them that mankind needs to change a number of the habits it had taken for granted for so long.
Many of the rare wild animals the Chinese nouveaux riches do like to savour, if only once in their lives, have been removed from menus, including species that are allowed to be eaten.
Chinese consumers have turned towards more conventional foods as the basis for their home cooking. In fact, home cooking has increase dramatically due to Covid-19. The Chinese government's lockdown was the fiercest in the world, with people in some regions virtually locked in their homes for more than two months. Many Chinese had to start learning to appreciate cooking again. Exchanging recipes, tips and tricks became a major topic in the Chinese social media. This is not likely to fade any time soon.
However, even the reborn Chinese home cook is not ready to return to the slow pace of life of before the economic reforms of the early 1980s. They prefer semi-finished products that can be combined with fresh ingredients so you can prepare a fresh meal in a relatively short time.
Domestic flavour houses have gone a few extra miles to develop a broad array of spice mixes imitating those used by Chinese cooks for centuries. You can now make a genuine Yuxiang (a combination of spicy, sour and savoury) chicken dishes for your guests from chicken meat, peanuts, the odd spring onion and: a sachet of yuxiang flavour spice mix. Chinese companies have the edge here, but a company like McCormick & Co. is also doing well in this segment.
Talking about fresh chicken, some Chinese companies are starting to sell semi-finished meat products. Dacheng Food Hebei Co. Ltd. a major poultry producer that is also one of the suppliers of KFC China, has launched a 'water-cooked chicken steak'. It is a chicken breast pre-cooked in water and slightly seasoned. It is marketed under the Better Me brand and promotional material for the product features a photo of a slim woman between the words 'better' and 'me'. No more needs to be said. Interestingly, Dacheng's advertising for the product does not focus on its low fat content but with the high protein content (19.5 g/120 g).
Protein has become a buzz word in the Chinese food industry press and advertisements for newly-launched products.
The ingredient is a good replacement for fat as it also delivers texture and volume. A considerable number of the foods launched in China during the past six months are advertised as a good source for protein. Yogurt is a notable example. More types of yogurt have been launched during the past couple of months than in the past couple of years. The most unique type could be black Yiming Food's yogurt coloured with sepia ink and black sesame.
Another trend that will dominate the Chinese food industry for the better part of 2021: plant-based meat alternatives. The nation embraced the products so quickly and so massively, that even Beyond Meat has publicly commented on the importance of China in its international growth strategy.
And the end is still not in sight. Only days before writing this column, Unilever introduced The Vegetarian Butcher, the Dutch brand the FMCG giant acquired in 2018, in China.
Moreover, Beyond Meat has taken the advice I offered in a previous column: adapt your mock meat to fit Chinese cooking and has launched products in China that can be readily used in traditional dishes, including: dumplings, mapo bean curd (spicy bean curd from Sichuan province), zhajiang noodles (noodles with a sauce of minced meat and fermented flour) and lion's head meatballs, similar to meatballs sold in the west, made from minced pork and presented in a broth with some vegetables.
Plant-based meat did not conquer China in 2020 but China hijacked plant-based meat, forcing the world leaders to focus all their R&D on the Chinese market. My next advice to Beyond Meat: please give us in Europe the opportunity to buy your Chinese products.
Meanwhile, the general trend in China to re-appreciate traditional values is not only reflected in a renewed interest in traditional Chinese medicine. Many of the newly-launched foods and new versions of existing products come in packaging embellished with traditional Chinese themes, varying from imitations of ads of the first half of the 20th Century, when modern Chinese advertising started, to images of ancient sages like Confucius and heroes from popular literature like Sunwukong, the monkey king.
International suppliers need to pay attention to this trend. 'Imported' still gives a product a certain status but this status is starting to fade. Even when adapt your recipes, as Beyond Meat has done, it will pay off to make your product look traditional. Don't market your yogurt as the result of years of R&D, but as an authentic rural product from Normandy. That is not Chinese, but it is traditional, and that's still important as we continue into the 2020s.