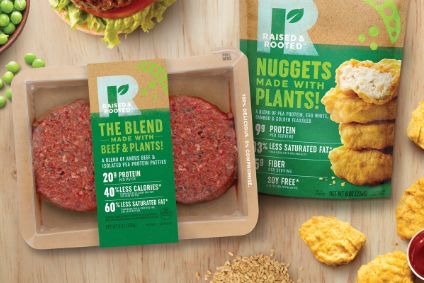 Successfully selling meat-plant hybrids to consumers looking to reduce their meat intake may be a difficult sell, GlobalData Consumer argues.
Many of the plant-based meat alternatives launched in recent years have been taking aim at the real thing. The visual, sensory, and nutritional gap with conventional meat is being closed to the point it is becoming more difficult to distinguish between the two, even replicating aspects such as "bleeding" during grilling.
These plant-based meat products have built a wide and growing appeal, proving intriguing to meat-eaters looking to reduce their consumption and even to vegetarians curious about their taste and texture profile.
Some manufacturers active in the plant protein field have sought to hedge their bets with 'hybrid' products that offset a reduced – but not absent – meat content with plant derivatives.
However, this sub-trend may be a more difficult sell, if this week's announcement from Tyson Foods is anything to go by.
Last summer in the US, meat giant Tyson started marketing the plant-focused brand Raised & Rooted as part of the company's moves to tap into growing interest in plant-based options. Tyson developed and launched plant-based nuggets and a burger called The Blend, the recipe for which combines Angus beef with pea protein.
"The Raised & Rooted Blend will be discontinued as we constantly evaluate products working alongside our customers and consumers," a Tyson spokesperson told this site.
Meanwhile, the Raised & Rooted line on sale in the US will, going forward, be devoid of any animal products, with the removal of egg white from nuggets and sliders. [Incidentally, in Europe, where Tyson launched the Raised & Rooted brand last month all of the products sold under the brand in the market do not contain animal products except one – Garlic & Herb Dipping Fries].
Tyson's changes makes sense considering the competitive landscape in plant-based meat alternatives is increasingly fierce and shaped by vegan-friendly products without animal-derived content.
Leading names such as Beyond Meat and Impossible Foods in the US, and Oumph in northern Europe and the UK have built their businesses narratively and materially around plant-based, animal-free, protein innovations. These have proved attractive to both consumers with specific dietary needs or ethos, as well as meat consumers looking to experiment with alternatives and reduce their meat intake for general health, and sustainable or ethical reasons.
However, within this landscape, the question can be asked as to how strategically sound the thinking was at Tyson in developing a range that contained elements that tried to straddle the line between meat and plant-based. Meat-plant hybrids may have some appeal to meat reducers but they arguably undermine the plant-based narrative and a number of the associated advantages/selling points.
The core strength of pursuing plant-based proteins is the elimination of meat usage altogether, while using biotechnological analysis and innovation to replicate all the sensory and nutritional benefits of eating meat. Blending meat with plant protein fails to achieve this, closing off the product to vegans/vegetarians etc., and making it less desirable to meat consumers who may be inclined to stick with 100% meat products rather than try a halfway-house option.
A similar critique can be applied to Tyson's "made with plants" nuggets; the "made with plants" label tries to tap into a halo effect from "plant-based" products, but could easily be portrayed as disingenuous or undermining the emerging category's integrity by competitors with 100% plant-based solutions.
Behind the scenes, such considerations may have played a role in Tyson's change of direction within the range. It suggests a realisation of the need to commit to the meat-free approach to plant-protein formulations. This may leave Tyson playing some degree of catch-up however, given the brand recognition and growing interest in offerings from the likes of Beyond Meat and Impossible Foods.
It is also worth noting Tyson did have an investment interest in Beyond Meat, but sold its stake in 2019. Tyson's hybrid approach may have been a way to get a foot in the door while continuing the fully plant-based innovation process in-house, but is likely to be a segment that becomes increasingly irrelevant in a binary choice between meat or plant.