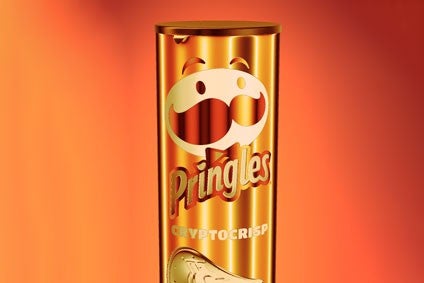 Non-fungible tokens have captured the attention of the art world and, although some see NFTs as a fad, just-food's US columnist Victor Martino believes FMCG companies can benefit from using the technology in their own marketing.
Non-fungible tokens, or NFTs, are all the rage, starting first in the world of digital art, and most recently expanding into a myriad of other areas, including brands.
In a nutshell, an NFT is a record that shows who owns a unique piece of digital content, similar to the way a vehicle title shows who owns a particular automobile. Basically, any piece of digital content – artwork, songs, photographs, memes, published articles, tweets and even CPG brands – can be minted into an NFT.
When a creator mints an NFT, they create a file that lives on the blockchain, which means it cannot be copy and pasted, edited or deleted. It's a one-of-a-kind unique digital token, unlike traditional works, which can be manipulated by others in the ways above.
Non-edible Pringles
How well do you really know your competitors?
Access the most comprehensive Company Profiles on the market, powered by GlobalData. Save hours of research. Gain competitive edge.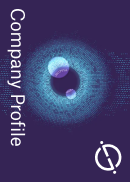 Company Profile – free sample
Thank you!
Your download email will arrive shortly
Not ready to buy yet? Download a free sample
We are confident about the unique quality of our Company Profiles. However, we want you to make the most beneficial decision for your business, so we offer a free sample that you can download by submitting the below form
By GlobalData
Last month, Kellogg created Pringles CryptoCrisp, which the company's touting as the brand's "newest flavour" and its first, virtual, NFT flavour.
Kellogg put the NFT (it's non-edible) up for bid on the NFT auction website Rarible, where to date it's garnered a high bid of US$2,542.68. There are 50 of the Pringles CryptoCrisp NFTs, created by artist Vasya Kolotusha, who will receive the proceeds from their sale. Each one is unique. The tweet announcing the NFT garnered a huge amount of attention, including receiving over 1,000 retweets.
Introducing our newest Pringles flavor: CryptoCrisp, an exclusive #NFT flavor created by artist #VasyaKolotusha. Only 50 exist, all starting at the price of a Pringles can. Click the link to get your *digital hands* on one! https://t.co/JA6Bas4Ez0

— Pringles (@Pringles) March 17, 2021
Charmin's non-fungible toilet paper
March also saw CPG giant Procter & Gamble create toilet paper-themed NFTs for its Charmin bath tissue brand.
It's branded them as NFTPs, non-fungible toilet paper, and, like with Kellogg's Pringles NFT, P&G is offering them on the Rarible website, with this message: "Introducing NFTP, the world's first Non-Fungible Toilet Paper. By Charmin. We're always looking for new ways to help you Enjoy the Go, whether you're sitting on the toilet or participating in the crypto economy. So we created these beautiful virtual rolls to add to your digital supply. Each roll comes with a physical display, so you can hang your NFTP in your bathroom alongside your IRL rolls. And all proceeds will be donated to Direct Relief, as part of our ongoing efforts to improve the lives of people impacted by poverty or emergency situations around the world."
Foodservice and NFTs
Fast-food chain Taco Bell was the first food entity to create an NFT, a collection of five distinct NFTs for only $1.79 each. The taco-themed NFTs sold out fast, and some collectors are currently asking $200,000 on the resale market.
Our Spicy Potato Soft Tacos can now live in your hearts, stomachs and digital wallets. https://t.co/IC8b45lmd9 pic.twitter.com/FJUcuwCuyy

— Taco Bell (@tacobell) March 8, 2021
Pizza Hut Canada, which is owned by Yum Brands (which also owns Taco Bell), created and put a pixelated pizza on Rarible for a mere $0.18. Its low cost was part of the campaign using the NFT, which is that it should be affordable, like, the foodservice operator says, the cost of a Pizza Hut pizza.
The NFT was used as part of a marketing campaign to promote a special offer on four special recipes available at the restaurants. Additional NFTs are being minted as part of the campaign. The buyer of the first NFT currently has it listed on Rareable for resale at $9,000.
The big question for CPG companies and marketeers is whether or not NFTs have a place in brand-building and promotion? My answer is a resounding yes – but with a qualification: proceed with thoughtfulness and caution.
These are five areas where NFTs can offer opportunities for CPG brands.
Creating an NFT in advance of a product launch offers the opportunity to build pre-launch awareness for both the brand and the new product.
The NFT must make sense – P&G's non-fungible toilet paper NFT is a success in part because of the toilet paper shortages we all experienced during the initial months of the Covid-19 pandemic, which, because of the timing, resonated in the minds of consumers.
The artistic quality of the NFT (the non-edible can of Pringles is a good example) is also important because NFTs can become valuable collector's items, which, for a CPG brand, is a very valuable secondary attribute as collectables can aid in the process of building brand loyalty.
Helping build a beloved brand
All CPG brands aspire to become beloved brands; in essence, to achieve iconic status. This obviously takes time but it also takes unique out-of-the-box branding.
NFTs can help in this regard because they offer a new and highly differentiated way for brands to stand out in an increasingly cluttered CPG world. NFTs have the potential to become a value-added tool in the brand marketing and promotion toolkit.
Part of an integrated campaign
NFTs can play a key role in an integrated CPG brand campaign. The Pizza Hut example is a good one because, rather than rely on NFTs as a stand-alone strategy, the company integrated them into an overall campaign involving a new weekly menu launch.
The digital Mona Pizza is upon us. Pizza Hut presents 1 Byte Favourites, a highly exclusive NFT minting run of 1 byte pizzas, each for the cost of 1 bite of pizza. Available for an extremely limited time, but will last forever. https://t.co/f4831jybLc pic.twitter.com/yhUbxfs7YG

— Pizza Hut Canada (@PizzaHutCanada) March 17, 2021
The addition of the NFT resulted in considerably more media attention than the campaign would have without it. This is a great example of expanding the existing marketing toolkit with a new tool – NFTs.
Teaming up with digital artists
Digital artists are becoming as popular and famous as traditional artists have historically been. And they are becoming brands of their own.
NFTs are the new digital device that's enabling this phenomenon. CPG brands can team up with an emerging digital artist and leverage their talents and personal brand to help build their brand.
Let's not forget, after all, what Andy Wharhol did for Campbell's soup. Warhol's is a physical work of art but, in many ways, digital art is the new physical art, particularly for people under 40. And Warhol's piece has been a gift that keeps on giving for the Campbell's brand.
Today more than ever CPG brands need to build a community for their brands and engage with their audience because, in the increasingly cluttered and competitive brandscape, it's no longer enough to rely on traditional advertising or even social media content.
Consumers are busy and fickle – and have so many brands competing for their time and their minds. NFTs can serve as a unique way to start a dialogue with a brand's audience and build on that dialogue with a discussion.
Charmin's non-fungible toilet paper, for example, generated extensive discussion on its social media platforms – some people loved it, others hated it – but people engaged and talked about it. In most cases, the same can't be said for a what are now traditional social media post or ads.
NFTs essentially offer three areas of utility for CPG brands: as part of overall long-term brand building (marketing); for short-term promotional use (promotion); and to generate immediate awareness for a company and its brand. The key to each of these uses is to create an NFT that fits the brand like a glove and to make the NFT stand out.
Some argue that NFTs are a mere fad but the fact is, for millions of people (and growing), particularly in the digital art world, they're becoming much more than that. Because of their one-of-a-kind nature, NFTs fit brands nicely. A chief goal in brand-building is to have your brand perceived as one-of-a-kind, albeit fungible rather than non-fungible.
NFTs have a place in the modern CPG brand marketeer's toolkit. Ask the marketeers at P&G and Kellogg.
The tokens also can be particularly useful for small and emerging CPG brands because they're cost-effective and offer a way to stand out in a crowded environment. They also appeal to what consumers expect from small brands, which is unique ways of communicating with their audiences.
NFTs are in their infancy outside of the digital art world but are expanding into other realms daily. Expect to see many more CPG brands, particularly food, utilising NFTs in the coming months. Just remember: NFTs are not only non-fungible, they're also non-edible.
just-food columnist Victor Martino is a California-based strategic marketing and business development consultant, analyst, entrepreneur and writer, specialising in the food and grocery industry. He is available for consultation at: victorrmartino415@gmail.com and https://twitter.com/VictorMartino01.