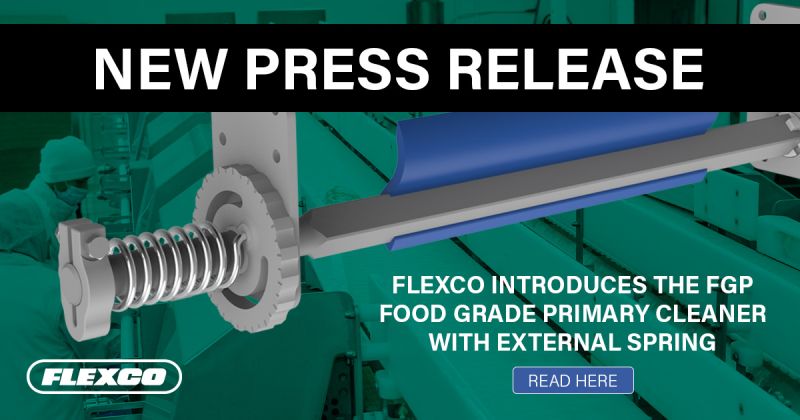 Flexco recently announced the addition of the FGP Food Grade Primary Cleaner with External Spring (FGP-ES) to its line of light-duty belt conveyor cleaning systems. By utilising an exposed component like the external spring, the cleaning and maintenance process is easiest amongst its family of cleaners.
Much like its predecessor, the FGP Primary Cleaner, the FGP with External Spring features FDA-approved, food-grade materials including a stainless-steel tensioner and a solid pole. The cleaners are designed to remove conveyed materials from the conveyor belt to reduce product loss and cross-contamination. The newest cleaner goes one step further in sanitation by exposing all components.
"The FGP Food Grade Primary Cleaner with External Spring is much easier to clean because the spring mechanism is exposed," according to Flexco Product Manager Ryan Jackson. "It can be sprayed down in place, and the tensioner is easy to remove, clean, and replace for facilities with extra-sanitary processes."
Ideal for the food processing industry, the Flexco line of light-duty belt cleaners can be used from the time the food is harvested to the finished product. As is true with the two other cleaners in the Flexco light-duty lineup – the FGP Food Grade Primary Cleaner and FGS Food Grade Secondary Cleaner – the FGP with External Spring does not need to be disassembled for cleaning, sanitizing, and changing the blades because of the snap-in-place design of the blades. Cleaner blades are made with FDA-compliant, food-grade UHMW and are available in white, blue, and metal-detectable blue, and for uneven or soft-cover belts, blue metal detectable dual durometer.
Flexco cleaners feature a small footprint and come with a complete hardware set, including side plates and standoffs, so installation in any area of the conveyor is fast and easy. The cleaners can also be mounted to the service or operations side of the belt for easy access. Exposed components make visual inspections and maintenance easier on the FGP with External Spring due to easy tensioning that minimises blade wear and maximizes cleanability.
The FGP Food Grade Primary Cleaner with External Spring can be used on any light-duty belt from 12in to 48in (304mm to 1219mm) and is ideal for use in protein, industrial baking, confectionery, fruit and vegetable processing, and in any other application with stringent sanitation standards.