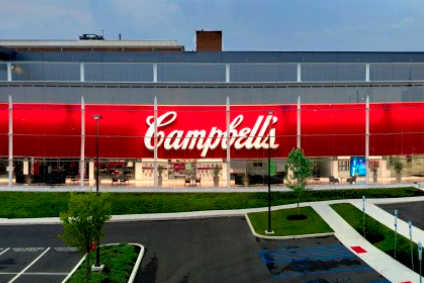 Campbell Soup Co. has in the last week been at the centre of shareholder attention, with the US food giant hosting its annual investor day – and the event being the first led by recently-installed CEO Mark Clouse.
The former Pinnacle Foods and Mondelez International executive was appointed just before Christmas with Campbell starting to embark on a new business strategy, involving a disposal of certain assets, reducing debts and a renewed focus on North America, designed to breathe fresh life in the company's performance.
Clouse's arrival also came after months of pressure on Campbell by activist investor Third Point, which had launched a long-running campaign to have more say in the nomination of senior management figures and board members, as well as input into the company's business strategy.
Third Point backed Clouse's appointment and, so far this year, the Campbell chief has, as intended, pressed on with the company's plans, completing the company's exit from fresh foods, although the business has yet, at the time of writing, not struck a deal for the sale of a clutch of international snacks assets, including Denmark-based Kelsen Group and Australia's Arnott's. There has, meanwhile, been reports in the UK Campbell could be looking to offload the locally-based Kettle Chips unit, the company acquired when it bought US-based snacks maker Snyder's-Lance in 2017.
Earlier this month, Campbell reported a decline in nine-month sales on an organic basis and a fall in adjusted EBIT (alongside a rise in net earnings). Nevertheless, Campbell's shares climbed higher after the company's results for its third quarter came in ahead of its expectations – and it increased its forecast for annual earnings. Clouse said it was "the third consecutive quarter that we met or exceeded our outlook", adding: "I am also pleased to see profitability trends are improving, driven by sequential gross margin improvement."
Clouse reported growth from Campbell's snacks business, bolstered two years ago by the Snyder's-Lance deal but also containing legacy brands like Pepperidge Farm. He, however, acknowledged work needed to be done at Campbell's meals and drinks business, home to its flagship US soup stable, which the company has struggled to grow consistently. "In the meals and beverages segment, although there is more to do, we are making steady improvements on gross margin and profit and this business is showing signs of stabilisation," he said.
Fast-forward to last Thursday, when Campbell hosted analysts and investors in its hometown of Camden in New Jersey. "We're beginning to build what I would describe as a strong, focused foundation," Clouse said.
Clouse outlines growth trajectory
Last August, when Campbell's board set out the results of its strategic review, the company also provided fresh financial targets to reflect the smaller business it is becoming (the planned sale of the international snacks assets still in the offing).
Campbell's long-term financial targets include for sales to rise 1-2% a year on an organic basis; adjusted EBIT to rise by 4-6% and earnings per share, again adjusted, to increase by 7-9% a year.
"You guys saw the long-term algorithm that came out as part of our strategic review last summer. We will affirm that today, number one," Clouse said last week. He gave a flavour of how Campbell's growth trajectory could pan out over the next three financial years once the current fiscal ends in July. "The way in which the pace of this plan will unfold is it will start with 2020 that broadly will be stable in nature, making room for the investments we need, while continuing to deliver the savings that we've planned. There will be opportunities for some modest growth in areas, but generally speaking, I will describe it as broadly stable in 2020, then with progress going forward. Think of it as the lower end of our algorithm in '21 and then within our algorithm in '22, right?"
Priorities to remain even if international disposal slips
Earlier this month, it emerged Campbell had failed to reach an agreement with Mondelez International over a potential deal for the up-for-sale international snacks business. CNBC reported talks over the sale had come to an end, with the two sides failing to see eye to eye on the valuation of the assets.
Neither side responded publicly, although, when talking to analysts about Campbell's Q3 numbers, CEO Mark Clouse said the company remained "committed" to offloading that part of the business, insisting: "We are evaluating multiple options with strategic and financial buyers."
Reports in Australia suggested private-equity firm KKR could emerge as the buyer for the Arnott's-led business, so a deal could be done. At the Campbell investor day last week, Clouse did not comment specifically on any negotiations but insisted he was "very confident" about the process underway.
"We remain committed to the international divestiture and we feel good about the progress that we're making in that process," he said. "As you might imagine, it's not a simple portfolio. There's some complexity here but as I look at the map going forward, I feel very good about our confidence in being able to do it."
However, with the purported talks with Mondelez said to have collapsed, a question on analysts' minds will be whether Campbell can find a buyer – and, if not, how could that affect the company's plans to push forward with a newly-focused business?
"We would manage the international business as a separate division. I would keep the focus and the orientations to the priorities within the two [remaining] divisions," Clouse said. "How about our ability to maintain our capital priorities? Remember, this is a very cash generative business. So our ability to still meet what our capital priorities are, I feel very confident that we can do."
Looking at M&A in the other direction, Clouse suggested any acquisitions Campbell could make would, after a decade of branching into other parts of the industry (with mixed success), be smaller purchases. "I'm talking much more tactical in M&A. I'm not talking about opening up new fronts or into new segments or categories but how do we use M&A over time as a way to bring additional brands or cover segments that will help us strengthen our position in the places we are today."
How Campbell sees the prospects for soup
Should Campbell manage to secure a buyer for its international snacks assets, the company would be a business focusing on North America (notwithstanding Kettle Chips' interests in markets like the UK) and a business with two divisions – snacks and the combined meals and beverages unit. Snacks would account for 47% of sales and meals and beverages (a division, incidentally, home to the Plum Organics baby-food business) the remainder.
At the centre of the meals and beverages division is soup, the product for which Campbell is best known and the product that has been one of the company's most significant problems in recent years.
"Meals and beverages, no surprise. It starts with winning in soup. An important priority for the company and one that I believe we can do," Clouse said. "It's going to be about increasing our soup investment, while optimising the mix on some of the other brands."
He added: "If you think about Meals and Beverage over the last four years, where we've had a strategy of really managing for profit, this is the profile of the division. So over those four years, our spending is down 20%. Our sales have followed, down 6%, and in particular on soup, we've lost three points of share while maintaining EBIT flat."
As well as investment, Clouse believes to "win" in soup rather than "managing it for cash" Campbell needs to change the way the company's soup business worked with retailers.
"Campbell Soup has a strategy of profit focused on profiting cash. Our customers are focused on growing their categories and competing within the retail world. Immediately, we have a misalignment of strategic direction. The conversations then deteriorate into debates about price and margin," he said. "If we come in and we understand how to align on a strategic direction, take into account what our customers are trying to accomplish and then co-create plans together, that's the way you create win-win solutions."
Unsurprisingly, given the long-running challenges Campbell has had with soup – and how that part of the portfolio will become a larger chunk of the company – analysts present at the investor day fired a series of questions at management about that business unit, centring on competition with private label and on innovation.
"Our core businesses test very well relative to competition. I think part of the challenge is private label and price gap and value equation, but part of it is just the overall proposition of condensed and the strength of that as a proposition overall. If you look at where private label is growing the most rapidly it's actually within the broth area," Clouse said. "On the condensed side though, we do plan to make some material changes."
Citigroup's David Driscoll said Campbell had set out plans to innovate on soup a year ago. The Clouse said the last 12 months had been "bit of a transitional moment" on that side of the business.
"Although we do have some offerings in 2020, really, it's a much more recent commitment and conviction to the path forward but in fairness too, I wouldn't underestimate some of the renovation work."
How Campbell sees the prospects for snacks
Campbell watchers have been more upbeat about the growth prospects for the company's snacks business (unsurprising, perhaps, given the macro trend driving the industry) but there have been concerns about the competition in that part of the marketplace.
In November, US investment bank Sanford Bernstein issued a note outlining how it viewed Campbell's snacks business. "While we expect the snacks category to hold up better than other centre-of-store categories, this category is becoming highly competitive and we find Snyder's-Lance less well positioned as its portfolio is largely made up of second-tier brands," its analysts wrote.
At the Campbell investor day last week, Clouse described Campbell's combined Pepperidge Farm and Snyder's-Lance business as the "number four snacks player" in the US – faced questions about the competitive landscape in the country.
"We play in some of the largest growing categories in snacking, whether it's crackers, cookies, potato chips, tortilla chips, which is great, but what's more exciting to me is in each of those categories, we have very unique positioning in segments that we're in," Clouse insisted.
Nonetheless, analysts expressed how competitive is the snacks market in the US. Evercore's David Palmer suggested "people are relatively more concerned on the salty snack side in terms of the competition there".
Clouse acknowledged the competition, though it would have been strange not to. "Clearly, there is, if nothing else, some shoulders brushing up against one another, especially within the salty snack world," Clouse acknowledged. "I think the idea that you're still fighting over real estate as it relates to distribution, display and merchandising, it's really important that that part of our competitive play is sharp enough to compete with big players as well and some of the smaller players."
However, he added: "I think, though, the relative nature of the portfolio, if you kind of match them up side by side, for the most part, we're not going right at core businesses, mainstream cookies or base potato chips is what I really meant with the opportunity to play to a certain degree in adjacencies or segments that are a little bit more differentiated."