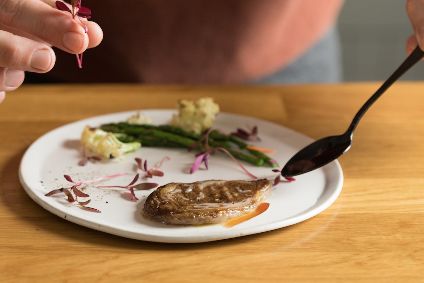 Signs of fresh momentum have picked up around cell-based meat in recent weeks, with a first regulatory approval announced, and two tie-ups forged between one of the fledgling players in the emerging sector and major, global food manufacturers.
Such developments suggest the substantive emergence of cell-based products onto the market is getting ever closer. In December, Singapore's regulator gave the green light for cell-based meat to be sold in the market. The Singapore Food Agency gave its seal of approval for cultivated-meat products made by US firm Eat Just, in the world's first regulatory approval for cell-based meat, with the commercial debut of the chicken nuggets to be made in a private members' club in the city-state.
Cells advance
The Good Food Institute (GFI), the US non-profit that advocates for alternatives to meat, dairy and eggs, described the Singapore approval as "an enormous advance".
According to GFI director, Bruce Friedrich, "the world-first sale and serving of cultivated meat demonstrates the feasibility of this technology and the Singapore government is doing all it can to advance this better way of making meat".
Friedrich made the point, however, that bringing cultivated meat to the masses will require significantly more government investment. "We hope this sets off a global space-race level response from governments," he said at the launch. "Singapore and Israel are leading the way on this transition and China, the EU and the United States need to catch up."
In January, Israel cell-based meat company Aleph Farms announced it is to develop cultured products in Japan with Mitsubishi Corporation, one of the largest companies in Asia and a major player in food in the region and worldwide.
And, this week, Aleph Farms has revealed a second deal, with the firm set to work with Brazil-based meat giant BRF on developing products for sale in Brazil.
A memorandum of understanding between Aleph Farms and Mitsubishi will see the Israeli business contribute its cell-based meat manufacturing platform BioFarm, which cultivates whole-muscle steaks, while Mitsubishi will bring biotechnology processes, branded food manufacturing experience and access to local distribution channels to the table. The companies said they hoped that the venture will result in cell-based meat being produced at scale in a country that has one of the world's densest populations and which imports more than 60% of its food.
Aleph Farms will work with BRF on a similar basis, with their MoU including an an "exclusive" distribution agreement in Brazil. "BRF is ready and charged to play a leading role in this food revolution and be an active participant in one the greatest industry transformations of this generation," Lorival Luz, the CEO of BRF, said in a statement.
Support for companies working in cell-based meat also continues to pour in from investors, keen on getting in early on an area they see as having explosive potential.
Many of the start-ups to have attracted investment have come from Europe, Asia and the US. In early January, the Australia-based cultured meat business Vow announced it had raised US$6m in a seed round to help it develop cell-based products. Two years ago, with a Kangaroo dumpling, Vow became the world's first company to make a food product from the cells of an undomesticated animal.
"There's no doubt that cultured meat is becoming available and will soon be mainstream," said George Peppou, Vow's co-founder and CEO.
Shrinking the cost of growth media
That cell-based meat can be created and can offer a tasty alternative is no longer in doubt but whether the products soon become mainstream or not is rather more debatable. The question of how costly production is – and therefore how much the end products will cost consumers – hangs over any discussions about the real long-term potential of the technology.
In January, Singapore-based TurtleTree Labs, which specialises in cell-based milk, unveiled a new division, TurtleTree Scientific. The business said it wants, through the venture, to work with cell-based meat companies on the production of food-grade growth factors to build the foundation that the cultured food industry needs to thrive.
It's widely accepted the cost most needing to be controlled in order for cell-based meat to become affordable is that of the growth media that allow the cells to grow in the lab, making this move significant. Typically, this growth media has involved fetal bovine serum (FBS), a by-product of the dairy industry, involving the harvesting of blood from the bovine foetus after it is removed from a slaughtered cow.
While ethical questions have been raised regarding the process, it is also very expensive due to the difficulty of the procedure, highly regulated, and is in high demand, having traditionally been bought up by the biotech and life science industries.
Cell-based meat also needs 'scaffolds' to support 3D tissue structures and bioreactor platforms that can grow huge numbers of cells at high densities, but it is widely accepted it is the cost of the growth media that has kept the product from becoming easily scaleable and mass market-affordable.
It would be impossible for cellular agriculture to progress without tackling this all-important hurdle
According to the GFI, cell culture media and growth factors contribute around 55-95% of the marginal cost of cell-based food production.
"Over the course of TurtleTree's journey thus far, we realised that for the industry to realise its potential, there were so many other pieces that needed to fall in place. One of these major pieces is the cost of cell culture media components that all cellular agriculture companies rely on, including us," Max Rye, chief strategist at TurtleTree Labs said, last month. "It would be impossible for cellular agriculture to progress without tackling this all-important hurdle."
TurtleTree Scientific is to be a subsidiary of TurtleTree, but the cell-based dairy firm said the unit will run as an independent company, working with various cell-ag companies to "create and optimise growth media formulations for their specific needs".
Fengru Lin, TurtleTree's CEO, adds: "We've recognised this need for a while now, our scientists have been working on developing food-grade versions of these growth factors with higher performance, higher purity and lower cost."
FBS alternatives and economies of scale
However, now the discussion has moved on to finding ways of cutting costs in the growth media, rather than the touted broader benefits of cell-based meat, such as the need to feed the planet sustainably, the companies involved have become – perhaps understandably in such a competitive arena – more tight-lipped.
Aleph Farms was reluctant to discuss developments in this area with just-food for this article because of commercial sensitivity. However, the business – which is backed by, among others, agri-food giant Cargill – was more forthcoming in November when it unveiled a cell-cultured beef prototype.
The firm's lab-produced beef steaks, manufactured from the cells of a cow, were unveiled at an agri-food innovation summit in Singapore and Aleph Farms revealed it was entering the initial construction phase of its BioFarm plant ahead of commercialisation, with a planned pilot launch targeted for the end of this year.
"The company has developed five proprietary modules for its unique mass-production platform, set to bring the product to cost parity with conventional meat at scale," the company said at the time.
CEO Didier Toubia said: "One of the big challenges of cultivated meat is the ability to produce large quantities efficiently at a cost that can compete with conventional meat-industry pricing, without compromising on quality. We have developed five technological building blocks unique to Aleph Farms that are put into a large-scale production process, all patented by the company."
And, significantly, Toubia talked about mimicking the "extra-cellular matrix found in animals with a plant-based matrix that enables the cells to grow and form structured tissues of meat".
What Toubia touched on here could be seen as the Holy Grail for cell-based meat: to be able to produce a quality product at a comparable price to conventional meat and not to be reliant on the FBS growth medium.
Beckie Calder-Flynn, operations co-ordinator of Mosa Meat – a Netherlands-based frontrunner in the cell-based meat area – admits "developing an alternative for FBS is commercially sensitive".
She adds: "We are one of the only companies who have been able to achieve this. If companies are wanting to create cultured meat that is completely free from animal suffering or death then they are going to have to develop a suitable alternative themselves.
"We are still testing which serums work best with the meat we want to produce, and because we haven't up-scaled our production this makes things more expensive than they will be in future."
A "clear pathway" towards price parity
The subject of costs in the process and scaleability of cell-based protein was very much on the minds of cell-based company representatives, investors and industry-watchers at a Future Food-Tech virtual event held in December.
As we move up the scale curve with cell-based, that will bring the price down significantly
Andrew Ive, founder and general partner of New York and Singapore-based specialist investor Big Idea Ventures, is convinced we are getting closer to having a commercially-viable product.
"When you think about the traditional way of growing meat there are a lot of inputs in terms of things like water, land use, antibiotics in the food system and other things which makes it incredibly expensive. It also takes a significant amount of time to grow a cow or a pig.
"With cell-based meat, you don't have all the input costs and time delays. What we don't have at the moment is scale. As we move up the scale curve, with cell-based that will bring the price down significantly."
Ive also pointed to reducing the cost of growth medium as being crucial. "A number of companies have been working on an alternative to FBS which would be 50 to 80 times less expensive. Some are plant-based. They are driving FBS out of the process and bringing in alternatives which are far less expensive and this will bring the price down dramatically."
Niya Gupta, founder and CEO of New York-based Fork & Goode, which is producing pork in a lab, told the event cost is key to the success of this industry.
"For all the promises we make, it becomes meaningless if it's something we can't afford," she said. "It is the issue the industry has been circling around for a while."
She added: "We have seen the cost curve come down as the next wave of companies address the cost constraints. At Fork & Goode, based on what we know in our lab and through our work, we have every indication of being at price parity with gourmet meat and a pretty clear pathway of being at price parity with commodity-level meat if not cheaper. That should be doable."
Cynics might say we have heard it all before and certainly there will be blockages on that "clear pathway".
Not all territories will look on cell-based meat as favourably as Singapore. When the state gave the green-light to lab-manufactured meat, French agriculture minister Julien Denormandie expressed his dismay in a Tweet. "Is this really the society we want for our children? Me? No," he said. "I say it clearly – meat comes from life, not from laboratories. Count on me so that in France meat remains natural and never artificial."
That battle for hearts and minds lies in the future. For the moment, cell-based meat companies are competing to have a product that they can take to market that is good for the planet but doesn't cost the earth.
This article is an updated version of a piece that first appeared in the February 2021 issue of just-food's digital magazine.