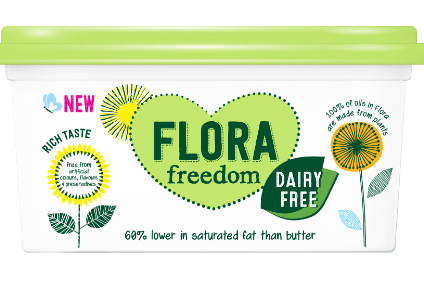 Unilever launched a dairy-free variant to Flora in the UK, in its latest attempt to lift its sales in a struggling category. But is winning over a few free-from supporters and consumers with lactose or dairy allergies enough to do the trick? Hannah Abdulla explores.
Unilever's spreads business has been under pressure in recent years and 2015 was no exception. Last month Unilever reported a 5% drop in spreads revenues in 2015. Part way through last year, Unilever's spreads division was put into a stand-alone unit – baking, cooking and spreading – a move it first announced in December 2014 – with Sean Gogarty, as executive vice president of spreads, responsible for the division.
However, Gogarty left Unilever last week. The announcement once again sent speculation spiralling into overdrive that Unilever would soon offload the struggling spreads arm.
On an analyst call following the publication of Unilever's 2015 results, CEO Paul Polman seemed to play down such suggestions. "We must continue to build shareholder value. I can get rid of this business tomorrow by giving it away to someone but that is criminal." However, Polman did confirm the unit would be watched closely in 2016. "Spreads continues to be a drag on the overall foods performance. We saw a decline of 5% as we have not been able to stem the ongoing market decline compounded by drop in butter prices. [2015] was a year of transition as we set up the new baking, cooking and spreads unit… It is still early for the unit and we will evaluate its course over 2016."
A week later, Unilever unveiled its latest move to try to revitalise its spreads sales in the UK, repositioning its flagship brand Flora and, notably, launching a dairy-free version of the spread.
As a whole, free-from is one sector that, according to Mintel, "continues to perform strongly" in the UK. The category doubled in size between 2009 and 2014 to reach an estimated GBP365m. And though growth is expected to slow from those heady heights, the UK free-from market is still forecast to grow by over 50% between 2014-19.
However, looking more closely at free-from spreads, data on how the category is growing is difficult to come by. Despite not carrying market share data, Mintel reveals the three brands that have a notable presence are Kerry Group's Pure, Dairy Crest's Vitalite and Arla Foods, with its lactose-free spread Lactofree. The new Flora Freedom is priced higher than its competitors at GBP1.70. Pure and Vitalite are priced at GBP1.00 and GBP1.50 respectively. Lactofree is priced at GBP1.65.
A spokesperson at Flora insists the new product is priced at the "same level as the rest of the Flora range". However, Kitty Soinen, head of UK food, drink and foodservice research at Mintel, is concerned Pure and Vitalite will "undercut it on price at their current standard prices".
Unilever did not comment when questioned whether it was concerned consumers would opt for other brands based on price. It is instead banking on the product's taste profile. "Research has shown that our consumers love the taste of Flora Freedom. Our product uses a blend of vegetable oils to deliver the great taste you would expect from a Flora spread."
However, the launch of Flora Freedom comes into a category Hamish Renton, managing director at industry consultants HRA Food and Drink, says is "relatively unexciting".
"It's been around for a long time. Pure has the longest heritage, it probably has the most to lose to Unilever," Renton says.
But one question he asks is why it has taken Unilever so long to break into this category. Could this impact Flora Freedom's growth opportunity at a time when the few players that are in the dairy-free spreads category have already established a name for themselves?
"Unilever is late to the party. This [technology] has been possible for 10-15 years, im surprised its taken them so long to launch a dairy-free version of a popular margarine. By being late everyone else in the category has had a free ride."
But Unilever insists there is still an opportunity for growth in dairy-free spreads as the category is relatively fragmented and growth opportunities continue to present themselves as more people emerge with dairy allergies.
"Over one in ten people in the UK have a suspected intolerance to dairy products; however free-from spreads currently represent just 1% of the butter and spreads market," a spokesperson for Unilever tells just-food. "In addition, veganism and a plant-based approach to eating is one of the biggest growing food trends in Europe. We aim to provide products that meet the needs of our consumers; Flora Freedom offers a different taste while retaining the quality that our customers expect. We believe that Flora Freedom provides a perfect choice for our consumers who favour a plant-based diet."
The real question is what impact Flora Freedom could have on Unilever's spreads sales – a stagnant category – a fact all too familiar with other UK dairy firms including Dairy Crest, which in November, moved to improve Clover's position by reformulating its recipe to be free of artificial ingredients.
Soinen says the spreads segment "as a whole is losing ground to butter in the UK". And that trend, according to Mintel, is likely to continue. The edible oils market is forecast to decline by 4% in volume terms in 2015-20 against a fall of 9% in volume in 2010-15.
"That is the bigger challenge for Unilever's spreads. Even if the free-from spread wins share in the free-from spread segment, it's unlikely to be enough to offset that," she adds.
Unilever is hopeful the launch will win consumers beyond the lactose or dairy intolerant.
However, Renton is unconvinced those without allergies would pick the dairy-free version over the original. Speaking of the spreads that cater to special diets he says: "Most action there is in [Raisio's] Benecol and in Flora Proactive. That's where the health people go."
Moreover, he says the launch of Flora Freedom is a "relatively low risk piece of new product development for them because nothing has really changed other than the slight formulation when they pack the tubs". Nevertheless, Renton does applaud Unilever's attempt in trying to "mainstream" the dairy-free category with this launch.
Renton adds: "There will no doubt be people who from a lifestyle point of view that see Flora going dairy-free as a positive. Then there are people who are genuinely dairy-free, because of lactose intolerance or allergies to milk itself or some of the proteins. Unilever now has a product for these consumers. And of course with Unilever's type of muscle, they have the ability to get a tub out in every single store."
But it is an important move, he believes, in trying to revitalise its sales in the category.
"They've had to do something," he asserts. "People are waking up to the fact that things like vegetable oil – something Flora is great at – isn't actually that great for us. Butter is a fairly obvious place to start but I don't think Unilever can do it as well as a "proper" dairy company – they don't have the provenance and the rest of it.
"They are going to have to make this technical functional area their own," he adds. "The jewel in the crown is plant sterols, and I'd expect more value-added margarine. I kind of think this is logical. I'd expect to see more of it. The way out for them is to innovate because their base business is shrinking year on year."