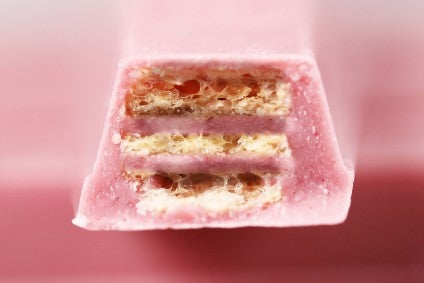 Worth EUR30.5bn (US$34.06bn), the European confectionery market, often driven by impulse purchases, is undoubtedly one of the most competitive. But with sales by both value and volume in decline, what can manufacturers do to address what has become a sticky situation?
IRI's latest overview of the European confectionery market looked at category performance in six major western European countries – UK, France, Germany, Italy, Spain and the Netherlands on a MAT basis to September 2018. It found volume sales of sugar confectionery, chocolate and gum slumped in five out of six markets, with only Spain showing positive year-on-year growth (of 3.5%) while value sales declined in four of these markets.
Sugar's demonisation and the trend towards healthier snacking is impacting on confectionery sales throughout Europe. Sugar confectionery is driving this overall downturn. A lack of innovation has seen gum's long-term slump continue, while inflation in chocolate prices has propped up a rather flat increase in sales of 0.1% by value year-on-year.
In France, shoppers are buying less sweet confectionery whereas chocolate remains more buoyant with gifting boxes, gourmet tasting products and children's chocolate compensating for declining sales in traditional bars and tablets. Innovation in organic and vegan sweets is heralded locally as an opportunity to re-stimulate sales while gum experiences the heaviest decline across both chewing and bubble varieties.
Multiple factors are impacting a category downturn in the UK. Here we see a significant reduction in promotional activity year-on-year, along with 'shrinkflation', higher material costs and a narrowing of range. Gum sales remain in long-term decline as a lack of innovation and high prices offer shoppers little reason to re-embrace the segment. Chocolate values remain stable, primarily due to inflation (with prices up 3%), provenance and premiumisation through indulgent offerings and true innovation, such as the recent arrival of the new Ruby chocolate variety.
German shoppers are also picking up less sugar-based products as consumers choose healthier snacking options, evidenced by the fact two of the five fastest-growing ambient categories are salty snacks and nuts and seeds, growing 5% and 8% respectively. In fact, the savoury snack market is thriving across the same set of countries, growing strongly in value (up 5%) and volume (3.5% higher).
Toffees and hard candies declined the most in Italy by 9% in both value and volume amid four straight years of falling sales for sugar confectionery. Top-line sales of chocolate in the Netherlands are flat, aided by marginal inflation, with sugar sweets driving total confectionery sales down year-on-year. Sugar-free confectionery has seen moderate success here in recent years with a small upturn in fruit gum unable to offset a decline from more established mint products.
Instigated by private label, the only one of the six countries bucking the declining confectionery trend is Spain with comparatively strong growth of 5%, with range size and premium offerings increasing. Turrón, the seasonal nougat traditionally consumed at Christmas, has supported the sugar sweet category (up 3% year-on-year) while chocolate has grown at twice the rate of sugar sweets, with tablets accounting for an increased proportion (46%) of the category. Gum volumes have risen 4.5% as sugar-free varieties prove popular.
While demand for confectionery will continue, we are seeing notable slides in volume sales. However, there are steps manufacturers can take following IRI's category trend analysis.
Indulgent innovation
Treating won't disappear overnight. Premium tier development, in what is an over-commoditised sugar category, could help offset long-term volume declines.
Innovative trends, such as offering a wider range of soft candies with bolder flavours; chocolate with higher cocoa content; flavoured Ruby chocolate and lower sugar lines can help counter the threat from a varied and saturated snacking landscape.
Healthier snacking
Offering reduced sugar variants of well-known products could spark further innovation in the healthier confectionery arena and resonate well with family shoppers. Healthy snacking is a major contributory factor impacting confectionery downturn but could offer potential opportunity for manufacturers to re-focus their portfolios.
Around 63% of European shoppers are willing to pay more for healthier foods. Vegan, organic and reduced sugar offerings could re-stimulate category buy-in. With the UK recently joining a growing number of countries around the world imposing a sugar tax, many major soft drinks manufacturers, such as AG Barr, Britvic and Suntory, were forced to reformulate their ingredients and move towards reducing sugar content from popular brands. Manufacturers should be prepared to implement similar plans in case confectionery is next in line for higher taxation.
Sourcing and sustainability
This poses a challenge for many categories; particularly cocoa sourcing for chocolate manufacturers. IRI's latest European Shopper Survey revealed 71% of European shoppers prefer to purchase products that demonstrate fairness, transparency and integrity.
Some manufacturers are already raising industry standards and have taken the lead in helping to promote slave-free chocolate by forming strategic partnerships with retailers and brands such as Barry Callebaut, Albert Heijn and Tony's Chocolonely, with the aim of making sustainable chocolate the norm by 2025.
Play small, win big
The rise of boutique and local brands across FMCG is very evident. Premium confectionery products that use this appeal, provide greater opportunities for manufacturers.
In all, reduced retailer support, a trend towards healthier snacking and government health initiatives aimed at tackling obesity generate strong headwinds for what is a mature category in Europe.
Rather than taking a 'suck it and see' approach, manufacturers should react to new opportunities within the sector as innovation in premium formats, bolder flavours, lower sugar varieties and ethical sourcing emerge. This should provide them with plenty of new ideas to chew on and revive the category as we head into 2019.