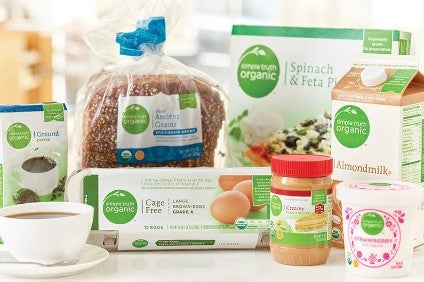 Kroger, one of the largest grocers in the US, has, in the face of a challenging domestic market and the spectre of Amazon over food retail growing, rolled up its sleeves in recent months and announced a series of moves in developing parts of the food industry. This week, Kroger announced another initiative but, this time, it was international. Dean Best reports.
One of the large, traditional grocers in the US is placing bets on how consumers in the country could shop in the future – and now it has dipped its toe outside its domestic market with another eye-catching move.
In 2018, Kroger, which operates more than 2,700 stores in the US across banners including Ralphs, Fry's and King Soopers, has announced a series of moves, most notably in the area of e-commerce, that suggest the retailer is not resting on its laurels and is prepared to invest behind some of the trends that are shaping – and could shape – the country's grocery sector.
Amazon's acquisition of Whole Foods Market raised concerns among grocers in the US about the e-commerce titan's ambitions in food retail and, last October, Kroger announced Restock Kroger, a programme that has seen the retailer cut prices and shut under-performing stores but also invest in new ways of selling groceries.
In May, Kroger struck a deal with Ocado to use the UK online retailer's technology for its food deliveries in the US; it also bought a 5% stake in the London-listed, online pure-play.
The same month, Kroger snapped up Home Chef, the largest meal-kit company in the US.
At the start of August, the retailer launched Kroger Ship, a home-delivery service, in four US cities with plans to expand in the coming months. The move built on its relationships with third parties like Instacart and its curbside pick-up service.
Two more eye-catching announcements have come this week. Yesterday (16 August), Kroger unveiled the final details of its plans to trial autonomous grocery delivery in the US, with the test set to go live in Arizona through the retailer's new partnership with self-driving car start-up Nuro.
Grocery delivery with Nuro self-driving vehicles starts today! Our pilot with @kroger in Scottsdale, AZ is now accepting orders. Start shopping @FrysFoodStores https://t.co/uKYGyHRCgx pic.twitter.com/zwbmW1VEeu

— Nuro (@nurobots) August 16, 2018
And, on Tuesday, Kroger set out plans to launch own-label products outside the US for the first time through a venture with Chinese e-commerce giant Alibaba.
The deal with Alibaba marks the first time Kroger has taken its own-label products outside its domestic market. Simple Truth will be the first private label to go on sale, with "select items" available on Alibaba's Tmall platform.
The retailer said the first private label it would market in China would be Simple Truth, which has grown to become a major player in the US natural and organic food categories. Simple Truth's sales in the US reached more than $2bn in 2017, which the retailer said made it the largest "natural and organic brand" in the country last year, Kroger said.
Teaming up with Alibaba's Tmall gives Kroger the opportunity to reach consumers nationwide in China. US retailer Costco and Sainsbury's, the UK's second-largest grocer, have set up platforms on Tmall to sell their private labels in China.
Private label remains a small part of China's packaged food market, with local consumers, in the main, still preferring brands
That said, the interest in and solid demand for international packaged food products (driven in part by concerns over product safety) could, some industry watchers say, present an opportunity for the world's major grocers that have developed established private-label ranges in their home markets.
"Most grocery retailers have private label ranges already, although driving sales is not a top priority with Chinese consumers remaining very brand loyal. However, we are increasingly seeing retailers in China and across Asia partnering with international retailers to offer their private labels as a point of difference," the head of the Asia Pacific practice at UK-based industry researchers IGD, tells just-food. "Retailers such as Waitrose, Casino and Tesco are particularly active in this area, with Sainsbury's having also formed a partnership with Dairy Farm in Hong Kong last year, to sell its private-label ranges via its stores."
Not all of the products Kroger sells under the Simple Truth label are organic but the tie-up with Tmall again highlights how western companies are eyeing China's organic-food sector.
Like private label, the market for organic food remains a small part of China's overall packaged-food industry – but, like private label, the category is growing. China, for example, now has the largest market for organic infant formula products in the world, worth around US$200m, according to market researchers Ecovia Intelligence.
"Organic is definitely hot in China," Peter Peverelli, director of Eurasia Consult, a Netherlands-based consultancy focusing on China's food industry, says. "Chinese, even with a median income, are willing to pay a premium price for organic foods."
Miles says the demand for organic products in China is a symptom of the rising interest in the links between diet and health among local consumers. "Chinese consumers are also becoming more aware of health and wellness, alongside provenance of products, with retailers and manufacturers to products such as organics and gluten-free items looking to tap into the largest grocery retail market in Asia," he says.
Manufacturers will, of course, be watching carefully – but Miles says the moves by the likes of Kroger need not be an impediment to suppliers hoping to take advantage of favourable trends in the market.
"Retailers are always looking to develop ranges that help differentiate their stores from the competition, as well as deliver better value. Manufacturers should be continually keeping an eye on these developments and ensure that their brands are delivering for shoppers, as well as continuing to drive category innovation for retailers. For example, if retailers are looking to grow their organic ranges, the best suppliers will look at the opportunity to collaborate in this area," Miles says.
None of the initiatives Kroger has announced in the last eight months or so will materially move the retailer's top line in the short term and, of course, there is an element of risk in each of the moves.
However, each of the initiatives demonstrates one of the US's largest, traditional grocers are not letting the grass grow under its feet as the way consumers shop and eat changes around us. And nor is its ambitions necessarily restricted to US borders.