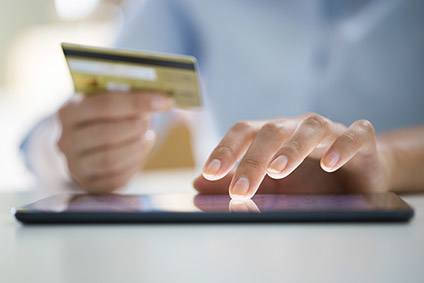 The continued rapid growth of grocery e-commerce in the UK, combined with the tough trading conditions in serving traditional, bricks-and-mortar retailers, is leading a number of food manufacturers to investigate whether selling directly to consumers could be an option worth pursuing. Simon Creasey weighs up the prospects for the fledgling channel.
The UK's online grocery channel is buoyant. UK research organisation the IGD estimates the sector will be worth GBP10.4bn (US$13.6bn) in 2017 and forecasts it will grow to GBP16bn in 2022 – a 53.8% increase. And these numbers could be conservative if Amazon, with a full UK rollout of its Fresh grocery home delivery service, is serious about the market.
Growing consumer interest in shopping for groceries online is prompting food manufacturers to focus more on the channel and some have set out some ambitious sales targets.
Mondelez International, for example, created a dedicated e-commerce team last year and is aiming to generate $1bn in revenue through online sales (including, but not limited to, direct selling, by 2020).
There are a number of ways food manufacturers could potentially look to ride this wave, from doing business with the online arms of their main bricks-and-mortar retail customers, from working with online pure-plays like Amazon and from direct selling.
Of the three, direct-to-consumer food sales is by far the smallest segment but it is nonetheless attracting the interest of manufacturers keen to tap into the growth of the e-commerce channel but also keen to maximise returns.
What are the main benefits of direct selling? What are the hurdles that companies need to overcome to ensure direct-to-consumer sales models work?
Early days for direct selling in food
To date most of the direct-selling activity has been for non-food products, in areas such as male grooming, beauty and baby products. Direct selling is still relatively nascent in food. However, according to Kiti Soininen, head of UK food and drink research at industry watchers Mintel, there are some examples out there in the market.
"We've seen direct to consumer make an appearance in a disparate array of food and drink segments, ranging from veg boxes to freshly ground coffee and from sports nutrition to snack boxes," Soininen says. "Some examples can be found also in baby food and higher-end chocolate, for example, while subscription clubs have sprung up across a raft of areas from cheese to chocolate, although the longevity of these remains to be seen."
Soininen adds that many of these product types share characteristics that make them a good fit for a direct-selling platform. "They tend to be ambient items, meaning they can more readily piggy-back on the increasingly comprehensive and competitive last mail delivery networks," she explains. "This lowers the cost and improves the convenience of the 'last mile' of delivery, which remains a barrier for chilled and frozen food. The packaging is typically designed to facilitate this, being tailored to fit the letter box."
The most mature direct-selling model operated by a large food manufacturer today is arguably seen at Nestle. Analysts estimate Nestle generated around $4.5bn in global sales of its direct-to-consumer sales of coffee brand Nespresso in 2015 (the company stopped breaking out Nespresso revenue in 2012). In a recent trading update, the world's largest food maker said the broader e-commerce channel – so including sales through the likes of Tesco and Amazon, not just direct selling, for which the company does not publish specific figures – now accounts for 5% of total sales, up from 2.9% in 2012. Nestle declined to comment on its future e-commerce plans in the UK for this article.
The factors behind growing interest in direct-to-consumer
Analysts say there are a number of contributory factors behind the growing interest among manufacturers in direct-to-consumer food sales. One of the biggest is the future anticipated shift in consumer shopping habits, says Clive Black, head of research at UK stockbrokers Shore Capital.
"The future is going to be the same, but different," says Black. "From a shopping perspective the behaviour of teenagers in particular will be very different to that of their parents. The utilisation of mobile telephony is driving the change here and therefore I think the question is whether future generations will visit a shop to the same extent their parents and grandparents have done. If they don't then manufacturers still need access to their mouths, so what you're seeing in the embryonic development of business-to-consumer activity is manufacturers trying to secure future route to market."
Food manufacturer interest in direct selling can also be seen as an attempt to grow margins. In the UK, it has been tough for manufacturers to find growth through traditional retail sales as the country's grocers, attempting to fight off the threat of the discounters, have reduced ranges and put the squeeze on suppliers. This combination of factors has potentially intensified in the interest in the direct-to-consumer channel, according to Will Shepherd, a partner at UK-based global supply chain consultancy LCP Consulting.
"If you've been squeezed on costs and your margins have gone down, if you jump sideways into direct-to-consumer you can suddenly do lots of things like control the price a little bit so you get a better margin, you get better control of branding through to the customer, you get customer data that you've never had about what do people buy and what items they buy together, and it's also very cheap to stick your entire range online," Shepherd explains.
The benefits for start-ups
As well as offering larger food manufacturers these potential benefits, direct-to-consumer selling can also give start-up businesses a cheap and easy route to market and allows them to build a customer base before potentially seeking retailer listings.
Love Cocoa, a "contemporary" chocolate company founded by James Cadbury, the great, great, great grandson of the founder of the eponymous confectionery giant, has listings in Fortnum & Mason and Fenwick and intends to add more retail stockists this year. However, the UK business started life direct selling and has reaped the rewards, Mr Cadbury says.
"We launched the business as direct-to-consumer as we want to build a relationship with customers," he says. "It also meant we could test the product out with small quantities to start with and gain key feedback from customers. We also get a better gross profit as we do not need to pay distributors and retailers a cut of the profits."
He adds the approach has worked out well for the company, which recently started taking bitcoin payments for its e-commerce orders.
"We still receive about 75% of our revenue via the direct-to-consumer model with the remaining from pop-ups and our new retailers," Cadbury says. "We are keen to ensure a large percentage of revenues comes from direct to consumer as it will mean we are not overly reliant on any retailer and also we can get customer feedback on products."
The route Love Cocoa is taking is one that has already been trodden by UK online subscription snacks business Graze, which started out as a direct-to-consumer service and then branched out into also selling through bricks-and-mortar retailers domestically and, more recently, in the US. Andy Gibbs, the CFO at Graze, says direct selling provided the foundation for the company's push into traditional stores.
"Through this model, the business has been able to collect customer feedback on its products enabling it to deliver a more personalised experience by improving its product range to meet their tastes," Gibbs says. "Having a direct-to-consumer channel has also enabled the business to build direct relationships with its 'grazers' helping it to grow the brand faster and develop a loyal customer base."
Gibbs adds the direct selling model also put the business in a strong position to expand into the US market in 2014 (ahead of its move into US bricks-and-mortar retail in 2016), with Graze achieving a "$34m year one revenue run-rate in the direct-to-consumer business alone".
The problems with direct selling
However, while this approach has worked well for the likes of Graze and Love Cocoa, Fraser McKevitt, head of retail and consumer insight at Kantar Worldpanel, has concerns about the direct selling model.
"It's an appealing idea for brands to reach consumers directly, but for the vast majority of shoppers, traditional retailers which stock multiple brand and products are by far the most attractive option," McKevitt argues. "Consumers value convenience and want to be able to buy most of their groceries for the week in one place, so purchasing directly from a manufacturer or brand can seem like an extra effort."
It is a view shared by Black, who says the cost of delivering products to consumers is also a major hurdle.
"The reason wholesalers and retailers exist is they are the means to market for manufacturers," says Black. "If you look at Tesco with a 28% share of the GBP160bn UK food market, that is a very efficient route to market for mass-market manufacturers. For those manufacturers to meaningfully distribute to individual households adds an enormous level of additional cost because you need single packs and the mechanism for delivery and it is that last mile that's been the main pain in the backside for online retailers over the last few years."
These are not the only barriers that manufacturers need to overcome. Earlier this year LCP Consulting, in conjunction with The Centre for Supply Chain Management at Cranfield University, published the findings of interviews with 100 manufacturing directors and department heads at manufacturing groups operating in the UK and around the world, about their attitude towards direct-to-consumer sales. A third of respondents were from major manufacturers in the food and beverage sector and a series of recurring themes cropped up, LCP Consulting's Shepherd says.
"A lot of manufacturers were worried about what would happen to their grocer relationship [if they went down the direct selling route], that they might lose shelf position or shelf space," Shepherd says. "They also talked a lot about how they have set themselves up as supplying pallet quantities into grocers from warehouses that are handling high volumes and are not designed for single pick items. In terms of the efficiency in channel economics of direct-to-consumer sales, it becomes very difficult because the cost and handling and logistics suddenly go through the roof."
Then there is the issue of returns, which creates a major logistical headache for online fashion retailers in particular. "At the moment if you open a food product and you're not happy with it you will take it back to the retailer that you bought it from, but in the direct-to-consumer world you have got to get that item back from the customer and you have to compensate them for the postage and for their experience," Shepherd says. "As we know from the apparel sector the cost of returns can be shocking."
There is the also danger that by rolling out a direct selling business you might cannibalise sales made through traditional retail channels, which in turn could lead to a delisting. In LCP's research into direct-to-consumer selling the company split manufacturing groups into two: the 'leaders' and the 'followers' – those leading the charge into direct-to-consumer sales and those that believe future sales growth will come through traditional sales channels.
"The leaders were expecting that there would be some cannibalisation of sales and they were willing to write down some of that in exchange for margin," says Shepherd. "As for the followers, sales cannibalisation was one of the reasons they were worried about going down the direct to consumer route."
Could a "platform for consolidation" emerge?
For those large manufacturing groups that have relied on the bulk of their sales coming through traditional bricks-and-mortar retailers for decades, making the switch to a direct selling is not going to be easy. The potential headache associated with logistics issues alone will be enough to dissuade many manufacturers from embracing this model. However, Shepherd thinks that in the next 18 months to two years a "platform for consolidation" will emerge that will manage the delivery process for manufacturers.
"Consumers want to buy from different providers, but they don't want to wait for three separate orders to arrive at their house and they don't want to pay three separate delivery charges. I think that a platform will emerge in this market that can access last mile delivery capabilities and can consolidate orders. They will take a slice of the margin and they will be in business as an intermediary. I'm surprised it hasn't happened already, but I think the UK is likely to be the first, or one of the first countries, to do that," Shepherd says.
As revenue growth through traditional grocery channels remains challenging it is likely many manufacturers will at least sketch out whether a move into direct selling could be feasible, while some may step up plans and launch pilot initiatives to see what works. The research undertaken by LCP and The Centre for Supply Chain Management found 48% of manufacturers questioned are racing to build direct-to-consumer models and they expect the channel will grow at a CAGR of 5% over the next five years. It remains early days for direct-to-consumer food sales but interest is building and initiatives are rolling out.