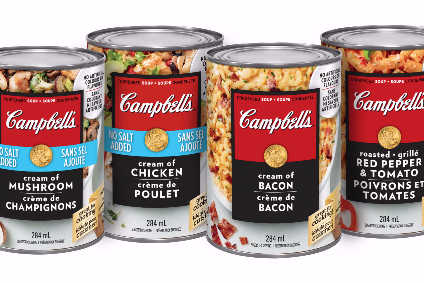 Andy Coyne looks at Campbell Soup Co.'s future growth strategy and asks whether it is a plan of counter-intuitive genius or simply wrong-headed?
It was perhaps inevitable given recent turmoil surrounding US food giant Campbell Soup Co. that more would be written about its attempts to fight off a challenge from activist investors than about how the company sees its prospects for growth.
But now the dust has settled on an annual meeting less tumultuous than expected – with a deal was done beforehand with activist investor and minority Campbell shareholder Third Point – it is time to look more closely at the road ahead.
It should be remembered the recent criticism of Campbell from Third Point and others dates back to May when CEO Denise Morrison departed on the back of the announcement of a huge third-quarter loss (US$475m compared to a $298m profit for the equivalent period the previous year).
That led to the company instigating a root-and-branch review of its business which in turn led in August to an announcement that it would be selling off its international and chilled arms to concentrate on its traditional, domestic US business: soup and snacks essentially.
Campbell's international unit includes brands such as Arnott's biscuits and businesses such as Kelsen Group, the Danish baked snacks company, while its chilled arm, Campbell Fresh or C-Fresh, includes Bolthouse Farms, Garden Fresh Gourmet and the company's refrigerated soup business, which generated combined net sales of around $2.1bn in fiscal year 2018.
At the beginning of this month, Campbell denied media reports that it is struggling to sell Bolthouse Farms but admitted it had tweaked the sales process.
The New York Post newspaper quoting a source, said Campbell had not received much interest from potential buyers of Bolthouse, which makes juice drinks and salad dressings.
The newspaper speculated this is because Bolthouse's business has proved disappointing since Campbell paid $1.5bn to buy it in 2012.
Its source said, as a result, Campbell is now looking to sell Garden Fresh Gourmet, a maker of salsa and hummus that it bought for $231m in 2015, in a separate process.
A Campbell spokesman said the report is "inaccurate".
More positive news apparently surround Campbell's attempts to sell its international unit.
On Monday (10 December), reports suggested Ferrero, the Italian confectionery business, was weighing up a takeover bid for Campbell's overseas assets.
News agency Reuters, citing "two sources close to the matter", said the Italian group is working on a possible deal with Rothschild as its adviser, confirming an earlier report by Italian daily Il Sole 24 Ore, which said a deal could be worth more than US$2bn.
But the details of the sales process aside, Campbell's strategy remains clear, as outlined by interim CEO Keith McLoughlin in August: "To become a more focused company by disposing of non-core businesses and to use the proceeds to strengthen its balance sheet and to reduce costs and increase efficiency to reflect a leaner, more focused and agile enterprise."
However, does such an approach make sense when so many food industry analysts talk about the demise of the central aisles of the supermarkets – where products like Campbell's shelf-stable soups and meatballs (and its recently-expanded snacks range) live – as consumers seek out healthier and, frankly, sexier alternatives in the chilled sections on the perimeter aisles?
And why pull up the drawbridge and concentrate on the domestic market when so many of its rivals are increasingly looking for growth overseas?
Recent analysis by Sanford Bernstein suggests "fixing Campbell soup could prove to be a challenging task".
It said: "We believe it could prove challenging to turn around the soup business. For example, despite consumers' preference for more contemporary packaging, it appears that it may not make economic sense to sell Campbell's mainstream soup products in aseptic cartons based on existing technologies, although it might make more sense for Campbell to explore contemporary packaging for its more premium products.
"In addition, we believe that Campbell might have benefited from reaching an impasse with Walmart last year over its promotional spending from a profitability perspective. As Campbell re-engages Walmart on promotions this year, we worry about the profitability and margin implications."
Turning to snacks, where Campbell placed a big bet last year with the acquisition of US group Snyder's-Lance, Sanford Bernstein adds: "While we expect the snacks category to hold up better than other centre-of-store categories, this category is becoming highly competitive and we find Snyder's-Lance less well positioned as its portfolio is largely made up of second-tier brands."
Taking soup first, given that Campbell has long struggled to grow its soup sales in US is the company backing the wrong horse concentrating on this product anyway? Most recently, in the three months to 28 October, sales of Campbell's US soup unit fell 6% year-on-year when excluding the benefit from its acquisition of Pacific Foods in December and the impact from a change in revenue recognition – but that fall follows a number of periods of decline in recent years.
Victor Martino, a San Francisco-based food industry consultant and analyst, thinks it might be.
He said: "It's hard to see what its strategy is in terms of positioning the company forward. Basically, it's returning to its roots as a conventional soup company with a few other category add-ons. Soup isn't a huge growth category either.
"Its decision to part ways with CEO Denise Morrison and put the natural, organic, speciality brands on the block means it sees little future there, which is ironic because nearly all major global packaged foods companies do."
Martino suggests this could leave Campbell as "a more limited player in the food industry – soup and crackers and a few other categories".
He adds: "My analysis is that Campbell's board wants it to be acquired. If that doesn't happen the company needs a strategy for going forward. I don't see one yet. A commitment and mission statement to reinvent soup would be a good start."
Sanford Bernstein senior research analyst Alexia Howard, who follows Campbell, is also struggling to get to grips with the company's strategy.
"Sadly the canned soup business has struggled over much of the past decade, and is likely still the most profitable piece of the business. Campbell has been trying to make a push into fresh soups for much of this time, but has had quite a bit of push-back from retailers. And while they do have some manufacturing capacity for fresh soup sold mainly into the foodservice channel, the majority of their supply chain is still geared up for shelf-stable canned options," she says.
Martino says he can see two "desired scenarios" playing out from Campbell's planned asset disposals.
"Firstly, Campbell's uses the cash it gets from the sale of its natural, organic and speciality brands to acquire some mid-sized conventional food companies. This grows the top-line," he says.
"Secondly, Campbell's is trying to package itself to be acquired. I see little interest there because I think the desired asking price might be too steep. Kraft Heinz seems to be looking according to press reports, but its all rumour at this point. I doubt it's a deal Kraft needs to do."
Howard suggests Campbell's big hope for growth is now snacks in the US, from the products attained through Snyder's-Lance acquisition combined with its Pepperidge Farms brand.
"Although it's not clear whether this particular portfolio of brands is positioned to succeed in what is becoming a highly competitive area. Pepperidge Farms seems to be a strong brand with reasonable growth potential. However, some of the Snyder's-Lance products seem a bit less on trend," she says.
Tom Vierhile, innovation insights director at New York state-based GlobalData, agrees. He says: "They bought [Snyder's]-Lance so they are in the snacks business now. But I don't understand why they did it. Snyder's-Lance is a good business but there's not much to leverage in healthy snacks terms."
It's hard to work out exactly how the company's US snacks business is faring, though, as it measures results based on global biscuits and snacks (which ironically includes the likes of up-for-sale Arnott's).
Sales in the division the first quarter of Campbell's 2019 financial year (a three-month period up to 28 October) increased by 77% to $1.2bn but this included the benefits of the Snyder's-Lance acquisition in December 2017. Without that, sales were down by 1%, on a like-for-like basis.
One faster-growing area in which Campbell has a foothold – but one not often talked about – is baby food, having acquired the Plum Organics brand in 2013.
Martino says: "Plum is an organic brand. Since they are exiting most of their brands it's rather ambiguous. But they kept that brand. This indicates they see potential in it. Premium and 'better-for-you' baby food is popular but also becoming brand competitive. They will need to be aggressive if they hope to grow the brand."
Vierhile is not overly impressed by Campbell's' acquisition strategy generally.
"They got their wings clipped going into fresh foods. There were a lot of dynamics there they weren't prepared for. Suddenly, for example, they needed to pay attention to the carrot harvest," he says.
Howard broadly agrees. "I think strategically, the push into chilled foods was a good idea, since the US consumer definitely seems to be heading in that direction," she says.
"However, there were a number of execution issues, particularly in the fresh carrot business and also with recalls in the Bolthouse Farm area that caused problems. And the other problem seems to be that fresh foods tend to have inherently lower margins and more profit volatility than their shelf-stable counterparts."
Given that Campbell's review is intended to, in the words of McLoughlin, "strengthen its balance sheet and to reduce costs and increase efficiency", analysts remain unconvinced about its prospects.
Howard says: "For the time being, I think the going will likely remain tough."
Vierhile suggests a re-think. Convenience is a trend to target but Campbell may want to think about options beyond soup. "I think the opportunity is what can be put together in ten minutes. Maybe they need to put more thinking into that," he says.
"But consumers feel guilty just opening a can. They may want to work with them a bit more."