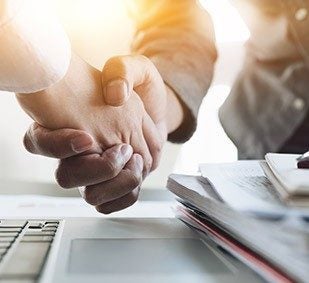 just-food's index of mergers and acquisitions in the international packaged food sector highlights the volume of deals being announced, as company strategists look to M&A to gain an edge on their competition.
The number of mergers and acquisitions struck involving packaged-food companies rose by 6% in 2018, a slowdown on the rate of year-on-year growth seen in 2017, according to data compiled by just-food.
Our index of food-industry M&A centres on deals involving an at least majority shareholding in a company and also include the sale of subsidiaries, divisions and brands.
The index also centres on deals involving packaged food manufacturers and excludes those between suppliers into the sector and those involving drinks companies.
In 2018, 328 such deals were announced – including major transactions involving Unilever in India, Nestle's US confectionery business and US manufacturer Pinnacle Foods, as well as smaller, tactical acquisitions, such as Lotus Bakeries' move for UK baby-food business Kiddylicious, PepsiCo buying snack firms Bare Snacks and Health Warrior and Kraft Heinz snapping up Primal Kitchen. 2017 saw 308 deals announced.
While 2018 was a year in which the number of deals announced again rose, 2017 did see a near-19% jump in transactions unveiled when compared to 2016. What could have weighed on activity last year? Geopolitical and macroeconomic factors such as US trade policy and Brexit likely acted as brakes on some investment decisions.
When we look at the categories in which the most transactions were made in 2018 and 2017, we see there were fewer deals done in dairy and meat, although the latter sector remained the second most active last year.
The fourth quarter of 2018 proved the most-active quarter of the year, with 91 transactions revealed during that three-month period, above the 86 unveiled between the start of July and end of September.
In keeping with 2018 being the most active year since our index started, the year's fourth quarter was the most active final three-month period across the six-year span of the data.
December 2018
December 2018 saw 30 deals in our index, a dip on the preceding two months but above the average number of transactions unveiled throughout the year.
FrieslandCampina, the Netherlands-based dairy giant, announced three acquisitions in December, buying Spanish co-packer Millan Vincente plus two businesses in the US – Best Cheese and cheese importer Jana Foods.
Nordic manufacturer Orkla, often a buyer in 2018, continued the reshaping of its portfolio with the sale of its Mrs Cheng's soy sauce brand to Continental Foods. Later in the month, Orkla snapped up another business, buying Denmark-based bakery firm Easyfood.
Valeo Food Group, the Ireland-based manufacturer, had rounded off 2017 with a move for Raisio's confectionery assets in the UK and the Czech Republic just before Christmas that year. December 2018 saw Valeo secure clearance for the acquisition of another confectionery business in the UK, the Barratt owner Tangerine Confectionery.
Confectionery giant Mondelez International continued its efforts to double down on snacks with the sale of cheese assets in the Middle East and north Africa to dairy group Arla Foods.
just-food's Deal of the Month (and year) – Unilever moves in India
We run this index monthly and, each month, pick a deal that stands out. There may still be questions about whether a move is right strategically, or whether the asset's performance will improve, but we select a transaction that catches our eye.
Among the major deals we selected, Ferrero's move for Nestle's US confectionery business in January was notable for the Italy-based group's bet on the States. Staying in the US, Conagra Brands' move for local peer Pinnacle Foods, for the not insignificant sum of US$10.9bn, made the industry sit up and take notice – as no doubt have Conagra's recent comments about the performance of its new asset.
Smaller deals that stood out included: Lotus Bakeries' latest move in the UK, this time in a brand new category; Kraft Heinz eschewing scale and buying a smaller, on-trend business; and Nestle snapping up a plant-based firm in Latin America.
However, the stand-out deal of 2018 goes to Unilever.
The FMCG giant featured twice in our index in December. Just before Christmas, Unilever moved to bolster its position in plant-based food with the acquisition of Netherlands-based The Vegetarian Butcher for an undisclosed sum.
However, it was a deal at the start of the month that caught our eye. On 3 December, Unilever emerged as the winner in the fight to acquire a clutch of consumer nutrition products from pharma giant GlaxoSmithKline (GSK), including rights to the Horlicks brands, through a EUR3.3bn (then US$3.74bn) cash-and-shares deal.
The transaction took in what Unilever called GSK's "health food drinks portfolio" and covered India, Bangladesh and "20 other predominantly Asian markets".
The largest brand in the portfolio was Horlicks, under which GSK markets a range of malt-based beverages for which the brand is best known, as well as offering oat-based breakfast cereal and biscuits. The portfolio also included Boost, another brand under which GSK markets malt-based drinks and biscuits, as well as Foodles noodles, a line developed with Japan's Nissin Foods Holdings. It is the beverage products that account for the lion's share of sales.
Industry watchers had touted either Nestlé or Coca-Cola as favourites to buy the business but Unilever prevailed – and talked up the impact it believed the deal will have on its business in India.
Alain Oberhuber, a Switzerland-based analyst covering Nestlé and Unilever at German bank MainFirst, described the deal as one with "a high transaction price, which must have significant synergies to make the deal value-accretive".
He added: "We think that Unilever was more willing to do the transaction as Nestlé is not yet in the acquisition phase. Investors in Nestlé would have been disappointed to see such a high transaction price paid. Furthermore, we assume that Unilever does have more sales and cost synergies from such a transaction and therefore was more willing to pay this substantial price."
It is a big bet in one of Unilever's most important markets – and represents an opportunity to grab for new CEO Alan Jope, who, at the time of writing, is three days into the job. But it will also be a challenge. The growth of the category in which Horlicks majors in India has slowed in recent years, industry watchers say. Nevertheless, Unilever appeared to have been determined to have the asset.