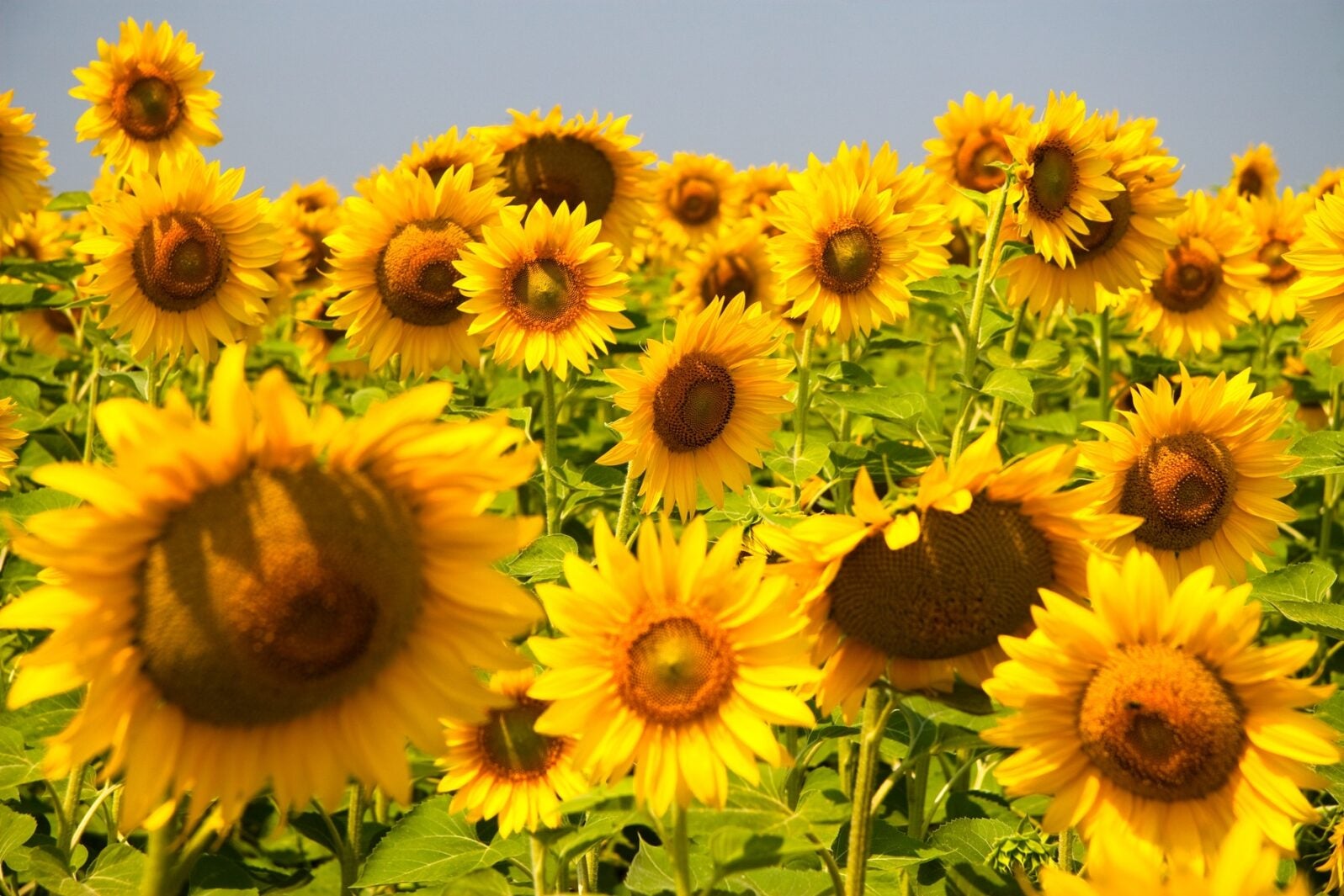 The Black Sea region is often referred to as the 'breadbasket of Europe' with either Russia or Ukraine – or both – ranked among the top three global exporters of wheat, maize, rapeseed, sunflower seeds and sunflower oil in 2021, according to the Food and Agriculture Organization of the United Nations (FAO).
However, the war in Ukraine has brought particular attention to sunflower oil and seeds due to Ukraine's position in global trade flows of the commodities – and the ingredients' presence in the recipes of scores of food products from crisps and cakes to dressings and margarines, let alone due to the popularity among consumers of sunflower oil for cooking.
The ongoing conflict has led to the suspension of oilseed crushing operations and question marks surrounding the ability of Ukrainian suppliers to get their products out of the country amid port closures and restrictions on the movement of goods due to the fighting. And, across the border, sanctions imposed on Russia by governments globally make exporting these ingredients difficult for Russian producers.
At the moment, hardly anyone outside Ukraine knows with any degree of certainty what the situation is like on the ground.
"On sunflowers specifically, I think the answer is we just don't know – no-one knows because things change on a daily basis," says Cyrille Filott, global strategist for consumer foods, packaging and logistics at Netherlands-based financial services group Rabobank. "When I'm talking to suppliers of companies in the food sector, they're saying it's quite difficult to get your hands on sunflower oil. It is possible, but at prices where you think 'really?' It's just not economically viable. I've talked to many supply chain procurement people in the last few weeks and they are just scrambling to make sure that they get supply."
Food groups are reluctant to discuss the war in Ukraine and go into specific details about the impact it's having on their operations. A spokesperson for UK-based KP Snacks – part of Germany's Intersnack group – says the company has "contingency options in place to protect continuity of supply from global suppliers".
David Wilkinson, vice president of agriculture and dairy for PepsiCo's European operations, adds: "The war in Ukraine has cast a long shadow over the global food system. Ukraine is a significant producer of many agricultural ingredients and like many food companies we source commodities like sunflower oil from the country. We have a plan in place to minimise disruption and impact to our products."
Food manufacturers indicating impact
John B. Sanfilippo & Son, a publicly-listed US supplier of snack products, highlighted sunflower oil when asked in recent days by equity analysts about the inflationary pressure it is seeing from the conflict.
"I think the most pressing thing that we're seeing from Ukraine is regarding sunflower oil," COO Jasper Sanfilippo said last Friday (29 April). "I think Ukraine grow something like 60% of the world's sunflower oil. So, as you can imagine that's put pressure on a lot of other oils, including for ourselves, because we do have some product lines that use sunflower oil. We're currently reviewing that and trying to find substitute oils to replace that with sunflower. So, that work is ongoing."
Hain Celestial, another US manufacturer, also raised the topic this week (5 May) when discussing its recent financial results with Wall Street analysts. "With 75% of the world's sunflower oil coming from Russia and Ukraine and 60% of the palm oil coming from Indonesia, which has said they're not going to export any of it, there is a supply-demand issue with regard to oils, which affects our Spectrum [oils and vinegars] business [and] affects our snacks business. And so, we seek to find alternatives in a very constrained environment and that comes at a cost."
Steve Osborn, a director at UK-based Aurora Ceres, which offers food technology and innovation support for food manufacturers, says the additional pressures being placed on commodity staples like sunflower oil from Ukraine is going to have a significant impact on the industry.
"This is going to have a wide-ranging effect, as sunflower oil is used throughout the industry in cooking and as an ingredient," says Osborn. "The impact of availability and the corresponding impact this has on cost will be distributed across many products. And not always in areas where it might be expected. This is unfortunately inevitable."
Kyle Holland, pricing analyst for Mintec looking at oilseeds and grains, agrees and points out it's not just the price and supply of sunflower oils from the war-stricken region that's affected by the crisis.
"The way that the oils 'work' I think is important to note; vegetable oils are 'complex' in that they often move in related ways as they can replace each other," says Holland. "What this means is that demand that would be usually taken by sunflower oil is spilling over to the other oils, increasing demand for them and those prices in turn. This is a way in which companies are attempting to 'get around' the issues by simply replacing the sunflower oil content with another oil."
When it comes to sourcing and using replacement oils there are multiple options – some more problematic than others. The most contentious replacement for sunflower oil is palm oil. In the past a number of companies stopped using palm oil due to environmental concerns and some retailers have also taken a hardline stance towards its use.
"The UK retailer Iceland, which has been very proactive in the elimination of palm oil, has stated that they will be allowing the use of palm oil where sunflower oil is not available or prohibitively expensive," says Holland. "This shift is very much counter to the recent focus on ethical and sustainability as drivers in shopping habits."
However, for some food businesses, palm oil is now back on the menu and governments are loosening restrictions on the use of alternative ingredients. Last week, France announced changes to rules food manufacturers must follow on recipe labelling amid the pressure on sunflower oil supplies.
Experts believe the easing of such rules will only be a short-term move. Nevertheless, in the case of palm oil, another challenge has emerged in recent days. On 28 April, Indonesia, the world's largest producer of palm oil, banned exports in order, Jakarta said, to protect domestic supplies and push down prices.
"This is highly significant due to low veg oil stocks globally, high destination demand and key buyers being short on cover," says Holland. "The market expects this to be very bullish for prices as buyers are forced to either scramble for the limited palm oil supply or look to alternative oils. Naturally no-one yet knows how high prices may go, but the next few days will be key."
Prospect of product adulteration?
Osborn also points out that wherever there is pressure on a supply chain – through availability, cost or complexity – it creates an opportunity for the less scrupulous fringes of the food industry.
"The situation in Ukraine could potentially open avenues for the adulteration of cooking oils," he cautions. "The cost and availability of virgin olive oil have, for many years, been a victim of this and, anecdotally, more virgin olive oil is produced than should be available from the olives grown.
"We could now see a similar situation arise from the pressure on vegetable oil availability, with adulterated product being passed off as premium quality.
"Not only does this have issues from a quality perspective, but also the overall product integrity, as the undeclared adulterant may not be from a food-safe source, and the other component used to mask or enhance the quality perception may also not be food grade."
Even when food groups get their hands on alternative ingredients from legitimate sources they may also face pressure on sales due to the changing flavour profiles of their products, according to Filott.
"I heard from a producer of crisps – who use a lot of sunflower oil – that the challenge is reformulation," he explains. "There's a taste difference that you get, especially with crisps, where it's quite significant. If you have [strong] English flavours like salt and vinegar you can basically mask the [flavour of] rapeseed, but with more natural flavours, that's a bit of a challenge. So, you have to think about reformulation and do you only reformulate some products and, for others, you use very expensive sunflower."
Filott believes that, in the longer term, the supply-chain issues caused by the conflict in Ukraine will ultimately lead more food manufacturers to rethink how they source ingredients – including what type of ingredients they source and where these ingredients come from – and this could see a push towards nearshoring or onshoring. He admits implementing these supply chain changes will carry a price premium but argues companies should consider it as an insurance policy. "You're essentially paying a higher price for de-risking your supply chain," adds Filott.
The outlook
While many companies may be reluctant to take such dramatic steps, if the conflict continues they may have no choice but to explore these options. The FAO estimates that between 20-30% of areas sown to winter crops in Ukraine will remain unharvested during the 2022/23 season, with the yields of these crops likely to be adversely affected. And the ability to plant crops in the spring crop cycle will also be impacted, which could have longer-term implications, warns Holland.
"This is due to a lack of farm inputs such as pesticides, fertiliser, diesel to operate farm machinery, and labour to tend the fields," he says. "The view from my contacts within the industry is that sunflower seed, in particular, will not be well planted over April and May due to the litany of issues, most notably the fact that the key producing areas tend to be in the east of Ukraine where the Russian forces are particularly active. This would mean that the significant issues we have this year are likely to be drawn out as next year's crop could be poor even if Ukraine are able to export by then."
This week, EU vegetable-oil trade association FEDOIL said the availability of sunflower oil was "improving". The organisation said sunflower seeds and oil were coming out of Ukraine, albeit mostly by rail and truck, rather than sea as would normally be the case.
"These volumes will not reach the volumes that were shipped before the beginning of the war by sea vessel, but they are improving the market situation and help vegetable oil refiners responding to sunflower oil demand in the EU. With the current increased availability of sunflower oil, prices have dropped compared to rapeseed oil and the switches into rapeseed oil have stopped," FEDOIL said.
There is no question, however, that the conflict has significantly disrupted supply and, even if there are reports of some improvement, food manufacturers will be facing some tricky decisions in the weeks ahead.
For more on Just Food's coverage on how the conflict is affecting the food industry, please visit our dedicated microsite.
Just Food parent GlobalData is providing an ongoing analysis of the war's impact across business sectors.