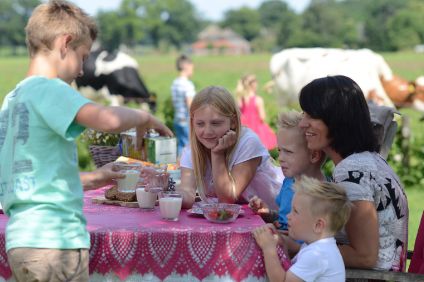 In the second part of a two-part feature examining the German dairy sector, Andy Coyne looks at the strategies dairy companies operating in the German market are employing as they search for growth.
Finding growth in such a mature market, and one dominated by powerful retailers, is a daunting task, as we saw in part one of this feature, but dairy companies are confident innovation and strategic thinking will help them prosper.
Innovation may be to do with their product mix – possibly focusing on adding or removing ingredients linked to health or nutrition – or the marketing message they put out signalling what they see as their sustainability credentials.
Strategic thinking may well be forging an alliance with another business which takes it further into a – hopefully higher-growth – category.
But, in broader terms, analysts believe there are certain fundamental issues that German dairy companies will have to face.
Mary Lehman, a dairy sector analyst at Rabobank, points out 50% of the milk produced in Germany is exported, the vast majority within the EU.
"If domestic consumption is slow or the rate of growth domestically is low, you have to look to export markets," she says.
"Looking forward, it [the German dairy sector] will be dependent on markets within and outside the EU. Credit to the EU, it has done a very good job of expanding trade deals, whether to Mexico, Japan or Canada. This will eventually mean great opportunities for European dairy companies.
"And given Germany's leading position in the EU, it should be able to capitalise on some of those opportunities. In 2018 dairy exports from Germany to Japan increased by 4,000 tons."
But Lehman suggests German manufacturers – long content with a huge domestic market – will have to work on the country's image as a dairy producer when competing with the portrayal of green fields, fresh air and open spaces in Ireland and in New Zealand, for example, used by companies from those nations, which have long needed to produce a marketable image for export purposes.
It is a point echoed by fellow market analyst Mark Voorbergen, of Netherlands-based Claassen, Molenbeek & Partners.
"Unlike the Dutch, New Zealanders and Irish who have built an image, Germany has a good reputation for quality but it doesn't have that green pastures image," he says.
Lehman also takes the view growth prospects will depend on focusing on higher-value products.
"It will be incumbent on the Germans to create the higher-value products, not just the bulk products, such as infant formula and high-value cheeses," she says.
Consultant Preben Mikkelsen, chief executive officer of Denmark-based PM Food & Dairy Consulting, shares some of her views.
"Large companies in Germany are very German-focused. They need to be more international in their outlook"
"Cheese is growing by 1% to 2% a year, especially mozzarella, and this will still be a driver alongside more dairy desserts," he says. "And large companies in Germany are very German-focused. They need to be more international in their outlook."
Mikkelsen believes more generally the industry needs to be on the front foot and extol its virtues.
"It's important to stress the naturalness of dairy. This would be a positive for consumers," he says.
"Dairy has always had a good image. This has not been ruined by vegetarian products just challenged by it. Most people will carry on using milk and cheese. The substitutes for cheese are very poor."
Interestingly, the German dairy market has not seen much in the way in merger and acquisition activity and Voorbergen muses on whether this might change.
"We don't see many major moves in the market but a company like [Canada's] Saputo bought Dairy Crest in the UK and I don't think it will end there. Germany is a big market so never say never." Saputo used to be present in Germany but, earlier this decade, quit the market (and the UK), arguing it did not have the "critical mass" for its European operations to be profitable. The company had acquired plants in the UK and Germany over 2006 and 2007 but said it had found its investment in Europe "challenging".
In the meantime, German dairy companies, and foreign companies operating there, are jockeying for position through enhanced product offerings, sometimes facilitated by joint ventures.
DMK, Germany's largest dairy cooperative, has been one of the busiest.
This month it did a deal with domestic chocolate biscuit business Bahlsen that will see its ice cream unit producing Bahlsen-branded products.
And DMK strengthened its presence in another growth category last month when it acquired the brands, as well as sales and distribution channels, of local baby food business Alete and associated brand German Babyfood.
Stressing how important the baby food market is to DMK, the co-op pointed out it is currently investing around EUR145m (US$163.5m) on a renovation of a site in Strückhausen to create a new base for its baby food brand Humana.
Stefan Eckert, chief operating officer of DMK Baby, said at the time of the Alete deal: "We expect there to be more profitable growth for the baby food market in the coming years. With the acquisition of Alete and Milasan, we are making a sensible addition to our product range whilst also significantly expanding our sales and distribution radius."
Back in December, DMK was involved in another strategic move in December when it linked up with Dutch peer FrieslandCampina – which is the second largest dairy player in Germany by market share.
The deal is to produce mozzarella cheese. FrieslandCampina will bring in milk supplied by its members and will market the cheese. DMK will provide the production facilities and expertise.
For this purpose, DMK will further modernise and expand its Georgsmarienhütte facility in Germany for mozzarella production.
More generally, FrieslandCampina is broadening its portfolio offering in German to meet growing trends and customer demand.
Jan Kruise, managing director of FrieslandCampina's operations in Germany, says: "We are very much focused on 'outside-in' to meet our customers' needs."
This may be offering lactose-free products or milk-based drinks, including the popular chocolate milk product it sells in the Netherlands.
Some of the offerings may be to do with indulgence – "people can't count calories every minute of the day," says Kruise – or linked to people's busy lifestyles.
In the latter case, FrieslandCampina is pushing its on-the-go breakfast range Mein Morgen (My Morning).
Meanwhile, Danish dairy giant Arla Foods says it has identified a number of trends and these are influencing its product development in Germany.
A spokesperson for Arla's business in Germany says: "We see three main trends: around the naturalness of the product; then sugar, this is a big issue in Germany, particularly around yogurts, and finally organic, or bio, which is a growing trend."
He added: "There is good belief in dairy from a health perspective but we need to reinforce that, especially the link between sustainability and health.
"It is important to talk about the positive health aspects.
"We want to develop via innovation and sustainability. We really want to push that in Germany."