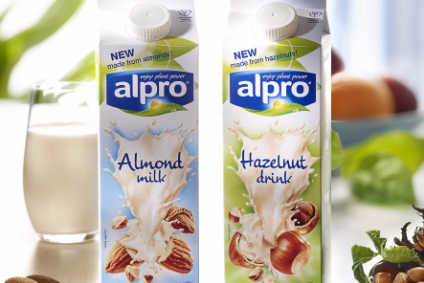 The growth in plant-based protein is one of the most important trends in the food sector and good news for food companies, consumers and the planet. However, Ben Cooper writes, while booming sales of plant-based protein foods offer the dual benefit of improving diets and reducing agricultural carbon emissions, changing market requirements and rising demand may create sustainability issues in supply chains.
Amid the gathering storm of climate change, environmental catastrophe and food insecurity, the growth in the plant-based protein market over recent years provides a welcome and much needed ray of hope.
The global market for plant-based meat alternatives rose by an average of 8% a year between 2010 and 2017, according to Bloomberg Intelligence, and is forecast by MarketsandMarkets to reach $5.2bn in 2020. Research from GlobalData, meanwhile, suggests 70% of consumers globally are either reducing meat consumption or giving up meat altogether.
At a time when diverse but often interrelated global problems call for coordinated or, at the very least, non-conflicting solutions, the plant-based protein growth trend is a welcome win-win, addressing urgent human health and environment challenges.
The product development that has already been seen shows the food industry's capacity for innovation as a force for good, while the expansion of this market also stems from an openness on the part of consumers to try and then adopt meat alternatives which will have exceeded the expectations of many industry strategists and policymakers.
So, "what's not to like?" seems the obvious question. Fundamentally, this is a positive trend but the replacement of meat and dairy products with plant-based and other alternative protein sources on a large scale is uncharted territory for the agri-food sector. There is the possibility that changing market requirements and, in particular, rapidly rising demand for certain crops could itself create sustainability issues.
Avoiding the avoidable
The impact the plant-based boom has had on quinoa farmers in Peru and southern Bolivia provides a cogent and distressing illustration of the risks. Quinoa is a highly nutritious, protein-rich crop, highly suited to changing market requirements in developed countries. The growth has increased demand, with the price farmers are obtaining for both organic and conventional quinoa doubling in the past three years.
However, this has resulted in farming communities selling most of their production for export rather than using their production as the staple food for their families. Reducing or losing quinoa from their diets has resulted in negative nutritional trends in local diets while promoting organic production may well have led to the intensification of quinoa rotations resulting in soil infertility and an increase in pest and diseases.
The extensive planting of quinoa in other countries and the breeding of varieties that can grow in a broader range of locations will mean the currently elevated price will fall. It is a boom and bust scenario for the farmers. Researchers are concerned they will end up with exhausted soil and no long-term benefit from the boom in their primary crop.
Meanwhile, around 80% of global almond production comes from California, which has endured drought conditions for virtually a decade. In that time, agricultural land has been converted to the production of almonds, an extremely water-intensive crop, to meet the rising demand for almond milk. The bad publicity reflects primarily on almond milk but threatens to tarnish the image of plant-based milks in general.
Elsewhere, sustainability issues abound in soy, the most important single crop in the plant-based protein sector, though these relate primarily to deforestation in Brazil and Argentina and GMO, which as yet are not directly impacting the plant-based food sector.
The problems with quinoa and almond milk were foreseeable. Other adverse unintended consequences are, in the terminology of ex-US Secretary of Defense Donald Rumsfeld, "unknown unknowns" and far harder or impossible to predict. It is hard to believe Unilever's identification of palm oil as the ideal replacement for partially hydrogenated vegetable oil was the catalyst for an environmental cataclysm. Making sure as much of the risk as possible is in the known unknowns category is critical.
Following best practice
The recent history of the food industry offers some encouragement. Faced with increasing agriculture-related risk, some food manufacturers have stepped up their sustainable sourcing measures.
Progressive companies offer examples of best practice in relation to water context, investment in agricultural communities and engaging and collaborating with local NGOs. These will be critical to food companies realising the changes required to adapt existing supply chains and develop new ones.
Greet Vanderheyden, senior sustainable development manager at Danone-owned dairy alternatives producer Alpro, points to the steps it has taken to ensure the supply of almonds for its almond milk is fully sustainable. Working closely with farmers, Alpro sources almonds from a region in Spain where they are an indigenous crop. The company obtains 60% of its soy needs from Europe and 40% from Canada.
Vanderheyden believes the measures progressive food companies have been taking with regard to sustainability will offer risk mitigation as plant-based supply chains grow to far greater volumes today but stresses the importance of applying sustainability safeguards at the outset rather than waiting until volume demands create problems. "These [sustainable agriculture] principles should be applicable but we need to start applying that from the beginning," Vanderheyden says.
As the plant-based protein market grows, environmental credentials will remain key selling points, so it will be more important than ever to distinguish greenwash. Transparency and external verification of sustainability criteria will be more crucial than ever, according to David A. Cleveland, research professor in Environmental Studies at the University of California, Santa Barbara. "These things have to be documented and verified," he stresses.
Kelly Swette, co-founder and CEO of plant-based protein specialists Sweet Earth, which was acquired by Nestlé last year, also stresses the importance of transparency but believes sustainable sourcing will be a marker of quality for brands seeking to differentiate themselves in a growing market.
"I believe what is happening here in the US is premiumisation. There will be more competition but in higher-quality food. I don't see it going down the rabbit hole in a negative way. People want high-quality food, they want better food. They are willing to pay more to get high quality and particularly millennials and younger people. That's where the companies that are going to differentiate themselves are going to gravitate."
Swette extends her optimistic view of the growth in the plant-based sector to Sweet Earth's new owner. Nestlé has not only kept Kelly and her husband Brian at the helm of Sweet Earth but has sought their input in developing its own Garden Gourmet plant-based range. Swette speaks of a "dynamic discussion" with Nestlé. "They are absolutely inspired and interested in how we think about food," Swette says, stressing Nestlé's commitment to continuing Sweet Earth's "no compromise agenda".
While Swette's positive outlook and views on the inspiring role plant-based brands can play in the food market would be echoed by many in the vegan food movement, fewer would be so positive about the expanding presence of mainstream food manufacturers. Sustainable sourcing would be a prime area of concern.
Mainstream development impact on sourcing
Earlier this month, US food group Conagra Brands confirmed its aim to build a strong position in the plant-based category. With its Gardein brand, Conagra is "very well positioned to capitalise on the explosive growth in this exciting space", the company said earlier this month as it announced its full-year results.
The language underlines plant-based is no longer a "movement", driven by zealous producers and motivated consumers, it is a major growth opportunity to be exploited.
Indeed, the preferred use by marketers of the term plant-based speaks to the mainstreaming of what would previously have been vegan food choices. While GlobalData research showed the proportion of consumers globally identifying as vegan rose by 61% between 2014 and 2017 to 1.6%, the growth in plant-based protein foods is being driven by the swelling ranks of consumers following "flexitarian" or "reducetarian" diets, who are seeking out meat-free choices but would not identify as vegans.
Prof. Cleveland is pessimistic about the high sustainability standards relating to sourcing that have characterised the development in plant-based protein so far withstanding the expansion of the market. "Given the way our economy works is that the economy more or less dictates morality rather than the other way around, I don't see much chance this explosion in growth can accommodate the motivating concerns in terms of the environment, social equity or human nutrition," he says.
Soy sustainability is emblematic and substantive issue
The huge sustainability problems relating to soy stem from deforestation in Brazil and Argentina. Currently, the vast majority of this soy is destined for the cattle feed market and this is likely to be the case for some time to come. This soy is mostly made up of varieties not suited to the human food market.
For now, European food companies can source sustainable non-GMO soy for plant-based products closer to home with production expanding in Europe to meet growing demand. In the US, non-GMO and organic soy are in shorter supply and are expensive.
As the demand for soy in human food increases and a true mass market for plant-based protein begins to take shape, there is a risk soy from the least sustainable sources in Brazil and Argentina will make its way into the supply chains for plant-based meat alternatives. While some play down this risk, Lieven Callewaert, vice president for the industry, trade and finance constituency within the Round Table for Responsible Soy (RTRS) believes this is likely to happen as the plant-based market becomes larger and price-competitive.
With this in mind, the long-term sustainability of the plant-based protein market may become more closely tied to progress in addressing the sustainability in soy production at large. While the associations of soy with unsustainable agriculture may be problematic for the plant-based protein companies, it may spur engagement on soy by food companies which will have added reason to clean up soy's image.
Callewaert, who formed Alliance4SOY two years ago to represent the interests of eight companies, including Unilever, Arla Foods, FrieslandCampina, Mars and Vion, on the RTRS executive board, says only branded manufacturers and retailers will drive the changes that are necessary. "Traders will never be drivers; they only follow demand," he says.
The recent entry of major meat protein companies such as Tyson Foods into the plant-based sector is a significant catalyst for growth and will also have an impact on how the sector as a whole looks from a sustainable sourcing point of view.
In launching its Raised & Rooted brand of combined meat and plant protein products, Tyson announced its intention to become "a market leader in alternative protein, which is experiencing double-digit growth and could someday be a billion-dollar business for our company".
Asked by just-food whether its entry into the plant-based protein sector will disrupt current norms relating to the sustainable sourcing of ingredients, Tyson stresses it will be consumer-led. "The primary reason we're entering the alternative protein segment is to meet the changing needs of today's consumers. Our goal is to sustainably feed the world, and we are focused on creating the most efficient food supply chain across all of our products."
Conagra is sourcing soy only from the US and says its approach to plant-based sourcing will evolve as the market develops. "Our sourcing approach for plant-based proteins continues to evolve as we evaluate this growing market," the Conagra spokesperson adds. "Our primary source for plant-based protein is currently soy, which we source in the United States. We publicly share information about our soy supply chain through our annual CDP Forests disclosure and we also regularly review our agricultural ingredients for sourcing risks and impacts."
In addition to soy, Conagra is among the many companies to identify pea protein as a key ingredient for its plant-based range. In contrast to soy, pea combines suitable nutritional and taste attributes with strong sustainability advantages. Indeed, legumes in general are suited to the production of plant-based meat alternatives because of their high protein content and other nutritional, taste and texture properties. Peanuts and chickpeas are other crops that offer excellent potential for sustainable expansion.
Swette also emphasises the importance of diversity in sourcing ingredients for plant-based products. "One of the foundations for us is plant diversity," she says, adding that this brings both environmental benefits in sourcing and nutritional benefits in formulations.
Demand for plant-based food is rising, in part due to environmental concerns. As the market grows, industry should be looking to mitigate the new environmental pressures that could emerge.