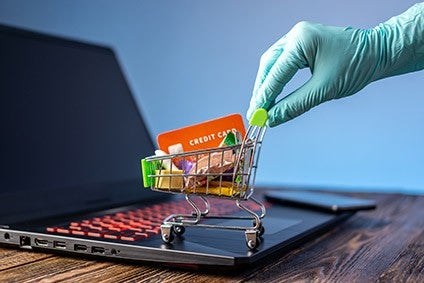 We've seen some radical changes in the way people shop over the past couple of months in light of the coronavirus pandemic. But how might that influence the manufacturer's approach to direct-to-consumer services? Simon Harvey looks at the life for D2C post-crisis.
The dynamics of getting food on the table have altered dramatically in recent weeks, with behavioural shifts linked to Covid-19 widely expected to be a long-term game changer in the way we shop – and direct-to-consumer services are seen as being set to benefit.
In the initial weeks of the outbreak and subsequent lockdowns, packaged food manufacturers were scrambling to get sufficient product to store to satisfy the souped-up demand, while supermarkets were struggling to keep shelves stocked for any length of time. Two months down the line, some of these scenarios are still playing out.
The shopping experience has become a nightmare for most, with long queues stretching around car parks in observation of social-distancing rules and people anxious to spend as little time as possible in-store. And, frequently, they are unable to purchase the required items because of panic stock-piling or consumers buying more than they normally would to reduce supermarket visits.
Alternatively, they can shop online and we have seen a surge in the numbers doing so, but the big food retailers haven't been able to cope with the demand, with customers typically waiting three to four weeks to secure delivery slots. While some have always shopped for food over the Internet, others are new to the idea, but will no doubt have become more comfortable using digital platforms during the Covid-19 crisis.
While it's generally agreed shopping patterns will predominately return to pre-crisis norms once Covid-19 has passed, it's also expected the online channel will have gained a group of new-found followers. And with that, big food manufacturers are waking up to the fact there's a gap in the market for serving customers directly, adding an extra dimension to existing shopping channels.
Direct-to-consumer (D2C) services are nothing new within the food industry, but the market was still in a fledgling state before coronavirus, with producers reluctant to engage in the sector because of costs and logistics, preferring to look for established acquisition targets, but with few around.
E-commerce grocery gets Covid-19 boost
Interest in D2C is all set to change and it's already happening, according to Garyth Stone, a managing director in the consumer, food and retail division at investment bank Houlihan Lokey, which has advised clients on direct-to-consumer.
In talks Stone has had with large FMCG food companies over the last two to three weeks, he says many have pointed to D2C as top of their agendas.
"What we are seeing here are probably unsustainable levels of online buying. I think there will be a move back to physical retail when we are all allowed out again – but I think online, including D2C, will be from a much higher base. The trend line will be steeper."
In the last week, two of the industry's major names, while publishing their first-quarter sales results, have publicly reflected on how, in the early weeks of the Covid-19 crisis, they have seen a jump in sales online (even if they did not disclose specific numbers on D2C).
Unilever CEO Alan Jope noted how the company's "e-commerce grocery sales" had "rocketed" during the first quarter. "We are adapting to new demand patterns and are preparing for lasting changes in consumer behaviour," Jope said. "This change in online shopping and online media consumption is another factor we think that's going to have a lasting impact."
And Nestle, which launched a D2C service last year for its KitKat chocolate brand, has experienced "significant increases" in e-commerce too, a factor CEO Mark Schneider expects to continue beyond Covid-19.
"I think one of the side effects of this crisis will be kind of a breakthrough event when it comes to e-commerce for food and beverage," Schneider said last week. "Food and beverage categories tended to be somewhat slower when it comes to e-commerce, compared to, for example, books or consumer electronics. I think some of that is changing now because people see the convenience of e-commerce in food and beverage as well."
Earlier this month, when reporting its first-quarter financial results, McCormick, the US-based spices and sauces maker, said it had seen an upsurge in sales across its group's direct-to-consumer platform. "Our pure-play and direct-to-consumer sales have tripled in recent weeks," McCormick chairman, president and CEO Lawrence Kurzius noted. "This is also true in EMEA, with direct-to-consumer sales tripling as well. We're making our products even more discoverable to consumers with increased support."
Kraft Heinz, meanwhile, has in recent weeks launched bulk online orders for baked beans and soups via its website. But one suspects that may be a temporary measure to help counter bare shelves of staple items during the crisis, although it's surely a learning curve for further development.
Winners and losers
Direct-to-consumer is generally regarded as a service for differentiated products that shoppers wouldn't normally find elsewhere, such as unique flavours or customised offerings. After all, food manufacturers would want to avoid conflict with the retailers by providing D2C as complementary to existing channels.
Some of the newly sprung direct-to-consumer services are unlikely to survive beyond Covid-19, while others could prosper.
Cyrille Filott, a global strategist for consumer goods at Dutch investor Rabobank, says, as direct-to-consumer is a subset of e-commerce, it should be offered in sequence with other digital platforms rather than compete with the retailer, as consumers will always want access to a broad array of choice and multiple brands.
And food manufacturers should also seek to provide a unique shopping experience through D2C that creates value to the customer. Filott doesn't envisage D2C services selling food staples like baked beans being long-term winners once the dust settles on the pandemic.
He uses the example of London-based vegetable delivery business Oddbox, which provides wonky fresh products via D2C. Filott says the company has seen a 50% increase in orders since the Covid-19 outbreak because it offers goods from local farms that supermarkets generally don't want, "so there's a story there".
"You have an emotional connection [with Oddbox] but I struggle to see how you get an emotional connection with a can of beans," he says.
The future is bright – but could be omnichannel
Oppo Brothers, a London-based ice-cream maker, has recognised the benefits of direct-to-consumer, launching a service last week as a pilot.
Co-founder Charlie Thuillier says it's become evident "how incredibly attractive it can be to control the end-to-end experience with the consumer, something you can't do when there's a third party between you and the consumer – the supermarket".
He tells just-food: "It's not about cutting out the middle man in terms of margin because retailers enable great scale. But it's looking after the experience I think, and also speed. As proactive businesses do things like D2C and make a new norm possible for consumers, consumers will then latch on to that, and indeed, other businesses will then follow."
D2C is a good model for food manufacturers to adopt to absorb some of the current and future risks, according to Andy Searle, a managing director at consulting firm AlixPartners, who says shoppers will still be reluctant to visit supermarkets in the short term.
"There's going to be a new model from a manufacturers' point of view of being more flexible across channels"
"There's going to be a new model from a manufacturers' point of view of being more flexible across [different] channels," Searle says. "Building up a bit of flexibility is going to be quite key on executive's and board's agendas so that they can try and mitigate some of the future risk."
Changes in shopping behaviour may be the tonic for more food names to consider D2C. Stone at Houlihan Lokey says the added advantage of dealing direct with the consumer is the insight garnered from website data, which they wouldn't otherwise get through the retailer. And it can serve as a guide for new product development that's in tune with the consumer.
"I think the future is very bright for D2C," he says. "What we've seen evolving is this omni-channel idea. Brands that started out as 100% D2C through their own website are now also increasingly selling through Amazon, as well as retail – that is a relatively recent change. But they are still fundamentally D2C."
And it's a shift also witnessed by Foodspring, a Berlin-based direct-to-consumer firm in which confectionery giant Mars took a majority stake last year.
"I believe D2C will continue to evolve and consumers will continue to move their shopping behaviour online," says co-founder Marc Hermann. "However, before Covid-19, there was a trend of D2C companies also moving offline to offer a face-to-face experience. We saw this trend, especially outside the food category in fashion and consumer goods.
"To that end, I am interested to see if Covid-19 reverts this trend and pushes the experience back into the online world where D2C originated."
D2C means shaking-up supply chains
AlixPartners' Searle says manufacturers will have to adapt their supply chains accordingly, as was the case with Kraft Heinz. At Houlihan Lokey, Stone adds there is a whole industry out there geared up to cover the warehousing, packing, distribution and delivery.
"I certainly see more manufacturers wanting to deal directly with the consumer," says Searle. "I think there's a challenge in today's kind of world where brands lose relevance and lose connection with consumers. I see a lot of people talking about what's the customer journey? What's the customer insight? How do we engage digitally with them?"
Of course one of the biggest risks for direct-to-consumer, and industry in general, is the inevitable global recession as many inputs in individual economies will have been lost through Covid-19.
And the longer the crisis goes on, the bigger impact it will have on whether the world experiences a quick V-shaped recovery or a longer-term U-shaped pick-up, or at worst a prolonged L-shaped pattern that could stretch on for years.
On the flip side, the packaged food sector has been relatively insulated during previous recessions as people still need to eat, albeit they tend to cut back on non-essential or more expensive items.
"Even if the lockdown is partially lifted, as long as Covid-19 is around people will not want to go to the supermarket, and Covid may be around until there's a vaccine," Rabobank's Filott says. "So you may see a structural shift in behaviour and people will just want to order online.
"If disposable income is coming down then some of your audience is going away, so that is a challenge. In an L-shaped scenario, D2C services will struggle without a shadow of a doubt."
Oppo Brothers' Thuillier says it's the D2C companies offering "great value" that will be the ones that "prosper" post-Covid-19, although he believes not all will survive through the crisis.
At Houlihan Lokey, Stone proposes there will be a "fundamental shift" in how people shop and how manufacturers adapt beyond coronavirus, but it will be different for each category, and argues D2C will be slanted more toward staple products than snacking, for instance.
Hermann at Foodspring, which counts snacks and cereals in its portfolio, says: "Food manufacturers moving towards D2C models will continue to happen, but it means a significant change in their supply chain and expertise, whereas digital-first brands like Foodspring have built our overall business model with these capabilities.
"With the growing trend of consumer shopping behaviour moving online, I do believe that food manufacturers without an established D2C platform might face problems in a post-Covid-19 environment."