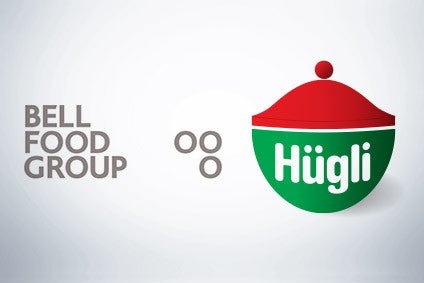 Andy Coyne looks at the motives behind Bell Food Group's acquisition of Huegli Holding and asks whether both parties are likely to benefit from this all-Swiss affair?
Bell Food Group's acquisition of a majority 50.2% stake in Swiss peer Huegli for around CHF444m (US$461.7) – announced on Monday (15 January) – has widely been judged as a good move for both parties.
Swiss investment bank Vontobel describes Huegli – in which Bell also secured 65% of the voting rights – as a "perfect fit" for Bell, which is seeking to expand its position in the European convenience food market.
At one level the deal – which saw Bell acquire family holding company Dr. A. Stoffel Holding, the majority shareholder in Huegli – may be seen to be about momentum and ambition on the one hand and dealing with succession in a family business on the other.
Bell, which is 66.3% owned by Swiss retailer Coop, says it is "significantly expanding its position in the convenience products market" through the deal.
The company, which wants to buy the remaining Huegli shares via a public tender offer, has decided it wants to grow as a convenience food business and sees acquisitions as the way forward.
In recent years, Bell has sought to broaden its range, still supplying its traditional range of meat, charcuterie and seafood – and still acquiring in those areas, too – but also a basket of convenience foods.
In 2016, the revenue Bell derived from convenience foods was CHF576.7m, equating to 17% of its CHF3.39bn annual sales. A year earlier, convenience foods amounted to 12.8% of its CHF2.82bn full-year sales.
Part of that growth came on the back of its acquisition of Switzerland-based salad provider Eisberg in 2016 and its M&A activity in convenience continued in 2017.
The move for Huegli follows its full takeover of fresh convenience food specialist Hilcona – in which it had already owned a minority stake for six years – in May and the purchase of Switzerland-based, fresh pasta-to-vegetarian ready meals supplier Frostag in January.
Bell is also building a new plant for convenience products in Austria that is expected to be up-and-running this autumn.
This evolution of Bell was further emphasised in April last year with the change in the company's name from Bell Group to Bell Food Group.
The product portfolios and customer groups of Bell and Huegli appear highly complementary, with virtually no overlaps.
Against Basel-based Bell's range of meat, poultry, charcuterie, seafood and fresh convenience products, Huegli produces soups, sauces, bouillons, desserts, functional food and delicatessen specialities. It also makes products in faster growing healthier-living areas, such as protein shakes and isotonic drinks.
Bell said in a statement after the deal was announced: "The Bell Food Group thus continues to pursue its strategy of growth in the convenience sector, which offers attractive growth and margins.
"Huegli's range, which focuses mainly on convenience products with longer shelf-life, provides an ideal complement to Bell Food Group's existing range of fresh convenience products. The sales channels, which are focused on the retail and catering trades, are also largely complementary.
"Bell Food Group's position will be strengthened particularly in the foodservice market thanks to Huegli's direct distribution and experienced sales team. The acquisition also improves Bell Food Group's international presence in major European markets.
"Further potential comes from synergies in procurement, from the extension of the customer portfolio, and from the exchange of know-how in development and other technological areas."
It should be noted pre-deal Bell was performing better than Huegli.
In August, Bell booked its first-half results, which revealed net profit increased, on a year-on-year basis, by 9.1% to CHF39.5m on the back of a 7.3% rise in sales to CHF962.7m.
Much of the growth should be put down to Bell's acquisitive appetite in recent quarters but the company did see organic growth in places.
Interestingly, though, sales were sluggish in its key market of Germany, increasing by just 1.2% to CHF285m.
Huegli, meanwhile, booking its half-year numbers the day after Bell, saw its net profits fall by 12.4% on a year-on year basis to CHF10.9m and sales decline by 5.5% to CHF185.7m. The company's domestic business, as well as its operations in Germany, Italy and the UK, weighed on the results.
To give an idea of the different scale of the businesses, Bell's 2016 sales of CHF3.39bn compared to Huegli's of around CHF385m.
Bell said the deal will mean around CHF1bn in revenues – more than a quarter of its consolidated revenues – will in future be generated in what it called the "high-growth, high-margin" convenience sector, up from that 17% in 2016.
Hansueli Loosli, Bell's chairman, said: "As well as strengthening our traditional areas of business, the acquisition of Huegli marks an important milestone in our growth strategy in the convenience sector."
Vontobel points out the acquisition of Huegli increases Bell's sales in convenience from 17% to 25% domestically and outside Switzerland from 32% to 37%.
"Huegli is a niche convenience food player in the EU with a strong focus on foodservice (41% of sales) and adds 11% to Bell's sales," it says.
Vontobel notes Huegli's most important market is Germany, which could help Bell's international efforts: remember Bell saw sluggish growth there in the first half of 2017.
Nevertheless, Germany was central to the decline in first-half sales at Huegli. The company said sales in Germany, measured in local currencies, "remained weak", falling 5.4% in the six months to the end of June.
Moreover, in 2016, Huegli's sales in Germany dropped 5.7% year-on-year. The company's EBITDA in the market fell 16.4%.
However, looking into the second half of 2017, when Huegli reported its first-half numbers, said: "The orders and promotional sales on hand nevertheless indicate a positive trend for the second half of the year."
Analysts at Vontobel see the benefit of the deal despite Huegli's recent struggles.
"We consider the acquisition of Huegli as a perfect fit for Bell as it leads to an expansion in the higher growth/margin convenience food sector, strengthening the foodservice exposure and increases sales exposure outside Switzerland," they say.
Bell, which has 9,500 employees, is likely to target further acquisition opportunities.
It will propose to shareholders at its annual general meeting in April that they approve a capital increase of around CHF600m. This will help finance the acquisition of Huegli and further "growth investments" in the convenience market.
Bell says it expects EBITDA for the 2017 financial year to be around the previous year's level, and net profit to be higher than in 2016.
Turning to Huegli, Vontobel suggests the momentum for carrying on running the business as a family concern may have been lost with the death of its founder's grandson, Dr Alexander Stoffel, the man who built and shaped the company over the past 60 years and who chose Bell as Huegli's preferred future owner before his death.
"After the death of Dr. Alexander Stoffel at the end of September 2017, his wife and four children owned the family holding and we consider the public offering by Bell Food Group a perfect solution," Vontobel says.
And a profitable one, as far as Huegli's shareholders are concerned. The price it received from Bell – CHF915 per share – corresponds to a takeover premium of 14.4% over the volume-weighted average price for the last 60 trading days prior to the announcement of the tender offer.
Steinach-based Huegli, which has 1,500 employees in 11 countries, is confident it has found the right partner in Bell. "Huegli remains Huegli," says Jean Gerard Villot, who has held chairman, president and CEO roles at the company, reflecting the fact it will remain an independent business unit within Bell.
With Bell, a business with greater resources and one determined to capitalise on demand for convenience foods, as its new majority owner, the Huegli operations could be revitalised as we move through 2018 and beyond.