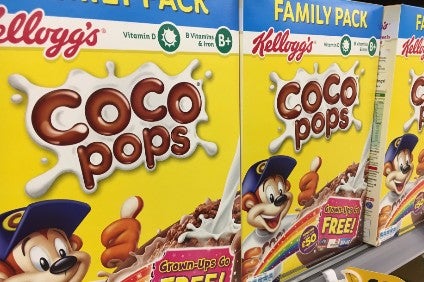 Kellogg enjoyed improved profitability in 2017 but again saw pressure on its top line, with, notably, its US morning foods business continuing to suffer. However, some industry watchers saw some signs of progress in the fourth quarter – and even across the year as a whole. All eyes will be on how recently-installed CEO Steve Cahillane believes he can improve the cereal and snacks giant's performance.
2017 – sales down again but significant year for Kellogg
Looking at the numbers, 2017 was a year of improved profits but continued pressure on sales.
Last year, Kellogg saw its net income jump, its operating profit (and its comparable operating profit grow) but its net sales decline for the fourth straight year.
And for the fourth straight year, Kellogg's underlying sales growth was in negative territory, with three of the company's four domestic divisions – US Morning Foods, US Snacks and North America Other reporting declines – and sales down, too, in Europe and Latin America. Kellogg's US Specialty arm and its operations in Asia Pacific enjoyed growth.
However, beyond Kellogg's income statement and balance sheet, the last 12 months was a significant year for Kellogg, with two major changes at the US-based food group.
First, the owner of Keebler biscuits and Cheez-It crackers shook up the way it distributes snacks in the US in a bid to improve the company's profitability.
And, second, the cereal and snacks behemoth announced the departure of CEO – and Kellogg veteran – John Bryant after six years at the helm. In came former Anheuser-Busch InBev, Coca-Cola and The Nature's Bounty Co. executive Steve Cahillane, who took the hot seat in October.
Both of these events could have a major impact on Kellogg's performance in the years to come.
"Kellogg closed the book on an eventful 2017 on solid footing," Morningstar analyst Erin Lash reflected yesterday. "While the year included welcoming a new CEO, we think the more notable aspect was the decision to abandon direct-store distribution in favour of warehouse delivery. We perceive this shift as enabling the firm to free up funds that previously had been invested behind its distribution network to be reallocated towards brand building, which we view as crucial given the ultra-competitive landscape in which it plays. And now that these efforts have wrapped, we think the firm is poised for stabilisation in its sales trajectory and further margin improvement longer term."
Shares get a boost from Q4 sales
Kellogg's shares closed up almost 3% in New York on Thursday (8 February), helped by a growth in reported sales boosted by recent M&A and which came in above analyst estimates.
Fourth-quarter reported net sales increased by nearly 4%, thanks to Kellogg's purchases of US firm RXBAR protein bar maker Chicago Bar Company for US$600m in October and Brazil-based food manufacturer Parati in December 2016, as well as to favourable currency translation.
Kellogg's underlying fourth-quarter sales were down 1.5%, with the company pointing to changes in price and "other impacts" from the end of the direct-store distribution for its US snacks business. Excluding the impact the distribution move has had on Kellogg's US snacks business, the company said its US snacks sales grew during the quarter.
"Examining the firm's fourth-quarter performance, we're encouraged the volume erosion that plagued its operations throughout last year appears to be subsiding, as volumes were flat versus down 2-6% each of the last three quarters," Lash wrote. "The 1.5% shortfall in underlying sales [is] entirely reflective of lower prices and unfavourable mix. Although management anticipates the overhang from lower prices and stock-keeping unit rationalisation will persist through the first two quarters of 2018 (related to the move away from DSD), we don't believe this illustrates cracks in its edge but should support its competitive position long term. And even in the face of stepped-up brand investments, the profit gains realised are notable, with operating margins ticking up 80 basis points to 16.7%."
Kellogg's European business also reported growth thanks to Pringles and some improving trends in cereal, while sales in Asia Pacific were solid.
Kellogg forecasts falling underlying sales in 2018 – but touts improvement
The Frosties owner on Thursday forecast 2018 net sales would be flat on a currency-neutral basis. Stripping out the expected 1-2 percentage points of growth Kellogg expects to see from the RXBAR deal, that would equate to a 1-2% fall in net sales on an organic basis.
Not that appetising, though Kellogg said one point of the 1-2% organic decline is expected to come from the "negative impact" of the changes to the way the company is distributing its snacks in the US. "The remainder of the business is flat to down 1%, an improvement from 2017," Kellogg said.
Cahillane said Kellogg is characterising 2018 as a "transition year" for the business. He said 2018 would see Kellogg complete the Project K restructuring programme it launched in 2013. The first two quarters of 2018 will also include the impact of the US distribution change.
"Despite being a transition year, we have a plan reflected in our guidance that delivers continued gradual improvement in net sales performance, strong reinvestment in our brands and continued growth in operating profit," Cahillane said. "From a margin perspective, we will achieve the equivalent of our 18% operating profit margin target, excluding accounting changes."
The new CEO brings dose of realism to Kellogg's US Morning Foods division
In 2017, sales from Kellogg's US Morning Foods division fell more than 5%. Another year of declining sales from a division of which analysts estimate around 70% come from breakfast cereal was not a surprise (even if the quantum was a tad eyebrow-rising).
What was surprising were the remarks Cahillane made in the post-results analyst conference call on how he views the role US Morning Foods can play moving forward.
"Morning Foods is not going to be the growth driver for us in the Kellogg Company. We know we can stabilise it, we aim to stabilise it but we look across the world and we see our emerging markets growing the way that they are," Cahillane reflected. "Asia Pacific doing incredibly well, the growth of Parati in Brazil and Mexico back to growth, the UK and Europe stabilising and growing in the second half and the incredible growth driver that is Pringles around the world. It sets us up for really solid growth."
Kellogg does plan to continue to invest in its US Morning Foods business but Cahillane's comments appeared to be a shift in tone from those that emanated from the company in recent years, when it suggested it still believed it could get that side of the business back to growth.
"While we recognise that this business has not been a growth engine for some time, frankly, CEO Cahillane's qualification of the portfolio role felt a bit different from Kellogg's comments as recently as [the] CAGNY [investment conference] last year, when it seemed to us that some level of modest growth was eventually expected," Barclays analyst Andrew Lazar said.
"Perhaps Kellogg is simply being more pragmatic about where investors should expect growth to come from and also more thoughtful about where investment ought to flow – a strategy that has paid dividends for others. As such, we can understand how many investors could well see this more prudent approach by Kellogg's new CEO as a logical one. Along these lines, we believe that Kellogg's 2018 guidance does not necessarily require US cereal growth, which, in our view, would seem to de-risk estimates quite a bit."
However, Lazar suggested if investors assume Kellogg's US Morning Foods division will be flat year-on-year going forward, it could make the company's long-term sales target of 1-3% growth each year "a bit tougher to reach over time". All eyes will be on this year's CAGNY investment conference, due to take place next week, and Cahillane's move to flesh out his plans for growth.
"We'll go into more detail at CAGNY in a couple of weeks when we'll discuss where I see the most promising growth potential and how our growth trajectory might look over the next few years."