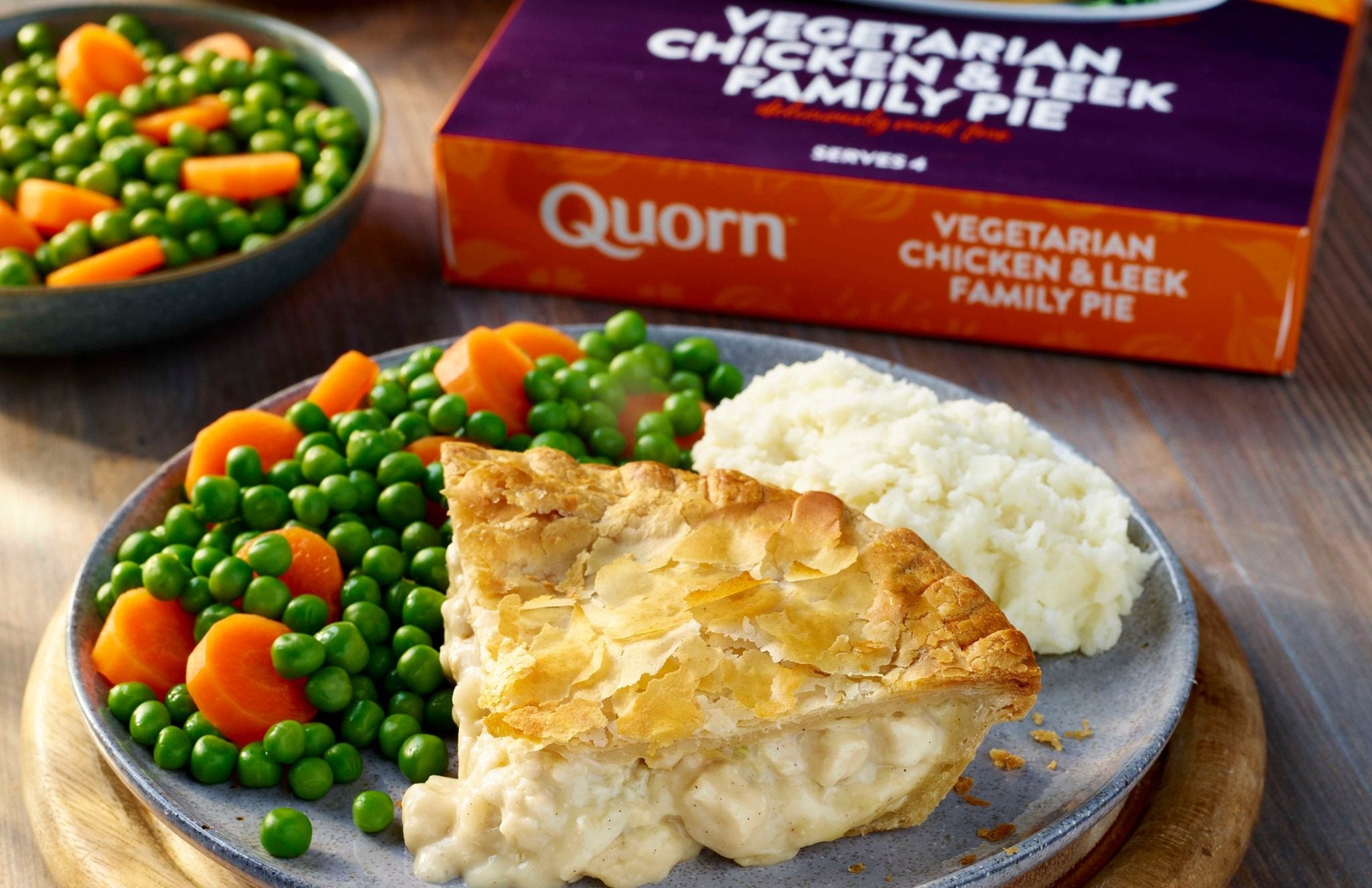 Monde Nissin took an impairment charge of more than $350m on its meat-alternatives business in further evidence the category is under pressure globally.
The Philippines-based food and drinks company, owner of the Quorn brand since 2015, revealed last week that meat-free is facing various "challenges" across its markets, from inflationary headwinds weighing on consumers' purchasing habits in the UK to the dissipating "hype" in the US.
An impairment charge of 20.5bn pesos (US$377m) is likely to add more fire to the argument that growth in meat alternatives is coming back to a more conservative pace, based on adoption and repeat rates largely resting on flexitarians rather than vegans and vegetarians.
The US is already in slowing mode from the pumped-up assumptions of the past, analysts have argued, with more evidence emerging from Monde Nissin as it plans to adjust marketing and spending in the country.
While CEO Henry Soesanto pointed to rising interest rates and risk premiums as factors behind the impairment charge, he was also very clear on the effect of softening demand in meat alternatives, or the "rationalisation of the trend", as he put it.
"Booking the impairment provision, while prudent, is a frustrating setback," Soesanto said, varying his language to express "some reduction in sentiment toward the meat-alternative category", which for Monde Nissin also includes the Cauldron brand.
Margin compression
Monde Nissin's margins were also under pressure as price increases have not yet fully recovered input-cost inflation, another factor cited for the impairment charge.
The group as a whole delivered a net loss of 13bn pesos in its 2022 fiscal year – versus a 3.2bn pesos profit in the corresponding 12 months – due to a "non-cash, non-operating impairment of intangible assets in meat alternatives".
Gross margins fell 560 basis points to 31.3% as gross profit dropped 9.6% to 23.1bn pesos. Core EBITDA declined 15.9% to 11.2bn pesos and the associated margin was down 410 points at 15.1%.
Growth in meat alternatives was weak, to say the least, for publicly listed Monde Nissin, coming in at 1% on a reported basis and only slightly higher for the final quarter at 1.3%. It was even less in organic terms, at 0.8% and 0.4% respectively.
The impairment and commentary around slowing growth in meat-free was a key discussion point in a results call last week, as analysts continue to prod for insight into the cooling category theme.
Explaining the mechanics, finance chief Jesse Teo referred to the value-in-use term that measures the cash flow an asset or product generates.

Teo said the carrying value of the meat-alternatives business was £671m, adding: "We had a revised value-in-use calculation of £380m. That represents £291m of impairment – we have a £245m balance for goodwill that has been wiped off [and] the balance, £46m, is from brand."
Monde Nissin's meat-substitute business generated sales of 15.4bn pesos in the year to 31 December, while the group total was 73.9bn pesos, an increase of 6.7%.
"The key reasons are the WAP [weighted average price], which contributed nearly 60% of the decline in the value-in-use," Teo added. "WAP increased from 6% to 7.9%. This 190 basis points is totally uncontrollable for the company and resulted in a significant reduction."
"Bullish"
Despite the slowdown last year, Soesanto emphasised his commitment to the plant-based category even as the CEO of Quorn, Marco Bertacca, said Monde Nissin is taking a more "prudent" approach in the US.
Soesanto argued Quorn is a "differentiator" that sets the company apart from other meat-alternative labels on the market, mainly because the products use mycoprotein as the key ingredient. Produced in-house by Quorn, mycoprotein is derived from fungi converted for human consumption through a fermentation process. Other manufacturers tend to use pea or soy, for example.
"We continue to believe in the long-term growth potential for sustainably produced and clean-label alternative proteins," Soesanto said. He suggested demand is starting to pick up again in the UK in the current financial year, particularly in foodservice and quick-service restaurants (QSR).
"During this current category slowdown, we are seeing consumers gravitate towards quality," he added, perhaps in a shrouded reference to imperfections around taste that some industry watchers blame for consumers turning away.
"With the population growth and demand for protein, I'm pretty sure that traditional protein cannot supply enough," Soesanto explained during last week's Q&A session. "We need alternative protein, which is healthy, which is sustainable. For me personally, I'm very, very bullish on the future of alternative protein."
While evidence is stacking up around cooling category growth in the US, there have been few examples in Europe. However, Nestlé set industry tongues wagging in March when the Swiss food giant announced the withdrawal of its Garden Gourmet brand in the UK and Ireland, although like Monde Nissin and Quorn, the company is also committed to the category.
"Rationalising space"
Nevertheless, signs of a cooling-off effect in the Quorn brand will likely be eagerly eyed to ascertain whether the softening in meat alternatives is temporary or more permanent.
Quorn CEO Bertacca set out his plans under a strategy to "strengthen our position in the UK" – the brand's largest market where it was established in 1985 – "accelerate" sales in the US and gain further traction in foodservice and QSR.
The category is "challenged" and the "overall market has declined", Bertacca conceded. In the UK's case, he put it down to a slew of new entrants and consumers prioritising spending as food inflation continues to accelerate.
But he suggested category spending will bounce back, arguing UK retailers remain loyal to meat alternatives.
"We know that historically, our experience says that when inflation will flatten or go back to a more standard level, the consumer, the shoppers would go back to their fundamental truth about health [and] sustainability," Bertacca said. "The retailers in the UK have held the space that is available on the shelf for the category – that is very important because we know that the top-four retailers still believe in the category."
It's a different picture in the US, Bertacca explains. "We've invested in people, we've invested in marketing and in particular to drive awareness in the market through a number of marketing initiatives. It is very fair to say that the results driven by our investment are very disappointing."
Opposite to the UK, he argued US retailers are "rationalising space" in the category because of inflation and take-up rates among flexitarians. As a consequence, Quorn has "decided to take a radical approach to our footprint there".
Bertacca added: "We've restructured the marketing function, reduced the spending and redirected the spending to drive velocity at the store. We want the SKUs and the products that we have on the shelf to move faster instead of trying to be in every store.
"Our overall principle is to spend better and focus more on trial, penetration, rate of sale, maybe on a smaller range of products. At the same time, the sales organisation will refocus on a number of customers that really believe in the category."
While Bertacca envisages demand for meat alternatives will return to some normality in the UK once inflation subsides, or even "come back solid", he was asked to give some perspective on the US and European markets.
"I find that the extremes in food preference in the US are very high. There's been an explosion of meat alternatives… then it rebounded," he said.
"To some extent, I believe the US will rebound. But it's still very hype and that's why we are taking a more prudent approach there."
With respect to the European bloc, he suggested it may take longer for consumers to adapt and accept meat-free.
"Europeans do not change their taste from one day to the other and don't go by extremes. So in the rest of Europe, you will see that these trends take longer, but they are more sticky.
"When the Germans, the Italians, the French and the Dutch, and the other Europeans switch on to alternative foods, maybe they [will] do it through less hype and they will not move back very quickly."
Out-of-home sales in meat alternatives are holding up, where Monde Nissin serves the likes of KFC with the Zero Chicken Burger, as well as food-to-go retailer Greggs. Sales rose 52% last year and 29% in the fourth quarter alone to 691m pesos.
The meat-free burger was set to launch in Cyprus and Greece in March and is due to roll out in Mongolia in May. Limited-time offers are also planned for Spain, Portugal, Trinidad and Tobago in the final quarter of 2023, trials that Monde Nissin believes will become firm.
In terms of capital investment, the company is shifting gears in meat-free in favour of its growing bakery business in its Asia Pacific Branded Food and Beverage division.
"We will have a more modest capex budget" in meat alternatives, CFO Teo explained, "primarily geared towards cost-savings projects". Monde Nissin needs more capacity in cakes and biscuits, he said.
Teo added: "Frankly, in our bakery business, we are constrained by the number of [production] lines that we have. So our immediate priority is to get lines started up in order for us to fully fulfil the demand that we are seeing.
"We are locating those lines nearer to where the growth is as well. I will not give specifics on our plans but we will be diversifying our plant footprint as we expand our bakery business."
Expansion through acquisitions is also going to play a part for Monde Nissin, Soesanto affirmed emphatically when questioned on any future plans around M&A.
"The answer simply is yes," he countered. "I think to grow our business, to optimise our portfolio, M&A is one of our strategies. We are going to look for portfolios that can create synergies with ours, either in territory or product portfolio."