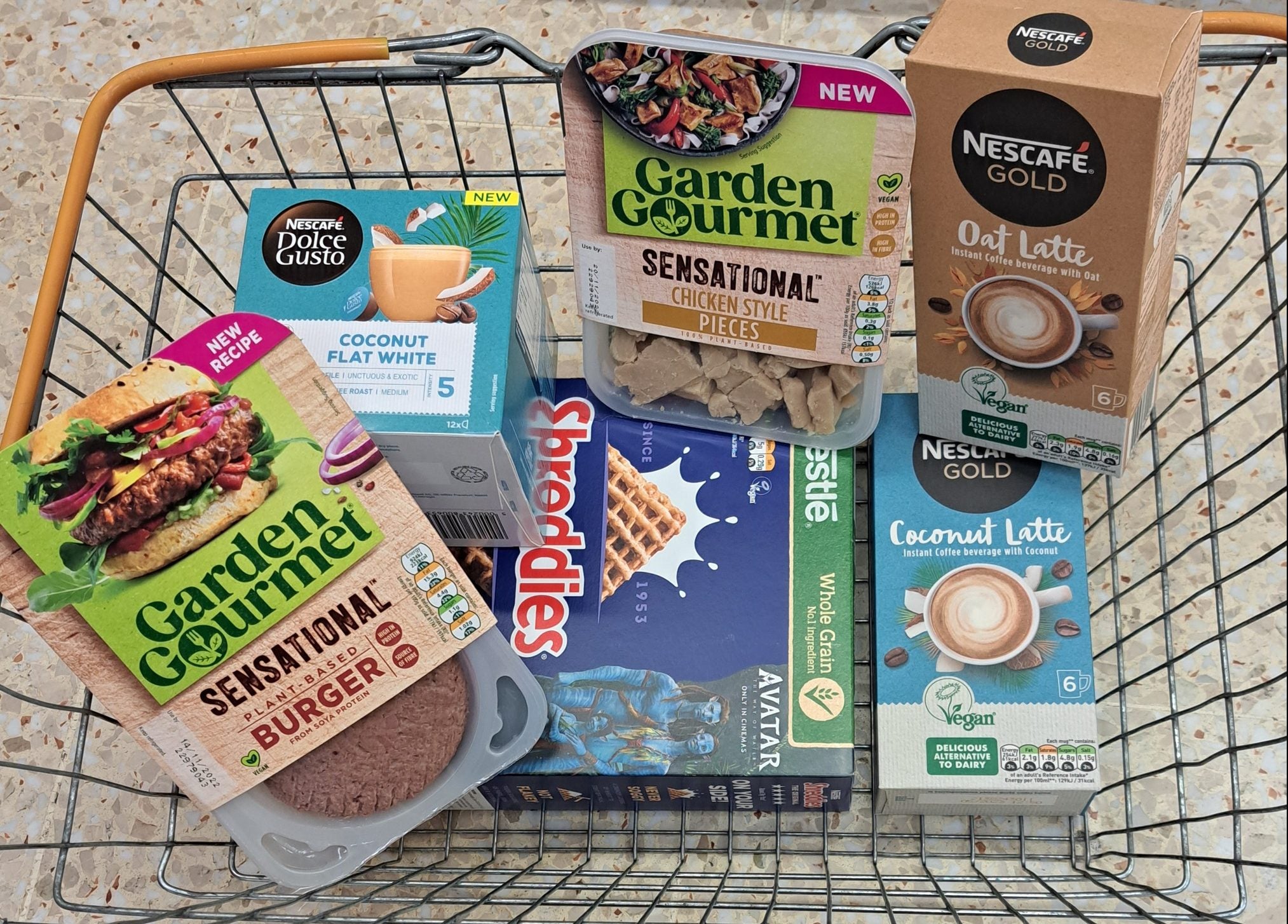 Food industry analysts suggest more companies are likely to follow Nestlé's example in reassessing its position in plant-based protein in yet another blow for the category.
The Swiss firm's plan to withdraw its Garden Gourmet meat-free and Wunda pea-milk brands in the UK and Ireland will no doubt have caused unease amongst proponents of plant-based alternatives. For others, it may open up opportunities in what is an overcrowded and competitive sector, with the established food manufacturers and start-ups battling for shelf space.
Nestlé hasn't given up on the plant-based sector entirely, retaining Garden Gourmet in other markets in Europe and offering plant-based options in beverages and confectionery. It has also made plain its interest in continuing to launch – and acquire – more plant-based products. However, industry watchers argue the category hasn't lived up to consumer expectations, particularly on taste, putting a question mark over the company's future ambitions.
Hot on the heels of Nestlé's announcement, came news The Coca-Cola Co. is withdrawing its Innocent range of plant-based dairy drinks in the UK. While the pullbacks are weighted toward beverages, the suggestions are the category is ripe for consolidation and failures across the plant-protein space.
Some analysts argue the strong winds blowing through the category's sails had already subsided, with a bad taste in the air around product quality. The US and Canada are examples, where growth has been cooling over the past 12 months or so. Evidence across the Atlantic is stacking up, from the demise of The Very Good Food Company, through to Beyond Meat and Oatly struggling to turn a profit, and signs Tattooed Chef in the US is under the cosh.
"It's not the first withdrawal and it won't be the last," Clive Black, a director at UK investment firm Shore Capital, says of Nestlé's decision, making a general observation about the plant-based category that "the volume never followed the noise".
He adds: "I think what we'll end up with is a small number of proprietary brands that have probably got legs and a materially rationalised private-label component. I think you could say for Nestlé, what took you so long?"
"Back to basics"
Black suggests Nestlé has to "go back to basics" to assess where it wants to be in the plant-based market, whether it be manufacturing, an ingredients supplier for brands and private label or whether they "can own, develop and nurture a leading, proprietary brand".
Nestlé is a "ruthless" FMCG business, which would have weighed up its withdrawals of Garden Gourmet and Wunda based on returns on investment, says Hamish Renton, managing director of UK international food and drinks consultancy HRA Global.
"You can bet your bottom dollar, with the Nestlé execution it would have been profitable. 'It's like, do we really want to play this? Is this not a distraction?' If there's no emotional attachment to the brand or the proposition, if it's not doing the stuff, it's out," Renton suggests.
"Contrast that with, say, a start-up, where founders and entrepreneurs invest savings, hopes, dreams and many years into a proposition. Those guys don't give up."
Nestlé may also have concluded that "we can't actually win from where we are now with the assets we've got, so we'll take a temporary step back and maybe M&A is the future for us", Renton suggests.
Should Nestlé choose the M&A route, it's likely to be a plant-based target with more widespread clout geographically, he adds: "Whether it's a fancy Swiss start-up that you think would go down really well in all your markets, that's the lens. You're not really looking at the lens of the nation."
However, picking out a winner in a crowded and less-than-differentiated market may not be so easy.
"I see lots of different takes on a general theme. You have some that are great branding, some that are great taste – there are few that are great branding and great taste. I see some indifferent packaging, some good packaging. I just don't see anybody's got the whole shebang. I don't think anybody's really cracked it," Renton explains.
Buying up another business doesn't necessarily solve the problems or challenges the plant-based category is facing, however, factors that could push Nestlé to wait it out for a more mature deal or turn inwards.
Taste is paramount
Confusion also hangs over the category, from consumers faced with a myriad of similar brands, mainly trying to mimic meat, and confusion around the target audience – mass-market flexitarians, vegans or vegetarians, environmentalists and planet-savers, or just people seeking a healthy diet.
"The market is saturated and over-competitive," says John Stapleton, a UK-based food entrepreneur and businessman. "Each brand is busily defining how their USP is different to the guys sitting next to them on the shelves but, from the consumers' point of view, it's all the same – 'I just want something that tastes good and is as good as meat.'"
Stapleton, who founded and then sold New Covent Garden Soup Co. and Little Dish, adds: "I think the large organisations in this category are beginning to realise that, whether it's Nestlé, private-equity-backed start-ups and disruptors. It's really going to be down to the good old fashioned, 'does this product taste good enough to become part of a mainstream diet in the longer term?'"
Hurdles need to be overcome to convince consumers, particularly the more mass-market flexitarians put off by taste and texture and recent bad press around ingredients, with the rising cost of living another weight on the premium-priced category.
Just Food has covered the slowing US plant-based market extensively as growth tails off but it's still growing, albeit less than the lofty and largely overblown assumptions of the past. Despite Nestlé's decision in the UK and Ireland, some plant-based companies, Heura Foods in Spain, for example, seem to be thriving.
"It's a tough space, it's over-supplied," says Renton, noting consumers have "switched" off from the category because of "poor products and poor" taste, made worse by the cost-of-living challenges. But he acknowledges there are "some really good products".
He adds: "The nutritionals are very dodgy, there's a lot of soy, there's not a lot of protein, there's a lot of artificials in there," he argues. "A lot of these products are chemistry sets. There can only be so many winners."
"Bigger than their bite"
Shore Capital's Black is quite critical of how the market has developed and the players that have come in – established food companies and start-ups – to what has become a plant-based movement, whether it be linked to animal welfare, health or environment or ethical views. And he takes a dig at the huge amounts of investment the category has attracted.
"Their bark was bigger than their bite, literally. And, in that respect, there are bodies out there that I think are disingenuous about the realities of what's going on, particularly in the mainstream shoppers' mind," he contests.
"I think where it gets quite insidious and worrying is when you come into financial markets. Frankly, there are a whole load of players who would sell their grandmother if they could make money, who got on the bandwagon of, 'this is the next big thing in food', ramped, pumped and morphine-dosed the rhetoric to the point that a lot of gullible investors bought it.
"And then actually managed to create a narrative that forced lots and lots of companies to follow the spiel."
Black continues: "Some of it was around sustainability and ESG. A lot was around just really bad management and not doing their homework about the reality of where the mass market was. Sadly, for a lot of genuine people who have an ethical view of protein, it will be seen as a food bubble. Lots of money following a pumped-up dream for which there was very little substance."
Stapleton suggests there are "cold winds of change" blowing on the investment front for start-ups, which have raised wads of money but have not broken even or become profitable.
"People are realising, 'hang on, where's you're breakeven'? Five or six years out, you should be breaking even, if not turning a profit. I think that's going to put a lot of pressure on the start-up world," he says.
"For those reasons, consolidation is going to become more apparent. The never-never approach to investment in start-ups in the short term, that's going to pull a lot of businesses down because they don't have a breakeven strategy. They've been banking on the fact we're going to go for growth."
Consolidation argument
Consolidation within the category is already happening to a certain degree in retail, in some ways linked to the cost-of-living crunch, Stapleton says, as stores rationalise SKU counts to cut costs.
"In the last five years or so, retailers have been very happy to open the door and load their shelves with a whole range of new plant alternative products but that is changing. That's going to grab a certain amount of consolidation," he explains.
The markets cooling down, the growth is coming off. It's normalising and there'll be a shakeout. That's what happens every single time in FMCG.

Hamish Renton
It's a view shared by Renton, almost a natural weeding-out evolution as a new category progresses and matures.
"Everybody's having a go when categories are fast-growing," he argues. "The retailers give it extra space, the brands fight it out on-shelf and they'll let shoppers decide. That's what's happening here.
"The markets cooling down, the growth is coming off. It's normalising and there'll be a shakeout. That's what happens every single time in FMCG."
Black argues there was a certain inflection point at the start of the pandemic and through the other side of Covid, kicking off with people trying products in the category because of the perceived health benefits.
"I think the ideological and intellectual crossroads was at the start of the pandemic, when these guys were really banging the drum quite heavily," he says. "But lo and behold, people get locked down and what do they do, they increase their consumption of meat.
"When we started to come into pandemic normalisation a lot of people had refound meat. Frankly, when they compared it to the proliferation of stuff coming on the shelves, it didn't live up to expectations. There is an evolving interrogation, integrity around plant-based proteins to the extent that taste is critical."
Taste is emphasised by Stapleton, too, who says that while flexitarians might want to make a contribution to saving the planet and reducing the carbon footprint, taste is the main consideration when opting for plant-based alternatives.
"Flexitarians don't want to make a huge compromise on taste and I think that's why the market is slowing down," he suggests. "It takes a lot of time and effort to change consumer behaviour significantly and with stickability."
Black suggests cell-based meat has a better chance of success – "intellectually and conceptually" – because it is an actual replication of meat. But he also believes emerging meat-free protein dishes based on Indian, Mediterranean and street foods is "where the market is" as opposed to meat substitutes.
There will be "considerable brand rationalisation, de-listings and failures" across meat substitutes, meat-free and dairy alternatives, leaving a "relatively small number of leading players", he says.
"Over the next two or three years, the dust will settle and the leading brands with legs will gain their foothold and share in the market. But it'll be done on the basis of much more realistic expectations of the addressable market.
"I think most of the start-ups are genuine, they've got authenticity and integrity and a sense of purpose and they're not these bandwagon merchants. For big capital, this has been a car crash."
De-bunking the industry bias behind plant-based meat
From the Just Food archive: Spectre raised of plant-based meat fragility as Very Good Food goes on the market
A "paradigm shift" – meat-free moves beyond fad to UK trend with legs