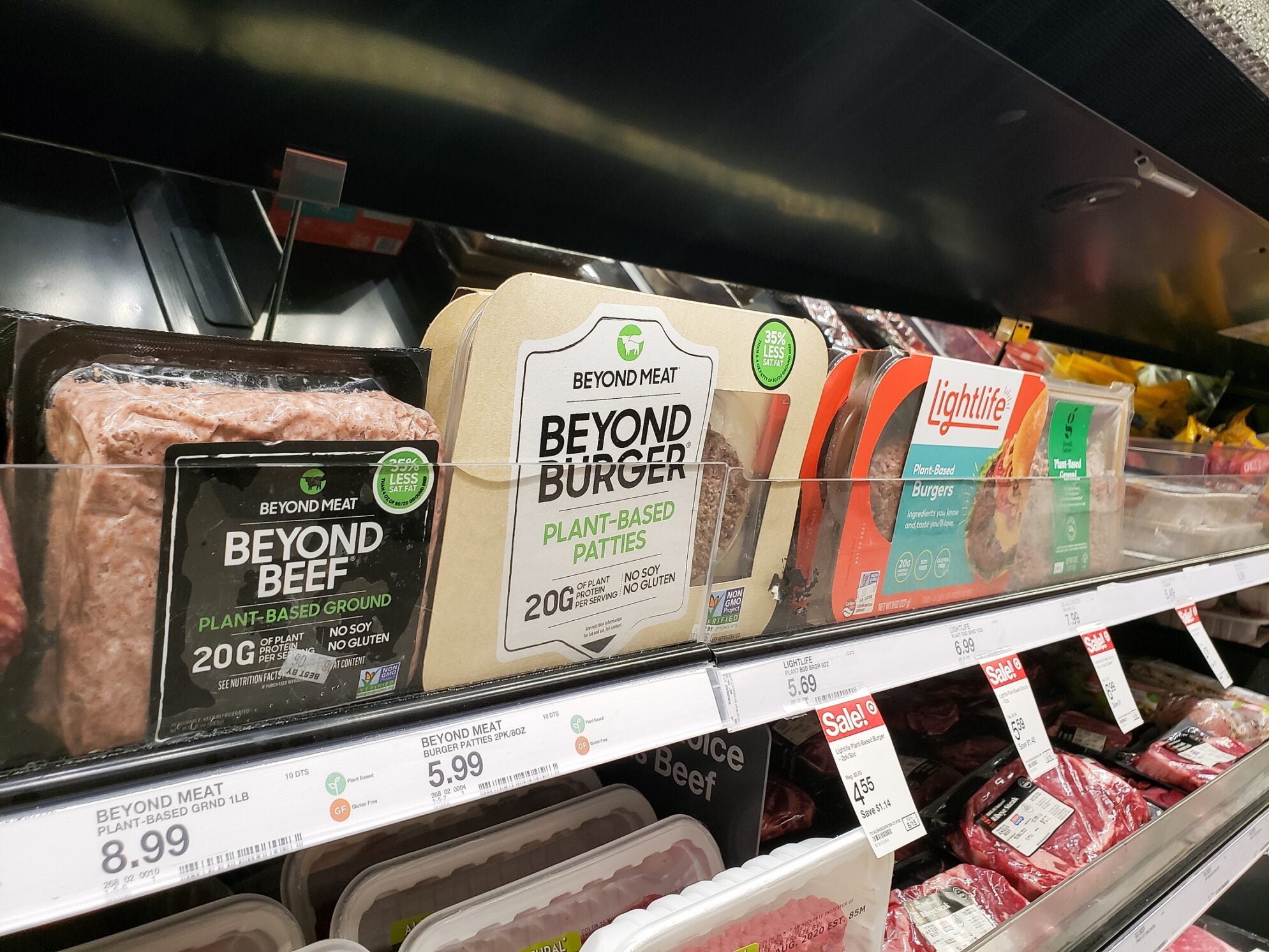 For many years now, there's been an inherent bias in some sectors of the packaged foods industry about plant-based meat. And it's wrong.
There has been the notion, particularly present in the natural products industry segment, that plant-based meat is on a linear sales growth path and will, if given enough investment funding, marketing and PR muscle, disrupt animal-based meat.
This inherent bias has created a marketing echo chamber, which has successfully built a narrative of "the plant-based meat revolution". The problem, and it's always the problem with marketing echo chambers, is consumers appear to disagree.
In recent quarters, there have been signs consumers are voting for animal-based or plant-fed meat with their pocketbooks, which is why over 98% of meat category sales still come from meat that originates off the hoof. I'm not criticising people or groups. Rather, I'm making an attempt to offer some independent insight and analysis into where the plant-based meat space stands today.
Some of us have long questioned this narrative. Year-over-year sales growth of plant-based meat may have been impressive in recent years but it is and will always remain a small, niche market rather than the dominant form of meat or dairy. To date, consumers – who are the folks who matter the most to packaged food companies – seem to agree, based on what they buy at the grocery store.
Plant-based meat accounts for about 1.4% of total meat category sales in the US, according to The Plant-Based Foods Association and The Good Food Institute, which are two pro-plant-based industry groups. Plant-based is one of three types of alternatives to conventional meat. The other two are fermented and cell-cultivated. Fermented doesn't, to date, register enough sales to earn a percentage designation and cell-cultivated meat has yet to reach the retail market in the US.
When thinking about that 1.4% market share, it's important to remember plant-based meat isn't a new category. Plant-based meat has been on the market for many decades. We just used to call the products veggie burgers or veggie sausages. The new generation of plant-based meat, designed to mimic the taste of animal-based or plant-fed meat, is different to a certain degree but veggie burgers and the like remain largely the same thing in the minds of consumers, as well as in reality.
Inside the cavernous exhibit halls and outside on the patios and cafés at the Natural Products Expo West industry trade show earlier this month in Anaheim, California, plant-based meat in all its variations – burger patties, chicken nuggets, sausages made from plant-based ingredients and more – was on full display. The category topped the agendas of many of the education sessions and discussion groups that are a part of the show. In contrast, animal-based or plant-fed meat was scarce, both in terms of brands and discussion, except in the convention centre hotel restaurants, where one could see table after table dining on ribeye steaks, prime ribs of beef, giant burgers and chicken, all of the animal-based kind. Inherent bias? A marketing echo chamber?
The fact is, despite increased product availability in terms of brand choices and added retail outlets, plant-based meat sales stalled in 2021, recording zero growth, according to recent research from SPINS, data commissioned and released by The Plant-Based Foods Association and The Good Food Institute. According to the research, the total annual sales of plant-based meat in the US remained stable at $1.4 billion. That's a continuation of the 1.4% share of total meat category sales.
Also this month, Canada's Maple Leaf Foods, a major player in the plant-based meat space, released the details of a category review it had been conducting since last November in the wake of successive quarters of declining sales. Maple Leaf, a prominent pork processor in Canada, owns the Lightlife and Field Roast plant-based protein brands in the US. The conclusion of the company's review is, after years of rapid growth, the plant-based meat category in the US is stagnant.
"The refrigerated plant-based meat category grew at 59% in 2019, 75% in 2020, but in 2021, the category was essentially flat, growing at 1%," Curtis Eugene, Maple Leaf's president and chief operating officer, said during a 24 February conference call with analysts to discuss the company's fiscal 2021 results.
"In fact, trial rates were super high, penetrating 60% of US households, but consumers' needs simply were not met, and they did not repeat purchases. As a result, the category did not reach expected levels of habituation, had very high lapse rates and very low buy rates."
Maple Leaf's internal review of its plant-based meat business not only mirrors the overall plant-based category data from the two trade groups, it also mirrors what we're seeing with other brands in the space.
The financial markets are reflecting this as well. Shares of Beyond Meat, for example, have lost about $6bn since March 2020 due primarily to weak sales growth. The company is now partnering with PepsiCo, having this month launched a plant-based, faux-beef jerky as a way to diversify into other categories and, it hopes, boost sales. Jerky is a small and competitive category. My analysis is the launch will do very little to increase the company's fortunes.
The current situation is troubling for plant-based meat brands in the US, particularly those that have raised hundreds of millions of dollars from investors, offering in return the promise of the disruption of the conventional meat category.
A new narrative is building. In a nutshell, it argues more money, more unique products, better consumer education, marketing and the like are what's needed to put a fire back under plant-based meat sales. There could be some truth to this but keep in mind that, for everything we've heard about the plant-based meat revolution in recent years, it still represents a mere 1.4% of total meat category sales. Even if plant-based meat was at 10% of total category sales, that would hardly be a revolution in the meat or any category.
The stalling in plant-based meat sales in 2021 doesn't surprise me or many others who look at the category with an independent and analytical eye. And I suggest that readers pay close attention to the analysis from Maple Leaf because, from a category perspective, it offers insights for other brands.
The mega-growth and disruption that plant-based meat brands, investors and advocates have predicted are predicated on getting flexitarians and even omnivores to purchase plant-based meat products on a regular basis. The vegetarian and vegan consumer segments aren't big enough to grow the category even to a 10% market share.
Flexitarians and omnivores – flexitarians more so – have, to a high percentage, tried plant-based meat, primarily because of the deep-discount promotions many brands have been doing for years in order to generate consumer trial. They aren't buying the products again at the level needed to grow the category at a significant percentage rate. This is something Maple Leaf found in its category review and something other brands know, too. Consumer habituation, the key to the plant-based meat kingdom, just isn't there. As a result, there's a long way to go to even get the category to 5% of total category sales.
The consumer is the king and queen when it comes to packaged food. It matters very little if, as an industry, we proclaim something like plant-based meat to be an industry trend. That's inside baseball.
Plant-based meat is and will remain a small niche in the overall meat category. What's more, with all the improvements being made by many companies in the animal-based or plant-fed meat space, along with the emergence of fermented and cell-cultivated meat, plant-based products will be playing defense from here on in, as well as the offense it's been able to play up until now. Strides have been made in the category over the last few years but past annual sales growth isn't indicative of future sales growth. The highly competitive packaged foods business isn't linear.
just-food columnist Victor Martino is a California-based strategic marketing and business development consultant, analyst, entrepreneur and writer, specialising in the food and grocery industry. He is available for consultation at: victorrmartino415@gmail.com and https://twitter.com/VictorMartino01.