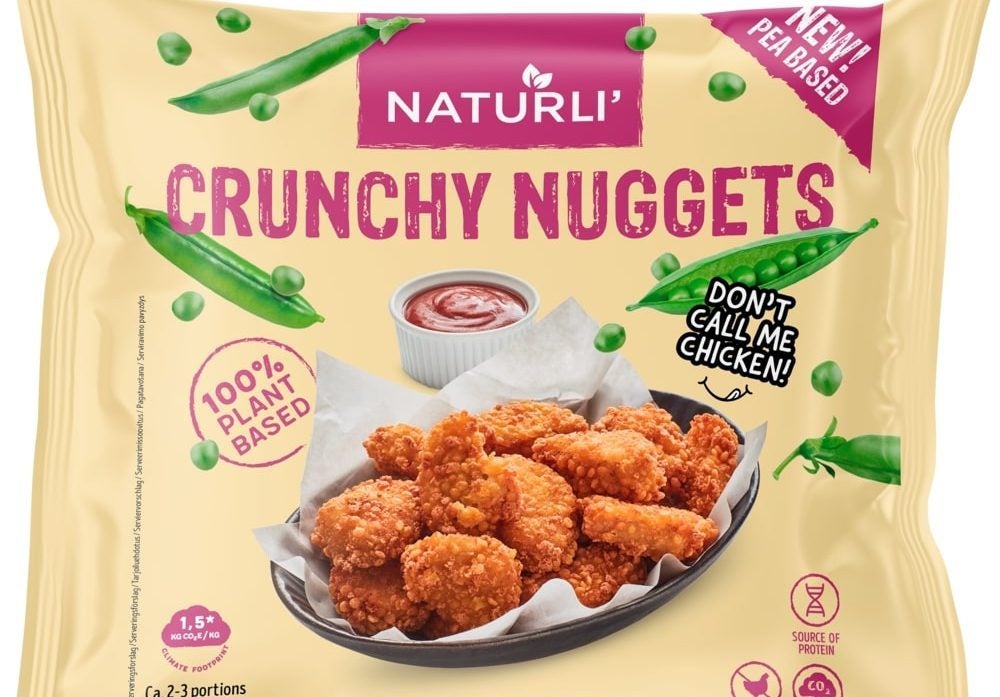 Orkla has dialled back its plant-based M&A strategy, suggesting the Nordic group will need to fast-track innovation to deliver on its category pledge.
A goal to reach NOK3bn (US$334.5m) in plant-based sales by 2025 from NOK846m last year was set out in April, when Orkla announced a new operating division for the category, with an objective to make "larger-scale acquisitions if and when the right opportunities arise". However, president and CEO Jaan Ivar Semlitsch and his management team revealed at an investor event this week that the target "will mainly" now be pursued organically.
Semlitsch's inferral on Tuesday (23 November) that M&A may be absent in Orkla's plant-based ambitions perhaps marks a change in approach. The Oslo-headquartered company has developed the portfolio in meat- and dairy-free internally, with brands such as Frankful and Felix Veggie, but also through acquisitions with the likes of Annana and Lecora, and a majority stake in Naturli'.
Markus Borge Heiberg, an analyst at European financial services firm Kepler Cheuvreux, was surprised at the omission of plant-based M&A as he envisaged it would make up about half of Orkla's category target, which implies a compound annual growth rate of around 30%.
"Given the current valuation level of plant-based assets, it's difficult to buy this growth at a sensible price. As Orkla now thinks it's possible to grow by some 30% per annum organically it will be more value accretive versus M&A," Heiberg says. "They also have healthy margins on these products."
Heiberg has some reservations on whether the target growth is too ambitious, although Orkla said the pace will differ between markets. Taking the Nordics as an example, the company explained "growth rates will range between 10% and 25% of our expectation".
"It's definitely ambitious," Heiberg says, noting the growth target is "achievable but it's not my base case".
He adds: "I spoke with the CEO and the plant-based division, and they are not afraid of the growth targets because they are firm believers that this is going to grow; the market and the demand is going to be there. They are aiming at taking market share in a rapidly growing market.
"I think that aiming for a 15% to 20% growth rate would be more reasonable, but it has been growing by 22% over the last 12 months year-on-year, still from low levels."
Breaking the mould
Orkla is eyeing expansion into lab-grown meats, mainly through partnerships, although M&A wasn't ruled out in what is still a nascent category within alternative proteins.
"We're looking at three different sources – it's plant-based, it's precision fermentation and it's lab-grown," Orkla said. "But when it comes to lab-grown, we think it's further out in time before we have commercial products, which means that initially we will look for partnerships within lab-grown and we expect that it will be a part of the future solution. But again, it will take some time before it happens."
Acquisitions have been a significant component of Orkla's branded growth strategy and Semlitsch insisted they will continue to play a part under a three-year plan announced on Tuesday to increase the group's organic growth to "at least" 2.5% annually in 2022 to 2024 – using a combination of price and volumes – from a CAGR of 1.6% over the past five years. The company also aims to accelerate underlying adjusted EBIT to 4-6% from an average of 3.4% since 2017.
Orkla notched up revenues last year of NOK47.1bn, representing organic growth of 1.6%. Adjusted EBIT was NOK5.5bn.
Divestitures will also feature as Orkla seeks to create "a more dynamic portfolio over time" in combination with internal innovation and M&A, "spinouts", IPOs and joint ventures. Semlitsch noted the acquisitions the company has made over the last 12 to 18 months came with "high-growth potential" and were not "margin dilutive".
Fielding a question on Tuesday, CFO Harald Ullevoldsaeter gave a sense of the deal-making considerations Orkla will take, although he and the management team were reserved in revealing any details around which businesses or brands might be destined for the chopping block.
"We have a ceiling of 2.5 times EBITDA for the debt that we're willing to take on. There's a fair bit of flexibility in terms of investing in the things that we think are value-creating. I feel that we have fairly good flexibility in terms of pursuing opportunities that we think are good and supporting all our core businesses," Ullevoldsaeter said.
"We have, over the last few years, invested in new businesses of NOK10bn and we have divested businesses of NOK800m. These recent acquisitions are very much in line with our strategy to grow in categories and channels with higher growth."
Kepler's Heiberg suggests the Jotun business, consisting of industrial paints and coatings, or the hydropower operations, could be likely candidates.
"I don't think there are some big obvious brands that are going to go, I think it's more about portfolio optimisation," Heiberg says. "They have a few non-core assets, the big painting company Jotun, and they own some hydropower assets. Those are the most likely non-core assets to, if possible, divest or to IPO or something like that."
Semlitsch explained during his presentation: "It's also important to me that all the priorities and the strategies are linked to long-term thinking and long-term value creation. We will have a step-up in profitable organic growth.
"Today we have 300 strong local brands and we'll put even more prioritisation behind these brands, for example, within the marketing investments. These brands have a somewhat strong pricing power. Moreover, we'll expand some of these brands more aggressively internationally…and will use our local consumer insights to be more agile, more innovative, and closer to the market than our global peers."
Digital plans
Aside from plant-based, Orkla views the out-of-home market, which accounted for 25% of turnover last year, and consumer health as key focus areas to achieve the organic growth and EBIT targets. But it also sees the digital channel as important too, with a plan to more than double e-commerce growth from 7% to 15% over the three-year strategy period. Surprisingly, Semlitsch said online commands a larger market share than retail.
"We have a higher online market share than an offline market share. We are working very well with our online customers. We have our own web platform and also we're well established on Amazon, whether it's in the UK, in India, Germany, and now also the Nordics based out of Sweden," he said.
Heiberg says the digital target is reachable, particularly given Orkla's "very high exposure to healthcare and consumer health", areas where he sees potential to "grow rapidly online". But he also points to the company's busy activity in snapping up pizza chains or franchises, where it now owns more than 600 outlets across markets such as Germany, the Netherlands, Finland and Belgium.
The most recent of those deals were announced in October, with Orkla acquiring Flying Pizza and Planet Planet in Germany through its majority holding in the Dutch chain New York Pizza. Referring to those purchases, Semlitsch said "out-of-home will be wherever the consumer is, whether it's in-home or out-of-home and we will continue this shift in the portfolio but not losing focus from our core market".
In Orkla's core operating countries of Norway, Sweden, Finland and Denmark, Heiberg says the online share of grocery retail is relatively "very low", but it is gaining traction, especially in Norway and Finland, providing potential for a pick-up in business.
Orkla is also eyeing new "high-growth markets", where its entrance "will primarily be driven by M&A". However, without naming potential countries, the company doesn't intend to stray far from its existing geographical presence, with an intention of "not losing focus from our mature markets and mature categories".
"We will focus on three geographic clusters – the Nordics and Baltics, Central and Eastern Europe, and South Asia – the countries where we're already strong, and similar or adjacent countries. We're focusing on what we know works for Orkla, but still stretching ourselves to capture some of the growth and value-creation opportunities around us," it said.
The company expanded in India last year, the only country in South Asia where it currently has a presence. It snapped up Eastern Condiments, the first deal in India since Orkla acquired MTR Foods back in 2007.
"We will only expand in markets we already know very well today or in markets very close to our existing markets," Semlitsch said. "In order to significantly increase organic growth, we need to also have an exposure to higher-growth geographies with long-term momentum. However, this doesn't mean that we're willing to take on significantly increased risk, but rather that we're focusing our core capabilities on a few new geographies."
Heiberg suggests the catchment areas will be where Orkla has an existing but "fairly low presence" such as Northern Europe, "scaling up" in the Baltics and India.
"Expanding to a completely new region or even in other markets does not seem to be where they will focus their resources and M&A capacity. But Orkla is very opportunistic, they always have been, so if the opportunity comes they will definitely have a look at it," he proposes.