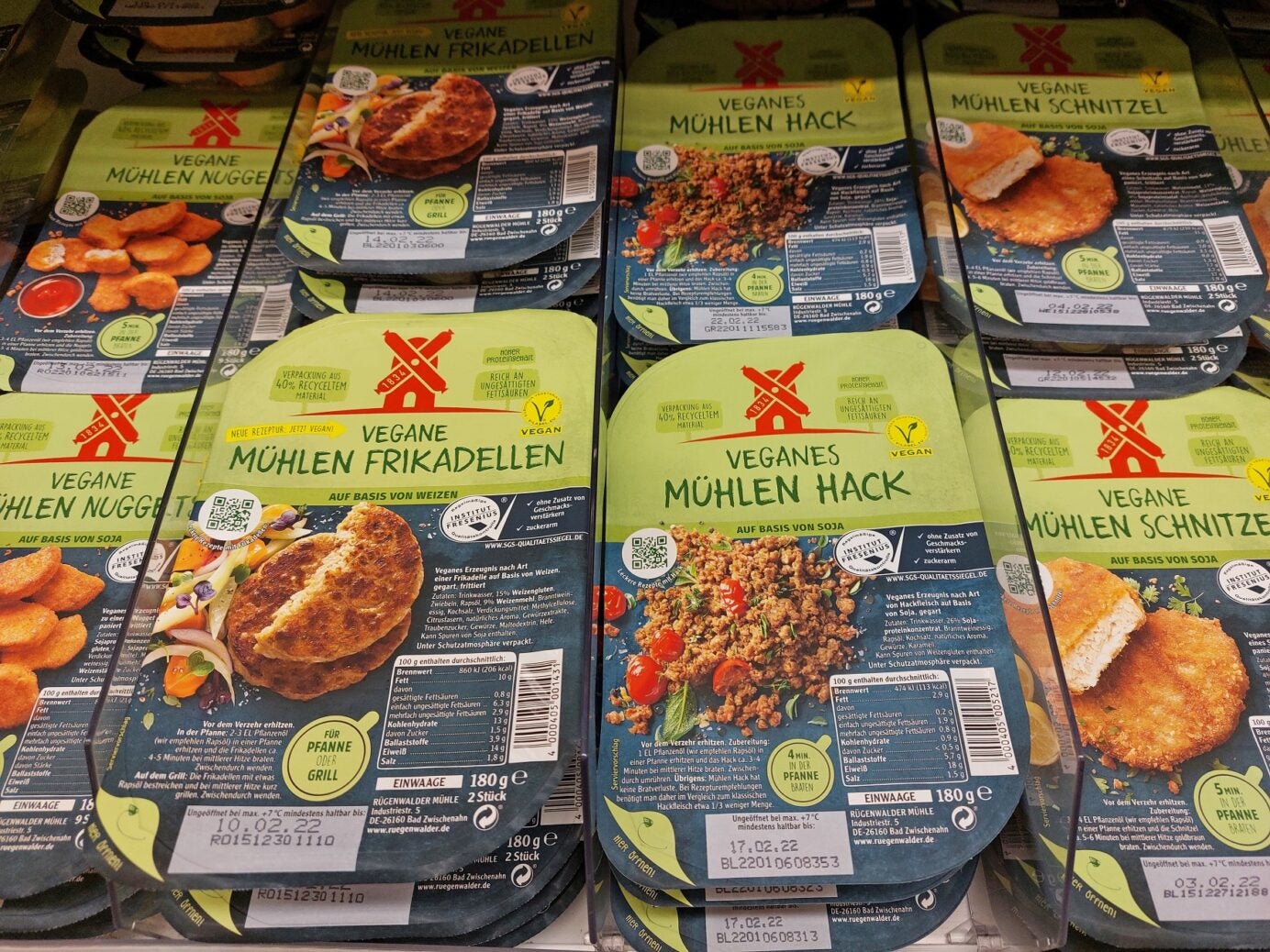 Germany, a market known for meat consumption, is increasingly trying out plant-based alternatives and has developed one of the more notable meat-substitute markets in Europe. As a result, German alt-meat companies are largely focused on growing the domestic market, with limited exports to other EU countries.
With tofu sausages, seitan schnitzels and veggie burgers being particularly popular, the market for vegetarian or vegan alternatives to meat is flourishing in Germany. According to the Federal Statistical Office (Destatis), in 2021, German companies produced almost 17% more meat substitutes compared to the previous year, and production increased by 62.2% compared to 2019.
In 2021, 97,900 tonnes of meat substitutes were produced by German manufacturers, compared to around 83,700 tonnes in the previous year and 60,400 tonnes two years earlier. The value of these products (domestic production) amounted to EUR458.2m (US$458.6m) in 2021, up 22.2% compared to a year earlier.
This increase is remarkable for a nation known to love its real meat bratwurst, weisswurst and frankfurters. However, looking at the bigger picture, the value of meat substitutes is still relatively small compared to real meat products. In 2021, the value of meat and meat products produced in Germany was worth EUR35.6bn, Destatis numbers show – around 80 times the value of meat substitutes.
However, since 2019 – for the second year in a row – the value of meat products has been decreasing: in 2021 it fell by 7.8% compared to the previous year; compared to 2019, it decreased by 11.3%. According to the Federal Office for Agriculture and Food (the BLE – Bundesanstalt für Landwirtschaft und Ernährung), Germans have steadily reduced their meat consumption, with the per capita consumption decreasing from 62.8 kilos in 2011 to 55 kilos in 2021, the lowest result since records started in 1989.
"The meat sector in Germany is still a very large sector," Nicole Günther, managing director at Green Seed Germany, a specialist food and drink marketing agency, says. "The underlying ingrained habits won't change overnight."
How well do you really know your competitors?
Access the most comprehensive Company Profiles on the market, powered by GlobalData. Save hours of research. Gain competitive edge.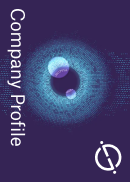 Company Profile – free sample
Thank you!
Your download email will arrive shortly
Not ready to buy yet? Download a free sample
We are confident about the unique quality of our Company Profiles. However, we want you to make the most beneficial decision for your business, so we offer a free sample that you can download by submitting the below form
By GlobalData
However, Günther remarks on a new willingness to try out meat alternatives among her fellow citizens. "These so-called flexitarians range from 'I don't eat that much meat anymore' to 'I eat vegan/vegetarian one or two days a week.'"
These flexitarians are mainly driven by their own health and animal welfare aspects, Günther notes said. A 2020 study by the Federal Environment Agency (UBA – Umweltbundesamt) in Germany also confirmed this view, marking flexitarians as an "economically particularly relevant" group.
Younger generations especially are open to trying these meat alternatives. According to the Heinrich Böll Foundation's 'Meat Atlas', from 2021, 64% of 14- to 29-year-olds in Germany have already bought meat alternatives. According to the report, the boom in cooking at home caused by the pandemic fuelled the trend. The most frequently purchased alternative meat products in Germany include vegetarian or vegan sausage spreads, schnitzels, steaks, fillets and sausages.
Plant-based product variety limited, experts say
However, according to a 2021 report in Oekolandbau.de, a BLE information portal, the more traditional option of tofu is still in particularly high demand. Meatless product categories such as "minced meat/Bolognese" and "sliced meat/gyros/kebab" follow at considerable distance. The UBA's 2020 analysis stated that "the variety of plant-based meat alternatives (…) is classified by experts as medium to low" with demand especially focused on vegetarian burger patties, sliced meat and sausages.
Mass market diversity may increase as the number of companies producing meat alternatives increases alongside research activities. Innovators include the Fraunhofer Institute for Process Engineering and Packaging (IVV), the German Institute of Food Technologies and the University of Hohenheim, as well as the Weihenstephan-Triesdorf University of Applied Sciences and the Weihenstephan campus of the Technical University of Munich. All have been developing alternative plant-based proteins and corresponding production processes.
On the manufacturers' side, the number of companies offering plant-based meat alternatives increased from 34 in 2019 and 2020 to 44 in 2021 according to the Federal Statistical Office. Günther believes that due to that increase "a market consolidation is pending".
In addition to specialised manufacturers, private labels and start-ups, producers of conventional meat products have also recognised the trend. For example, PHW-Gruppe, the major German poultry farmer and processor, which owns the well-known brand Wiesenhof, reached an agreement with US company Beyond Meat in 2018 to exclusively take over the distribution of their vegetable-based burger in the German market. This partnership continued until October 2020 when PHW decided to focus on its own vegan range Green Legend.
Marcus Keitzer, executive board member for alternative protein sources at PHW, says his company is keen to "offer consumers attractive and sustainable products on the market in both areas". As an example, he pointed to a poultry bratwurst subcategory. "With the Wiesenhof Bruzzzler, we have been offering the most successful poultry bratwurst on the German market for years," Keitzer says, "and we have been selling a plant-based alternative with the vegan Bruzzzler Veggie with great success since 2016."
Another German manufacturer, Rügenwalder Mühle, has been producing vegetarian meat and sausage products since 2014 and made more sales with vegan and vegetarian meat alternatives than with classic cold cuts or its Teewurst cooked meat sausage for the first time in July 2020. That led to 2021 being the first entire year when these vegetarian sales overtook its meat-based sales.
Today, one of the company's bestsellers is the Veganes Mühlen Hack mince, made with 100% soy from Germany, which is also cultivated by Rügenwalder Mühle. Earlier this year, the company launched the Veganes Mühlen Mett sausage, venturing into another originally typical meat product. The company plans for further growth and in May bought a new factory in Goldenstedt, northern Germany.
"With this new capacity we have the opportunity to build a new, modern site, so that our vegan and vegetarian production can grow further," Claudia Hauschild, head of corporate communication and sustainability management at Rügenwalder Mühle, says.
Supply-chain pressures
Despite planning for new products, Hauschild notes how the company is coping with consumer uncertainty due to Russia's invasion of Ukraine and inflation (which hit 7.9% in August in Germany). The company has also been managing broken supply chains, logistics problems and rising costs for energy caused by the war and the Covid-19 pandemic, as have its competitors.
These are growing in number. New German non-meat innovators include Purvegan, which works with lupine protein; Amidori with pea protein; and Viva Maris, with a sausage substitute made from algae, for example. Other German companies that offer and develop plant-based meat substitutes include Berief, LikeMeat, Mushlabs, Naba, Sunflower Family, vegini, Zeevi and Planty of Meat.
Many of these companies, however, are also feeling the current strains due to the war in Ukraine. Planty of Meat managing director Johannes Biel complains about how sunflower products are suffering, with a lack of sunflower oil – a key ingredient, with disrupted Ukraine exports being the main problem.
Despite admitting that "we have to fight every day to be competitive and to be profitable", he dreams big. "We want to search for partners in the UK and the US in the third and fourth quarter," Biel says. "We have the knowledge and expertise to export on a big scale." He hopes that a new product launch of plant-based chicken breast fillets in autumn will develop into a bestseller as "you will not feel any difference to the original".
Achieving taste as well as price parity with conventional meat is the greatest challenge for the future according to PHW's Keitzer. At Green Seed, Günther agrees with that view, commenting that "to attract and retain a broad range of consumers for meat alternatives in the long term, they must be won over by the taste and quality."
She adds: "In doing so, an originally justified scepticism that has been nurtured by consumers for years must be overcome." A 2020 survey from the Federal Environmental Agency, however, also showed German consumers want more culinary variety and greater availability of plant-based foods.
That said, some consumers are questioning the health benefits of plant-based foods, the survey found. "There are still many misunderstandings about plant-based nutrition. We want to change that," says Klaus Hadwiger, from the Research Center for Bioeconomy, of the University of Hohenheim. He leads an initiative called The V-Place', a communication and information project, where he wants "to bring this type of nutrition closer to the population in Europe – with solid information that is understandable for everyone" .