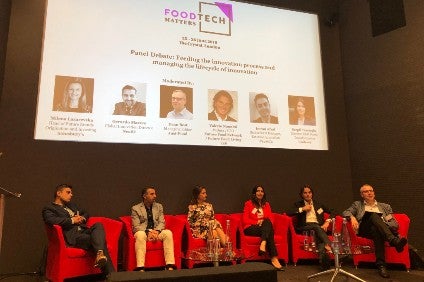 How can large food companies, built to enjoy scale and home to brands devised decades ago, innovate to meet the needs of today's consumer? It's a hot topic in boardrooms across the industry – and was discussed in-depth at a recent event in London. Dean Best was there.
Even for multinationals generating billions sales a year from brands bought by households around the world, these are testing times.
Today's consumer is not the same animal of 20, ten or even five years ago. The demands of retail customers remain intense but are changing, with grocers that have dominated the landscape trying to please that evolving (and more demanding consumer) and at the same do battle with discounters, online pure-plays and an encroaching – and itself rapidly-developing – foodservice sector.
Technology is shaking up the way the food industry does business, from farm to fork and all points in between. That technological revolution has made more consumers more aware of how their food is grown, made and marketed, meaning brand loyalty is eroding and the companies behind the brands are being asked more questions than ever before.
And that technological disruption has proved fertile ground for smaller businesses that are more fleet of foot to address consumer concerns and better able now to connect with shoppers than ever before.
"The whole business environment around us is changing very, very fast," Rui Barbas, the chief strategy officer of Nestlé's US arm, told us last summer. "I've never seen this pace of change in the industry."
Companies of the size and scale of Nestlé are trying to change to get a grip on the maelstrom seen in the consumer goods industry. Change the way they source products. Change the way they innovate. Change the way they work with their customers. Change the way they view the shopper.
But will these changes pay off? Can the largest players in the food industry fight back after seeing smaller companies in the industry eat their lunch and grab market share? Will consumers be interested even if they do change?
These questions and more were discussed during a two-day event three weeks ago in London's Docklands. Food Tech Matters brought together the likes of Nestlé, PepsiCo and Unilever with start-ups and investors to discuss where the industry is heading, the health and sustainability challenges facing the sector and what solutions could be found to address some of those challenges (and be good for business at the same time).
The larger manufacturers are seen by some as slow, hindered by bureaucratic decision-making, unable to innovate quickly enough for today's consumer and to participate in the transformative change many argue the food system needs.
"The big corps are the followers. I don't see a new consumer trend coming out of a big corp. I don't know what that would look like," says Johan Jorgensen, a partner at Sweden Foodtech, a Stockholm-based organisation that looks to, according to its LinkedIn page "accelerate transformative entrepreneurship for the next-gen food system, driven by tech, data and innovation".
Jorgensen was talking on a panel convened on the first day of Food Tech Matters that sought to explore the trends that are driving investment and innovation in the sector. "[The corps] don't know what innovation is. They're starting to learn the game but they're so far behind when it comes to innovation."
The panel also featured José Luis Cabañero, the CEO of Spain-based Eatable Adventures, which supports food start-ups in Europe. Cabañero pointed to a recent study Eatable Adventures had carried out. "We made an analysis a couple of years ago. We compared the consumer needs and desires for CPGs and we compared with that the industry activities and where the top investment is located," he said. "We found that the industries [companies] are totally investing in different areas. Consumers are looking for natural products, fresh products, no artificial ingredients, no BPA packaging, no plastic packaging etc etc – and then corporates are investing in gluten-free, in new ways of distribution, channel distribution etc etc. We found a complete mismatch between consumers and where the corporates are putting their investments."
The comments presented an interested way for your correspondent to kick off a panel the following day that included representatives from Nestlé, PepsiCo and Unilever.
Gerardo Mazzeo, Nestlé's global innovation director, insisted it was "definitely not true corporates find it impossible to drive, to create and to foster innovation". He outlined one of Nestlé's open innovation initiatives. Two years ago, Nestlé launched Henri, an open innovation "platform" through which it works with start-ups in a range of areas.
"When it comes to Henri, what we're looking for is solutions and answers to some of those business problems that we simply don't have the answers for internally," Mazzeo told the audience. "We can go from brief to selecting a start-up within 90 days. We wanted to dispel the myth that when you work with organisations like ourselves that we're slow lumbering animals. We do want to move with agility and speed. We can help you with the scalability, with the geographic access but what we seek from you is that ingenuity and creativity to the business problems that we have. The narrative I heard yesterday, I fundamentally disagree with it.
The panel also contained a representative from Sainsbury's, the UK's second-largest food retailer. Milena Lazarevska is the head of origination and investing within the Future Brands unit at Sainsbury's, a division set up a year ago to look for and list what she calls "distinctive and exclusive brands".
She told the Food Tech Matters audience: "I think it's indisputable in the last maybe five years, smaller, or start-up, brands, have really taken off and stolen a lot of share from the large consumer product companies and the large brands, most of which have been around since the fifties and sixties.
"It takes a very long time to build a brand and I think once you have those very big brands that stand for something it's quite difficult to change things that drastic way without having massive backlash from consumers. So most of the innovation that we see does actually come from start-ups and from younger companies but that is not to say that, also on our end, we're not seeing innovation from the guys sitting around here and other consumer product companies."
Separate from the debate over whether innovation can come from Big Food is perhaps the more complicated subject of how. The larger manufacturers are using a variety of methods: open innovation programmes like Nestlé's Henri, in-house venture-capital arms to invest in start-ups, outright M&A and more.
"At Nestlé, the broader innovation sandbox includes lots of different things we're experimenting with," Mazzeo told Food Tech Matters. "Aside from Henri and open innovation, we have a Silicon Valley innovation outpost, we have food accelerators, we have partnerships in Oakland with Terra and Rabobank on very early stage startups in the food space and we play a role in Mass Challenge."
A day earlier, Sweden Foodtech's Jorgensen had a suggestion for the role the larger manufacturers in the food industry could play. "I think still the big companies can act as part of this chain of bringing stuff to market through their vast distribution networks but I don't think we should see them as innovation hubs. They should embrace open innovation and make themselves tools for new products reaching market but not necessarily from their own R&D."
Speaking to just-food after the event, Cyrille Filott, global strategist on consumer foods at The Netherlands-based financial services group Rabobank, echoes Jorgensen's comments.
"I think that's the fundamental question about what the role of Big Food in the future might be. Distribution, marketing, branding, the relationship with the retailer, the ability to talk the consumer – they are their core strengths," Filott says.
"How much value is there in manufacturing? Can you outsource the manufacturing? We see more and more of contract manufacturers in food and especially in beverages. The second fundamental issue I'm discussing with big food companies is whether they should be doing the R&D or whether it's for specialised companies. There's an emerging group of people that come from a different culture, that are much more geared towards the current audiences, are much less bureaucratic in terms of R&D processes, are much quicker, much more agile.
"Can Big Food change their corporate culture to become much more agile? Currently, a process to come up with a new product to the market takes about two years, which is incredibly long. Can they change to six months and below? That's what's needed. They are working on this. They are trying to become more agile."
And, on top of the 'how', comes the big questions facing the food industry such as obesity and environmental impact. Weaker sales growth and competitive pressure from more agile, smaller companies better able to changing consumer demands and habits present a real business need for the larger food companies to look closely at how they innovate. But, of course, there are bigger issues the more enlightened members of the industry are grappling with – not just for ethical reasons but because they believe it makes business sense.
Valerio Nannini, a ten-year Nestlé veteran, now works at Future Food Institute, an organisation based in Italy and the US, which seeks to bring together stakeholders to work on innovation and transforming the food system.
He told Food Tech Matters building a network and then a broader "ecosystem" was vital for companies trying to innovate and, then more widely, for the food industry to try to answer some of the big questions it is facing.
"To make it even more complicated, it becomes part of a platform and I believe the future of innovation will be through platforms where companies like the ones we have here, start-ups, VCs and others will aggregate," he said. "We're going to be forced because of the UN SDGs and other types of elements to start thinking about platforms. And I think what we offer as Future Food Network is an agnostic platform where you could come in and start playing the game with us, which we will help to make happen as fast as you can."
The ecosystems and platforms Nannini sought to outline should, he said, involve companies in the food industry working together – and not just manufacturer and retailer but even rival manufacturers.
Can competitors really collaborate? Filott agrees rivals are working together in areas like open innovation alongside actors from academia and the broader R&D field. "I think it's good because it will help Big Food get new ideas and potential for collaboration. It's something Big Food is interested in. Whether it will help to speed up R&D from two years to six months, that remains to be seen, to be honest," he says.
However, Filott says he is "a big believer in ecosystems" because of the way the consumer-goods landscape is evolving, even if there are still questions about ecosystems are formed in practice. He points to the rise of data and of technology as the wider context.
"It's not only about food any more; in the future, it will be about providing solutions – and providing a solution involves data, routes-to-market, all that," he explains. "It's not separate building blocks any more where, you know, a miller provides to a processor, the processor sells the stuff to the retailer, the retailer sells it to the consumer. All that is becoming, because of data, much more integrated. You will see various forms of collaboration. How that looks in practice is a very fair question."