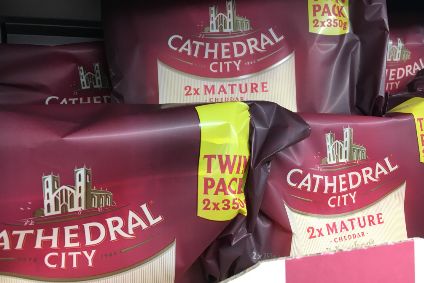 Saputo, one of the world's top-ten dairy companies, is set to return to Europe after a five-year absence with the acquisition of UK firm Dairy Crest. Dean Best reports.
Canada-based Saputo has been one of the more acquisitive major players in the global dairy industry in recent years, bolstering its presence at home with bolt-on deals, expanding in the US through M&A and carrying out a number of notable transactions in Australia.
According to the latest annual report on the global dairy market carried out by The Netherlands-based financial services group Rabobank, Saputo's deal-making placed it eighth on the list of the world's largest dairy companies when measured by turnover banked in 2017.
That year was when Saputo made its most recent major M&A move, agreeing a deal to buy Australia's Murray Goulburn for CAD1.29bn (then US$1bn), a transaction that closed after competition scrutiny in May 2018. Speaking to analysts following the move, Lino Saputo Jr., the company's chief executive, made it clear the business could move again.
"Our pipeline remains extremely full," Saputo Jr. said at the time. There are "four to five files that we are working on and they are doable files".
Saputo's appetite for M&A has continued since then with another deal in the US, while the business has been linked to assets on the block in Australia and possibly up for sale in New Zealand.
Last week, however, Saputo made a move into a region it had quit earlier this decade. On Friday, Saputo announced it had tabled a bid to acquire UK peer Dairy Crest, the owner of brands including Clover butter and Cathedral City cheese.
Dairy Crest's board has unanimously backed the 620 pence-a-share bid, which, valuing the London-listed business at GBP975m (then US$1.27bn), represented an "attractive" premium of 11.7% on its last closing share price, the UK manufacturer said.
Saputo Jr. described Dairy Crest as "an attractive platform for Saputo and fits well within our growth strategy". He added: "We believe that under Saputo ownership, Dairy Crest will be able to accelerate its long-term growth and business development potential and provide benefits to Dairy Crest's employees and stakeholders. This recommended offer represents a compelling opportunity for Dairy Crest shareholders, providing immediate value certainty."
Stephen Alexander, Dairy Crest's chairman, underlined why the company's board had backed Saputo's offer. "Both companies have built strong positions in the cheese sectors in their respective home markets. The acquisition should enable Dairy Crest to benefit from Saputo's global expertise and strong financial position to fulfil and accelerate its growth ambitions."
The deal remains subject to conditions including approval from Dairy Crest's shareholders. The companies expect to finalise the transaction in the second quarter of 2019.
Saputo announced in February 2013 it would quit Europe, arguing it did not have the "critical mass" for its European operations to be profitable. The company had acquired plants in the UK and Germany over 2006 and 2007 but said it had found its investment in Europe "challenging".
"Today, the Saputo European business does not have sufficient critical mass to be profitable and the company does not see short to mid-term opportunities to ensure such profitability," the company said at the time.
One analyst, who spoke on condition of anonymity, believes Saputo had entered in Europe in a limited way to learn more about the region's dairy market. "The first time they went in, they went in small and to learn the market and they didn't make big investments. They used it as a learning experience and they realised what they needed to do to succeed and what kind of characteristics they needed in a dairy company to succeed in Europe. [Dairy Crest] seems like a good fit and seems to make sense," the analyst says.
Given Saputo's recent activity has focused on North America and Australia, as well as the company's decision to leave Europe earlier in the decade, its move to acquire a substantial business in the region was something of a surprise to some industry watchers, although the analyst suggests otherwise.
"They've been pretty clear that they wanted to make acquisitions and clear they're looking in some specific markets – Australia, New Zealand, Europe and the US. It's not really a surprise to be honest with you."
Dairy Crest is a business with some household brands in the UK dairy market, with a portfolio that also includes Country Life butter and Frylight spray cooking oil.
For the 12 months to 31 March 2018, Dairy Crest reported revenue of around GBP457m, pre-tax profit before tax (including exceptional Items) of approximately GBP179m and adjusted profit before tax of around GBP62m.
The company is part-way through its current financial year. For the six months ended 30 September 2018, Dairy Crest generated revenue of GBP225m, profit before tax (including exceptional items) of GBP18m and adjusted profit before tax of GBP23m. The group employs approximately 1,100 people in seven locations in the UK – five operating sites, an innovation centre on the campus of Harper Adams University and a head office situated on the outskirts of London.
Saputo declined to comment further when approached by just-food to discuss why the company had decided to return to Europe and to acquire Dairy Crest – and what plans it has for its new asset if and when the deal goes through.
The business referred just-food to a lengthy stock-exchange filing that included some outline commentary on its plans for Dairy Crest.
"Saputo recognises that to maintain Dairy Crest's capabilities in the dairy industry it is important to retain the skills, knowledge and expertise within Dairy Crest's existing management and employees. It is Saputo's intention that Dairy Crest continues to be managed and run by the current senior management and employees. This will retain the benefit of those senior managers' knowledge of the local market dynamics, the dairy industry, the Dairy Crest business and its key relationships," the filing read.
"Given that the Saputo Group does not have a presence in the UK, Saputo foresees only limited rationalisation of employee roles following the acquisition, mainly targeted at corporate and support functions, notably those related to Dairy Crest's status as a public listed company. Any such reductions would be subject to appropriate consultation with employees and employee representative bodies.
"Saputo does not intend to make any material change in the balance of skills and functions of the employees and management of Dairy Crest Group following the acquisition, save as described above."
As with any acquisition, over time, it is likely Saputo will look at whether there is any overlap of roles or if savings be needed to be found (for, perhaps, reinvestment in brands or to cover commodity cost volatility). The company's lack of presence in the UK does make any such moves unlikely in the near term.
Dairy Crest has reshaped itself in recent years to focus on higher-margin products after selling its liquid milk business to German dairy giant Müller in 2015. From that moment, with Dairy Crest then no longer present in a cut-throat part of the UK dairy market, the company did look like a likely takeover target.
"In dairy you need a brand," Nicola Mallard, an analyst covering Dairy Crest's shares for banking and asset management group Investec, says. "We've seen liquid milk decimated. Dairy Crest were in it, Wiseman were in it, Express Dairies were in it. Dairy Crest has found the way to make money and they're making very good margins in their branded businesses. From that point of view, once they sold their liquid milk business back in 2015/16, a lot of people said it was a sitting duck about to be taken over."
Mallard suggests Dairy Crest's past pension issues – since managed – and its "quite uniquely English brands" were perhaps reasons why a suitor did not emerge sooner. The Dairy Crest portfolio, in the round, perhaps does have limited international appeal, although the Frylight brand could, in theory, have some appeal in markets in North America and northern Europe.
The unnamed analyst suggests Saputo wanted to re-enter Europe and believes the company has found a business with a solid presence in one of the region's major daily centres, despite the UK dairy category, even in the higher-margin areas that Dairy Crest does business, can be intensely competitive.
"Europe was a market they didn't have to be in but it is one of the big exporting markets and big dairy markets in the world. They wanted to be there eventually but they were willing to be patient for the right asset," the analyst says. "When they pulled out, they sat back and waited until the right opportunity came along. That's what Dairy Crest looks like – strong brands, strong margins, decent market share."
Dairy Crest also has a dairy ingredients business in which it has been investing in recent years. That side of Dairy Crest's business includes two ingredients for the global infant formula market – demineralised whey powder, a by-product from the cheese-making process, and galacto-oligosaccharides (GOS), a lactose-based prebiotic which helps to improve gut health. It is likely these assets also appealed to Saputo, which acquired Australia's Murray Goulburn in part due to its ingredients operations. Dairy Crest's whey powder and GOS operations are smaller than its branded business but could offer the potential for growth.
Saputo, then, has again used M&A to fuel its expansion, even in a market in which it beat a retreat earlier in the decade. The company will be hoping its latest move in the UK will be more successful.