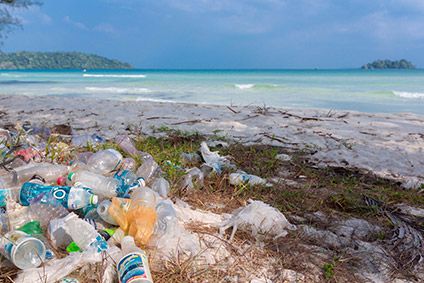 Food companies are being spurred by the UN Global Goals and heightened consumer expectations to increase the ambition and broaden the scope of their sustainability programmes. Ben Cooper identifies the issues and trends that will shape policy and action in 2018.
The development of food companies' sustainability strategies has gone through distinct phases and is now undergoing a further evolution. The coming year will see the trends shaping this new stage come into sharper focus and gather pace.
The significance of the United Nations Sustainable Development Goals (SDGs) already appears hard to overstate. The UN SDG framework is proving attractive to business leaders, underlined by the growing number of food corporations seeking to align their sustainability programmes with the broader UN agenda.
Consumers to spur faster change
If the SDGs capture mainstream public imagination as they already appear to be doing in boardrooms, their potential to be a true game changer will be unquestionable. They have certainly arrived at a time of unprecedented public concern over sustainability issues, suggesting awareness could build rapidly.
By the same token, consumer research consistently reveals growth in values-led consumerism, led by but by no means limited to the millennial generation.
As governments and food companies seek to pursue aligned objectives, relating to issues such as food waste, carbon reduction, tackling poverty and improving nutrition, they can expect greater consumer traction than ever before.
Collective action on waste
Food waste has been a headline sustainability issue for the food industry for a number of years so it is no surprise it will remain a priority in 2018.
According to a report from Champions 12.3, a multi-stakeholder coalition set up to help achieve SDG 12.3 (which aims to reduce global food loss and waste by half by 2030), almost 60% of the world's 50 largest food companies have set targets to reduce food loss and waste, while more than 10% have active programmes to tackle food waste.
Champions 12.3 has set out a roadmap for achievement of SDG 12.3, including targets for the food industry. In order to reach its 2018 milestone, at least five more of the world's 50 largest food corporations, and their suppliers, will need to have completed base year food loss and waste inventories and conduct follow-up inventories to monitor progress.
So far, the food waste debate has centred on wastefulness in food industry supply chains. While efforts to tackle food loss in the supply chain will continue in 2018, the increased onus being placed on clearer labelling could be pivotal. The "call to action" to establish standardised food date labelling by 2020, announced by the Consumer Goods Forum (CGF) and Champions 12.3 in September, is an important step forward. Further initiatives on food waste at a collective and company level are certain to follow during 2018.
Pressure on plastic
Concerns over the environmental impact of plastic packaging are also running high. So far, the soft drinks industry has drawn the heavy fire from campaigners, but that pressure shows the way the wind is blowing, and food companies can anticipate significantly more negative publicity around the use of plastics in packaging during the coming year.
Food companies have sought to demonstrate commitment to sustainable plastics by backing campaigns to increase plastic packaging reuse and recycling rates globally to 70% from the current level of 14% and push for a worldwide ban on oxo-degradable packaging, launched in 2017 by The New Plastics Economy, an organisation founded by The World Economic Forum and UK charity The Ellen MacArthur Foundation.
While endorsing such campaigns is important, food companies will have to ensure their own targets around the use of recyclable and recycled material in packaging are consistent with ambitious global aims. The coming year is likely to see increased engagement from food companies in public education to boost recycling rates, along with other initiatives aimed at fostering the circular economy.
Reformulation under scrutiny
Health and nutrition can also be expected to be a key sustainability issue for food companies in 2018, as it has been for successive years. Sugar is likely to remain the key nutrient of concern though, as has so often happened, when there is a period of sustained pressure over one issue or nutrient, concern grows that other areas are being eclipsed or ignored.
The UK's Scientific Advisory Committee on Nutrition (SACN) is due to publish a detailed report on consumption of saturated fat early in 2018. SACN's report on carbohydrate intake in 2015 was highly influential, and its forthcoming report may precipitate renewed action on saturated fat.
The launch of the UK government's childhood obesity plan, which included an industry levy on sugar-sweetened soft drinks and voluntary sugar reduction targets for certain food products, also attracted interest from other countries facing similar problems over obesity.
The publication of the first progress report on the plan, due in March, will be keenly awaited by those eager to know what can be achieved on sugar reduction, considered to be the toughest reformulation challenge food manufacturers have yet faced, when policymakers dial up the pressure.
Fresh thinking on sustainable diets
Another trend likely to gather momentum in 2018 is the synthesis of health and wellbeing aims with environmental goals.
The launch in 2017 of Food Reform for Sustainability and Health (FReSH), a coalition aiming to help create a food system providing healthy food "produced responsibly within planetary boundaries", and Danone's One Planet, One Health sustainability platform both speak to this trend. At a wider level, the SDGs also unite environmental and health goals.
It is early days for both FReSH and the SDGs but more holistic, synthesised thinking can be expected to influence how food companies approach sustainability challenges in the coming year and beyond. Such thinking will also help companies identify and optimise "sweet spots" where environmental and health objectives coincide.
There is no clearer example of this than the growing market for plant-based proteins. Investment in this expanding category, such as Nestle's acquisition of US plant-based protein specialist Sweet Earth in September, is potentially a triple win for food companies, representing a compelling response to both environmental and health campaigners while capitalising on changing consumer demands.
Energy and water – taking on the tough challenges
The staples of corporate sustainability strategies – energy and water – will continue to be defining markers of sustainability performance. However, the coming year will see the continuation of key developments in how energy and water performance are measured and reported.
More food companies can be expected to commit to science-based targets (SBTs) for carbon emissions. At the same time, companies will come under increasing pressure to adopt context-based water targets.
Driving down water use and carbon emissions in agricultural and manufacturing supply chains is already a priority for the food industry's sustainability pathfinders, and this extension of food companies' sustainability horizons will only increase over the coming year.
By the same token, companies that focus only on water and energy consumption in their own operations may become subject to criticism. While maximising resource efficiency in manufacturing facilities remains crucial, particularly in areas of water stress, a food manufacturer still limiting itself to the archetypal low-hanging fruit of sustainability may begin to be considered off the pace.
Higher profile on agricultural livelihoods
It is in their agricultural supply chains that food companies can do most to support the UN SDGs (in particular SDG 1 "to end poverty in all its forms – everywhere by 2030") but not surprisingly this is also where the toughest challenges are likely to come.
As food company sustainability strategies have evolved, the importance paid to improving the livelihoods of their agricultural suppliers has steadily increased. Particularly if public awareness and momentum around the SDGs builds as advocates and campaigners are hoping, scrutiny of food manufacturers' agricultural supply chains will increase substantially in the coming year. Companies that have been slow to respond to sustainability challenges in their supply chains will be under pressure to step up their efforts, while early movers will win plaudits and competitive advantage.
In spite of growing consumer concern over the sustainability of food supply chains, the coming year may bring challenges for sustainability certification organisations that have been so instrumental in progress to date. It has long been accepted that to realise change on large scale – and certainly on the scale envisaged by the SDGs – organisations such as Fairtrade need to look beyond certification.
Partnership key to expanding scope
While certification still has an important role to play, the relationship between certification bodies and major food companies is likely to change.
Mondelez International's decision to move away from Fairtrade certification, in favour of a new form of partnership it believes facilitates taking its sustainability efforts to greater scale, is an example other companies may follow, and 2018 may well see more developments of this kind.
Always important to corporate sustainability efforts, partnerships and collaborations – whether with peers, suppliers, governments or third-sector organisations – will play an increasingly significant role as food companies broaden the scope of their sustainability strategies and raise their ambitions.
In the coming year, global coalitions underway will continue and expand their work, hopefully attracting other companies to join, while new collaborations large and small are likely to be forged. In particular, public-private partnerships and collaborations with NGOs in developing countries will be key both to meeting food companies' supply chain challenges and to the food sector making an effective contribution to the attainment of the UN Global Goals.
Testing times ahead
Increased consumer pull for healthier and sustainably-sourced food may make certain investment decisions taken under the banner of sustainability easier for companies to justify but some – particularly those aligned with the most ambitious SDGs – require truly long-term thinking on the part of business leaders and investors.
Paul Polman, the sustainability-championing CEO of Anglo-Dutch combine Unilever, co-founded the Business and Sustainable Development Commission (BSDC) to demonstrate the business case for backing the SDGs to his peers.
In its Better Business Better World report, the BSDC asserts the SDGs could unlock market opportunities worth at least US$12trn per year by 2030, including US$2.3trn for food and agriculture. Business leaders, the report states, "need to help investors understand the scale of value that sustainable business can create" but selling the Polman view of value creation to those investors who hear 2030 and think half past eight is a tough ask.
Investor attitudes to sustainability have changed immeasurably in the nine years since Polman took the helm at Unilever but the battle for hearts and minds is far from won and may well intensify in the coming year.
It will also be a testing year in other ways. The resolute corporate response to Donald Trump's decision to withdraw the US from the Paris climate accord underlines how multinationals – and the food industry's own giants are among the most influential – can help galvanise international consensus on issues such as climate change and food security, particularly in times of political uncertainty.
On the other hand, public trust in corporations is at an all-time low, CEOs are facing questions over the disparity between their remuneration and what most of their employees are paid and globalisation as a force for good is under more serious examination than ever before.
As the SDG programme rolls out, there could arguably be no better time for food companies to step up their commitment to sustainability, but in the current climate there is no room for empty rhetoric or greenwash. To show their worth to a sceptical world, 2018 needs to be a year of demonstrable action and achievement.