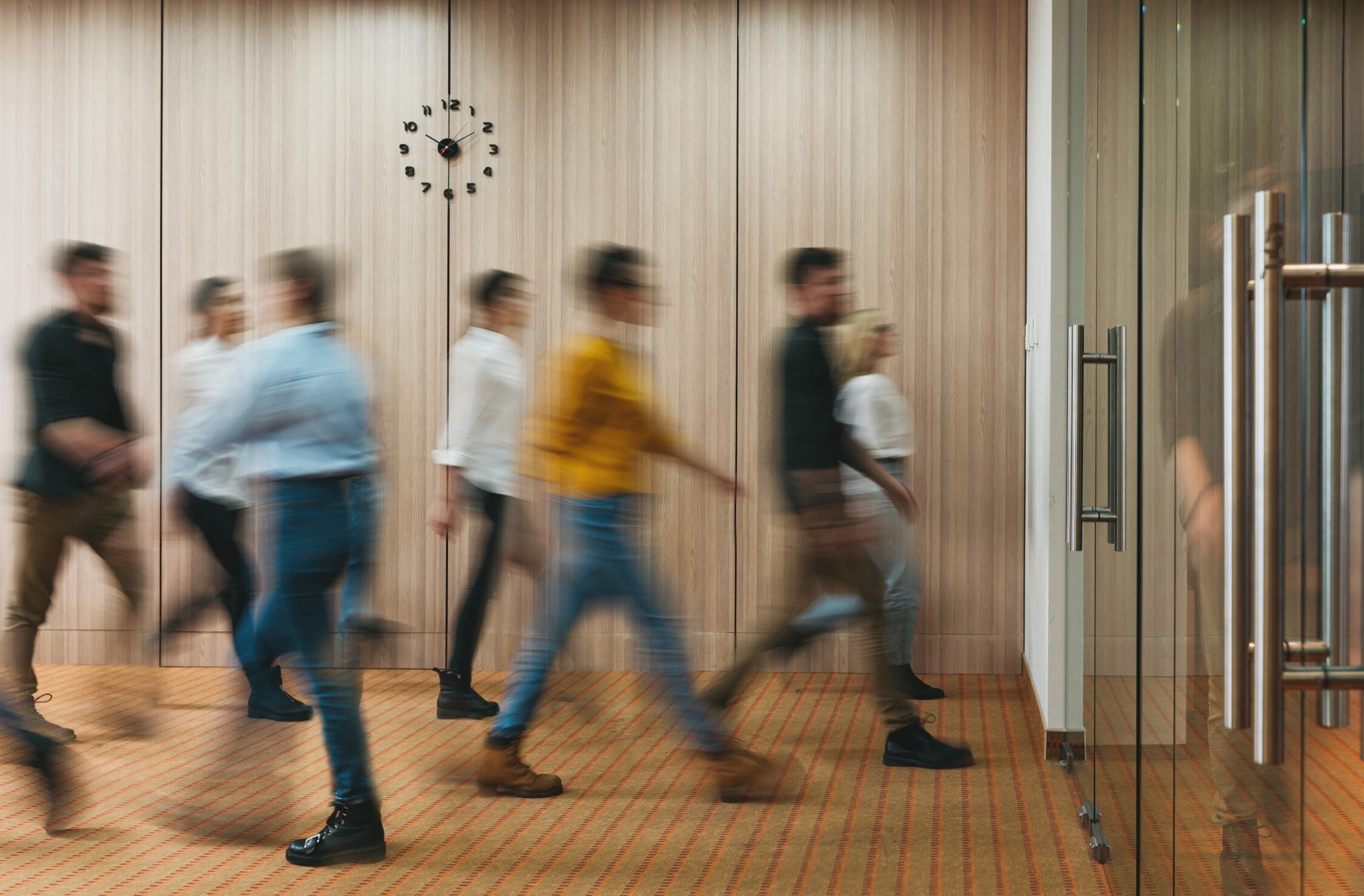 As the pandemic rumbles on, the war in Ukraine, restricted energy supplies and rampant price inflation are driving a sense of constant crisis across the business world, demanding companies adapt with hitherto inconceivable flexibility.
Food retailers and suppliers are responding by investing in automated operations and data analytics capabilities, embroiling them in a global scramble to attract and retain talent.
Competition is intense, not just for engineers, technicians, and commercial insights staff, but shop-floor workers prepared to don PPE and work in difficult cold-chain environments, too.
Adapting to these challenges and ensuring you have the staff to stay competitive is the essence of "the future of work", a concept food companies are embracing not just for survival, but as essential for sales and profits, according to Deloitte-led research.
"CPGs are recommending three days in the office because culture is so important, but also offering frontline and white-collar a user-friendly, technology-enabled menu of schedule and benefits options that allows them to book personal time, tap organisational resources, or request time off to get certified," says research co-author Barb Renner, Deloitte's US Consumer Products Leader.
Deloitte's research indicates a majority (70%) of US food companies look to human resources to lead on the future of work, propelling a flexibility-focused transformation that also has CEO-level leadership at 44% of surveyed firms.
Getting the hybrid balance right involves building employee consensus and being prepared to pivot if preferences change. "Running the hybrid model is difficult, but the key is to enable trust; we never chase but let people have self-accountability and present what they have done," notes Helen Murphy, CEO of Opply, an automated platform focused on improving food SMEs' communication and relationships with suppliers.
Opply aspires to be non-hierarchical and offers its workforce, which is split across the UK, Europe and North America, complete flexibility, while providing opportunity for all staff to meet somewhere in the world once a quarter.
This very appealing offering is indicative of a higher bar that rival bidders for industry talent must meet if they are to stay competitive, according to Andy Searle, managing director at management consultancy AlixPartners.
"FMCG brands were seen as a good career option but now they are in competition with start-ups and B Corps – there is clearly a greater desire to have work with purpose," he says.
That tilt toward purpose benefits companies with commitments that align with Environmental, Social and Governance (ESG) criteria.
Maple Leaf Foods, for example, aspires to become the world's most sustainable protein company, and emphasises a claim to have become world's first major carbon-neutral food company in 2019.
Building resilience in staff
The Canada-based group also exemplifies a growing tendency for employers to train existing staff into new roles, often with higher education support. Maple Leaf partners the Ivey School in Western Ontario and supports staff learning in areas like change management and the Six Sigma business benchmarking system.
Finland-based food and beverage company Paulig believes it's imperative to help staff build the necessary skills to manage change.
"We need people who have the resilience and adaptability to snap change what they are doing," explains Anu Pires, senior vice president for HR at Paulig. "We are supporting role shifting and international transfers into digital and insights at an unprecedented rate – we are pushing people out of their comfort zone because that's when you see the greatest growth."
For its part, Kraft Heinz is pioneering technology-based training solutions like Humu, which provides personalised coaching moments for managers, alongside Ezra, a mobile coaching and mentorship platform.
The battle for talent is also seeing food companies go that bit further to instil brand awareness. "My local school has built the equivalent of a manufacturing plant to train students," Deloitte's Renner says. "Community or business partnerships are another route – you might do something different in NYC versus a smaller rural town where a lot of food manufacturing is located."
Diversity and wellbeing areas of focus
Aside from offering lifelong learning, food companies are doubling down on mental health support. Kraft Heinz provides confidential mental health resources and counselling, mental health first aid training, and is piloting the use of the CALM app among 1,000 employees.
Ecotone, meanwhile, has expanded its employee wellbeing programme in the UK and cultivates an internal team of health champions, who invite speakers to talk on topics linked to company ethos such as nutrition and climate action. "Post-pandemic, we also take every opportunity to have lunch or do an activity together and reconnect," adds Ann Chambers, HR director for Ecotone's UK business.
Building a diverse workplace is integral to the future of work concept because it is essential to access the widest talent pool possible amid the acute labour market squeeze. For Ecotone's UK business, that has meant offering work opportunities for Ukrainian refugees in Dorset, while recruiting through postcards in post offices and tapping local partners and charity networks, in addition to more traditional means.
Opply looks to UK parenting website Mumsnet and local calls centres for staff. "Finding people who do not necessarily have degrees and training them up to increase their representation within the industry is a focus," CEO Murphy says.
PepsiCo aims to have 50% female representation in managerial roles by 2025 and is pursuing a return-to-work programme to help women professionals return after taking time off during the pandemic or for caregiving, according to Ronald Schellekens, PepsiCo's chief human resources officer.
One PepsiCo programme provides professional development workshops, feedback sessions, networking opportunities and mentorship support to interns along their journey as an on-ramp back into the workforce.
Kraft Heinz, meanwhile, is using digital tools like Pymetrics, an AI recruitment software that helps screen applicants through gamification, to help remove some of the biases that can come in the early stages of recruitment.
"Last year, we started using a software called Textio to help us write job postings which are more inclusive and easy-to-understand, allowing us to reach more diverse candidates," says Rodolfo Camacho, the chief people officer for Kraft Heinz's international business.
Investing in operational technology
Of course, there is an operational aspect to building a resilient culture as well. For example, Kraft Heinz recently announced a global partnership with Microsoft to create "digital twins" of many North American manufacturing lines that will allow testing of solutions before applying them on the factory floor.
"Digital twins replicate production processes in the virtual world," research and intelligence group GlobalData – and Just Food's parent – says in a report looking at the future of work in the consumer-goods sector. "Sectors with capital-intensive assets, like manufacturing, are pioneering use cases that create virtual representations of physical objects and assets to help optimise design, monitor performance and predict maintenance requirements.
Ecotone UK partners with economic forecasting companies to build as clear a picture as possible about the challenges coming down the track. "Resilience workshops around anticipating changing demands and how we will react, for example in our supply chains, also play a key role," Chambers says.

While there is an understanding that, as the nature of work has changed, the space in which it takes places needs to change too, cash-strapped companies are holding back on buying new office spaces.
Those that can afford it are investing in technology and rejigging layouts to make collaboration easier. Kraft Heinz encourages staff to congregate in demo kitchens and use meeting rooms with interactive whiteboards and videoconferencing technology, for instance.

PepsiCo has repurposed its work locations around a "4Cs" framework, making physical spaces places for collaboration, creation, connection and celebration. "[We] utilise reservation solutions and enhanced meeting room technology for in-office work, as well as collaboration tools, such as Zoom, Teams and Yammer, for virtual and remote workflows," Schellekens says.
Aside from ensuring staff have the right systems to work remotely, companies are also investing in technology that helps maximise the efficiency of office space usage, not to mention virtual artworks that can be flipped to suit different moods.

"We are also equipping frontline associates with tools like smart headsets which enable training in their preferred language, and electric trucks that help them work faster, better and more sustainably," Schellekens adds.
Half of respondents in Deloitte's survey indicated they had "too many competing priorities" to focus on the future of work, but the concept is increasingly to the fore amid a gathering sense the steady-state world we once enjoyed is a thing of the past; that upheaval is the new status quo.

Making the time to address the future of work in the round and instil the agile culture necessary to adapt to the next major disruption will likely prove crucial to surviving the next major change in food industry dynamics.