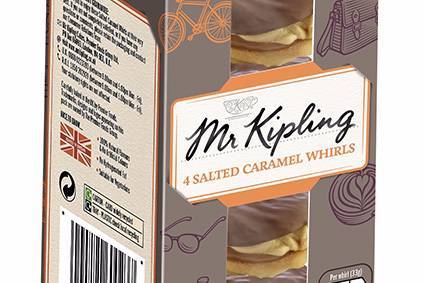 Here just-food presents rolling coverage and analysis of the takeover interest in Premier Foods from McCormick & Co. Premier rebuffed three proposals from the US spices and seasonings group, while Japan's Nissin Foods Holdings, which outlined a "co-operation agreement" with the UK group in areas such as innovation and distribution, built a stake in the Mr Kipling maker. McCormick has decided against pursuing its interest in the UK group.
14 April
What lies ahead for the still independent Premier? When the UK group revealed McCormick's interest last month, the Cadbury cakes maker set out how it would plan to grow its business – and upped its target for annual sales growth. All eyes will be on Premier's management to see if it can deliver. We reflect on what could be next for Premier on our analysis pages.
13 April
Early evening in the UK and the first reports emerge of frustration among Premier's shareholder base.
US hedge fund Paulson & Co., one of the investors that had criticised Premier earlier in the process, said it was "extremely disappointing that the board could not recommend an offer at a 106% premium to the pre-announcement price".
John Baillie, a director at Mole Valley Asset Management, holding less than 1% of Premier's shares, told The Financial Times: "The management has played its hand badly from start to finish. The pressure is on them to show they were right to play hardball – and to deliver."
13 April
In a surprise announcement, the US group says it has ended its pursuit of Premier. "McCormick has, after careful consideration, concluded that it would not be able to propose a price that would be recommended by the board of Premier Foods while also delivering appropriate returns for McCormick shareholders," the US herbs and spices maker says.
A reaction from Premier swiftly appears. The Mr Kipling maker stresses it had "engaged extensively with McCormick to provide it with the information requested".
The Premier board believes the company will deliver more value as a stand-alone unit than what could have been derived from McCormick's previous latest proposal. "The board sees a strong future for an independent Premier Foods, and believes that the foundations have been laid for significant growth and shareholder value creation," the group said.
Shares in Premier stood at 25.14% at 42.67p at 10:05 BST. McCormick's most recent proposed offer was worth 65p a share.
7 April
Analysts at Shore Capital issue a note reflecting on Premier's announcement from yesterday afternoon on the talks with McCormick and the UK group's plans to meet with investors.
Clive Black and Darren Shirley said it was "perhaps encouraging" the Sharwood's sauces maker had said discussions with its US suitor had been "constructive" but added: "The McCormick bid situation may be complicated by the near 20% equity stake that Japanese consumer goods group Nissin has accumulated in recent times, the highest price paid seems to be 63p to date. Quite how much of a spanner this is in the McCormick acquisition gear remains to be seen; we sense that it is a prime factor behind the substantial market discount that Premier's shares have been trading on in recent days," they wrote.
At 10:16 BST this morning, Premier's shares stood at 58p, down 0.85% on the day. McCormick's most recent proposed offer was worth 65p a share.
Black and Shirley said they "welcome the engagement" set to take place between Premier and its main investors, some of which have been critical of the business since McCormick's interest was revealed.
However, the analysts added: "We remain minded to accept this current 65p offer over the potential wait noting that FY2017 starts to see an increase in pension contributions as per the refinancing schedule for Premier. That said, if Premier can negotiate a higher price from McCormick, maybe Nissin too, then all well and good. Whilst this is so, the currently bid situation appears unduly fragile and we hope for all concerned that the constructive dialogue leads to a firmer outcome for Premier's shareholders."
6 April
In a statement to the London Stock Exchange, Premier reveals its management has had presented McCormick with details of its own plans to grow the business and more details on plans to pay the Mr Kipling maker's pension deficit. Premier describes the talks as "constructive".
The UK group plans to meet its main institutional investors in the coming days. Premier provides a copy of the presentation it plans to make to shareholders, in which the company is set to talk about the plans it has for its three divisons – sweet treats, grocery and international – its planned agreement with Nissin. Ideas Premier and Nissin have discussed include launching Nissin-type noodle under the UK group's Batchelors brand.
Premier shares close at 55.62p, up 0.22% on the day. As a reminder, McCormick's most recent – rebuffed – proposed offer was for 65p a share.
4 April
Over the weekend in the UK came a report from The Daily Telegraph?, which quoted a "top shareholder" in Premier saying the company's board should be shaken up – and CEO Gavin Darby depart – should the group not be sold to McCormick.
"If McCormick cannot do a deal, then Premier's board needs to be looked at, and Gavin Darby in his role as chief executive," the shareholder told the newspaper.
According to the Telegraph, another "larger shareholder" in the Sharwood's sauces owner said a hike in McCormick's latest – and rejected – proposed offer of 65 pence a share to 70p should be enough for a deal to be agreed, although the investor said an offer nearer 80p would be preferable.
31 March
Nissin is keeping its cards close to its chest. The Japanese group responds to a series of questions from just-food. On 28 March, we asked the following:
Is Nissin interested in increasing its stake in Premier Foods beyond the 17.3% from Warburg Pincus?
Is Nissin interested in acquiring 100% of Premier?
How does Nissin view McCormick's interest in Premier? What would Nissin's reaction be should McCormick table a higher offer for Premier? Would Nissin consider selling its stake in Premier to McCormick?
Of course, since then, Nissin has upped its stake in Premier – and McCormick has put forward a higher proposed offer for the business.
This morning, Nissin replied: "In accordance with company policy and the Co-operation Agreement with Premier Foods, we are not allowed to make any comments on your questions below at this moment. Your kind understanding would be appreciated. When the situation changes, we would announce it by releasing on our website."
30 March
In the US, Sanford Bernstein equity analyst Alexia Howard gives her verdict on the latest proposal from McCormick and on Premier's response. "The likelihood that the deal goes through is high," Howard says. "Premier Foods's stock is currently trading around 60p per share, or at roughly the previous McCormick bid, so investors do indeed expect a deal to happen. Furthermore, with the massive increase over the stock price prior to any deal announcements, investors are likely to expect Premier Foods to ratify the deal. Furthermore, Premier Foods has been under pressure from investors like Paulson & Co. to seriously consider the offer at hand."
Nonetheless, while Howard again says a deal for Premier would be accretive to McCormick, she reiterates her concerns about the strategic rationale for the transaction. "We consider that Premier Foods has a weaker portfolio overall, so it would dilute the quality of McCormick's portfolio. We would think that McCormick could potentially be better off spending its capital elsewhere. However, given the appeal of the categories in which McCormick competes, which have a health and wellness appeal, it is likely that reasonable deal multiples could be hard to come by."
30 March
Just after 1pm UK time, Premier issues its response to McCormick's latest offer. The UK group insisted the 65p-a-share approach "continues to under-value Premier", referring again to the reasons it set out on 23 March.
However, Premier does say its board is prepared to meet McCormick and to give its US suitor the due diligence it is after. Premier adds: "The board has informed McCormick that it will be expected to provide an improved proposal following these meetings. Generating shareholder value remains the board's key focus."
Shares in Premier were up 7.17% at 60.55p at 13:26 BST.
30 March
Just after 9am, it emerges Nissin has increased its stake in Premier amid some heavy trading in the shares of the Mr Kipling maker. In a filing to the London Stock Exchange issued just after 9am, Nissin announces it now holds a 19.9% stake in Premier. The shares were acquired on 29 March, before McCormick's latest proposal was announced.
30 March
McCormick returns with a new proposed offer for Premier of 65 pence per share, up 5p on the last indicative bid made on 14 March. The Schwartz owner reiterates its stance set out on Thursday by saying the new proposal is subject to the "limited confirmatory due diligence" of a review of material pensions documentation, current trading and material contracts.
In its statement, McCormick says the offer would be "well received by Premier Foods' shareholders, employees, pensioners, creditors, and other stakeholders" and calls on Premier's board to open discussions.
Talking to just-food, one analyst in the City who wishes to remain anonymous, says: "I think a lot of shareholders would be happy with a little bit more than 65 pence – but a lot would take 65 pence."
Analysts at Shore Capital issue a note to say they believe McCormick's new proposal represents "a good compromise price". They say the latest indicative bid allows "Premier's management to highlight the extra value it has extracted from McCormick, whilst also offering shareholder's the opportunity of a cash exit today at a reasonably full EBITDA valuation rather than waiting for the chance of a higher price through operational improvement highlighted by the company in its statement to the market last week, which is not without risk".
Premier is yet to respond publicly to McCormick's latest proposal. At 13:03 BST, shares in Premier stand at 59.25p, an increase of 4.87% on the price at the close of trading on 29 March.
29 March
As scheduled, McCormick announces the financial results for its first quarter. On a conference call to discuss the numbers with equity analysts, McCormick president and CEO Lawrence Kurzius briefly mentioned the company's interest in Premier in his prepared remarks.
"Premier Foods is just one idea in McCormick's robust acquisition pipeline, one that would be a great addition to our business. This acquisition would be consistent with our growth strategy, adding iconic brands that complement our product portfolio, increasing our current scale and presence in the UK market and creating potential to drive growth through innovation, marketing and expanded international distribution," Kurzius says. "We believe our offer is highly attractive for Premier Foods shareholders and an opportunity to build value for McCormick shareholders. At this stage, given UK regulatory restrictions, we're limited beyond what we can say in our recent announcement. Consistent with our acquisition strategy, we will be disciplined about returns and value creation for McCormick shareholders."
However, McCormick faces questions from some analysts on why it is targeting Premier. Sanford Bernstein analyst Alexia Howard echoes some of the questions that had been swirling around the wider industry, putting to McCormick's management a deal for Premier would see the US group extend outside its core categories, invest in slow-growth, mature market in the UK and would be larger than the company's recent transactions. Kurzius sets out why the company is attracted to Premier and the UK market, which you can read on our news pages here.
In a note to sent to clients after the conference call, Howard still does not seem convinced by McCormick's interest in Premier. "While we expect the deal to be accretive given Premier's lower valuation than McCormick, we still question the strategic rationale going after a company in the challenging UK market with lower growth prospects," Howard writes.
Later in the call, the heat is turned up further on McCormick's management by Max Lewis of JP Morgan, who asks about Premier's debt and its pension deficit. You can read the exchange between Lewis, McCormick CFO Gordon Stetz and Joyce Brooks, the vice president of investor relations at the US group, on our blog pages.
Another analyst on the call, BB&T Capital Markets' Brett Hundley, issues a note with commentary on McCormick's Q1 results and on its interest in Premier. "At its reported bid price of 60 pence a share, McCormick would incur an outlay near $2.2B, we calculate, when accounting for assumed debt and initial pension plan funding. This represents a EV/EBITDA multiple near 10.5x, we believe, for the Premier business. We calculate the potential deal as very accretive, to the tune of $0.30 or more, before synergies. Although Premier is slower growing in what has become an ultra-competitive market, we believe the deal has arguable strategic benefits, as it would give scale to McCormick against a consolidated retail set, and would potentially allow McCormick to leverage its global platform in broadening Premier sales."
Premier shares close up 8.65% at 56.5p. McCormick shares close 2.29% higher at US$99.59.
28 March
In an interview published with UK newspaper The Daily Telegraph, Premier CEO Gavin Darby suggests rival bidders for the company could emerge. "The board feels that the single thing shareholders look for is a competitive environment when it comes to a company in play," he said. "It is a competitive environment," Darby tells the newspaper.
24 March
At 14:45 UK time, McCormick announces it would mull making a higher offer for Premier should the US spices and sauces owner be allowed to undertake some due diligence on the Bisto gravy maker.
McCormick says it is "willing to consider increasing its latest offer if justified" should Premier's board gave it information on the company's current trading, major contracts and significant details on its pension liabilities.
24 March
Two major shareholders in Premier criticise the UK group. Standard Life Investments, the fund arm of insurer Standard Life, holds around 7% of Premier. It rebukes Premier for rejecting the two proposals for McCormick. It also expressed disappointment at news Nissin has bought a stake in the business.
US investment fund Paulson & Co., which owns just over 7% of Premier, says it "notes with concern" Nissin's purchase of 17.27% of the UK group. "The [Premier] board has created an environment where they appear to be favouring Nissin Foods, which paid a significant premium to one shareholder, to the detriment of all other shareholders who were not offered any premium, and also to the detriment of other bidders who could be discouraged by Nissin Foods' 17.3% stake," Paulson's Orkun Kilic says. "We communicated to the chairman yesterday our belief that after receiving the approach from McCormick & Co., the company should fully engage with McCormick. We also urged him to proactively solicit other offers for the whole company, including from Nissin Foods."
The criticism prompts Premier to issue a statement to the stock exchange. Premier's board reiterates its belief McCormick's latest proposal was "highly conditional" and "significantly undervalues the company and its prospects". Nevertheless, the board adds: "However, should McCormick, or any other bona fide potential offeror, come forward with an improved proposal that better reflects the board's assessment of the company's underlying value over the longer term, the board would give such offer careful consideration and evaluate its merits – including the level of conditionality – having regard to the best interests of all of its shareholders, employees and other stakeholders."
24 March
This morning, speaking to just-food, Darren Shirley, an equity analyst covering Premier's stock for Shore Capital, suggests the 10% fall in the UK group's share price today indicates the market believes the likelihood of McCormick making "a further bid or going hostile is materially diminished".
Nevertheless, Shirley outlines why he thinks McCormick could be interested in buying Premier. "[Premier] is a business whereby top-line growth and overall growth has been hard to come by but it's still a business that has got very attractive margins. We're forecasting 16.5-17% EBIT margins this year and next and they would be comparable in the main to any global branded players," Shirley says. "The new strategy, whilst it's taken place in probably the toughest two years in UK grocery in living memory, has demonstrated where they've been able to put some resource there has been some positive response from the brands. The issue they've got is the resources is so limited there are only able to do one brand at a time, or maybe two. That's just a function of its debt and its pension commitment. If it was to go to McCormick, they're buying brands that have got very healthy margins and you've got the capability to put a bit more of your NPD know-how and a bit more marketing support behind them. You could get what is pretty anaemic growth going to that 2-4% range."
24 March
Nissin buys the 17.27% stake held in Premier by US private-equity firm Warburg Pincus in a deal worth 63 pence a share.
The Japanese group confirms the move to acquire the shares will also include the "dispatch" of a non-executive director to the Premier board as per the proposed "relationship agreement" set out by the two companies yesterday.
In a statement, the Premier board "welcomes" Nissin as a "long-term shareholder who understands and supports Premier's growth ambitions".
23 March
In the hours after Premier's announcement, there was, among some industry watchers, a sense of uncertainty about why McCormick would moved for the business, which generates the bulk of its sales in the mature, fiercely competitive UK grocery markets and with a portfolio larger in lower-growth, centre-store categories.
That afternoon, McCormick makes its first public statement, insisting its proposal to buy Premier "should be well received" by the UK group's investors – and setting out why it was eyeing the Bisto gravy owner.
The US spice maker says the 60p-a-share proposal reflects "a substantial premium to all relevant recent Premier Foods share price metrics". The approach represents a 90% premium to Premier's share price before the announcement, and a 55% premium to the UK group's 12-month, volume-weighted average share price of 38.6p for the period up to 22 March, the day before the approaches became public, McCormick asserts. "In addition, the implied exit multiple of 10.3x pro forma 2015 EBITDA compares favourably with recent significant UK food transactions."
The US group claims an acquisition would "add a portfolio of iconic, household-name brands" that "complement McCormick's product range and expertise". It says said a deal would "significantly increase" its presence "in a large grocery retail market". McCormick says it would "leverage" its innovation and marketing as well as its "strong balance sheet" to "improve on the execution of Premier Foods' strategy". It believes it can grow Premier Foods' presence in international markets. The UK group generates the bulk of its sales domestically, but has been trying to build business in markets including the US, Australia and China.
In the US, Alexia Howard, an equity analyst covering McCormick's stock for Sanford Bernstein, says a move for Premier would be "nicely accretive" but raises some strategic questions. "McCormick has done a great job acquiring and scaling bolt-on assets, particularly in the emerging markets to add growth to the overall portfolio. Premier Foods has lower growth prospects than McCormick as [it] operates in a developed market."
23 March
Premier Foods plc, the UK group behind brands like Mr Kipling and Ambrosia, announces it has turned two proposed takeover offers from US spices and condiments group McCormick & Co. – while announcing a "co-operation agreement" with Japan's Nissin Foods Holdings.
McCormick, the owner of brands including Schwartz and Ducros, has made two approaches to Premier in the last month, both outlining possible offers for the business – the first at 52p a share and the second at 60p. "McCormick's proposal significantly undervalues the business and the board has unanimously decided to reject it," Premier chairman David Beevers says.
Analysts at Shore Capital say McCormick's 60p-a-share proposal implies a price-to-earnings ratio of 7.1 times and an EV/EBITDA multiple of 6.8 times for Premier, which they describe as "hardly knockout multiples in our view".
Premier also says it has agreed to enter a co-operation agreement with Nissin. The deal will, for example, see the two companies work to "accelerate the distribution" of Premier's products in key overseas markets. The UK group said the agreement could also give it "access to Nissin's innovative products and formats" to distribute in the UK market under both the companies' brands.
The UK group also revealed it mulling entering into what is called under UK stock exchange rules a conditional "relationship agreement" with Nissin. Such an arrangement could give Nissin the right to appoint a non-executive director to the Premier Foods board, should the Japanese group take a minimum 15% stake in the company.
However, Nissin has told Premier it does not intend to make "any offer" for at least the next six months. That statement comes with provisos, including if a third party announces a firm intention to make an offer for Premier.
And, in a lengthy statement, Premier outline a series of initiatives to accelerate its growth – including to "build on" the "successful trial" of Mr Kipling and Cadbury cake lines, taking grocery brands into chilled aisles and growing its business outside the UK through its cake brands. Premier upped its forecast for medium-term sales growth from 1-2% a year to 2-4%.
Shore Capital analysts say: "We believe such initiatives undoubtedly make sense, though would also stress that in our view they represent more a firming up of existing plans rather than a wholly new strategy. We also question whether the broader investment community will be convinced of the achievability of the revised sales growth guidance, particularly given management has struggled to demonstrate/convince it can deliver the previous 1-2% growth on a sustainable basis."
Under the UK Takeovers Code, McCormick is required to either announce a firm intention to make a bid for Premier or state it does not intend to table an offer by 17:00 BST on 20 April. The deadline can be extended with the consent of the Takeovers Panel.