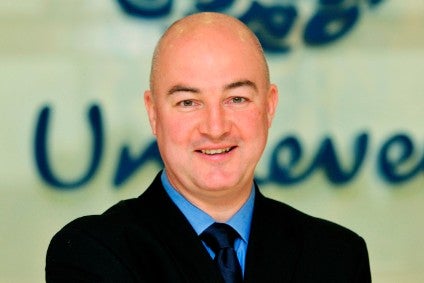 Paul Polman's departure from Unilever will mark the exit of one of the food sector's most high-profile CEOs. But how could his successor Alan Jope shape the FMCG giant?
Unilever CEO Paul Polman has proven to be one of the most visible, vocal and – at times – controversial chief executives in the international packaged food sector.
The Dutchman's departure, coming as he approached a decade in the Unilever hot seat, has sparked acres of column inches in the international mainstream business press over the last 24 hours, given his vision for conscious capitalism, the FMCG giant's high-profile rejection of takeover interest from Kraft Heinz and, most recently, the dispute with some investors over plans (ultimately abandoned) to move the company's headquarters to the Netherlands.
But what lies ahead for the Marmite and Magnum maker under the stewardship of new CEO Alan Jope? What could be the future for Unilever's food and refreshment (ice cream is included in the latter) businesses, which represents around 40% of its annual sales?
Who is Alan Jope?
Into his fourth decade at Unilever, Jope will move from a role as president of Unilever's beauty and personal care division, home to brands including Dove soap, VO5 shampoo and Axe deodorants.
Since joining Unilever in 1985, the 54-year-old Scot has held a number of positions, including what the company calls "global category leader" for "several" of its food and refreshment businesses between 2000 and 2009.
Jope then spent two years as chairman of Unilever's operations in Greater China before becoming president of the company's businesses across north Asia in 2011. Two years later, he became president of Unilever's units in Russia, Africa and the Middle East. In 2014, Jope was appointed president of the group's personal-care division, which was renamed beauty and personal care earlier this year.
In November last year, when media reports emerged Unilever had hired advisers to look for a successor for Polman, Sanford Bernstein analyst Andrew Wood described Jope as the "current favoured internal candidate" amongst investors who had met most of the Knorr owner's senior executives.
However, Wood did caution at the time "the recent quite disappointing performance of Jope's personal care business, despite the significant investment being made behind the business in recent years, will surely not be positive for his candidature".
In a note to clients yesterday, Wood said: "Alan Jope was our favourite to take over, a view we think was shared among investors. Jope is a high-quality internal candidate who should be capable of continuing on with Polman's good work."
At Jefferies, equity analyst Martin Deboo reflected: "We expected an insider and see Jope as a capable executive."
Speaking to just-food, MainFirst analyst Alain Oberhuber points to Jope's experience in Asia, key markets for Unilever, but suggested some investors may have been expecting another senior company executive to succeed Polman.
"Obviously he's a Unilever guy, he was for a long time in Asia, China as well, so he knows the firm very well. He has [had] good performance. I guess investors wanted to see Nitin [Paranjpe, company veteran, now the CEO of Unilever's food and refreshment division] as CEO and not really Alan," Oberhuber says. "Nitin has a stellar performance in laundry, improving the margin significantly, as well as growth with product innovation. Talking to investors, I felt they would have liked to have seen Nitin as CEO and less so Alan. But Alan, I think, is a good replacement becomes he comes internally, which is vital. Paul talked a lot about education, supporting top-notch youngsters who could become managers, so it's vital they picked an internal candidate."
Unilever's 2020 margin target
In a note to clients yesterday, Jefferies' Deboo set out what he saw as "immediate priorities" for Jope – "accelerating growth, resolving the future of the 2020 plan and rebuilding relationships with UK shareholders, damaged by the simplification imbroglio".
Without wishing to play down the problems Unilever encountered over the plans (now abandoned) to simplify its listings in the UK and the Netherlands and move its HQ to Rotterdam, of greater interest to those in the food industry will be how Jope views the company's target of having an underlying operating margin of 20%.
"My feeling is they probably stick with [the 2020 plan]. It's a good plan, I've always believed it's a good plan, a deliverable plan. I don't agree with the view in the market that it's a milking strategy that leaves the business denuded. It's sensibly balanced," Deboo tells just-food.
That said, Deboo suggests Jope may decide Unilever has made enough progress on its margins in recent years, even if it has not yet hit that 20% mark, amid some concerns in the market about the company's sales growth – and with the 3G Capital model of ramping up margins through slashing costs falling out of favour amid Kraft Heinz's lacklustre growth.
"I changed my view on Unilever in October. I downgraded it partly on top-line concerns," Deboo reflects. "Fashion has shifted in the last year very dramatically back in favour of what I call the European model of top-line focus, plus gentle margin improvement, rather than the 3G model of very aggressive action on the cost base. Jope might calculate they did what was necessary, they've made very good progress. He might judge he would get a pass [from investors] on rebalancing the plan a bit."
How should Jope view the future of Unilever's food business?
Under Polman, Unilever's centre of gravity moved firmly away from food, with a series of acquisitions in home and personal care and a number of notable disposals in our sector, including deals to sell Slim-Fast, a clutch of assets in the US and, late last year, the company's spreads business (now called Upfield Foods).
While Jope spent most of the Noughties in food-focused roles, he is, like Polman, seen by Jefferies' Deboo as "an HPC man". The analyst adds: "If you look at his CV, he made his name turning around China, which is an HPC market for Unilever more than a food market. He's run beauty and personal care. He's presided over the Carver Korea acquisition. All his reflexes seem to me to be in the direction of personal care – as indeed were Polman's, so in that sense it's not a great change."
However, Unilever has, of course, maintained a presence in food and a strong one at that in certain categories, notably in some savoury segments under the Knorr brand and in ice cream, where the company is the world's largest manufacturer. During Polman's tenure, Unilever continued to make acquisitions in ice cream and has announced two more deals in 2018. Moreover, in 2017, Unilever snapped up two food businesses outside ice cream – US condiments maker Sir Kensington's and Brazilian natural and organic food business Mãe Terra. Unilever has remained committed to food, albeit in a more focused way – and there have been reports in India it is tussling with Nestlé for GlaxoSmithKline's consumer nutrition business, which includes at its heart the Horlicks food and beverage brand in India.
Nevertheless, Polman faced continued questions over how Unilever saw its long-term future in food and the appointment of a new CEO at the company will likely see those doubts resurface.
MainFirst's Oberhuber says investors see Unilever's presence in food as "weak, very weak". He adds: "They like the personal care business, they like the laundry business. They understand [Unilever] has very good brands in ice cream in Ben & Jerry's and Magnum but [the company] needs even more size there and people are lukewarm about the dressings business."
Oberhuber argues Jope should analyse the future of Unilever's dressings business (at the centre of which sits Hellmann's mayonnaise) due, he contends, to the low growth rate in that category and question marks over how well products can perform in different markets. The analyst then suggests Jope should possibly look at taking some significant action to reshape the group's overall profile entirely.
"He should really look into the dressings business, maybe get rid of that. Kraft Heinz could buy that. Then, in the ice cream business, probably he's not going to exit it, so probably he should buy the ice cream business of Nestle. Then really focus on Knorr. That's for the mid term," Oberhuber argues. "And then probably he should spin off the food business overall and list it."
At Jefferies, Deboo plots out another course of action. "I'm still in the camp that sees it a bit more binary," he says. "I think there could be a time when they sell food and refreshment wholesale, including ice cream, which is the jewel. They have to leave that in the deal as the sizzle if you like. My strong belief is they will eventually buy Colgate and become an HPC company. I'm not sure they'd [exit food] in several chunks. The fact they combined food and refreshment managerially suggests they see it as one unit.
"Kraft Heinz is the obvious buyer of the food business. Polman is going and therefore the sort of bad blood is going around the Kraft Heinz bid approach. The fact Polman has gone means there's a basis for a conversation with Kraft Heinz. They're struggling for growth and need to internationalise their business and need to get into higher-growth categories. At the same time, Colgate is troubled, seeing declining performance, has a succession issue with its CEO, the share price has gone down from US$80-90 to $60. I'm not sure you have to wait as long as three to five years. On the other hand, Jope isn't going to want to sit down at his desk on day one and sell food and refreshment and buy Colgate. He's probably going to want a year to get his head around things."
For all that, could Unilever's dual listings hamper any large-scale M&A? It was something the company emphasised when it tried – and failed – to pursue a single listing.
And what about Unilever's sustainability mission?
Polman was perhaps the most vocal advocate for the food industry – and business in general – to embed sustainability in how companies operate.
On issues from climate change and water scarcity to energy use and ethical trading, the Dutchman was almost Polman the preacher.
In 2010, Unilever launched its Sustainable Living Plan, a ten-year programme to reduce the company's impact on the environment and "decouple" that impact from its growth. "It's our business model. This is the way we do business. This is our permission to operate ten, 15 years from now," Polman just-food in an interview in 2012.
Not everyone in the investor community welcomed Polman's position (nor, for that matter, those of peers like Danone CEO Emmanuel Faber), arguing the purpose-led approach to running the business was in danger of being at the expense of shareholders.
Jope has been part of Unilever's senior management since 2011, so one assumes he supports the company's programmes, which are among the most comprehensive in the industry. But could Unilever make changes under a new CEO?
"Polman's corporate social responsibility agenda certainly did gripe with a number of investors and so we shall watch with interest to see if continuity persists in this arena; we would expect evolution rather than revolution though," Clive Black, the head of research at UK stockbrokers Shore Capital, says.
Jefferies' Deboo agrees there will be some changes – and argues Jope should look to do so.
"My logic would be it would be hard not to be less sustainability-focused than Polman. Polman was the absolute high priest. My sense of Jope is that he comes across as this sort of, straight-up, affable guy, who looks to me to be more of a commercial pragmatist. My sense is you'll probably see it dialled down. That's my instinct," Deboo says.
"It may be my personal prejudice but I think it had gone too far anyway. Not only was it alienating shareholders but I also think the marketing execution at Unilever had become far too leaden and earnest and purpose-driven. The Sustainable Living Plan was squeezing the joy out of the marketing, in my view. I would hope that Jope would dial that back a bit."
Jope may be a Unilever veteran but there is often plenty of scope for internal candidates to enact change. Polman knocked Unilever into far better shape than he found the business but there are likely to be some tough questions ahead for his successor.