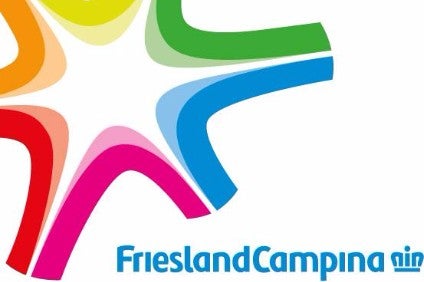 FrieslandCampina, the world's fifth-largest dairy business, has announced the departure of CEO Roelof Joosten, with CFO Hein Schumacher to take the helm of the Dutch cooperative in the new year. Simon Harvey looks at what could be at the top of Schumacher's to-do list.
Only weeks after Dutch dairy cooperative FrieslandCampina cut its executive board by a third to include just CEO Roelof Joosten and CFO Hein Schumacher, the former is stepping aside to make way for his finance counterpart.
Joosten's departure, announced at the end of September, brings an end to more than a decade's service at FrieslandCampina. In his time at the co-op, Joosten, when COO of its ingredients business, was credited with finding added-value avenues for whey powder. As CEO, Joosten presided over a business that had success in areas such as infant nutrition in China. However, the co-op's financial results have been mixed.
Global dairy is a tumultuous business in an era of swinging raw milk prices latched to the mercies of supply and demand. Add to that the scrapping of European milk quotas in 2015 – originally put in place to prevent overproduction – and the dilemma now faced by dairy co-ops as to where to channel the excess and still make money for shareholders. However, western dairy multinationals are facing such a dilemma amid muted growth for dairy sales in their home markets and challenges in some key emerging markets.
In recent years, FrieslandCampina's sales have been stagnant and earnings have fluctuated. Under Joosten, appointed FrieslandCampina CEO in 2015, the company has improved its profits but struggled to grow sales.
In 2013, the company reported falling profits after an impairment charge due to the "crisis" in the European dairy market, when economic conditions hit its consumer-facing business in the region. Profits rebounded in 2014 when lapping that impairment but underlying earnings were down.
In 2015 and 2016, the co-op's net profit grew year-on-year. However, the company has struggled to grow its top line. In 2013, annual revenue stood at EUR11.4bn (US$13.46bn at current exchange rates). Last year, FrieslandCampina generated revenue of EUR11bn.
Schumacher, who became CFO in 2014 after spending more than ten years at HJ Heinz, one of the forerunners to US food giant Kraft Heinz, will take on the CEO role from the start of next year.
Preben Mikkelsen, a Denmark-based dairy industry consultant with his own firm, PM Food & Dairy Consulting, tells just-food he was "surprised" at Joosten's exit.
Mikkelsen – who has covered the dairy business for 30 years – suggests FrieslandCampina's board of directors "got second thoughts as to whether he was the right captain to lead the ship into the new decade, or to the end of the decade".
"It is not a crisis signal," he says, when asked if financials played a part in Joosten's departure. "I think they are taking decisions in due time to avoid stagnation and not to lose the dynamic in the company."
Success as a multinational dairy business is in large part determined by geographical diversity and innovation amid a race to stay ahead of the pack in creating both value-added and high-margin, branded products, while still taking care of your bread-and-butter customers and low-value lines. Dairy giants like FrieslandCampina are also facing muted growth in markets like Europe and evolving consumer preferences for healthier food options.
FrieslandCampina characterised 2016 as a "turbulent year", when it saw a "huge" increase in the supply of milk linked to the end of EU quotas, and a continuation of the drop in prices of basic products seen in the previous two years. On the plus side, the company said prices of cheese and butter increased, as did growth in volumes of added-value products.
Problems were encountered the previous year too as operating profits worsened in cheese, butter and milk powder on the back of increased milk supply, which led to some products being sold at a loss. But margins were up due to the sale of more added-value products in Asia and in the ingredients group.
More than 50% of FrieslandCampina's revenue was concentrated in Europe in 2016, a year when the number of dairy farm members had dwindled to about 13,300 from more than 19,000 two years earlier.
FrieslandCampina's cheese, butter and milk division, which includes the Milner cheese brand, was the second-biggest earner among the co-op's six individual business units after the group's consumer products Europe, Middle East and Africa division. The firm's consumer products Asia arm ranked third, followed by its ingredients unit and then consumer products China, a new sector formed following an infant formula joint venture with Huishan Dairy Holdings in 2015.
In an effort to make that structure less complex, FrieslandCampina reorganised those six divisions into four in August: consumer dairy, specialised nutrition, ingredients and basic dairy. The new arrangement, which will take effect on 1 January to coincide with Schumacher taking the CEO baton, will, FrieslandCampina hopes, enable the company to more decisively respond to market developments and innovate along its strategic priorities.
Mark Voorbergen, a Netherlands-based dairy industry consultant and partner at Claassen, Moolenbeek & Partners, says with limited volume growth in the dairy sector in western countries "the big challenge in these saturated markets is to make sure they keep a decent margin".
Voorbergen says a priority for the new FrieslandCampina CEO is to improve earnings from the co-op's branded business in western Europe. "The challenge for Schumacher would be to have stronger profitability in western European brands, as most of the company's profits are generated in the international [ingredients] business, after Joosten's strong track record in this business in the past decade," Voorbergen explains. He adds innovation should be high on Schumacher's agenda. Voorbergen says the company needs "to do something unique in organic or novelty foods; that's probably the biggest challenge for the new CEO".
Announcing the change in CEO in August, FrieslandCampina chairman Frans Keurentjes said the company was entering "a new phase in which will give priority to quick and adequate response to market developments". Schumacher himself said he would "guide the organisation to the next stage".
Mikkelsen argues FrieslandCampina has been too focused on organic growth and "needs to be more aggressive" to match the progress made by the likes of Arla Foods, Fonterra and other major dairy players. While the cheese, butter and milk division has been "a huge part of the organisation", the company needs to focus on creating new businesses and expanding geographically and through acquisitions, he adds.
"It seems like FrieslandCampina now foresees it needs to be much more market-orientated like other companies have done some years ago, and feel they need a new CEO to make that change," Mikkelsen says. Schumacher seems to be "quite a globalist and more market-orientated", he adds. "They really have to step up. They have to reshape and make a unified brand for the company and market it globally."
FrieslandCampina issued its results for the first half of 2017 in August, a month before the announcement of Joosten's departure. Revenue was up 10.7% at EUR6.07bn, leading to a 1.3% increase in profit to EUR162m. The company reported volume growth in areas such as foodservice and added-value cheese but, overall, volumes were under pressure and its top line was boosted by higher prices and the 51% acquisition of Pakistan's second-biggest dairy firm Engro Foods made in mid-2016.
Nevertheless, when those numbers are extrapolated to try and give a reasonable comparison for the full year, they show revenue might exceed the average for the past three years of approximately EUR11bn, suggesting the company's target of achieving EUR15bn by 2020 might at least be on the horizon.
"It depends on if they make acquisitions," Mikkelsen says when asked if the revenue goal is doable.
"They really have to focus on value-added and getting more branded cheese on a global scale," he adds, noting FrieslandCampina produces 600,000 tonnes of cheese a year.
As with its dairy multinational peers, FrieslandCampina has been seeking to expand in emerging markets and, under Joosten, the company notably made the investment in Pakistan's Engro Foods. Not all of FrieslandCampina's recent ventures in emerging markets have gone smoothly, most notably the 50-50 joint venture with Huishan Dairy to make and market products in China under the co-op's Dutch Lady brand, signed in the autumn of 2014 and up-and-running in the early weeks of Joosten's tenure as CEO.
FrieslandCampina has watched as its partnership with Huishan has been overshadowed by allegations of misappropriation of funds by the Chinese firm's chairman and controlling shareholder Yang Kai (allegations denied), with the company in July still not able to publish details of its financial position. Back in March, FrieslandCampina said it had "full management control" of the venture and what to do with the business will be high on Schumacher's priority list.
"It is the only spot in their Chinese presence where they have definitely been hurt over the past 12-18 months, but there is still so much value in other areas of China where they have a presence," Voorbergen says. "Even with the losses from that joint venture, I still see the overall market to be positive."
The advantages of investing in China to counter weakness in Europe are evident by the 27% growth generated by the newly-formed China business division in 2016, well above the 3.2% for the cheese, butter and milk segment, and the 3.1% for ingredients. Revenue in the separate Asia division fell 0.3%, while EMEA saw a 9.1% decline.
"The next stage for FrieslandCampina is to get up the value-added chain and expand the milk pool globally to be able to supply emerging dairy markets with a wider range of dairy products with high quality," Mikkelsen says.
The role of the new CEO is, Mikkelsen says, to "lead the ship into this new strategy".