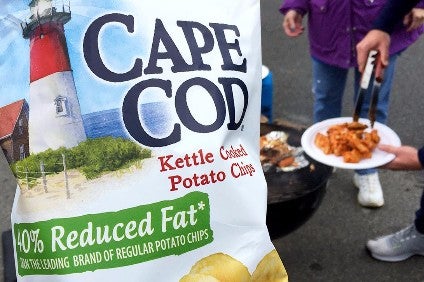 Judging by the drop in the stock price of Campbell Soup Co., investors are not convinced that a plan to sell off the US food giant's international and fresh foods businesses will generate the desired pick-up in returns for shareholders, at least not in the short term. Were markets anticipating more than a disposal of assets from the 150-year-old company, which just reported a three-fold decline in annual profits? Simon Harvey investigates.
Against a backdrop of much anticipation from industry observers and investors alike, Campbell Soup Co. revealed the results of its strategic review on Thursday (30 August) – it aims to dispose of its international and fresh foods operations in order to focus on its key North American market. So why the negative reaction from shareholders?
For a start, the New York-listed firm just disappointed investors with the simultaneous release of its annual financial results showing an almost 70% slump in profits before interest and taxes. But then that would have come as no real surprise to markets after the company turned to a substantial loss in the third quarter.
And then there was no update on the potential successor to chief executive Denise Morrison, who quit New Jersey-based Campbell in May after seven years in office, with Keith McLoughlin installed as "interim" CEO.
McLoughlin summarised his view of the results on a follow-up call with investors on Thursday: "Simply put, we lost focus. We lost focus strategically. We had too many initiatives that made the company unnecessarily complex.
"To round out this picture, we also faced industry-wide headwinds such as shifting consumer trends, our dynamic and changing retail environment, and more recently, significant cost inflation, all of which weighed on our performance."
So with the share price down more than 2% on Thursday, one would suspect the answer to the decline is in the detail, or lack of it.
Campbell laid down what it described as "long-term targets" for organic net sales, EBIT and earnings per share, expressed as "expectations beyond fiscal 2019", and based on its planned divestiture of the international and fresh foods businesses, namely Arnott's biscuits, Bolthouse Farms and Kelsen Group, the Danish baked snacks company.
While the timeline in itself is vague, Campbell still needs to find a prospective buyer for those assets – with Kraft Heinz previously slated as a potential suitor for some or all of the company – negotiate a deal, and get it completed. And then there is the question of lost revenue. How will the company make up the shortfall and meet its new targets without making acquisitions?
Campbell Fresh includes Bolthouse Farms, Garden Fresh Gourmet and the company's refrigerated soup business, which generated combined net sales of around $2.1bn in fiscal year 2018.
McLoughlin outlined the key objectives of Campbell's strategy going forward: To become a more focused company by disposing of non-core businesses and to use the proceeds to strengthen its balance sheet and to reduce costs and increase efficiency to "reflect a leaner, more focused and agile enterprise we are building".
He added: "These actions are designed to return the company to long-term organic sales and earnings growth. It's abundantly clear to me that the company is in need of greater focus and discipline. We have to run Campbell with a much tougher set of operating and financial standards."
Either way, the disposals are unlikely to appease activist and billionaire investor Daniel Loeb of US-based hedge fund Third Point, who holds a 5.65% stake in the business and has reportedly teamed up with fellow shareholder and Campbell family member George Strawbridge to push for a complete sale of the company.
And more importantly, perhaps, is the failure to offload or indicate any potential sale of Campbell's 'legacy' business of soups, which has found itself floundering in recent years and contributing to falling group sales.
But it appears the soup operations are destined to remain, with McLoughlin describing it as a "great business", although he acknowledged the segment has been "over relied upon to generate earnings and has been under invested".
He added: "We will not place unrealistic expectations on it and we will manage the brands within the portfolio in a disciplined way. We expect improved trends in the latter half of fiscal 2019, but we do not expect US soup to grow this year. In fiscal 2019, we will re-base soup and strengthen our value proposition in the marketplace."
It might be construed that McLoughlin envisaged the negative market reaction to the long-awaited announcement of the sale of the said businesses by inserting into the statement confirming the plan: "We will pursue further actions in addition to those announced today to optimise our portfolio and performance".
Explaining the piece-meal asset disposal, McLoughlin added: "Campbell's board of directors considered a full slate of strategic options, including optimising the portfolio, divesting businesses, splitting the company, and pursuing a sale. The board concluded that, at this time, the best path forward to drive shareholder value is to focus the company on two core businesses in the North American market with a proven consumer packaged goods business model. Importantly, the board remains open and committed to evaluating all strategic options to enhance value in the future."
However, it looks like Campbell's shares are going to remain under pressure in the meantime, and it will be a challenge for McLoughlin, or his replacement, to turn around profits, which slumped to US$469m in the 12 months ended July before interest and taxes, from $1.4bn the previous year.
Meanwhile, the additional $150m in cost savings that Campbell hopes to reap from the business disposals failed to bump up the stock price on Thursday, although it may have put a floor under its decline. For a company that generated annual sales of $8.69bn – up 10% from the prior year – the extra cash pile pales in significance.
Still, Campbell indicated it will use the proceeds to "significantly" reduce debts, and with total cost savings estimated to be around $945m by fiscal year 2022, that would be a juicier number, albeit a target that is four years down the line.
After adjusting the long-term growth targets to take into account the divestitures, Campbell is predicting organic sales growth of 1-2%. Adjusted EBIT is seen at 4-6% and adjusted EPS at 7% to 9%.
Chief financial officer Anthony DiSilvestro explained: "Given uncertainty regarding the timing of divestitures, we are providing guidance based on our existing portfolio of businesses and also on a pro-forma basis assuming divestitures were completed and proceeds deployed at the beginning of the 2019 fiscal year, representing the new base from which we plan to grow."
But it would seem investors are looking beyond those numbers and want more concrete resolutions given the fact Campbell just reported a 2% decline in organic sales due to decreases in its Americas Simple Meals and Beverages segment. And while the targets for profits, EPS and debt are at least an improvement on the most recent figures, the detail and a firmer time-frame are again lacking.
So what about Campbell's other operations and does the drop in sales in simple meals and beverages make those businesses potential candidates for disposal? One would doubt it unless the company considers another piece-meal offload within the division, the mainstay of the business with revenues of $4.2bn, although down 4% in organic terms and 1% lower with respect to sales.
Global biscuits and snacks faired better, with a 1% up-tick in organic growth to $3.5bn. However, Campbell Fresh meanwhile saw a flat performance for the year at $970m.
With two recent US acquisitions under its belt – snack maker Snyder's-Lance and organic soups to plant-based beverages and meals producer Pacific Foods, both in 2017 – one suspects Campbell is resting its strategy on those particular segments of the food market, although it would have to generate at least $1bn in extra sales revenue just to break-even with its latest performance.
For the year ended 29 July, Campbell said Snyder's-Lance and Pacific Foods contributed an "11-point benefit" to its annual sales of $8.69bn.
CFO DiSilvestro commented on the recent deals and disposals: "I would say, when we get through this transition we will be a very different company. These planned divestitures will enable us to focus our portfolio on the two businesses and one geography. And as we take Campbell Fresh and Campbell International out, we are integrating Snyder's-Lance into the portfolio. This is a significant shift and the composition will be, almost half of our sales will be in the faster-growing snacking categories."
Nevertheless, as one might expect, activist investor Loeb has already weighed in, with Reuters reporting the hedge fund manager is of the view that the steps announced by Campbell do not go far enough. And once again he renewed his call for a shake-up of the board.
McLoughlin declined to comment on the conference call when questioned over the pressure for change by Loeb: "It's not appropriate for us to comment on speculation on what might and might not happen with regards to what shareholders would do or won't do."
He continued: "A vision for Campbell is to be a leading focused snacks and simple meals company with a portfolio of best-in-class products and brands in our core North American market that generates sustainable value for our shareholders, our customers and our consumers."