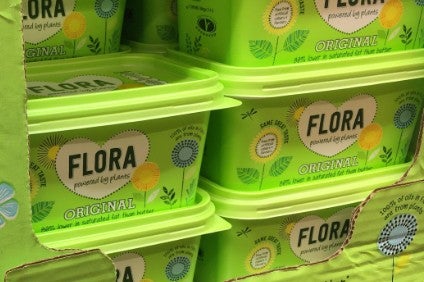 Analysts have been trying to predict what private-equity firm KKR is likely to do with its new asset – the former Unilever spreads division. Andy Coyne picks through their musings.
US private-equity group KKR's move to buy Unilever's spreads business for an eye-catching US$8.04bn – said to be the biggest leveraged buyout in Europe this year – has got analysts thinking about what it might do with its new purchase.
Unilever's decision to exit the spreads category – a sector central to the FMCG giant's origins – was revealed back in April and was widely interpreted as the result of some strategic re-thinking following its rejection of takeover interest from Kraft Heinz.
For a number of years, the Anglo-Dutch group had faced questions about the future of the business, which includes brands such as Flora and I Can't Believe It's Not Butter, amid pressure on sales and sluggish growth in the sector.
In mid-2015, Unilever moved to put its spreads business into a stand-alone operating unit in a bid to "accelerate its transformation and return it to growth".
The unit saw its sales fall 5% in 2015, with Unilever pointing to "competition in developed markets" and sales declined again in 2016. In the third quarter of this year, spreads sales fell 2%, although Unilever said that was a "further improvement on previous quarters".
And yet, after Unilever set out plans in April to sell or de-merge the unit, a number of private-equity firms had been reported to be interested in acquiring the assets.
In September, Unilever offloaded part of the division, with a deal to sell the division's operations in southern Africa to South Africa-based investment firm Remgro, which has a portfolio that includes a majority stake in local food group RCL Foods, already a notable player in the category locally.
A clutch of private-equity houses were then reported to be interested in acquiring the rest of the business, with KKR on Friday coming out on top.
But what will it be thinking now?
Julian Wild, a food and drink sector specialist with UK law firm Rollits, suggests KKR has the scale to take on something of this size and has a good track record in food (famed for its 1989 purchase of the then RJR Nabisco, its more recent acquisitions include Vietnam's Masan Group in April and Indian dairy company Kwality in July last year).
"I am sure they will do all the things which private equity are well known for: review every part of the spreads business, strengthen management where necessary, take cost out, generate as much cash as possible to pay down debt, spend capital where it generates the best returns, prune some of the more peripheral brands and bring some excitement and innovation to the category," he said.
What seems inevitable is that KKR will have its strategy planned out. But Simon Peacock, head of food and drink at UK-based M&A advisory firm Catalyst Corporate Finance, believes its structure makes things interesting.
"If you look at KKR, they cut a lot of M&A heads post-2007/8 and they haven't got a long list of senior deal-doers who understand the sector," he said. "What they have always had is money and credibility and there's not a long list of PE houses of that size."
Peacock's idea of what KKR will do with its spreads business now is similar to Wild's.
"They are going to have to do just a vanilla PE deal: put in a good management team who cut costs in the short term, exit from things that are not working and invest in things that are. It's just an acceleration and a degree of focus that Unilever itself didn't give it.
"And then what to do with it next? Float it in its own right? Quite possibly."
Writing after the deal completed, Bloomberg suggested it might be possible for KKR to give the business a new lease of life, pointing to "an opportunity to re-position Unilever's spreads to the millennial market".
However, Wild at Rollits thinks KKR faces some early challenges. "Responsible sourcing around sustainable palm oil will be an immediate and very important challenge. Also, healthy eating and spreads haven't always sat comfortably together. That will require a lot of work," he said.
Once that early work is complete, what next? Could acquisitions be on the cards?
Peacock at Catalyst thinks it is possible. "They might want to make one or two acquisitions in select countries or of certain spreads but they have got all the global brands," he said.
However, he added: "I can't see anything really revolutionary KKR will do with the business other than work the assets hard and try to find their exit. "At that level it's all about consolidating its operational footprint. It will be about improving bottom line profit, not top-line growth."
And then, presumably looking for an exit.
Wild at Rollits said: "Clearly there were not any trade players in the frame this time. A secondary buyout in three to five years seems most likely and there was plenty of weighty private-equity interest."
Food M&A volumes dip in December 2017 despite busy final week – data