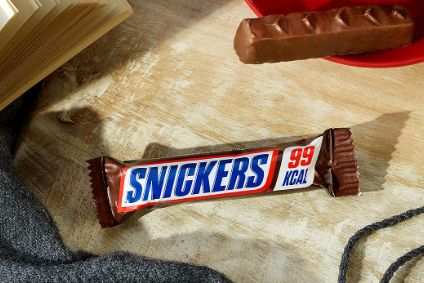 There are few food categories that can match chocolate for variety and creativity, a richness reverentially, and somewhat relentlessly, ascribed to the "art of the chocolatier". In fact, chocolate owes its success and consumer appeal far more to science than artistic inspiration, and nothing illustrates that better than the testing technical challenge of the day – sugar reduction.
When the World Health Organization (WHO) halved its recommendations for sugar intake in 2015, the ingredient became the target nutrient for the health campaigners, medical academics and public health organisations. Since then, food manufacturers have been under constant pressure to reduce the sugar content across every product category, including those where it is a particularly challenging proposition, such as chocolate confectionery.
In many foods, the functionality of sugar makes reducing the ingredient a tough proposition and this is particularly the case for chocolate confectionery. In addition to providing sweetness, sugar performs bulking, preserving and stabilising functions, while playing a role in creating its defining texture and mouthfeel.
Removing or reducing the sugar in chocolate requires the restoration of any functional or taste properties that are lost. It is without question a science, but it is imperfect. In spite of progress over decades, the solutions to sugar reduction in chocolate have all been found to have their drawbacks. Quite simply, the unique properties of chocolate mean the bar, so to speak, is set very high.
There has, nevertheless, been an increasing number of sugar-free or reduced-sugar chocolate products hitting the market, utilising existing and new approaches to sugar replacement. While companies argue this activity reflects growing demand for lower-sugar chocolate, and therefore their preparedness to invest in R&D in this area, it also shines a light on what still eludes them.
No wow factor
It is telling Milkybar Wowsomes, Nestlé's low-sugar range extension using a "hollow sugar" process that allowed the product to make a 30% less sugar claim, was discontinued in February 2020 after an "underwhelming" two years in the UK and Ireland markets.
When announcing the discontinuation of Wowsomes, Nestlé referred positively to its latest 30%-less-sugar chocolate products, the Raspberry and Hazelnut KitKat Chunky More and the Oats, Apple and Cinnamon Yorkie More. Hailed by Nestlé when they were launched in August 2019 as its "next generation of chocolate bars with 30% less sugar", these have also been axed.
"Initial sales of KitKat Chunky More and Yorkie More were below our original expectations," a Nestlé spokesperson explains. "This, coupled with a significant drop-off in on-the-go consumption because of the pandemic, has led us to withdraw the products from [the] market."
The hope that increased attention being paid to sugar and the pressure on companies to reduce sugar content might bring about a game-changing technical breakthrough in chocolate thankfully does not rest with one company.
Nestlé said at the time it had some "exciting" reduced sugar products in development. The company is thought to be working on a new sugar reduction system, which according to an article in The New Yorker magazine in September, will involve fermentation. The world's largest food maker is also expected to continue applying the structured sugar technology in chocolate confectionery, so Wowsomes was far from being a dead-end.
Sugar manufacturers are also researching and developing solutions focusing on particle structure, and options are likely to increase significantly in the coming years, though any such technology is likely to have significant cost implications.
A marketing conundrum
There are other inherent disadvantages a chocolate product with an overt reduced-sugar claim has to overcome. Sugar may be a specific nutrient of concern to health professionals but many consumers simply look at sugar content as an indication of calories.
The unique chemistry of chocolate, however, means lowering the sugar does not equate to a similar drop in calories. In fact, taking sugar out without replacing it automatically increases the calorie count because fat has nine calories per gram compared with four calories for sugar.
"If you take 1% of sugar out of chocolate, you change the whole composition of that chocolate bar," Steve Osborn, director of UK-based food technology consultancy Aurora Ceres Partnership, explains. "You are going to increase the relative portion of fat. So, the nutrition density increases at the point you reduce sugar in a chocolate bar."
Using a bulk sweetener has generally been the way manufacturers have been able to give sugar-free chocolate a decent calorie reduction. It is interesting to note when Swiss chocolate producer Lindt & Sprüngli made its first foray into the 'no added sugar' category, with the launch of milk and dark chocolate bars in 2018, it opted to use maltitol, a polyol (also known as a sugar alcohol) that has been used as a bulk sweetener for many years, in combination with lactose.
With these two lines, Lindt has adopted the tried and trusted approach that Russell Stover, the US company it acquired in 2014, has used for many years for its extensive sugar-free range.
While maltitol provides bulk and most of the desired sweetness, like other polyols, it has never been regarded as a game-changing solution for a number of reasons. As it is hydrogenated, it cannot be labelled as "natural", has a cooling effect in the mouth and, if it constitutes more than 10% of a product, necessitates an on-pack warning about possible laxative effects.
Russell Stover has, like other companies, sought to take its polyol-based approach to another level by launching a range of chocolate replacing sugar with maltitol and the high-intensity, natural sweetener stevia.
US food company Mars, meanwhile, have tried a number of tacks. One was the move to tap into the popularity of protein bars, introducing More Protein variants for Mars and Snickers in February 2019. These products mitigate the calorie problem because protein and sugar have the same caloric value. Also, "higher protein" is a positive message on-pack.
Managing expectations
By contrast, advertising a sugar reduction on a chocolate bar, even if the buyer is seeking to cut down on sugar, may create negative expectations that a product using the processes and ingredients available today may not be able to overcome.
This is one of the reasons the launch by Mondelez International of Cadbury Dairy Milk with 30% less sugar in markets including the UK is such an interesting development.
Mondelez International declined to be interviewed for this article and its statement in response to questions relating to its new product and sugar reduction in chocolate was illuminating for how little it said about either. Instead, it detailed a suite of measures relating to supporting healthy lifestyles.
Nevertheless, the reduced-sugar Cadbury Dairy Milk is probably the most significant move to-date in terms of a major brand offering a lower-sugar variant.
A crucial distinction is that, unlike the KitKat, Yorkie and Milkybar Wowsomes examples, which all contained ingredients other than chocolate, this is a tablet of chocolate, a tablet of Cadbury Dairy Milk chocolate in fact, with a 30% sugar reduction.
The sugar reduction could only come from the chocolate itself and how this may differentiate it in terms of taste and texture will be far more directly evident than with the other products mentioned.
Like other lower-sugar offerings, the Cadbury Dairy Milk reduced-sugar variant does not deliver an equivalent calorie reduction. The calories per 100g only decrease by 31kcal to 503kcal, and it also has 1g of fat more than the core brand. There is a small decrease in the protein content but, because soluble maize fibre has been used as a bulk replacer, the fibre content per 100g rises 2.1g to 18g.
Mondelez decided to launch this as a variant with a 30% drop, rather than use the same formulation to reduce the sugar content of its main brand by smaller steps over time – a strategy adopted successfully in salt reduction, and advocated by many campaigners for sugar.
In contrast to the high-profile, on-pack lower-sugar claim, this form of reformulation is relatively unobtrusive though not completely concealed from the consumer.
However, to begin this form of adaptation of a core brand, a company would have to be very sure it had the optimum sugar reduction process and would not be putting a prized brand asset at risk. With that in mind, it is not surprising to find fewer examples of this in chocolate than in other confectionery and food categories.
Asked about gradual sugar reduction for its primary chocolate brands, Nestlé's UK arm points to an 8% sugar reduction achieved for KitKat and a 4% reduction in the Smarties brand that will take place this year.
Nestlé also says its hollow sugar technology could be one of the "options open to manufacturers to deliver incremental sugar reductions in their products". Mondelez did not provide any examples of gradual, incremental sugar reduction in its core chocolate confectionery brands.
Jack Winkler, emeritus professor of nutrition policy at London Metropolitan University, suggests manufacturers may have been overly cautious regarding possible negative consumer sentiment towards using sweeteners and this has inhibited progress on sugar reduction in chocolate.
Winkler also believes "anxiety and conservatism" has resulted in companies failing to put the necessary marketing support behind lower-sugar chocolate variants.
He cites the moment in 1983 when Coca-Cola decided to put serious backing behind Diet Coke as the game-changer in the soft drinks market and suggests the same could happen in the chocolate sector. One of the big players, Winkler says, needs to "have the courage that Coca-Cola had in the 1980s to bring out a parallel product with no or low sugar".
The Cadbury Dairy Milk lower-sugar bar is arguably the closest any major chocolate company has come to doing that. However, there is no sign at this stage to suggest Mondelez believes it has the "Diet Coke" for the chocolate category.
Another piece of innovation tried by Mars has been launching smaller versions of flagship chocolate products. In the UK this month, the US giant has rolled out low-calorie options for three of its best-known chocolate brands in the country, offering versions of Mars, Snickers and Twix that are 100 calories or less.
Mars said the new bars are made with "the exact same recipes that consumers know and love" and sold "at a reduced size". The company told just-food "the nutritional info per 100 grams is the exact same".
Almost half of UK shoppers consider the portion size of snacks when buying, Mars said. The company added that, while there is a drive among UK manufacturers to reformulate, more than two-thirds of consumers in the country "have said they would rather have less of a favourite chocolate than a larger amount of a low-sugar chocolate".
A spokesperson for the group's Mars Wrigley unit in the UK added: "Our new 100 calorie range gives people their favourite brands in a smaller size, which is perfect for the 68% of Brits who said recently that they would prefer less of their favourite chocolate than a larger amount of a low-sugar alternative. Initial sales have been very positive and we expect this trend to continue."
If such sentiments hold true and play out across markets, it further underlines the obstacles confectioners face in marketing successfully lower-sugar chocs.