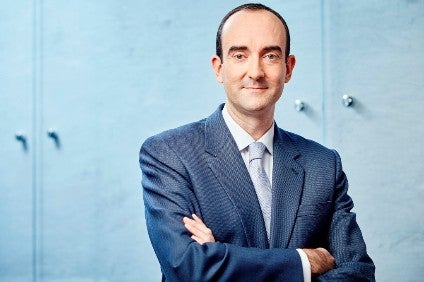 Amid the changes being seen in the types of food consumers are buying and in how they shop, the world's major food manufacturers are seeing their sales come under pressure and are looking at various ways to try to breathe fresh life into their top lines. Some have set up accelerator and incubator programmes to invest in fledgling companies. PepsiCo's European incubator, Nutrition Greenhouse, has returned for a second year and Dean Best spoke to the US giant's Juan Ignacio Amat to find out more.
Food industries around the world are seeing some profound changes in consumer demand.
The growing awareness of the links between diet and health, the rise of the digital sphere and a growing mistrust of big business have provided the ingredients for small companies to gain a foothold in the market and for the sales of many of the world's largest food manufacturers to come under pressure.
The giants of the industry have been stirred into action and are looking for ways to tap into the shifts in consumer habits. However, innovation does not come easy to Big Food, especially when companies are operating in such a febrile consumer environment. The largest businesses can lack the insight into consumer trends and the agility to act quickly enough to capitalise.
As a consequence, a growing number of the major names in the industry have launched accelerator and incubator programmes targeted at food and drink start-ups. The established food manufacturers want to tap into the way smaller firms innovate and respond to consumer trends, build relationships with challenger brands and potentially even acquire the companies behind these products.
One such major manufacturer is PepsiCo. Last month, the US-based food and beverage giant announced its European incubator programme, Nutrition Greenhouse, would return for a second year.
PepsiCo's European arm launched Nutrition Greenhouse last year, inviting eight companies across six countries to work with its executives for six months on how to "accelerate" their growth. All eight received a EUR25,000 (US$29,000) grant, with one, UK firm Erbology, emerging as the winner, at the end of the programme and getting a further EUR100,000 from the Lay's and Quaker owner.
This year's iteration of the incubator will see up to ten nutrition-focused start-ups – each delivering sales of EUR5m or less, up from last year's threshold of EUR2m – receive EUR20,000 in funding, with one again pocketing a further EUR100,000.
Juan Ignacio Amat, the vice president for nutrition within PepsiCo's operations in western Europe and sub-Saharan Africa, is again leading the incubator.
"The experience of the first year has been extremely positive. We consider it a great success for the companies that participated. That was the most important thing, that this was something useful for them. Internally, we've taken a lot of very strong learnings and also business impact benefits from the first edition," Amat says.
Growth was central to what PepsiCo learnt from the incubator first time around, Amat explains. "The scale of growth and pace of growth. Last year, what was impressive was, within six months, the companies were able to multiply by four their sales and generate a delta of approximately US$10m of retail sales value, something that would have been scalable for one of our brands in the reference market where these start-ups operated," he says. "It was a way to confirm that there is material growth driven by consumer preference in this area of nutritious and sustainable food and beverage brands. The scale of growth was there.
"What good means in our industry today is just faster and more nimble than it ever has been"
"On the pace of growth, we saw in six months companies were able to expand into new product categories. They were able to reinvent themselves in order to redefine their business model. They were able to respond at incredible speed to briefings and requests from top customers. That resets what good looks like in our industry. That pace, level of flexibility and nimble character of these companies was in terms of capabilities the biggest learning we took as an organisation. What good means in our industry today is just faster and more nimble than it ever has been."
Amat's praise for the performance of those companies that took part in the incubator programme last year and, more specifically, for their agility and ability to innovate quickly does prompt an obvious question: does PepsiCo have a problem with its own capacity to develop new products?
"I don't want to sound arrogant but I think we have very recent examples of great-performing innovations in the marketplace," Amat insists. "We launched Quaker Porridge To Go last year in the UK. We are just launching our Tropicana Essentials all across Europe."
However, he adds: "With programmes like the Nutrition Greenhouse, we have access to a window to the world out there, which, combined with the greater skills we have within our marketing, research and development and commercialisation departments, makes us a much more complete and ambitious company. It is not so much reaction to a problem. It is an admission that not all the good ideas are generated within our walls and we don't think we should be complacent by just innovating from within. That's the rationale behind the Nutrition Greenhouse but we feel in a very good place about our ability to keep innovating and keep driving relevance and modernity to all great brands.
"The work we've been doing in the Greenhouse, the interaction with the start-ups and also the work with other incubators and venture capitalists have strengthened our ability to separate short-term, fashionable items from trends that are here to stay."
With the Nutrition Greenhouse, PepsiCo has in the last 12 months joined those larger food manufacturers to have either set up or worked with incubator programmes (the company's North American arm is doing the latter) in a bid to learn from fledgling businesses about how to react to changes to consumer trends and innovate – not something that comes easy to the bigger players in the industry.
"Hard or not, it is fundamental," Amat insists. "I wouldn't consider it a difficulty, I would consider it as a rule of the game. Given the pace of change in consumers, nimble and agile ways of working are a must-have. It's not a point of difference, it puts you in the game. It's mandatory.
"The data is quite conclusive, especially in developed economies, western Europe and the US. There's a percentage – which ranges between 70% and 100% – of the growth in many of the categories where these companies operate that is captured by smaller brands. It is the demand-driven nature of that growth and search for growth by these companies that is behind the effort to get closer to this reality. Then each company chooses different vehicles to do so, from venturing, all the way down to an incubator/accelerator like the Greenhouse programme, to open innovation platforms."
But while the likes of PepsiCo, Kraft Heinz and Chobani have set up incubators, others (think Kellogg, General Mills and Tyson Foods) have established in-house, venture-capital-style arms and made investments in – or bought outright – smaller peers deemed to be doing well in on-trend categories.
Amat says PepsiCo's European arm wanted to get to market quickly and contends an incubator can lead to a more open discussion that can be hard to achieve with investment-type tie-ups.
"[The Nutrition Greenhouse] was a very good way to get things done very, very quickly. From the moment the ideas got approved and funded to the moment we launched the Greenhouse programme was less than five months. Had we wanted to start with another instrument, namely the one that has to do with investment, formal investment, it would have taken more time. It was a great way to go fast and start learning from minute zero," Amat explains.
"The level of due diligence you go after for a company you're going to acquire is much bigger than the level of scrutiny and due diligence we make on our participants. That doesn't mean we don't take our filtering process very seriously but it is a completely different ball game.
"There is another factor. The level of intimacy with such a set-up, a strings-free set-up, is very positive. Instead of discussing the level of ownership and the value of the business, you are discussing very openly about a company's programme and asking whether they need marketing, supply chain or sales. There's a certain, if you want, openness to it that is hard to get in a more transactional set-up."
PepsiCo's Nutrition Greenhouse does give the company an option to buy the winner of each year's programme. Last year, London-based Erbology prevailed and a decision could be made in the coming weeks.
"With that EUR100,000 grant, PepsiCo gets the right of discussing a potential path to ownership within the six months after the grant is granted. The first ten EUR20,000 grants are strings-free," Amat says. Asked what the situation is with Erbology, he adds: "We awarded the EUR100,000 grant in early December. That I think answers your question."
There may be some concern among start-ups or small companies interested in joining the Nutrition Greenhouse PepsiCo could use the programme as a mechanism to pick out interesting innovation (be it in terms of products or other areas) and then, once the incubator has finished, develop products based on that innovation and launch them under PepsiCo's own brands.
"We are running this initiative because we recognise that sometimes, great ideas can come through collaboration. We have a lot to offer smaller start-ups and we know that we can learn from them. Our terms and conditions clearly state that applicants agree not to disclose any trade secrets or confidential information to us, and that they retain the intellectual property rights in and to their product after the Nutrition Greenhouse programme," Amat says.
The deadline for this year's edition is next Monday (11 June). PepsiCo, of course, dwarfs the companies that sign up but it believes the scheme gives it the chance to learn the answers to some of the big questions facing the business.