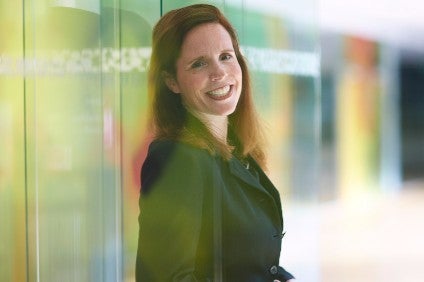 With Brexit-linked currency fluctuation just one of the headwinds European dairy giant Arla Foods has had to contend in the last 12 months, it might be forgiven for hunkering down but, as CFO Natalie Knight tells Andy Coyne, the Lurpak and Castello owner is continuing to invest and is banking on recent acquisitions and category innovation to feed growth.
Given Arla Foods has just gone through a year in which its farmer-members struggled against a severe drought, it took a Brexit-linked currency hit of EUR250m (US$283.6m) and saw sales hampered in China by tough new measures for infant nutrition providers, the European dairy giant is in chipper mood.
Taking a 'things could only get better' view of the year, the Danish dairy giant's chief financial officer Natalie Knight told a press conference after it released its full-year 2018 results on Wednesday (20 February) that "2018 was a year where after a tough start momentum grew".
The Lurpak and Castello brands owner ended the year with revenue of EUR10.4bn, up marginally on 2017's EUR10.3bn figure and at the high end of its expectations of EUR10bn-10.5bn.
Speaking to just-food later on Wednesday morning, Knight is of the view the sales result is no mean feat given what she describes as the "headwinds out in the marketplace this year".
By far the most blustery of those headwinds was and is Brexit, the UK's departure from the European Union, scheduled for 29 March.
How well do you really know your competitors?
Access the most comprehensive Company Profiles on the market, powered by GlobalData. Save hours of research. Gain competitive edge.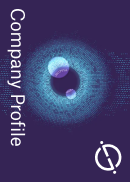 Company Profile – free sample
Thank you!
Your download email will arrive shortly
Not ready to buy yet? Download a free sample
We are confident about the unique quality of our Company Profiles. However, we want you to make the most beneficial decision for your business, so we offer a free sample that you can download by submitting the below form
By GlobalData
Arla said currency fluctuation linked to Brexit saw it take a hit of EUR250m but Knight points out the UK as a market has been a positive for Arla.
"The UK continued to grow despite Brexit pressure and uncertainties," she says. UK revenue was up by 4.1% year-on-year. "It was a strong year for us in UK in a tough retail climate," Knight adds.
Indeed, Europe as a whole, with revenue of EUR6.5bn and representing 62% of Arla's group revenue, was a market in which the co-op's core brands generally performed above expectations, with branded growth of 2.5%.
Germany was a particular success, with sales up by 6.5%. Knight describes 2018 as a "breakthrough year" in Germany as Arla benefited from moving out of some unprofitable private-label contracts.
"Historically our business has been spearheaded by Denmark and Sweden but our future in Europe is about growing in Germany and the UK"
"Historically our business has been spearheaded by Denmark and Sweden but our future in Europe is about growing in Germany and the UK," Knight says.
The cooperative anticipates further growth in the UK following its acquisition of parts of local organic dairy products business Yeo Valley last year.
"We expect [Euro] double-digit million additional sales this year from Yeo Valley," Knight says.
The key to winning in mature markets such as western Europe is to keep innovating, Knight suggests.
"It might be improving animal welfare quality on farms. Consumers are interested in those things and there is a commercial value to it," she says. "Lactose-free is also growing."
Aware of the trend towards health and well-being, Knight suggests "sugar is the new tobacco", although she admits Arla still adds sugar to some of its products.
"A high priority is to look at ingredients to make products as pure and traceable as possible," she says. "People are trying to get out of sugary drinks and over-processed foods."
Knight points to a new generation of products such as the Bio Nur range of fruit yogurts, which Arla launched in Germany last year and proved a success. They consist of 5% organic yogurt, 5% organic fruit and nothing else. Bio Nur will be rolled out in the UK later this year.
Overall, Knight says that while Arla is pleased with its annual revenue figure "it's less about numbers of revenue but the quality of it" and highlights it increasing its brand share and international business share.
Arla grew its share of branded business to 45.2%, surpassing the long-term target in its Good Growth Strategy 2020 of 45%.
And while revenue from Arla's international growth markets outside of Europe was negatively impacted by exchange rates, its overall international business delivered 4.6% branded, volume-driven, revenue growth. Arla says in 2018, in the non-European markets in which it operated, it accounted for 19.6% of the sales of dairy products across retail and foodservice, down slightly from 20% in 2017.
There was a drop off in sales in China – where it partners with Mengniu Dairy – due to a tougher regulatory regime related to infant nutrition products.
With more than 25,000 suppliers of products in the market and wary of reputation damage if a health scare should originate, as they have in the past, the Chinese authorities are attempting to reduce the market to 500-600 suppliers and to limit the number of products created in any one factory to three.
While Arla has no need to fear getting a licence, there has been a time delay. "We expected approval in July but there has been a bit of a lag. We are expecting approval any time now," Knight says. "We see it as a positive in the long term as there will be less competition in the marketplace."
Arla's largest international market is the Middle East and north Africa and 2018 saw revenue growth of 7.9% to EUR560m.
"We have been in there for over 40 years so we've got a long heritage. Consumers there will pay good prices and like brands," Knight says.
Further growth is expected as, in December, Arla bought a clutch of Kraft-branded cheese assets in the region from Mondelez International.
"It will significantly strengthen our position in the market. We will gain a state of the art production site in Bahrain and new products, "Knight says. "It feels very important for us."
Bangladesh is another market for which Arla holds high hopes, although Knight points out a different dynamic is driving its growth there.
"If you look at the demographics it s a really important market but a lot of it is about affordability and creating higher levels of nutrition so it is not a high-margin business," she says. "We have seen our market share grow and an improvement on how we are perceived by consumers there," she says.
South-East Asia, meanwhile, was good for Arla in 2018 with 25.9% revenue growth.
More generally Arla is attempting to balance its three-year cost-cutting programme – dubbed Calcium – with the need to continue to invest in innovation and facilities.
Calcium was brought in as a response to challenging external developments, such as the decline of the British pound and the Swedish krona as well as the historic shift in value between milk fat and protein.
It is intended to make savings of EUR400m by 2020 and in 2018 outperformed expectations threefold, saving EUR114m against a target of EUR30m.
Knight points to an improved offering in areas such as digital media and making savings in procurement deals in supplier services such as print costs.
"The Calcium programme delivered beyond our expectations," she says. "In 2019 Calcium is expected to save EUR75m-100m."
Knight sees future growth at Arla coming from acquisitions bearing fruit – Yeo Valley and Mondelez's Middle East cheese assets – as well as burgeoning consumer interest in better-for-you products and milk-based beverages. It has renewed a deal with coffee shop giant Starbucks to carry on manufacturing and selling branded cold drink products.
"Starbucks is a great partnership and I believe there is an outstanding opportunity here with big brands such as Starbucks and Mathilde," she says.
Overall Arla is expecting revenue of EUR10.2bn-10.6bn in 2019 and predicts its branded and international market share will continue to grow.
But it admits that Brexit remains a "variable factor" in setting the company's expectations for 2019.
Some EUR100m of the expected EUR400m of Calcium project savings will be invested back in the business (the rest will be paid back to the cooperative's farmer-owners).
But Arla is already investing in a big way, including the announcement in August of a new innovation centre in Denmark in August.
And it revealed this week it plans to invest EUR458m in 2019 with main projects including a new powder tower in Pronsfeld, Germany, the expansion and modernisation of production sites in northern Europe and large investments in its ingredients business.
"We have decided to increase investment because of our strong balance sheet which has allowed us to double our firepower in terms of our ability to invest," Knight says.