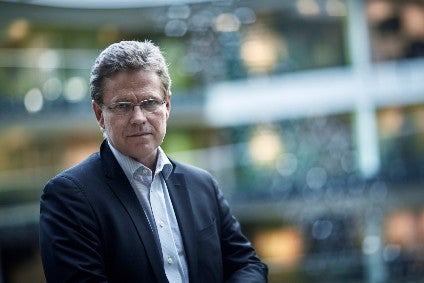 The Covid-19 pandemic is, "without doubt the most challenging crisis Arla has ever operated within", Peder Tuborgh, the CEO of the Denmark-based dairy giant, reflects. But, during 2020, the co-operative that's one of Europe's largest dairy companies and in the world's top ten by sales, still managed to grow revenue and profits.
Arla, home to brands including Lurpak butter and Castello cheese alongside its private-label business, generated revenue of EUR10.64bn (US$12.86bn) last year, an increase of 1% but one that came amid the periods of shutdowns in the foodservice channel, which accounts for up to a fifth of the co-op's sales depending on the market.
EBIT was up 13% at EUR458m, while Arla's net profit was 9% higher at EUR352m, with the company able to keep production costs flat, even if sales and distribution expenses grew in a volatile year for food-industry supply chains.
Drilling down into Arla's revenue numbers and a healthy performance from its brands can be seen. The owner of Cravendale milk and Puck cream cheese said its branded sales volumes, which cover the retail and foodservice channels, were up 7.7%, the best growth on that metric the company had seen since it started disclosing figures in 2015. Branded sales revenue rose 6.9%, with Arla's portfolio of brands accounting for 48.9% of its total sales, up from 46.7% in 2019 (the company has a long-term target of getting brands to account for more than half its sales).
The shift of much of the food consumption in most global markets away from dining out to eating most, if not all, meals at home underpinned that growth. Arla acknowledged it saw a "significant increase" in its retail sales of 8%, growth that offset falling sales into foodservice and from its business-to-business trading in dairy commodities.
"Not all companies that have experienced that," Tuborgh tells just-food on a video call after Arla announced its results yesterday (11 February). "I know people in our sector that have been very dependent and relying on foodservice. Of course, they couldn't just swing into retail formats, etc., but we have a very broad platform, which gave us probably the opportunity to do these things."
The Arla chief, who has been at the helm of the business since 2005, argues the co-op's "agility" meant it was "able to reshape our business and redirect large milk volumes almost overnight". As Europe started to feel the impact of Covid-19, Arla, Tuborgh says, changed its "entire modus operandi". What he describes as "crisis teams" were formed to speed-up decision-making based on the rapidly-changing trading picture last March. The development of those teams led to what Tuborgh calls "almost a shadow organisation" being set-up alongside Arla's usual structures.
"There was a corporate unit, there was a UK unit, there was German unit etc. and they were linked together in ways that information could flow between them, because everything depended on each other," he explains, giving the example of production planning. "As we saw, for example in the UK and in Denmark as well, the hoarding of various products – it was not nice to see but that's what happened – you have to make very quick decisions to move product from A to B, or leaving A and doing B instead. That of course has impacts. The fact we put up that system and gave [the teams] the mandate and the authority as well gave us a fantastic start in a very, very strange and difficult year."
Arla has kept the system in place – meetings are not as regular as they were 11 months ago – but Tuborgh is keen for the world's ninth-largest dairy company by sales to retain some of that local decision-making he believes served the business well last year.
"It's something that we know from previous years, before all of this, that employees would like more of – and I think that we from management also would – but we never really found a way of unlocking it properly," he says. "This [Covid-19] forced us to do so and now we've learned how to work and I kind of refuse to let go of it again. What I hear from the organisation is that they feel empowered by that and that's something I'm reflecting a lot about these days because I think that we have probably learned something that we should hold on to."
The pandemic, then, has led to a more locally-driven organisation, with more responsibility sat in markets. Tuborgh says the new way of working "gives more creativity", with input from a more diverse set of employees, be it by function, age or culture. It can, he insists, "give better results".
"You know, just the fact that you and I are sitting here, the number of meetings that can be held, with people calling in from China influencing what would normally be a very solid group close to head office. They are suddenly part of these work-streams. The same goes for UK, everywhere."
The balance between local and global
To what extent could this shift accelerate Arla's top-line growth? "We've seen it this year, for sure," Tuborgh replies. "It's very difficult to be exact about this but I can see that the diversity and the way we are working – and diversity comes from that more localised approach, being very close to your customers in a different way – that in itself is a positive, where we will see hopefully that we grab opportunities faster going forward. I cannot calculate it into percentages of revenue. As a general feeling – that's the wrong word – I do sense that it drives better decisions and clearly it drives faster decisions and that in itself drives top-line somehow."
All this speaks to that age-old challenge FMCG multinationals face – is decision-making responsibility best sat locally or centrally? Large companies, wanting to be more nimble, can sometimes swing to running projects locally but then sometimes soon decide the business could benefit from more focus, from more central oversight before then deciding once more they are suffering from a lack of agility.
"We have been, are on and will be on the same kind of swing because that is the nature of that matrix, which never works in any company," Tuborgh suggests. "You constantly swing like that and hopefully get it right."
There was a time "years ago", the Arla CEO continues, when he "really wanted to consolidate our brands, with fewer but stronger brand brands" and he says a business cannot leave such efforts "to the local because by definition they will want their own brands and their own things and not share too much and blah blah blah".
Now, Arla is in a position where its teams in areas like marketing are sharing "concepts" but carrying out their campaigns locally", he adds. "I talked to my board about it and we actually see it more localised but we also see a stronger core – and you might say that's centralised and who masterminded that? – but it actually comes from people meeting each other very frequently across borders and finding each other on the things where they need to find each other. It could be the concept they can agree on with this product, this innovation but how it's then played out in the market should not be masterminded from the centre because you get that wrong. I think we are starting to learn to find that balance."
Tuborgh is, he reveals, "desperately trying to hold on the momentum" Arla found last year with its faster decision-making in areas like marketing, where campaigns "that probably would have gone through committees and half-year plannings to get very dot correct" were rolled-out faster. The co-op, like much of the industry worldwide, is operating in an environment were Covid-19 is still very much shaping shopping habits. How 2021 will pan out in areas such as at-home consumption or the re-opening of foodservice is a major question in boardrooms worldwide.
The Arla boss expects another year of elevated at-home consumption but believes foodservice will gradually approach its normal level before 2021 is out. He describes the year ahead as one of "two halves".
"Clearly Covid-19 is here and will be here in the spring, so we will see the balance as it is – and as it was through most of 2020 – will probably be the same in the first half," he says. "Once we get the vaccines starting to work, probably also the summer [weather] would be helpful and people gradually start to dare go out into restaurants and travel a bit more – I think the travel will take a longer time for sure – but, once you see that, then you will gradually see a swing back to a more normal balance between foodservice and home cooking. We have to be ready for that as well." The uncertain environment is reflected in Arla's forecasts for 2021. The co-op predicts revenue could fall this year, giving a range of between EUR10.3bn and EUR10.6bn. It sees its "net profit share" landing between 2.8% and 3.2% (it was 3.2% in 2020).
Plant-based plans
Where there is more certainty from Arla and Tuborgh is on the company's plans for its recent entry into plant-based dairy alternatives. In March last year, Arla announced the launch of a range of oat-based drinks. The beverages, marketed under the brand name Jörd, were rolled out in Denmark, Sweden and the UK last autumn. Tuborgh suggests more products could be in the pipeline and describes Arla's strategy as "dipping our toes" into the plant-based market, with a focus on developing its own products for sale in its northern European markets only.
"We're not doing it because we have to. We actually think that it is meaningful for us," he says. "Some of the plant-based [products] play in our category next to milk, so from a production, technology, distribution point of view, we have everything in place to operate there and that's what we have done with Jörd. You will probably see that we come out with what we call oatgurt – the equivalent of yogurts – but, you know, there's a lot of talk about it, there's a lot of growth in it but it's still very, very, very small compared to the milk market as such.
"We are trying to find the synergies between the two. That's probably what we will see in the next two, three years because we think that there's room for both. Interestingly enough, when you look at milk consumption, from a raw-milk point of view, it's actually not dropping. It might be dropping in the drinking-milk, standard milk area, but people are actually consuming a bit more cheese, a bit more on-the-go [products] etc. There's room I'm sure for both these types of products. And we sold a huge, northern Europe's biggest, juice company, five, six years ago, so it's not unusual for us to be in that space. Now it happens to be different kinds of raw material."
Tuborgh says Arla is not looking to expand its plant-based presence through investments in, or buying outright, specialist companies in the area but indicates there remains an interest in M&A in the co-op's core area of dairy, even if the company is "not obsessed" with making acquisitions.
"We acquired our Bahrain Kraft franchise last year. A couple of years ago, we had the [deal] with Yeo Valley in the UK, so, when we believe we can be a better parent of a company than its previous parent, then we should be there but we don't have say that so much of our growth should come from M&A. It has to fit hand in glove neatly with our current business."
This summer, it will be 15 years since Tuborgh, who joined Arla in 1987, became the co-op's chief executive. It's a lengthy tenure to be at the top of a company of Arla's size but the Dane sounds keen for the challenge of running the co-op, even in the current business climate.
"I'm very committed to the cooperative and our farm owners," he says. "I feel that it makes a lot of sense to work for them, Arla Foods is developing itself and I'm a guy that always looks 'around the corner', to find ways of developing, and that's the journey I've been on. Arla Foods is changing itself, so I feel that Arla Foods is a great home for me, as long as the farmers would like me to be there."