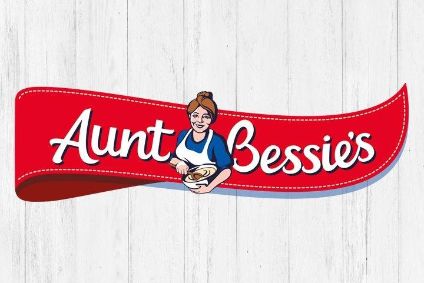 Nomad Foods' UK frozen food brand Aunt Bessie's is launching a marketing push to seize upon the appetite for mid-week roast dinners among young consumers. Simon Harvey talks to marketing director Hannah Haas.
With consumers saying they have little spare time to spend slaving over a stove to prepare an evening meal, convenient frozen food options feature at the top of Aunt Bessie's shopping list.
Aunt Bessie's is renowned for its Yorkshire puddings, a UK staple for the traditional Sunday family lunch, and accompaniments such as roast potatoes, dumplings, stuffing and puddings sold through the country's retailers and foodservice channels. The only item missing from its menu is the meat itself.
The benefits of buying frozen were obviously recognised by its peer Nomad Foods, the owner of the Birds Eye and Findus brands in the UK, when it snapped up the company in June for EUR240m (US$282m at the time), extending the legacy of the 23-year-old Aunt Bessie's business.
And with a new owner in toe, Aunt Bessie's is refocusing its strategy on the SKUs it is most famous for with a new GBP5m ($6.4m) 'Bring Out the Bessie in You' marketing campaign, a project the company has worked on for the past year and is aimed at promoting mid-week roast dinners, particularly among the younger generation. The campaign is the biggest ever for the brand and centres on a working father using unlikely modes of transport in a bid to get home and give his children a roast dinner.
"Nomad has seen an opportunity to grow the business," marketing director Hannah Haas says in an interview. "They've bought us because they can see potential. It's great as a brand to know we have that support behind us. It's fortunate that Nomad is completely aligned with what we want to do."
According to data provider Kantar for the year to 9 September, 99% of under 45s bought frozen food products, representing 0.4% growth. And it is this age bracket that Aunt Bessie's is targeting, but the Hull-based firm in northern England also sees the benefits of promoting a food group that can potentially cut down on waste, a factor receiving much attention within the industry and among environmentally-conscious consumers.
While there has traditionally been a bit of a dogma over frozen foods in the belief that fresh is better, consumers' attitudes are beginning to change. Haas explains much of the shift in the UK is down to TV celebrities such as chef Jamie Oliver, who have "no qualms in saying, 'guys this is a really good product, so stick it in your freezer.'"
Aunt Bessie's market penetration has typically been among older shoppers. However, the company is seeing that "dynamic start to shift slightly and we are finding our penetration with under 45s increasing as they start to shop for frozen [products] and become more confident in what frozen can offer them", Haas says.
Nevertheless, it is the older generation that perhaps need more convincing about frozen over fresh and there is still some way to go in educating people about the benefits, Haas adds. "But I do believe that we are getting some way down the line in convincing people."
"I think that if you look at some of the new younger brands coming through like Strong Roots, I think it can only help the category because they are bringing in younger, different consumers," she says. "We know our Yorkshire puddings appeal to a younger consumer whereas our potato products appeal to older [folk], and I think that's because Yorkshire puddings are something that a younger consumer doesn't feel confident to make from scratch.
"People are also shopping from the frozen fixture because they are often price conscious, particularly if they've got a young family, and we know frozen offers really great value, particularly compared to fresh. We've seen our growth in under 45s year-on-year stepping on, which is really positive."
"No other category can really shout about its benefits on food waste as well as frozen can"
With growth for Aunt Bessie's being driven by demand for mid-week roast dinners, Haas stressed it is important for the company "to get under the skin of what it is that consumers are looking for" and adjust new product launches accordingly. "We need to be focused," she says.
Aunt Bessie's regards itself as the UK's leading brand in frozen Yorkshire puddings and what it calls 'Roasties', with respective market shares of 62% and 57%. The company says it has a branded retail sales value of GBP150m (US$193.4m) and has seen 2.2% year-on-year growth in sales.
Haas also says the waste element is another factor in demand, whereby fresh products not only have a certain shelf life but they also deteriorate in quality when left in the fridge. With frozen foods, the essential elements can be locked in.
"There's health aspects that frozen can bring, but also there's a waste element that no other category can really shout about as well as we can," she says. "We really can help prevent food waste, and even in sourcing certain ingredients, things that are only really available seasonally, parsnips for example. We can make certain seasonable items available year-round and that's very difficult to do from a fresh perspective, unless of course you are bringing things from different parts of the world.
"So I think people are beginning to understand that there are health benefits but also food waste and household-management food waste benefits because people are becoming increasingly conscious about that."
Aunt Bessie's is also working hard to cut the sugar and salt content in its products and has already made progress in certain areas. In 2016, Public Health England (PHE) set a target for UK food manufacturers to reduce the amount of sugar in nine food categories by 20% by 2020.
Haas says while it is imperative the company makes inroads in this department, it is important to ensure the products taste as good as they have always done. She adds salt is mainly present in Aunt Bessie's Yorkshire puddings and it has already achieved the 2020 PHE target. However, the new product is not quite ready for launch but is in the pipeline: "We believe we've cracked the recipe."
"The important thing moving forward in NPD is making sure that we've always got those new targets as part of the original brief, so we are never developing something that will be over-target to begin with," Haas stresses.
Manufacturing frozen food products also has other advantages over fresh produce in that you are not governed so much by a sell-by date and in many cases have the flexibility to use less additives and ingredients, she says.
"For certain products, it means you can include fewer ingredients or manufacture in a different way because you don't have a sell-buy date that's as pressing with frozen.
"People are turning to frozen for the convenience element. Frozen products take time to cook, but it's convenience in that you don't have to think, 'oh my goodness I haven't got that in the pantry, I need to go out and buy it'. So there's the convenience element, the waste element, and of course, there's a health element."