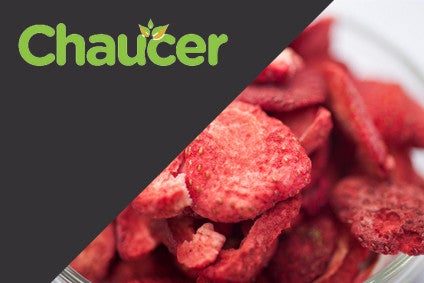 Chaucer Food Group, the UK freeze-dried fruit company recently snapped up by Japanese food business Nagatanien Holdings, has some significant plans to grow. CEO Andy Ducker spoke to just-food about Chaucer's ambitions and how Nagatanien's ownership will support expansion.
Chaucer Food Group, the UK-based producer of baked goods, freeze-dried snacks and ingredients, was this month acquired by Japan's Nagatanien Holdings. Announcing the acquisition, Nagatanien, which is paying US$130m including the assumption of debt for Chaucer, said it wants to combine its "long-established production know-how" with its new asset's "abundant resources in global market[s]".
The deal is part of Nagatanien's strategy to expand in international markets in order to shrug off sluggish growth prospects and intense competition in Japan. In particular, Nagatanien said it is targeting the value-added food market in western countries. "Nagatanien will strive to develop [its] overseas business using our technology in freeze-dried production, particularly in the developed western countries where there is a noticeable shift to high value-added foods," the group noted.
Speaking to just-food, Chaucer chief executive Andy Ducker – who will continue to lead the UK group – says both companies stand to benefit from closer ties in product development and cross-selling.
The tie-up will see Chaucer, which sells ingredients to manufacturers and markets its own brands, continue to operate as an autonomous unit. However, the company also anticipates close cooperation with its new owner. "We expect there to be opportunities to share technology and production capabilities and cross-fertilise ideas and insight for improvements. We also both have very long-standing and experienced food technologists so NPD food activity should increase," Ducker predicts.
Discussing the deal with just-food, Ducker says Nagatanien's "overarching acquisition strategy" is to "gain access to new global markets" and outlines how buying Chaucer will help that aim.
"[Nagatanien] aims to take its products that are relevant to non-Japanese markets and sell into those markets [where Chaucer has a presence]," he explains. "Nagatanien [also] has very extensive coverage in Japan, which will subsequently help Chaucer to break into that market, which is notably difficult to penetrate."
Chaucer's presence in western markets was a central factor in Nagatanien's interest in the UK-based group. Chaucer operates in Europe, Asia and the US and its presence in North America has fuelled sales gains. Over the past 12 months, Chaucer has seen revenue and operating earnings increase by 17% and 20% respectively.
"We have our bread business in the UK but the freeze-dry business is genuinely global. We had a manufacturing facility in France, we have a manufacturing facility in China, but a lot of the growth is being driven by the health and wellness programmes in the US. We built a US manufacturing facility at the start of 2015 and it is principally that that has driven the strong results," Ducker explains.
Ducker says the "two big drivers" to Chaucer's growth in the US are freeze-dried fruit sold into the beverage industry to customers like Starbucks and "the snacking area". It also supplies freeze-dried ingredients to food manufacturers including Kellogg.
The company's production facility in Portland, Oregon, is already operating at full capacity. "When we opened up in the US, we already had sufficient customers to essentially fill the capacity of that manufacturing facility," Ducker notes.
As a result, Chaucer already has some significant plans to increase its production capacity in the US.
"We are putting more capacity into [the US] production facility mid-way through 2017," Ducker reveals. "At the moment the plant delivers 300 tonnes of freeze dried fruit and we will double that to 600 tonnes from the summer of 2017," he says. "Probably 50% of the additional capacity will be taken up by the existing contracts we have. Then, clearly, we then have further capacity to go out and more aggressively attack the market thereafter. In truth, the market is growing at such a pace that we only have two to three years before that capacity is outsold as well. But we need to take various steps rather than commit the business to too much capacity up front."
The plans, which were in place prior to Nagatanien's acquisition of the group, will not alter under Nagatanien's ownership and the Japanese firm is looking at the possibility to step up investment to support growth. "Our investment plans… will all remain in place and Nagatanien is committed to seeing those through. Nagatanien also wants to explore other opportunities for further investment where growth can be accelerated, principally in the US," Ducker says.
Chaucer purchased its US fruit snack brand, Crunchies, in 2014. Chaucer acquired Crunchies out of Chapter 11 bankruptcy and Ducker says the move was "very opportunistic".
The Crunchies deal took Chaucer into brands, which, Ducker says, has enabled the business to contribute to category growth in the US.
"It is helping us drive the category because freeze-dried fruit is still a fairly new product. We are educating consumers about the benefits of freeze-dried from a nutritional point of view, from a taste point of view," he suggests. "The market for freeze dried fruit in the US is probably no more than a US$100m market at the moment, whereas the fruit snacking market at the moment is $6bn. Clearly, the prize for us is to take a much higher percentage of the traditional dried fruit market, where dried fruit does not have the health and nutritional benefits of our product."
Crunchies, Ducker says, performs best when it is positioned in the fresh produce area of the store, where it sits as an alternative to fresh fruit. While he suggests Crunchies – and the freeze-dried fruit category in general – does offer the prospect of lifting retailers' centre-store performance with the right marketing and sampling support, Ducker suggests a higher price point and a lack of consumer understanding mean it outperforms in the produce section.
"We have outperformed traditional fruit snacking products in some cases by two-to-one. We do know when we find the right retail channel, the right customer channel and we get the message right in store and we support that with sampling and social media activity, the product does perform extremely well. It's like any new product, it takes time to develop traction but, when it does, it snowballs. And I think we are about at that point now."
In order to drive the growth of Crunchies – and stimulate the category as a whole in the US – Chaucer is investing in promotional and sampling activity, as well as lifting its profile on social media.
The Crunchies range is available through natural channel retailers like Whole Foods Market and Sprouts Farmers Market, as well as supermarkets such as Kroger and Target Corp. While the logistics of the convenience sector have to date prevented Crunchies being rolled out to impulse channels, Ducker reveals the brand is being launched in CVS Pharmacy stores throughout the US.
Chaucer also has a snacking brand that it operates in the UK – called Nothing But – which is produced at its freeze drying facility in France.
The UK market is less developed than the US market and, as such, Chaucer has limited distribution to specialist channels such as health food stores and pharmacies. "The European market is about four years behind the US market," Ducker reflects.
Chaucer has been fostering what Ducker calls a "slow build" in the UK by attending food events and exhibitions as well as rolling the products out in speciality channels. It plans to introduce the Nothing But brand to the UK multiples "in the next 12 to 18 months", Ducker predicts.
"We plan to really step up the marketing programme next year… I think another year of activity coupled with where it has gone into Whole Foods where it has performed very well [will allow us to] build a stronger evidence base and then take it to a Sainsbury's, or Waitrose, or whoever."
Chaucer is also in the early process of rolling out its branded fruit snacks in Asia. The company, which operates a production facility in China, has introduced Crunchies to Hong Kong and intends to launch the brand in Shanghai in January. Other "affluent" Asian markets are also being evaluated for expansion, Ducker says.
"We think the brand [has potential in the region because] Asian consumers are attracted towards American brands, or western brands more generally. We think Crunchies would have traction in certain markets… Our view is that the wealthier areas of Asia are going to be attractive to this type of product in the short term. Hence Hong Kong, Singapore. We are looking at Malaysia, areas like the Philippines, the price point of this product would work. We are testing the water, but we are testing it in fairly affluent parts of the Asian region."
Alongside its branded snacking business, Chaucer has been growing the industrial side of its ingredients business. "We are using our branded business to help drive the category in retail and on the back of that the business-to-business industrial business will benefit," Ducker says.
Growing interest in freeze-dried fruit as an ingredient from large packaged food makers is also supported by pressure on manufacturers to deliver clean labels and healthier products. Ducker observes: "As consumers more towards these more health and wellness, cleaner label products, our product is very much on-trend."
Ducker insists there is little tension between the branded and the industrial sides of the business. "The market is sufficiently big for everybody. The branded business is run very autonomously. We are very open and transparent with our manufacturing customers. And a lot of them are more entrepreneurial businesses, so, in truth, we are all competing for new listings in a new category within the snacking space… We have not yet found ourselves in a situation where we are competing against an industrial customer. Will we find ourselves in that scenario at some point in the future? I'm sure we will and we will need to manage it."
Nevertheless, with Chaucer's focus primarily on its industrial business, the "backbone" of the company, Ducker concedes the group could – down the line – decide to sell off its consumer-facing brands. "If an opportunity arose to extract a premium valuation for the branded business we would look at it. They do have separate value drivers and people pay significant premiums for [fast growth brands that]… they feel they can scale."
For the time being, however, Ducker maintains the industrial and branded businesses can coexist comfortably under the Chaucer banner. And, he underlines, with the backing of Nagatanien, the group is poised to accelerate the growth of both parts of its business further.