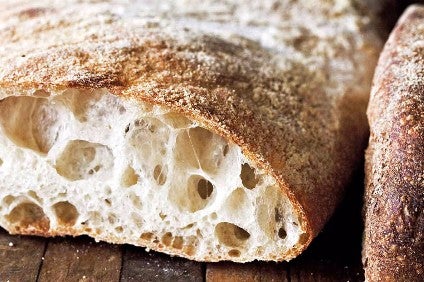 US private-equity firm Swander Pace Capital has made another acquisition in the bakery sector. MD Heather Smith Thorne talks about the deal and the firm's broader M&A strategy.
just-food: Why did Swander Pace Capital move for Canada-based bakery business Bäckerhaus Veit?
Heather Smith Thorne: We've had a long history in investing in baked goods and have identified several niche areas we think are interesting areas for growth, as well as areas in which we can provide our resources, skill-set and perspective.
One is premium artisan bread. That's an area where there's has been a lot of consolidation, acquisitions and strategic buyers over the years and there's not a lot of independent platforms of scale left in that space. Bäckerhaus Veit is one of them and it's also the best one in my opinion. We've known of Bäckerhaus Veit and have been following it for over a decade. When there the chance to partner with her this year, we were really excited about it because we see a lot of growth opportunity for the business.
just-food: What specific attributes attracted Swander Pace Capital to the business?
Thorne: First and foremost, it has an incredible product. It was clear the product Sabine [Veit, founder and CEO] has made has long had a reputation for being high-quality, having great taste, having the best ingredients and having been made in a way that's modern and can service the modern marketplace but that also needs an old-world baking technique. That makes that product overall one of the best in the industry.
Behind that, the company has been known for excellent customer service and an ability to bring consistent, high-quality product to customers that have a large footprint. Servicing large grocery customers or large foodservice customers is not easy and it's not something that smaller companies can do consistently with high-quality product. The company has a brand new manufacturing footprint. They invested heavily in a new facility in 2016 in the Toronto area. For us, that's actually a very valuable asset and very scarce in the industry and provides a really interesting competitive barrier for us as well.
And then, fourthly, we see a lot of opportunity for growth here. She's invested well in the company and driven it to great scale but there's still room to take it forward. It's not completely mature where there wouldn't be a lot of opportunity for growth.
just-food: Where does Bäckerhaus Veit rank in the segment or categories in which it plays
Thorne: It depends how you define category and the market. Within Canada and within artisan bread, it certainly is one of the biggest players. When you expand that to the US, you're also then bringing in artisan bread brands that are owned by larger businesses like ARYZTA and Grupo Bimbo, so then it starts to be small by sales. In terms of independent artisan bread manufacturers, it's one of the largest.
just-food: Were Bäckerhaus Veit's sales and net earnings still growing or had growth slowed on either of those metrics?
Thorne: No. We can't really comment on financials, but I'll say the growth profile was very good and accelerating.
just-food: Well, suffice to say, as you outlined, you see solid growth opportunities for Bäckerhaus Veit. Where specifically?
Thorne: Starting with product, the pace of new product innovation across all industries today has increased greatly from where it was several years ago. The advent of the Internet, while that doesn't particularly touch this particular company or industry that much yet, has accelerated the pace of innovation across all of consumer products. Sabine and SPC are aligned in increasing that pace of new product introductions and partnering with our customers to do that. That'll be in the same category; maybe some adjacencies as well but we're not going to transform the company into a cookie manufacturer. It's still going to be in the artisan bread space.
The company is very well-diversified and has a strong foothold in foodservice and in-store bakery both in Canada and in the US but I think it is to go deeper into both of those markets, add new customers, provide more products to the customers that we do have and just overall expand the presence of the business.
The last piece is we do see the company as a potential acquirer of other, smaller businesses in the category that may have an expertise in a different niche or different product category.
just-food: Would those potential targets be both in Canada and the US potentially, with a regional focus, that kind of thing?
Thorne: Yes, exactly.
just-food: How does this acquisition fit Swander Pace Capital's overall strategy for acquisitions in food and beverage?
Thorne: In general, we think the category represents the best of the characteristics in consumer products. It's not cyclical. It's not discretionary. People need to buy food. It's something that has a very large market, so there's always the ability to grow, take share and touch new consumers. And it has a strong financial profile. A good food business has nice gross margins and good free cash-flow conversion and a food manufacturer, in particular, will have a manufacturing footprint that provides a competitive moat to the business, typically.
Some of our businesses are not manufacturers and that's okay. There are reasons why those have a very competitive moat as well. But I think overall food is just a really good category for private-equity investments, for us at least in particular.
Within food, we've done a lot in the baked goods space, including Pineridge Bakery, which we invested in in 2006 and sold to Aryzta in 2014. Nonni's, which we sold to Wind Point in 2011. And we've got Voortman, which is our cookie business, which is also based in Toronto. We really like the baked goods space and we really like Canada. Bäckerhaus represents the commonality between that.
just-food: What are you looking to build in food and beverage?
Thorne: In food and beverage broadly, I would say protein has always been a place where we've played. Applegate was a good success story within that category. We do like the breakfast space, generally speaking. We like foodservice and we've made two investments in that space recently, with Fine Choice Foods and Passport Food Group that are both in our portfolio. We liked the coffee space as well. We sold Kicking Horse for a lot. We remain interested in that space.
just-food: How many investments do you have the bandwidth to carry at one time? Is it as simple as coming up with a number or was it just based on the assets available?
Thorne: If you look at our history as a firm, we've done between eight and 12 investments per fund. And, so within that, we'll have some diversity of categories, but that's been typically our pace.
just-food: Do you think in the 12 to 18 months the competition for assets in food and beverage has intensified? There are scores of private-equity firms but you're also seeing larger strategic companies having to be more active in M&A to try to inject some growth into their top lines.
just-food: It's definitely become more intense in the last 12, 18 months or even over the last three or four years. In certain sectors, our sense is it's starting to level off. It's not getting easier. It's just not getting worse [laughs]. It seems like there's been at least some stability. But I agree with you. Larger strategics have been more active with smaller companies and smaller investments than they have in years past, as well as even in the venture stage, trying to partner with companies really early on and track them as they grow. We've definitely seen a lot more entrants in our space.
just-food: Has it meant you've had to pay a richer multiple for assets?
Thorne: Overall there's been appreciation in enterprise values of all companies in the private market in the last five years, frankly, and certainly in the last 12 to 18 months. Our strategy has always been to target great companies where we see asymmetric upside to the value that we're paying. Sometimes it means paying a little bit more, but sometimes it doesn't. It just depends on the deal.
just-food: What do you think a private-equity firm like Swander Pace Capital can offer a seller that a potential strategic buyer may not?
Thorne: Private equity and SPC, in particular, has a great purpose in terms of helping companies that are family owned or founder-owned and who are looking to accelerate growth and eventually sell to a strategic buyer – but where there's a chapter in between when that founder or family owns the business and when the strategic buys in.
I do think SPC has a nice playbook of resources that we can bring to a business in terms of helping them continue to build out a management team, up-level and professionalise systems and infrastructure and basically help the business accelerate its growth to maximize what the owner-founder might receive from a strategic buyer when it [in the future] purchases the business.
just-food: How do you see the landscape for food and beverage M&A in North America in 2019?
Thorne: It's been a long run for the economy and I think it's surprised all of us how well it's performed for so long. I hate making predictions but I think we have a strategy that works in any environment. We've been successful in downtimes, we've been successful in high-valuation markets. What we continue to focus on is improving our resources in a way we can help businesses, so that, in any economic environment, in any valuation environment, we can find ways to be successful.
just-food: What would you say to those in the food industry who worry partnering with a PE firm may lead to an over-focus on cost and brands becoming endangered? PE can have a reputation for being too focused on cost and margins.
Thorne: I think the most important thing is finding the right partner. Like in any industry, you know, not every private-equity firm behaves the same way. There's a lot of great private-equity firms out there that are very focused on growth, building companies, adding members of the team and making the company the best version of itself yet. It can work really well with partners and founders and things like that. And that's what we aim to be.
Our goal is to grow a business and change its size and scale dramatically and bring its great products to even more consumers. We believe very strongly in product. We want to put these products in hands of as many people they can eat them make possible. To do that you have to grow and that isn't driven by cost-cutting. There's other firms like that out there and I would say it's all about picking the right partner and spending a lot of time getting to know them and doing diligence and reference checks on that partner.
just-food: What kind of return are you looking to get when you exit from an investment?
Thorne: Unfortunately, I cannot comment on that.
just-food: How likely is it Swander Pace Capital's next few deals in food and beverage could be in categories you've already made investments in or is the priority to look at categories you're not currently in?
Thorne: It's a balance, honestly. We've had a mix of industries we've revisited over and over again because they're large industries with continued great growth characteristics but we've always been expanding into new and different spaces. Passport's a great example of that. I think it'll continue to be a balance of both.