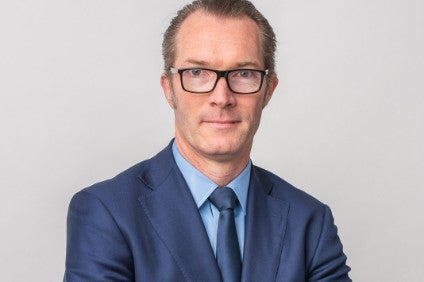 UK private-label supplier Greencore, with the majority of its sales in food-to-go, has seen its sales slump in recent weeks as Covid-19 has changed how consumers shop. But, as chief executive Patrick Coveney tells just-food, the Ireland-based company can emerge a better business than before.
"We've reset the business. We're in control. We've got the resources, we've got the flexibility, and we've got the leadership team to respond to whatever shape of recovery unfolds."
Speaking to analysts and investors this week, Greencore CEO Patrick Coveney sought to get across the message the private-label supplier of sandwiches, salads, ready meals and snacks can, even after seeing sales tumble in late March and April, bounce back after the way Covid-19 had hit the business.
Rebound strategies are at the top of agendas in boardrooms across industries worldwide and, even if, broadly, the packaged food sector has seen the Covid-19 pandemic boost sales, not all manufacturers have fared well.
Greencore, one of the largest private-label groups in the UK, is one of the packaged-food manufacturers to have been negatively impacted as the country's lockdown has curtailed movement, led to millions furloughed or working from home and very rapidly changed the way Britons shop.
On Tuesday (19 May), Greencore reported its first-half financial results, covering a period to 28 March. UK Prime Minister Boris Johnson announced the country's lockdown measures on the evening of 23 March and "virtually overnight" the company's food-to-go volumes tumbled, Coveney reflected this week.
First-half revenue from Greencore's food-to-go businesses did rise 1.9%, boosted by an acquisition made last year. Stripping out that transaction, revenue declined by 2.1%. Sales from Greencore's other convenience categories – including chilled ready meals, chilled soups and sauces – increased by 1% and by 4% on a pro-forma basis. Underlying group operating profit fell more than 14%.
However, food-to-go normally accounts for around two-thirds of Greencore's sales and, as the company moved into April and the second half of its financial year, it saw from that portfolio declines in sales of up to 70%. On Tuesday, Coveney spoke of an "improving trajectory" but said sales remained 60% below a year earlier.
To protect its profits and cashflow, Greencore has temporarily ceased output at three factories – in Bow, Atherstone and Heathrow – and rationalised production at its facility in Northampton. The company has also used the UK government's furlough scheme and seen its board and executive directors take a 30% cut in fees and base salary for three months. Greencore says these actions, as well as others, are "returning the group to modestly positive EBITDA". The Atherstone site is set to resume production at the start of June and some furloughed staff are returning to work.
However, amid the uncertainty over how long the UK lockdown measures could last, over how they will be eased and, crucially, how consumers will react, Greencore has indicated it is not expecting revenues to return to pre-Covid-19 levels for around 18 months.
"I think we'll see a kind of a strong, initial recovery up to what I might describe as an 'acceptable level'," Coveney says of Greencore's expectations of its food-to-go sales, "and then, from there, to get the whole way back, will take longer."
On the day Greencore announced its first-half results, discussed its plans to, as Coveney says, "build back the business" and sketched out its thinking about its sales trajectory for the next 18 months, the company's shares closed down 8%. The share price has continued to decline each day this week.
"Our investors understand the speed at which we've responded and are very appreciative of that"
"The truth is I think things are bouncing around a lot in the environment and there's a lot of different ebbs and flows in sentiment," Coveney tells just-food on the telephone from Dublin. "I think our investors understand the speed at which we've responded, are very appreciative of that and really the discussion is all about how we build back from here, how long that's going to take and what the impact of the virus is going to be on different scenarios. There's lots of uncertainty. I think the key messages in our results were landed well."
Above all, Greencore and Coveney was keen to get across to the market how the company has the production and distribution assets, the relationships with customers and the ability to closely monitor the changes in how consumers are shopping in order to navigate the uncertain trading environment as successfully as possible.
Coveney says it is "critical" Greencore has the "ability to maintain relevance and to work collaboratively with customers and suppliers on that build-back programme no matter how [the recovery] unfolds". To that end, the group has been devising plans with its key customers, which, in food-to-go, are largely the major UK grocery retailers, including the 'Big Four' of Tesco, Sainsbury's, Asda and Morrisons, plus Marks and Spencer, The Co-op and the discounters.
"There's probably three strands to that," the Greencore chief explains. In recent weeks, in what Coveney calls an "uncertain environment for demand", the company and its customers have been working on range, availability and waste. "With some of our customers, we have [also] looked at whether, as part of facilitating social distancing in assembly, there are certain more complicated products we should take out until we've got a better solution for assembling them," he adds.
"The second area is what we're seeing now. Our customers are really planning hard to build back volume in food-to-go and food-on-the-move over the coming weeks and months. We can all feel that people are starting to move around the UK a bit more [and] some people going back to work and, as part of that, there is a demand just to take up availability and try to get more volume through the system. That's feeding into our plans to open Atherstone as of Monday week and how we bring back shifts and lines in Northampton."
The third sphere of work centres on weighing up how UK consumers might shop differently in the weeks and months ahead – and predicting how that could shape the ranges and services Greencore and its customers offer, Coveney explains. "I think delivered solutions, for example, will play a bigger part here, whether that's more click-and-collect, more dot.com deliveries, more digital solutions – whether that's partnerships between retailers and us and delivery specialists like Deliveroo. Are their delivered solutions to workplaces that facilitate social distancing and increased hygiene?" he reflects.
The online channel is one where Coveney, like others in the industry, expects to see a permanent shift in behaviour as a result of Covid-19. "If you end up in a world where food gets delivered in different ways, a lot of the capabilities to do that are very similar to the capabilities that we've built in the business ourselves already," he says. "We've built more and more distribution capability over the last five or six years."
Would Greencore offer, for example, delivery services directly to workplaces? "We could offer direct-to-workplace solutions but we'd most likely to do that as part of a fulfilment approach for our existing customers – in other words under the brands of our existing customers."
The health crisis looks set to become a financial one, too, and Coveney also calls out the "important theme" of value. The UK grocery retail sector, he says, is "very competitive" compared to foodservice but, within retail, Coveney sees changes to how products are priced. "You'll probably see less high-low promotions and more everyday value – and value simplicity as some of the UK retailers would call it.
Seeking to summarise the impact of this work with retailers on Greencore's product set, Coveney adds: "I think you will end up probably with more varied solutions from a distribution perspective, but probably simpler ranges in shops from a manufacturing perspective."
And it is the shops of the UK's grocery multiple chains – the principal customers for Greencore's food-to-go business – that Coveney believes will, in the next several quarters, gain from how Covid-19 has changed consumer behaviour. As a consequence, therefore, he believes Greencore's current under-pressure food-to-go division can benefit.
The UK's supermarkets, including their own convenience-store estates, can take share from the traditional foodservice channel – even as it reopens – due to their ability to better implement social-distancing measures, for example, he argues. Again, like other chief executives, Coveney says health and wellness will remain important to consumers but, he predicts that, in a broader sense, shoppers will also place more value on hygiene.
"There's no certainties in this but there are opportunities for the traditional grocery players in this environment"
"You could certainly imagine a pre-prepared solution is more hygienic, from a food-safety and from a colleague-safety perspective, than products that are made in-store," Coveney asserts. "And, secondly, the model of actually accessing product is lower touch and also easier from a social-distancing perspective in those convenience-store formats than it would be in foodservice-type outlets where you may have more congested queueing spaces and things like that. We'll have to see. There's no certainties in this but there are opportunities for the traditional grocery players in this environment."
But, in a broader sense, what about the prospect of more people in the UK continuing to work from home more often for a prolonged period? What impact could that have on a food-to-go category catering to workers in office buildings in urban centres buying a pre-packed sandwich or salad for lunch?
"The key thing that drives food-to-go penetration is not necessarily where people work, it's movement," Coveney contends. "People working from home, going forward, aren't necessarily going to want to make all their meals from home, so you could easily see a model of someone who's working from home in a village, town or suburban area in the UK getting up and going for a walk at lunchtime and popping into a coffee shop or convenience store and buying themselves a cup of coffee and a hot sandwich or a meal salad. It's a more complicated picture than if people work from home, they therefore don't buy food-to-go."
For all of that, looking even further ahead to when, we all hope, there is an effective vaccine against Covid-19, Greencore will still be looking to broaden its customer set deeper into foodservice. Out-of-home consumption will, in that context, continue to be "a very important part of the overall food industry", Coveney said this week. "We have a strategy to try to widen our participation over time. We do want to do that but I think, in the near term, the biggest opportunity is with the grocery channel."
Talking to analysts this week, Coveney also predicted there would be "consolidation and change within the wider food base" due to the impact of Covid-19. Earlier this month, Sky News reported Greencore had been approached by Adelie Foods Group about a possible move for the business, which is one of its rival suppliers in the UK food-to-go category.
Coveney refuses to be drawn on the claims. "I've no direct comment on a particular target like that," he says. However, more broadly on Greencore's M&A strategy, he does indicate that, for now, the focus of the company's management is elsewhere. "While we've been an acquisitive business over the years, we've got to recognise the critical way to create value here is to build our business back as well. In the near term, we wouldn't have the same kind of financial headroom for M&A that we might have had before Covid-19."
One change to Greencore's product portfolio on which Coveney does reflect is the future division in sales between food-to-go and food-for-later like ready meals and sauces. "As the dust settles, the food-for-later business would be a slightly percentage than one-third. I think the growth momentum in that will sustain. It plays to a bit more at-home eating, across of a variety of different product types. But our hope is – and our plan is – to get food-to-go back towards where it was, as quickly as we can."
There would not be many major packaged-food manufacturers that have seen their sales buffeted by Covid-19 to the extent Greencore has in recent weeks but Coveney and his colleagues this week sought to underline how the management and the company could bounce back and emerge a different kind of – but stronger – business, particularly with, as they see it, their major UK multiple retail customers set to benefit from the new ways consumers are shopping.
"One of the things I think matters here is that we don't kind of look at this as an environment which we can't influence. We've got to go after it and make the products relevant, make the service propositions relevant," Coveney says. "My very strong judgement here is that the momentum and trust that the grocery sector broadly defined has built up through [Covid-19] gives them an opportunity to be more proactive in getting after some of these trends, and we need to help them do that."